Christophe Claret X-TREM-1 pushes the boundaries of watchmaking
Christophe Claret comes with something incredibly spectacular. A video of his newest timepiece, the X-TREM-1, has just been released and it looks like it tells time with…  
Well with what? Let's take a look at some screenshots, made of the video, and analyze it. In the front of the watch we see a tourbillon, the watch's regulating organ. Furthermore we see that time is indicated on two indexes on either side of the watch and at first we had to think of the Dual Tow that Claret released in 2009.
But hang on, the indicators seem to be moving up and down in a tube. It does not look like it's the same as the HYT watch that indicates time with fluids in a tube, as showed by our friend Ariel Adams at aBlogtoRead.
There are two 'balls' moving up and down in a tube, on either side of the case. It seems like there are two balls are moved up or down with air pressure or by means of magnets. Not sure if this guess is correct, but let's simply share the video and have a look for yourself.
Since the video doesn't show anything that could produce air pressure, the safest bet is to guess it's by means of magnets. When you look at the screenshot below, it shows two rods with a sliding thing besides the 'ball'. That could well be a magnet, however a magnet in a mechanical movement… that sure is pushing back the boundaries of horology!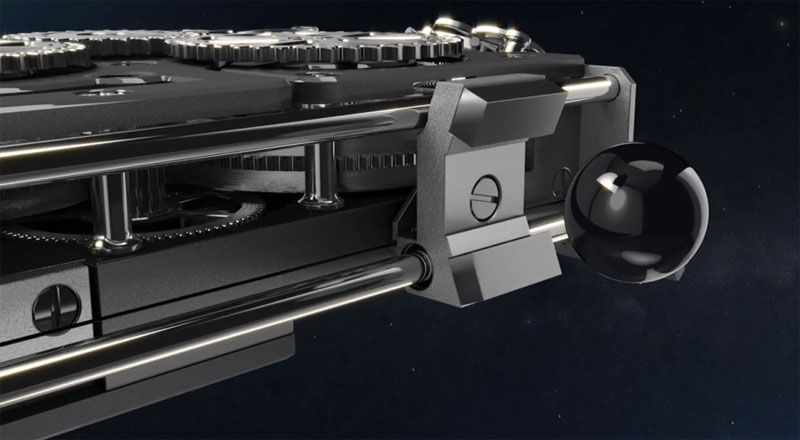 Furthermore the video shows how the watch is wound and adjusted, not by a crown, but by two operating mechanisms on the back.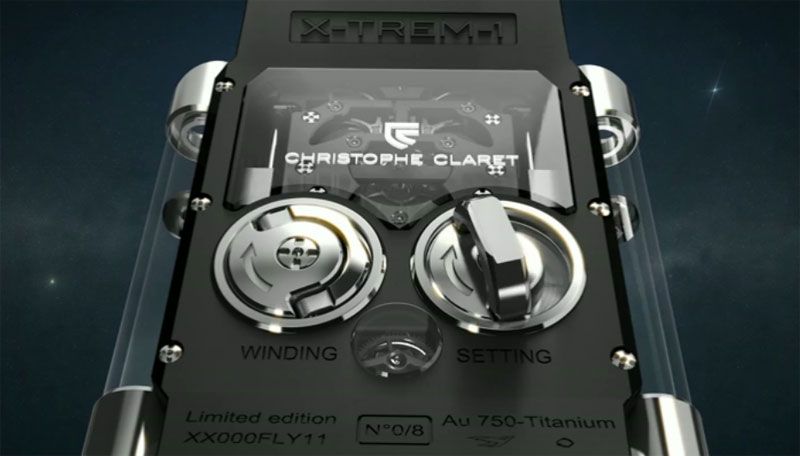 It also states the watch is made of titanium and it's a limited edition of (just) 8 pieces.
The regulating organ is a tourbillon that is inclined and positioned in the front lower end of the watch, so the person wearing it has good sight of it.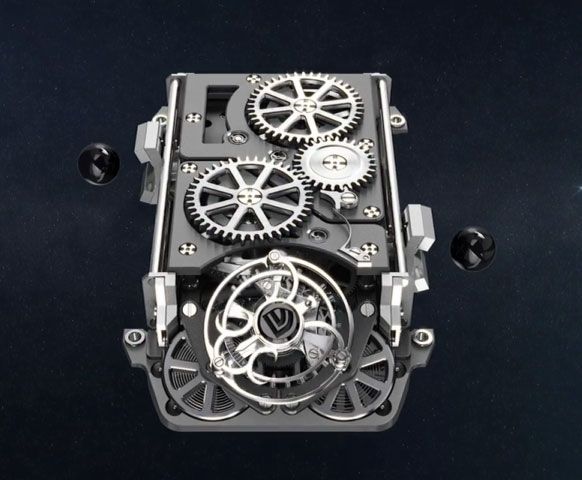 The rest of it's specifications remain a secret until it's officially launched at Baselworld 2012. What we can see in the video and guess is that it indicates time by means of magnets. The magnets, each sliding on two metal rods, on either side of the watch and moving a 'ball' as indicator of the hours (left) and minutes (right side).
At Baselworld we will get to see and hear the full specifications and find out whether this guess it correct. So stay tuned to see more of this already, impressive timepiece!
You can also check out the website of Christophe Claret to watch the video, see other timepieces or to order one of the 8 pieces of the Christophe Claret X-TREM-1.
https://monochrome-watches.com/christophe-claret-x-trem-1-pushes-the-boundaries-of-watchmaking/