IWC Re-Engineers Ingenieur for 2013!
Progress can be an unsentimental and unforgiving thing. Sometimes we must move on and forsake the past in anticipation of the future. Fortunately for IWC and their Ingenieur line – the past is not such a bad thing!  Instead of obliterating it IWC have chosen to evolutionize it!
To hardcore watch fans, few names elicit a primal response like the IWC Ingenieur. Drawing back to the middle of the last century – the Ingeniuer was IWC's show piece. With it's Albert Pellaton designed bidirectional movement, IWC was able to enter the vanguard of sports watchmakers circa 1955. Over the past 58 years the line of watches and it's movement have been steadily refined and improved. For 2013 IWC have just taken the wraps off of a freshly redesigned Ingeniuer line-up; the new pieces look just that – "new", but the family lineage going back the fabled Ref. 1832, penned by one of the most important and influential watch designers of all time – Gerald Genta.
This year's reengineering also marks a reaffirmation of the link between IWC and AMG.  AMG started life as an aftermarket tuner of Mercedes' prestigious and well built sedans – turning them in to somewhat sedate looking hot-rods rocketships!  Since 1999 they have been a division of Mercedes Benz.  The basic premise of an AMG modified car is to take a salubrious looking car and trick out the motor and suspension and brakes so that when pushed it can keep pace with more or less anything on the road.  (Who said (all) lawyers, bankers and doctors were boring people???)
Not content with sports-car like performance, AMG have yet another echelon of performance modifications to make sure that on your next run to the bank or grocery store you can punish people foolish enough to want to race you…even if they are in exotic cars?  … even if they are in supercars? … even if they are on Japanese racing bikes!: The AMG BLACK. The BLACK series have quite literally every performance enhancing/weight reducing modification imaginable performed to them (up to but not over the point where they are no longer street-legal) – yet they can still function as drivable day-to-day cars! [Tough for you to visualize that level of speed and handling?  Think 'Kessel Run'. Then think SIX parsecs not 12!]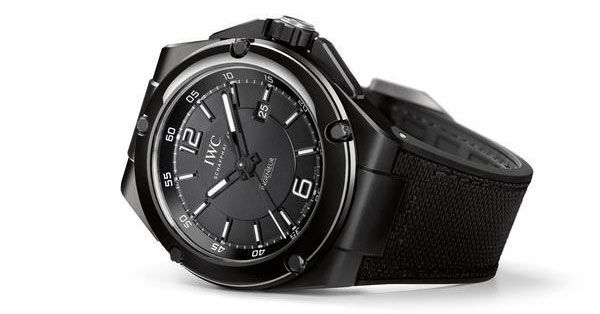 Since 2004 IWC have created watches in the Ingeniuer line for AMG.  As a nod to the AMG ethos, the watches are all discretely modified stylistically so that from a distance or at a quick glance they appear to be standard Ingeniuer watches… under closer inspection you see that they are special indeed.  This year marks perhaps the MOST special IWC for AMG watch – the IWC AMG BLACK SERIES CERAMIC, Ref 3225.  46mm (including crown-guards) of black ceramic zirconium oxide, in homage to the ceramic brakes found on an AMG BLACK automobile.  Water resistant to 120 bar and with antireflective sapphire crystals on the front and back so that you can admire what's under the bonnet.
Beneath the hood is IWC's caliber 80110:  28 jewels:  Pellaton automatic winding with 44-hour power reserve:  blackened rotor.  This is at least the equivalent of AMG's firebreathing 6.0 litre V12!  Output for the watch is rated at hours, min, seconds and date @ 3 o'clock.
What good would a high-power car be if it were visually difficult to read the gauges and displays?  The same holds true for a watch inspired by a ultra-high performance car!  Coming in two variants – the Ref. 3225-03 is all black with, black dial and white luminous chapter rings, indexes and hands. While Ref. 3225-04 comes in a softer brown dial with tan/beige chapter rings, indexes and hands. The '03 version sits on a black rubber with a black cloth inlay reminiscent of a 5-point harness material. The '04 variant sits on black rubber with a brown, calfskin insert.  Each version is as sporty as the other so take your pick between aggressive all-BLACK styling, or more discrete brown.  Either way you've picked a stunning racing watch!  Be the first on your block to drive one home!
The new Ingenieur AMG models are available for € 12,000 Euro (including taxes). More detail are on the IWC website here.
This article is written by Mario Squillacioti, contributing writer for Monochrome-Watches.
https://monochrome-watches.com/iwc-re-engineers-ingenieur-for-2013/