Weekly Watch Photo – IWC Ingenieur AMG
Tomorrow, at the start of the Salon International de la Haute Horlogerie, short SIHH, IWC will launch their newest models of the Ingenieur collection. Today we'll have a look at the previous love-baby of IWC and AMG. Indeed AMG, the the guys that make every Mercedez-Benz roar like no other sports car!
In 2004 they joined forces, which led to the Ingenieur AMG that IWC introduced in 2005 together with an entirely new 'Ingenieur family'. This Weekly Watch Photo is dedicated to a remarkable collaboration that gets a follow-up at the SIHH2013 this week. As we already showed you here and here and here, IWC is going to launch an entirely new Ingenieur collection.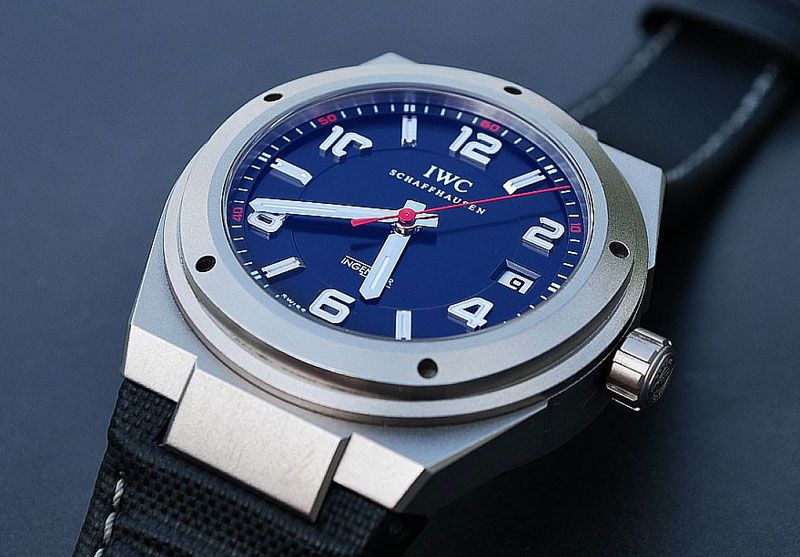 Originally introduced in 1954, the Ingenieur was a no-nonsense, highly technical and sturdy timepiece. It was intended for the use in the most demanding conditions, capable to withstand all natural enemies of an accurate timepiece like magnetism, temperature variations, water and rough shocks. According to early ads the Ingenieur was targeted at the "man who expects the impossible from his watch". While at more or less the same time a new genre of dive watches, like the Rolex Submariner and the Blancpain Fifty Fathoms, was introduced, the Ingenieur was the first sports watch capable to withstand all threats. Although I need to add that it wasn't designed for any serious deep sea diving.
In 1976 the Ingenieur was entirely revamped by Gerald Genta, the man who also brought us the Audemars Piguet Royal Oak and the Patek Philippe Nautilus. The Ingenieur AMG that was introduced in 2005, shares many design elements with the Genta-designed predecessor, like a large enough case that could contains a soft-iron inner case. The soft-iron case works like a Faraday cage that protects the movement from magnetism. Another, more recognizable, hallmark is the bezel with five holes.
One of the extremely appealing features of this particular Ingenieur is the dial with the raised hour markers. On the second hand market you can find some pretty affordable examples and they all feature the IWC in-house designed and manufactured movement, caliber 80110. This movement features the Pelleton winding system, that protects against jolts and jarring. Another feature is the special shock protection by means of a flexible rotor bridge. The rotor bearing rests on a "S-shape" bridge which allows bending in case of lateral and horizontal shocks. This movement was build for the "man who expect the impossible from his watch". However, not too many technicalities for our Weekly Watch Photo… I'm sure I'll come back on this topic soon enough!
Tomorrow IWC will release a bunch of new Ingenieur models, which are designed together with AMG Petronas. As IWC CEO Georges Kern explained it in 2005: "As an engineering brand, IWC Schaffhausen has a natural affinity with the puristic performance culture that AMG pursues so successfully. We also share a sense of understatement and discrete exclusivity. IWC is not interested in outward show, but focuses on the essential nature of what is on the wrist".
By the way, last year IWC had a most impressive booth, entirely designed around the Pilot's Watch theme (check the photos here). That booth won't do for this Ingenieur year, so I'm very curious to see their new booth!
Many thanks to Bruno, for letting me use his photos. You can find Bruno's watch photos on his blog here. This Weekly Watch Photo also features on AskMen!
This article is written by Frank Geelen, executive editor for Monochrome Watches.
https://monochrome-watches.com/weekly-watch-photo-iwc-ingenieur-amg/