Weekly Watch Photo – IWC Ingenieur Automatic AMG Black Series – Pre-SIHH 2013
In this week's Weekly Watch Photo we show you a so-called mood-photo of the new IWC Ingenieur Automatic AMG Series. Like the Ingenieur Automatic 40mm that we showed you yesterday, this is another new version for the fully revamped Ingenieur collection and features a rounded ceramic bezel.
Because IWC hasn't officially released the news, we're looking at the IWC in-house forum for some facts. It looks like the AMG Black Series will measure 46 mm in diameter, 14.5 mm in height and feature the IWC in-house caliber 80110.
To be honest, I hoped the AMG Black Series would measure 44 mm in diameter, like the Ingenieur Automatic Mission Earth. Also the thickness of 14.5 mm is not something that I applaud. However visually it looks like a real treat, even offering a view on the movement through a sapphire crystal in the case back.
I'm sure that purists will not like the see-through case back, because it prevents this version of the Ingenieur of having a sort-iron inner case that works as a Faraday cage, to protect the movement from magnetic influences. While the new Ingenieur Automatic 40 mm that we showed you yesterday, just went back to the Ingenieur's initial "reason d'être" which is its impressive anti-magnetic shield.
On the other hand, the movement really is a nice visual treat with its black coated rotor. I wonder if the screws in the case back go all the way through the case and secure both the case back and the bezel. I guess we'll have to wait until the official press release or until I get some hands-on time at the SIHH 2013.
The name already indicates that IWC has been cooperating with AMG, to develop the Ingenieur AMG Black Series and so far we've seen two versions. One in full black with white numerals on the conical side of the dial, white writing on the dial and hour markers and (partially) white hands. And there's another version in brown…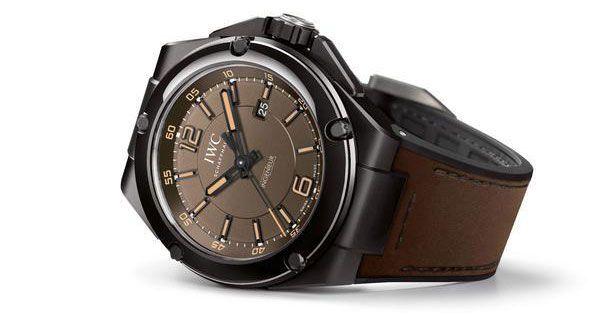 The brown dial sports beige Arabic numerals on the conical side of the dial, and hour markers and luminescent parts on the hands are in the same beige color. The strap matches the brown dial and beige/creme accents on the dial and hands.
What we know so far:
Name: Ingenieur AMG Black Series
Dimensions: 46 mm in diameter and 14.5 mm in height
Movement: IWC caliber 80110
UPDATE: the use of ceramics for the entire case has been confirmed.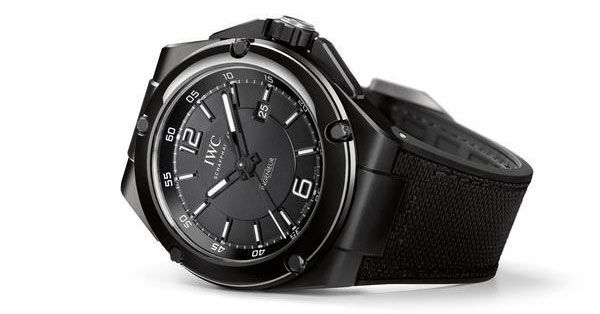 This article is written by Frank Geelen, executive editor for Monochrome Watches.
https://monochrome-watches.com/weekly-watch-photo-iwc-ingenieur-automatic-amg-black-series-pre-sihh-2013/