Introducing
The 2020 Cartier Santos-Dumont Limited Edition Watches
Four special limited editions with manual-winding movements honour Santos-Dumont's extraordinary flying machines.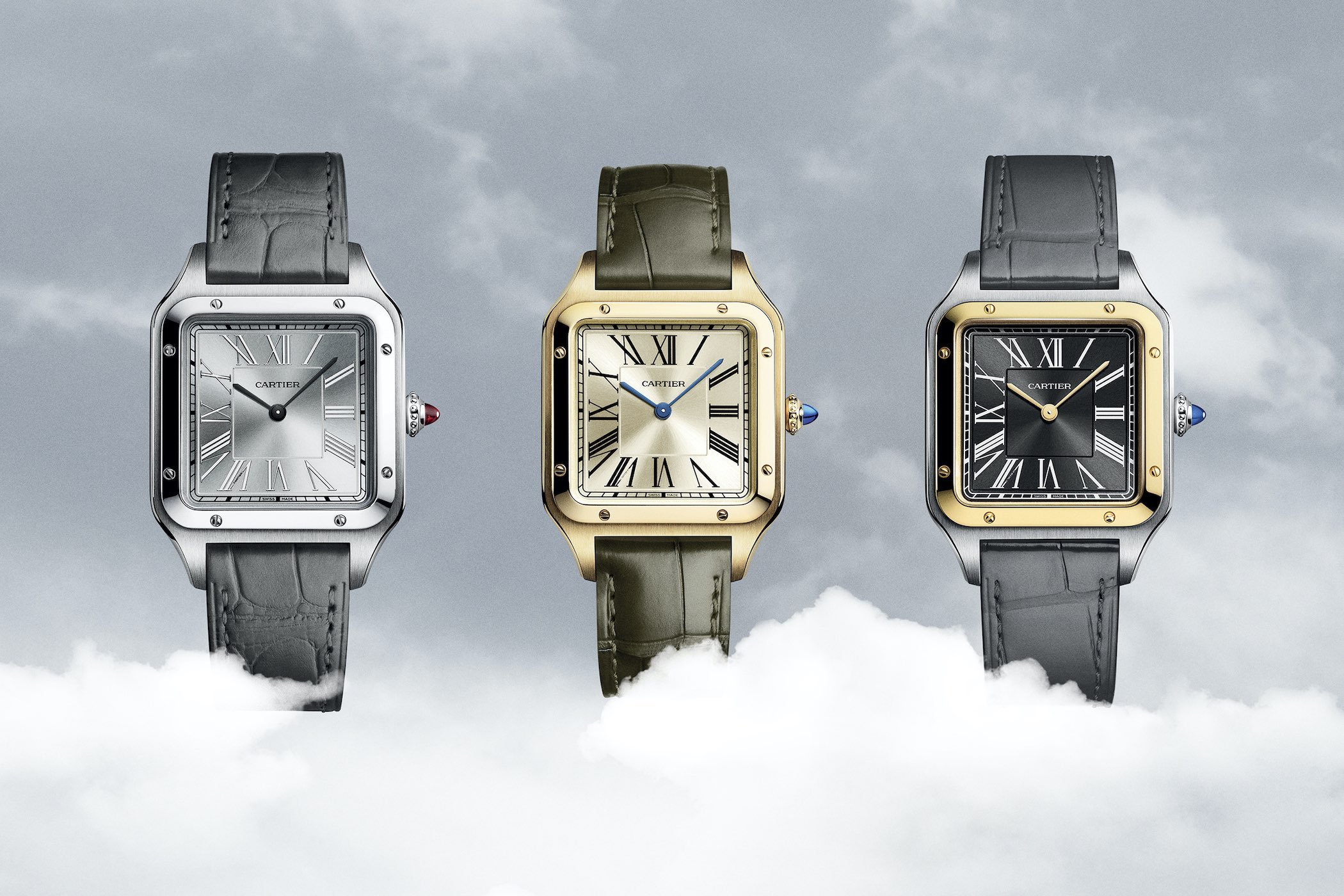 Cartier expands its Santos timepiece collection with five very special limited-edition watches all bearing the names of the Brazilian aviator's legendary flying machines.  With such a colourful character like early aviation pioneer Alberto Santos-Dumont in your archives, it makes sense to capitalise on this particular chapter in Cartier's history. The son of a wealthy Brazilian coffee planter, Alberto Santos-Dumont settled in Paris where he cultivated his passion for flight. His request to Louis Cartier to devise a timepiece that would let him read the time without having to take his hands off the controls resulted in the world's first men's wristwatch in 1904 and spawned an entire collection in his name. Four limited editions christened with the names of Santos-Dumont's flying machines join the collection. Crafted in precious platinum, yellow gold, and a combination of yellow gold and steel, all four models are fitted with an ultra-slim manual-winding movement.
Alberto Santos-Dumont
Aviation and watchmaking go hand in hand and one of history's first partnerships involved Louis Cartier and Brazilian aviator Alberto Santos-Dumont. Santos-Dumont was fascinated by flight and after settling in Paris in the early 1890s became well-known around town for his daring hot air balloon feats, often landing on Parisian rooftops to the surprise of the crowds below.  In October 1906, on board his boxy '14-bis' biplane, he covered a distance of 60 metres at a height of roughly five metres before a large crowd in the Bois de Boulogne marking the first flight of a heavier-than-air machine in Europe.  Barely a month later, on 12 November 1906, Santos-Dumont set the first world record for a flight of 220 metres in 21.5 seconds.
Very much a celebrity, Santos-Dumont's dandy outfits and Panama hats soon become all the rage in Paris. An incessant designer, he created the elegant Demoiselle monoplane for his personal transport, a lightweight aircraft with a wire-braced wing mounted over an open-framework fuselage made from bamboo and landing gear built around a tricycle. In 1908, the Demoiselle (no. 19) became the world's first series-production aircraft.
As a man obsessed with machines and mechanics, his request to Louis Cartier to come up with a watch that he could consult without having to take his hands off the controls was perfectly in character. In 1904 Louis Cartier presented his friend with the first purpose-designed wristwatch with a solid, rounded square case and rivets on the bezel that might have been inspired by those used by Gustave Eiffel to hold together his famous tower. A precursor of the clean lines that would mark the Art Deco period, the dial featured bold blackened Roman numerals, the railway track minute counter and even the sapphire cabochon in the crown that have become iconic features of so many Cartier watches.
It was by no means the first wristwatch in history, women had been wearing wristlets long before men discovered their innate practicality, but it has gone down in history as the first wristwatch specifically designed for men, in this case, a pilot. Although it was not a technical tool watch for pilots, it did accompany Santos-Dumont on the first filmed airplane flight in 1906. In 1911, in a similar move to Santos-Dumont and his Demoiselle, Louis Cartier enlisted movement maker Edmond Jaeger to start producing the Santos watch on a commercial scale. You can read all about this fascinating chapter in aviation and watch history here.
Flying high for over a century
Still the only piece in Cartier's collection to bear the original wearer's name, the Santos was relaunched in 1978 appearing in steel and gold models and bi-metal models with an integrated bracelet. Proving its might as a timeless classic, the Santos was revisited again in 2018 although we didn't cover the 2019 iterations with quartz-powered movements. Earlier this year, Cartier introduced a larger but flatter and more elegant Santos-Dumont XL fitted with a hand-wound movement. Closer in spirit to the original, the watch is dressier than the 2018 collection and has lost some of its sporty rotundity in favour of a leaner profile.
Le Brésil
"Le Brésil" is named after Santos-Dumont's first balloon design. Made from Japanese silk, it was a particularly small, spherical balloon with a wicker basket and made its maiden flight 4 July 1898. Described by Santos-Dumont as the "smallest" and "most beautiful" of his balloons, an engraving of the balloon can be seen on the caseback.
Interpreted in a luxurious platinum case measuring 43.5mm x 31.4mm and with a slim case height of 7.3mm, the shape of the case and the layout correspond to the non-limited edition models introduced in January 2020. The presence of a manual-winding movement across all the models means that the case is thinner than the 2018 models and its overall aesthetics are flatter for a more elegant presence. The dial is silvered and brushed with polished metallic Roman numerals, sword-shaped hands and a ruby in the winding crown.  A limited and numbered edition of 100 pieces, the platinum "Le Brésil" is presented on a grey alligator strap.
La Baladeuse
"La Baladeuse" refers to a motorised airship – aka dirigible – used by Santos-Dumont to fly over Paris in 1903. Built to demonstrate the possibilities and advantages of air travel, Santos-Dumont would use his single-seater airship to stage surprise visits to his friends. Convinced that the "day will come when aerial omnibuses will transport tourists and business travellers", you could say that Santos-Dumont was also a visionary.
The case dimensions are the same as "Le Brésil" but here the watch is crafted in yellow gold. Like the models presented in January, the case features a contrasting brushed and polished surfaces and has abandoned the 'brancards' that appeared on the 2018 models making it closer to the original. Another distinctive feature of these 2020 models is the pointed shape of the stone in the crown, in this case, a blue sapphire stone. A limited and numbered edition of 300 pieces, "La Baladeuse" comes on a green alligator strap.
14-Bis
"14-Bis" celebrates Santos-Dumont's 1906 flight of 220 metres that won the Aéro-Club de France prize for the first officially observed flight of over 100m. The engraving on the caseback features the famous "no.14 bis" that was described as a 'kite of compartments'. The pilot, standing in the fuselage was connected to the rudder and fins by cables.
This model features a bi-metal construction with a polished yellow gold bezel and a brushed steel case. The dial features a sunray brushed anthracite grey background with white Roman numerals and an interior square. Also worth noting is the classic railway minutes track that now placed on the periphery of the dial and not in the centre, keeping with the modifications introduced earlier this year. The most affordable model of the three and limited to 500 pieces, the crown is set with a blue synthetic spinel cabochon.
La Demoiselle
The pièce de résistance of this limited edition is "La Demoiselle",  an XL-sized watched of just 30 pieces engraved with the most elegant of Santos' flying machines. Created in 1908, "La Demoiselle" is Alberto Santos-Dumont's famous monoplane and one of the first aircraft to be mass-produced. With it began a new era: "And we will sail through the air seeing Europe unfold at our feet like a geographical map. There we will remain, suspended between the stars and the earth."
The salient feature of "La Demoiselle" is the texture in the centre of the dial evoking the weave of a Panama hat, just like the ones worn by Santos-Dumont. The dial is a creamy straw colour and the numerals are painted in white with a black shadow. Another difference is the Breguet-style hands of this model, similar to those used on the first Santos watches. The measurements of the platinum case – 46.6mm x 39.9mm with a slim height of just 7.5mm – are identical to those of the models introduced in January 2020. The crown is set with a ruby cabochon and the watch comes with two straps, one fabric strap with a woven Panama texture and a brown alligator strap. As the most limited of all, "La Demoiselle" cones in a special presentation box along with a brown alligator leather travel pouch and a pair of Santos de Cartier cufflinks in white gold with red tiger eye.
Calibre 430 MC
The caseback is sealed but the movement inside is the 430 MC, a manual-winding calibre based on the Piaget 430P with a lean height of just 2.1mm. Used across the board in various Piaget Altiplano models and by Cartier, the movement beats at 21,600vph and the power reserve of 38 hours is on the short side – but understandable considering the low profile of the watch.
Prices to be confirmed. More details at cartier.com.
https://monochrome-watches.com/cartier-santos-dumont-limited-edition-watches-2020-introducing/