History of the Pilot Watch Part I – Cartier Santos 1904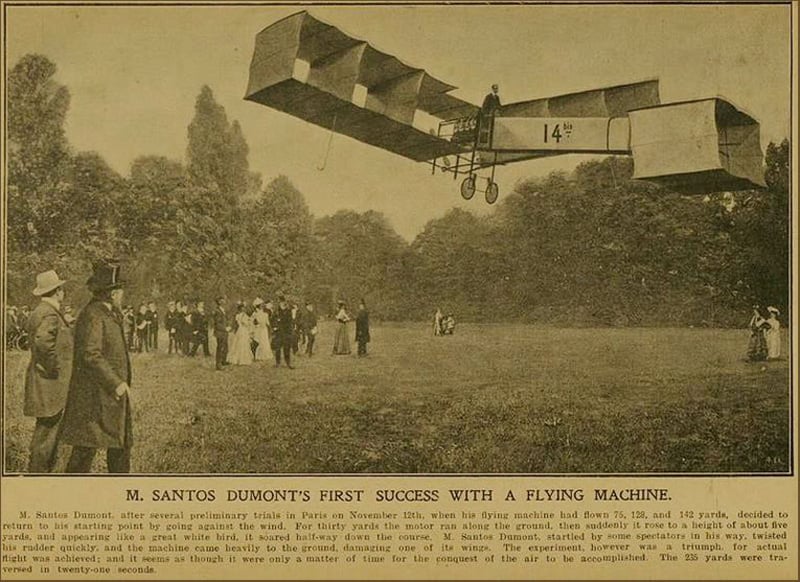 Today we're going to look at the history of the pilot's watch. It's the first article in a series of five and we're going to start with an unusual suspect… When it comes to the essential criteria for a pilot's watch, like functionality and readability, Cartier's Santos seems an odd fit except in one unassailable category: originality. 
A Santos owner is a distinguished client who may well epitomize a certain daring that accompanied Those Magnificent Men in Their Flying Machines. In a time when men risked their lives to soar into the air, the world held its breath and watched. In the midst of all this attention, a novel wristwatch by Cartier appeared, and the world took notice. The watch is a tribute to a fearless age when determination knew no bounds.
Article's Text: "M. Santos Dumont after several preliminary trail in Paris on November 12th, when his flying machine had flown 75, 128, and 142 yards, decided to return to his starting point by going against the wind. For thirty yards the motor ran along the ground, then suddenly it rose to a height of about five yards, and appearing like a great white bird, it soared half-way down the course. M. Santos Dumont, startled by some spectators in his way, twisted his rudder quickly, and the machine came heavily to the ground, damaging one of its wings. The experiment, however was a triumph for actual flight was achieved; and it seems as though it were only a matter of time for the conquest of the air to be accomplished. The 235 yards were traversed in twenty-one seconds."
I have never been one for arm wrestling, caber tosses or other assorted pissing contests, so I will refrain from entering the dispute between the Wright Brothers and Alberto Santos-Dumont about who is first. Let it suffice that the Wright Brothers' Flyer I flew earlier (1903), achieving the first sustained heavier-than-air flight under power. These inventive bicycle mechanics also created the three axis controls of yaw, pitch and roll, which allowed the pilot to maneuver his craft.
In 1906, Brazilian-Franco Alberto Santos-Dumont's '14 bis' flew equipped with wheels, enabling him to takeoff under his own power as specified by the Fédération Aéronautique Internationale, which since its 1905 inception, existed to verify aviation records. The Wright Brothers used a rail and later a catapult system for takeoff. Herein lies the point of contention between the continents. Did the Wrights create only a flying machine with Alberto making the first fixed-wing aircraft? Ernest Archdeacon sums up European sentiment with his question, "Are the Wrights flyers or liars?" In Europe, names like Clement Ader, Blériot and the wealthy eccentric, Alberto Santos-Dumont, were synonymous with aviation, and Europe was where horology followed flight. Concerning the first Pilot Watch, there is no controversy.
After achieving flight and collecting the Deutsch-Archdeacon Price, Alberto proceeded to celebrate royally at Maxim's restaurant in Paris. After the day's exploits, and the hero holding court amidst a jubilant crowd, it was time to unwind. "A Votre Santé!" Maybe it was between toasts of champagne that Alberto complained to his friend Louis Cartier about the difficulty of checking his pocket watch while flying. He needed to keep his hands on the plane's controls, but instead kept having to fumble for the pocket watch. Louis Cartier listened and Eureka! – an idea was born, which was to become the Santos-Dumont wristwatch – the first pilot watch.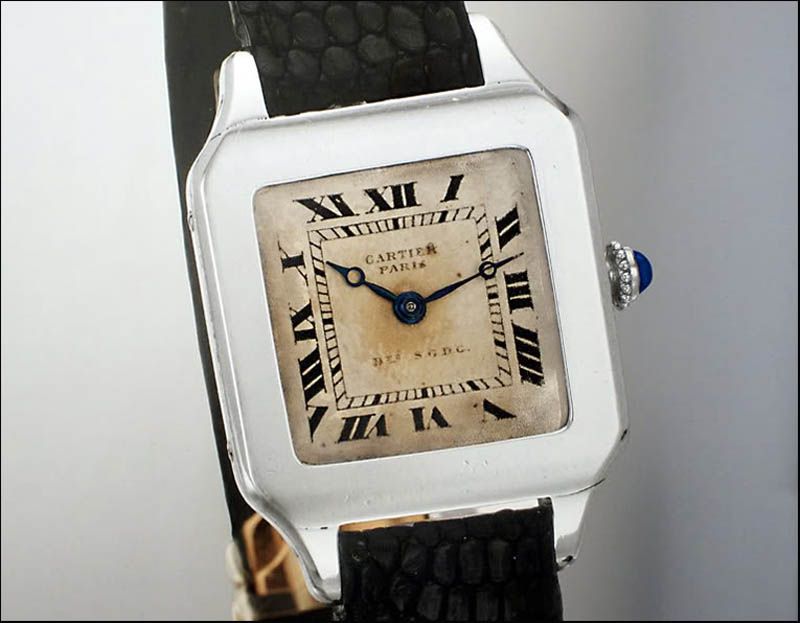 Louis Cartier made a watch for his friend Alberto Santos-Dumont, who wore it every time he flew. Alberto was a celebrity throughout Europe, and with his flamboyant personality, his Cartier watch became equally famous. Looking at pictures of Alberto in newspapers, the public asked, "What is that strapped to his wrist?" The answer was a watch. Instead of a cumbersome pocket watch, Alberto wore a wristwatch affixed by a comfortable leather strap and secured with a small buckle. Though Patek Phillip invented the wristwatch, women mainly wore it until Santos made the wristwatch a man's watch, achieving another first.
During this time, Santos upgraded his aircraft to the monoplane Demoiselle (Damselfly), which he built and mass-produced in Types numbered sequentially 19 through 22. In 1908, the No. 19 aircraft was the first commercially produced plane. It had a wooden prop, an open framework fuselage, and eventually a choice of three engines. Alberto could construct the plane in fifteen days, and in 1909, it gave its pilot 120km/h for the asking. The June 1910 edition of the Popular Mechanics magazine displayed drawings of the Demoiselle and boasted, "This machine is better than any other which has ever been built, for those who wish to reach results with the least possible expense and with a minimum of experimenting." Cartier with his watch and Alberto Santos-Dumont with his planes heralded the golden age of aviation.
Louis Cartier collaborated with movement maker Edmond Jaeger to mass-produce the Santos watch, which bore the adventurer's name and first went on sale in 1911. The watch was a success. The watch climate, however, would change. During WW2, the military specified round watches for service, and square watches began a decline that persists today, but the Santos had staying power and remained a Cartier signature product. The Santos watches are timeless classics.
With the 1978 Santos, Cartier deviated from using precious metals and delivered an affordable steel/gold watch, followed by an all-steel watch, and the public responded. Once again, Cartier supplied the watch to the masses, especially young people, and the stainless-steel Santos became an "It" watch for its time. Notice the plate bezel attached with tiny screws, which became an enduring feature, yet the original Santos DNA still predominates.
Today, Cartier has many variations of the Santos, available in different sizes and with an assortment of styling. It remains the first pilot watch and continues to evolve as we reported on the Santos 100 Carbon. The Santos may no longer grace the skies as it once did, but its owner can smile, knowing its auspicious origins. In the alpha male crowd of big, bigger, biggest pilot watches, the Santos is secure in its identity, knowing that no other watch can usurp its historical supremacy. It has nothing to prove. Being first is like that.
All Photographs courtesy of Geo Cramer, moderator of the Revo-online Cartier forum. Deepest gratitude goes out to Mr Cramer for the pictures.
Check out History of the Pilot Watch Part II, III, IV and V by clicking on the images below.
https://monochrome-watches.com/history-of-the-pilot-watch-part-i-cartier-santos-1904/