The Nine Reviews You Loved Most in 2016 On Monochrome-Watches
Like we always say, Reviews are crucial for us, at Monochrome-Watches – and for two main reasons. First of all, in order to bring you the best possible stories and the most objective opinions, we need to have some proper wrist-time with the watches. It's no debate here: wearing the watch and experiencing it for a while, as if we were owning it, is mandatory. It is our editorial philosophy. Second, as watch journalist, we believe that our reviews will influence your choices and for that reason, we think that you also need these reviews to make the most informed purchases. This is why, to close 2016, instead of showing you our most read stories, we'd like to show you the nine reviews you loved most this year on Monochrome-Watches (based on page-views and reactions).
9 – A. Lange & Söhne 1815 Chronograph Boutique Edition
With this article, Peter, our experienced photographer and lover of technical watches, brought us what might be THE most in-depth review of the year. Not surprising considering the watch he had on the wrist… The A. Lange & Söhne 1815 Chronograph Boutique Edition is simply stunning. Well, it looks brilliant but it's mainly its movement that influenced Peter and his review. In this article, he looked at all aspects of this chronograph – scales on the dial, the coupling clutch, the column-wheel, the hammer, the brake, the reset mechanism, the flyback system and of course, the insane finishing – and all of that is illustrated by dozens of super-cool macro-shots. Conclusion: if you want to know how a real chronograph (meaning column-wheel and vertical clutch) works, head over this review… Ps. brew a coffee first because it will take quite a while to understand everything. However, after that, you'll simply be the chronograph expert around the table.
Ad – Scroll to continue with article
8 – Omega Seamaster Planet Ocean Deep Black
With this watch, Omega stroke hard. Based on the iconic Seamaster PO, the brand brings a watch inspired by the darkest depths of the ocean, dressed in a full back attire. Well, not only it looks super-cool, but this was also a technical achievement. Think a case entirely (really entirely) in ceramic – even the screwed caseback and the thread are ceramic (a first…) – and still the watch remains a pure tool made for professional divers. Combined to that is a GMT function and for once, the bezel retains the 60-minute diving scale, while the 24-hour ring is discreetly positioned on the dial – the best of both worlds. This was THE talking piece by Omega this year, and when you have it strapped on the wrist, you immediately understand why. More to read about this Omega Seamaster Planet Ocean Deep Black here.
7 – F.P. Journe Chronomètre Bleu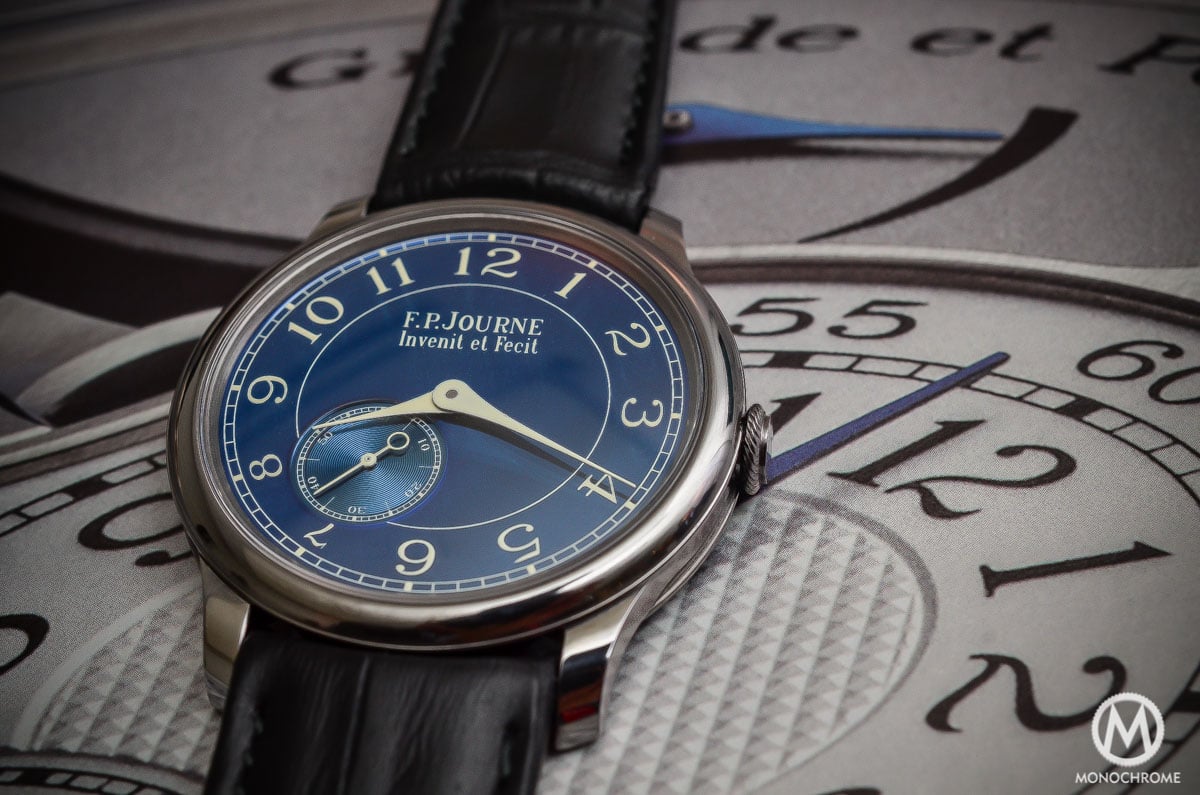 Certainly not a novelty, as introduced in 2009, the Chronomètre Bleu by François-Paul Journe still draw an immense attention towards watch lovers – as much as it haunts my nights… Being kind of obsessed by this watch, I had to write about it, in a review that ended to be rather personal. Surprisingly, after all these years on the market, the F.P. Journe Chronomètre Bleu ended to be one of our top-read articles this year, simply because it is brilliant. The combination of a rare material for the case, a movement that is both superbly finished, precious and precise, and finally that crazy blue dial makes it one of the stars of the independent scene.Once again, it's not a novelty but you can always re-discover (or simply discover) it here, in this review.
6 – Tudor Heritage Black Bay Bronze
The Black Bay Bronze, the talking-piece of the talking-brand… While having a bronze version of what certainly is one of the coolest dive watches around was kind of expected, Tudor shook up a bit the habits with a watch that ended to be different in almost every aspect: a larger case, a different layout for the dial, some colors never seen before, new straps… Same but different. The result is a "queen of cool" – and clearly, if "the king of cool" McQueen was still with us, he could have worn this watch easily. Surprisingly though, this Heritage Black Bay Bronze is not the Tudor that was the most read on Monochrome, as another one, which we didn't expect, created even more buzz. You'll see!
5 – Patek Philippe Chronograph 5170g
Patek Philippe, hand-wound chronograph, in-house movement, coin-edge "Calatrava" case, no additional complications, Breguet numerals… This watch has everything of a hit. And you won't be surprised to know that this Patek Philippe Chronograph 5170g opens our top-five of our most-read reviews of 2016, with an article named "Why the Patek Philippe 5170G Chronograph is such a cool watch?" With its sleek style, slightly vintage, as a faithful and respectful tribute to the 1940s and 1950s chronographs of the brand that draw so much attention now in auctions, this 5170g certainly is the most balanced offer in Patek's chronograph's collection now. It's pure, elegant, modern technicality and so desirable. Yes, it is a cool watch, that we reviewed and explained here.
4 – Seiko Prospex SRPA21 PADI Turtle
Finding this watch in our top-read reviews is clearly not a surprise. When it has been launched, just before summer, it immediately created stars in the eyes of collectors – and by that, I mean all kinds of collectors, even those with ultra-expensive watches. This watch was unanimously recognized as cool by all, especially considering the price required… (under 500 Euros). It has everything of a success: a vintage-inspired shape, a limited production, making it even more desirable and collectible, a "Pepsi" bezel, a great blue dial, an in-house automatic movement, the Prospex specifications… Many searched for this watch and this is why it has been one of our best stories of 2016.
3 – Tudor Heritage Black Bay 36
While most of us expected the Black Bay Bronze to be the most sought-after Tudor of 2016, statistics showed us we were wrong… On the last step of the podium is indeed another Tudor, the small edition of the iconic diver, the Heritage Black Bay 36. And it is justified. In his review, ilias explains the beauty behind this small, vintage-oriented watch: the combination of a smooth bezel, making it a perfect daily-beater, the classical Tudor dial and the iconic Tudor snowflake hands, and overall, the return to the roots of what is an everyday sports watch. This watch is an exception that proved to be a success. A must-read review by a sports-watch lover here.
2 – Old vs. new – the Rolex Explorer 214270
At Baselworld 2016, Rolex made a strong statement with a new, slightly revisited version of the Explorer 1, a watch that is a sort of "we plead guilty" by Rolex… Yes, the previous 214270 had some faults but this is now corrected with the new version, which finally comes with perfectly dimensioned hands and the right 3-6-9 indexes. Mister Professor Ilias, as the proud owner of the older version, takes a look at both editions and draw the history of an iconic model. This review is a must-read for all watch lovers, not only those who are looking to buy this watch. And it failed to be on the top step of the podium simply because another Rolex was launched, one that created an immense buzz… The Ceramic Daytona.
1 – Rolex Daytona 116500LN Ceramic Bezel
No surprise… The winner of the 2016 most-read review on Monochrome-Watches (and we wouldn't be surprised if the same occurs on most watch magazines) is the Ceramic Daytona, a watch that collectors have been waiting for ages and that Rolex finally introduced this year. While it is not an immense evolution (basically a new bezel and a tiny bit modified dial), this watch is an incredible commercial success (try to find one… it's just impossible). The Cerachrom Daytona is the star of 2016, period! You can read our review of this revisited icon here – and if you like watches and you never heard about this watch, you might have been sleeping for the last 10 months…
https://monochrome-watches.com/best-of-reviews-2016-monochrome-watches/