FP Journe Chronometre Bleu – Some personal thoughts about an icon (review with live photos & price)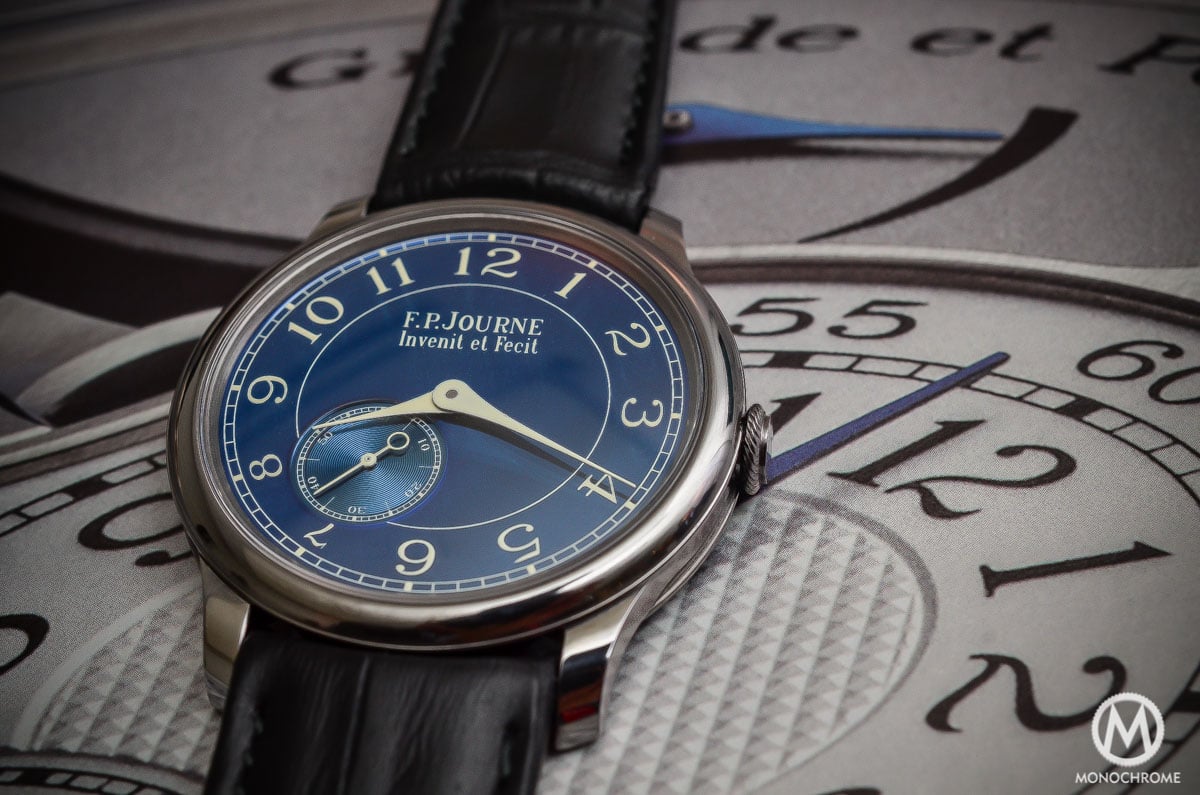 My daily job, as the associate editor of Monochrome-Watches, is to inform you about new watches, to share the industry news and to review timepieces that we believe worthwhile. Meaning: I'm a watch journalist. However, this also means (for me, at least) that I'm a watch enthusiast and a collector my-self. On the scale of desire for watches, I have three categories: the new watches of the year that I'd like to own (after seeing them at the SIHH or Baselworld), the all-time classics that would look nice in every collection (e.g. a Submariner or a Speedmaster) and the proper dream-machines, the ones that I want above all. One of them (in fact, there are quite a lot… but this one sits on the very top of my wish-list) is a watch that could be regarded as very classical by non-aficionados but that however is filed with so many unique details: the now iconic FP Journe Chronometre Bleu and here is why I'm a sucker for this very special timepiece, illustrated with an hands-on review.
What is the FP Journe Chronometre Bleu?
The FP Journe Chronometre Bleu is not only a superb dial, a special case or an impressive movement. When you buy a FP Journe Chronometre Bleu, you buy a story, you go for a man and for the part of his soul he injected into the design, the conception and the assembly of this watch. What differs between large brands, such as the Holy Trinity (Patek Philippe, Vacheron Constantin and Audemars Piguet), and the ultra-high-end independent watchmakers (Kari Voutilainen, Laurent Ferrier, FP Journe) is not the level of finish, the quality or the complications. In the first ones, you buy an heritage, an history, traditions (at least, that's what marketing gimmicks tend to make you believe) but this comes from a brand, from a company. In the case of indy-watchmakers, you choose to enter into the brain of the designer, to share with him a part of his feelings and soul. It has a personal bias that makes these watches more special (once again, to me…). You have a direct link with the people behind the watch.
After this digressive part, let's go back on the FP Journe Chronometre Bleu. In 2011, François-Paul Journe decided to introduce an entry-level watch to his collection. But he's not a simple guy, with simple ideas. For instance, he has a watch with two balance wheels, working under the effect of resonance, his tourbillon is fitted with a remontoire d'égalité (a constant force device) and all his watches have cases, dials, hands and movements made of solid gold. So when the idea of entry-level came, it was not a simple idea. Thus, François-Paul Journe decided to use the Chronometre Souverain as a base but not in steel. That would have been way too expected. For the same reason, the dial is different and actually, the FP Journe Chronometre Bleu has the most complicated dial of the collection to manufacture. And fortunately, this watch doesn't get rid of the solid gold movement.
Let's first talk about the case. The FP Journe Chronometre Bleu is totally apart in the collection for 2 reasons. First, its size. It measures 39mm, which is an intermediate between the historical (but now discontinued) 38mm case and the bigger 40mm case. It might be only 1mm but it slightly changes the perception of the watch once worn. I always thought the 38mm cases to be perfect for classier, dressier watches. However, the Chronometre Bleu is not as dressy as a red gold / white dial Chronometre Souverain. It isn't a sports watch either. Thus, 39mm is quite balanced and feels terribly comfortable on the wrist.
This case is also apart for another – obvious – reason. As you can see, it has a specific colour, darker than stainless steel or white gold (even darker than titanium), a very cold grey with blueish reflections. This comes from the use of tantalum, a rare and extremely strong metal (highly corrosion-resistant). Its use in horology and jewelry is very rare for a simple reason: it is extremely hard to machine and to finish. To date, few brands (including FP Journe, Audemars Piguet and Hublot, among others) used this metal to create cases. However, FP Journe is the only one that manages to create a case entirely polished in tantalum (and this is done in-house, at the case manufacture of the brand, completely integrated to the FP Journe processes). Tantalum has a rich colour, it's extremely hard to scratch and it is heavy, a feeling that some appreciate on high-end watches.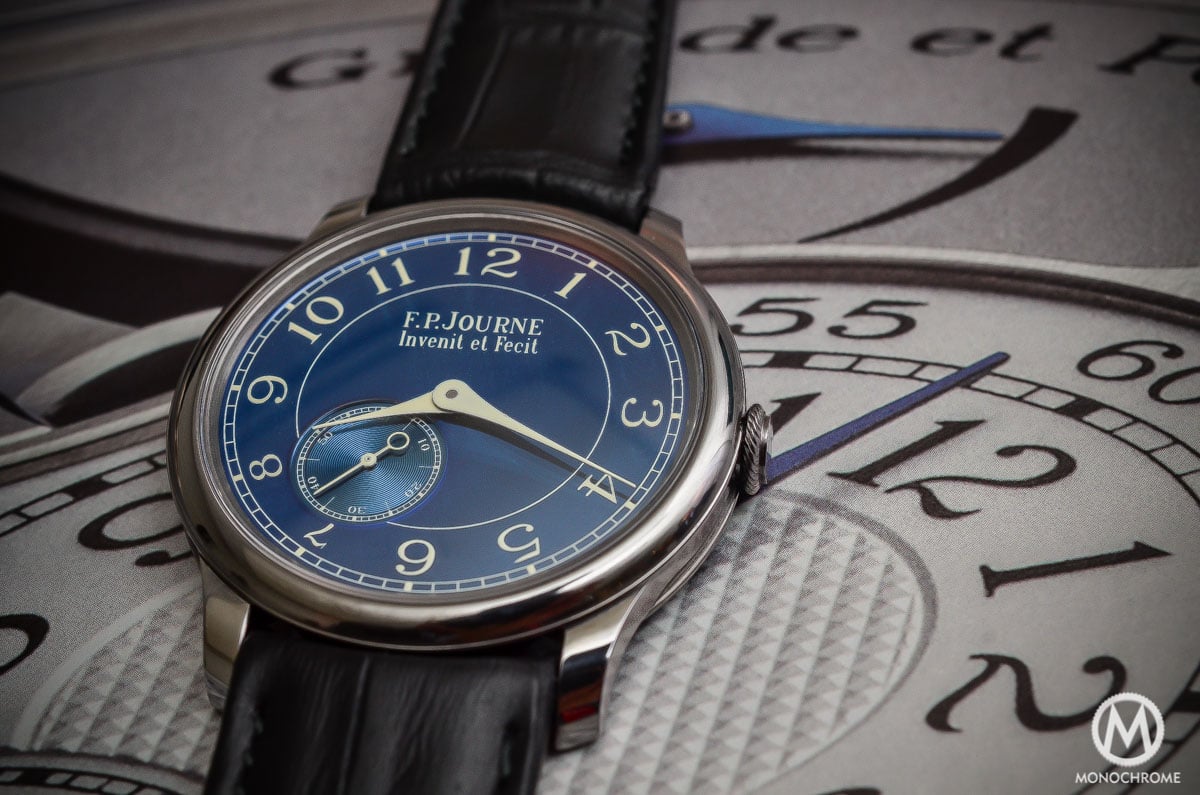 The design of the FP Journe Chronometre Bleu case remains faithful to the Journe tradition: rounded bezel, solid lugs that goes downward on the wrist, slim fluted crown – the eccentricity comes from the material, not from the shape. The other specificity of the FP Journe Chronometre Bleu is its dial, its impressive, superb, profoundly blue dial. This chrome blue colour is obtained from multiple layers of blue lacquer, applied by hand and each polished to a mirror finish before the next one is applied. From the words of François-Paul Journe, this dial (also made in-house, at the dial manufacture) is the most complicated of the collection and a lot of them (if not the majority) don't meet the commercialization standards. They are simply destroyed, in order to keep only the perfect ones.
The result is a dial that has an incredible depth, like if you could dive in it. The other effect of these multiple polished layers is to have a dial that changes colour, from an almost black tone to a vivid chrome blue under the sun-light. It is one of the 5 most beautiful dials of the actual production (and I assume my words. It is an assumption, not a personal taste). Apart from this finish and colour, the dial is full of little details that break the usual austerity of dress watches: an off-centered small second (at 7h30), the specific font of the numerals (and the fact that they are all entirely printed and not cut, next to the sub-dial), the milky colour of these numerals that seem to float over the dial, the duck-bill shape of the hands (typical to Journe)… it is extremely simple at first sight but so different when looked closer. It has a strong charm to it, unique to this brand and to this specific watch.
Behind the dial ticks a very, very nice movement. In the Journe tradition, the FP Journe Chronometre Bleu features a movement made (almost) entirely in solid pink gold – most brands are creating bridges and plates in brass or in German silver. Here, luxury comes to a pinnacle. This watch has not an ounce of precious material visible… except in its movement. The FP Journe Chronometre Bleu has a specific finish, compared to the usual Chronometre Souverain. The main plate feature a grain d'orge (barleycorn) guillochage instead of the normal sun-ray pattern. The gold bridges are finished with Geneva stripes and polished bevelled angles. For the rest, we found back the superb main bridge, with nice curves and enough openings to reveal the main technical elements (barrels, ratchet, gear train…). On the other side sits the balance wheel and the escapement.
Technical nerds might have spotted something strange in this movement: the absence of mechanical link between the center wheel and the escapement wheel – in other words, there's a lack of wheels in the gear train… In fact, the gear train that links the escapement to the barrels runs under the dial rather than taking the conventional path across the caseback. This Calibre 1304 features a double barrel in parallel, for a more stable delivery of the torque during the entire 56 hours of the power reserve. It also features a variable inertia balance wheel that runs at 3Hz (21,600vph). As indicated in the name (chronometre), this movement is COSC accurate.
Overall, there's so much to say about this apparently simple watch, both visually and technically. It is a demonstration of what François-Paul Journe has in mind and a superb execution of the concept of high-end, independent watchmaking. The best to notice is that this watch is rather well priced, at 23,000 Euros (including EU taxes). Considering the dial, the material, the shape or the execution of the movement, there's no real competition. A Galet Square from Laurent Ferrier is priced over 30,000 Euros and is in stainless steel, a Patek Philippe Calatrava will be in gold and won't have the same charm, a Kari Voutilainen is much more expensive… This FP Journe Chronometre Bleu is definitely unique.
Why I love the FP Journe Chronometre Bleu so much?
I told you, this watch is part of the pieces I'm dreaming of, without consideration of price, of availability or of time. I don't know when (or if) I'll be able to have one. What I know is that I'll make my best to own one, one day, hopefully. Of course there are tangible reasons for this:
a superb dial, extremely complex to make, extremely creative, very unique in its look and conception, with a certain eccentricity, however highly controlled to keep elegance and distinction
a case made in a rather unique material, that gives it the look and feel of a sports watch, combined with the shape of a dress watch
a great versatility and comfort on the wrist
a movement superbly executed, in solid gold and intelligently conceived (hidden gear train)
a reasonable size that makes it a potential daily-beater
a very good quality / pleasure / price ratio
However, there's more in the FP Journe Chronometre Bleu. More, not because of what it is, but because of where it comes from. This watch has, like every single piece made by independent watchmakers, a soul, a direct link to THE designer / watchmaker that imagined it. This watch isn't the result of a marketing survey, where a bunch of interns and white-collars guys thought it could be good to have this element or this complication, just because they thought that the market is asking for it. I love the FP Journe Chronometre Bleu for being the vision of a man (and his team) of what could be an entry-level watch. If all the brands could have this conception of the entry-level… Well in fact, no, this would ruin my love for the Chronometre bleu. I love this watch for being so unique and so classic at the same time, just because some elements (not all of them) are different from the rest of the production. The eccentricity is restrained, controlled, leveled to an amount that makes this watch particularly subtle. I love the FP Journe Chronometre Bleu for not being a Patek Philippe or a Vacheron-Constantin (and I love watches from these brands). Conclusion: I have to have one… (and I know that my boss, Frank Geelen, won't blame me for being so enthusiastic this time).
https://monochrome-watches.com/fp-journe-chronometre-bleu-review-live-photos-price/