Christmas Buying Guide – 5 Best Dive / Sports Watches of 2016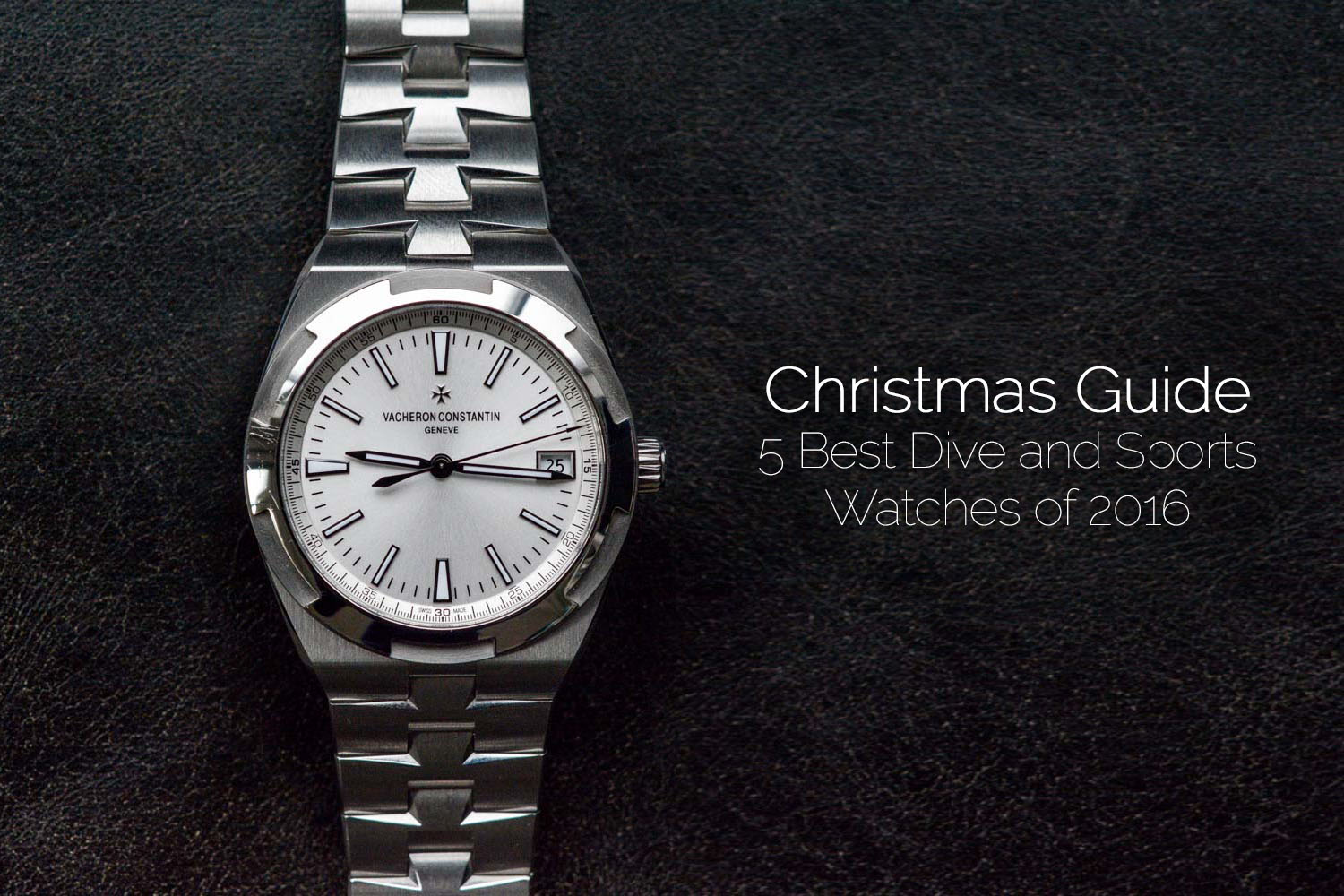 Today, our readers on the other side of the Atlantic are celebrating Thanksgiving, and while this day doesn't make a lot of sense for those in Old Europe or Asia, it however opens the festive season. And who says festive season says Christmas and our usual buying guides – and also an overview of the best watches we've seen this year. After long debates and fights at the Monochrome-Watches headquarters (not literally, no worries), here are the 5 Best Dive / Sports Watches of 2016, for all budgets and tastes.
Seiko PADI Turtle (or Prospex SRPA21)
Why this Seiko Prospex SRPA21 PADI Turtle? Well, let me be somehow materialistic here and allow me to talk straight about money, but what you're looking at is a watch priced at 429 Euros / US$525. Yes, that's cheap – and I don't mean affordable or accessible, it is really cheap… that's the average price of fashion-designer-China-produced-fake-Swiss-made watch you can find in the street. Money is important with this watch when you consider what you'll have. First, it's a Seiko. Thus it's well manufactured, super-resistant, super-reliable, super-precise. Then, it has an in-house automatic movement (in fact, the entire watch is in-house produced), just like a Patek. Also, it is a re-edition of one of the most emblematic dive watches from the Japanese brand, the Turtle 63XX series. Then, even if some "standard" editions exist too (see here), the one you're looking at is the special PADI edition, with a specific blue dial and a "Pepsi" bezel – and, really, it looks cool. Finally, it is a proper professional diver made to be used and abused. And no, it is not a mirage. www.seikowatches.com.
Ad – Scroll to continue with article
Tudor Heritage Black Bay Bronze
Why this Tudor Heritage Black Bay Bronze? Is it really necessary to introduce to you the Tudor Black Bay, a watch that certainly is the most hype accessible sports watch around? Since 2012, the Black Bay conquered the hearts of modern and vintage watch lovers, as it gathers the best of both world: a modern in-house movement (COSC-certified, Rolex-approved… not a bad pedigree), a superb quality of construction, a cool vintage design, inspired by 1950s and 1960s Submariner, but not too gimmick either. The right dosage between sports, heritage and modernity. This year, the brand introduced a version that might be a bit more "niche", but what a sex-appeal. The Bronze Black Bay has a specific case (43mm), a specific brown bezel and a unique 3-6-9 brown dial, looking just like patinated vintage watches. And the good point is that bronze will also gain patina, making this watch unique to each wearer. Sexy, right? Price is 3,750 Euros / US$3,975. tudorwatch.com.
Omega Seamaster Planet Ocean Deep Black
Why the Omega Seamaster Planet Deep Black? This watch started its life with many disadvantages for the average Monochrome editor. Indeed, we're not so found of black watches, we prefer metals to ceramics and we like smaller watches. Everything this watch isn't. And if you want to know, it doesn't matter, because this Seamaster Planet Deep Black simply works in the metal and – I dare to say it – is certainly one the best Seamaster PO ever. The black ceramic case makes it light and scratch-proof, as well as visually smaller. The construction and overall quality is beyond suspicion (Omega obliges). The movement is a racing engine (Co-Axial Master Chronometer METAS-cerified). Finally, Omega resigned the dial and bezel so it is both a traveller's watch (with the 24h ring on the dial) and a real diver, thanks to the 60-minute bezel. And there's the looks, especially with this black and blue combo, which is great. Price: 10,400 Euros and available since a few days. www.omegawatches.com.
Vacheron Constantin Overseas
Why the Vacheron Constantin Overseas Automatic 4500V? Before the latest edition of the SIHH, in terms of luxury sports watches, there were the Nautilus, the Royal Oak and, a bit in the shadows, the VC Overseas. With all due respect to the brand, this watch was somehow outdated and didn't felt any longer as appealing as its two main competitors. This has drastically changed in 2016, with the brand new Vacheron Constantin Overseas collection, including this 4500V Automatic, a.k.a the standard edition (there are many other editions, more expensive and more complex too). The new design is pure, racy, elegant, luxurious and sporty at the same time. The case is more refined than ever, the dials are greatly designed and it features a superb movement, in-house, with long power reserve and exquisite finish (Hallmark of Geneva, in a sport watch…). The final uppercut comes from the easy-interchangeable straps and the insane quality of the steel bracelet (look at these polishings and angles…). It comes at the rather hefty price of 21,500 Euros, however entirely justified. www.vacheron-constantin.com.
Ressence Type 5
Why the Ressence Type 5? See, if you are here, you must know that at Monochrome, we love things to be unusual, complicated and different. Nothing posh in these words, but we have a soft-spot for creativity, unique displays of the time and mechanical innovation. However, this usually means fragile, heavy and almost unwearable watches – at least, watches that you won't wear on a daily basis. But when Ressence came up with the idea to have their unique display integrated into a dive watch, it felt like providential. Finally a bold, indy watch that we could use and abuse. So with the Type 5, we find back the great oil-filled module on top with its rotating discs but in a more rugged and sporty style. The best part comes with the oil-filled concept, as the Type 5 is actually the first mechanical watch with zero reflection underwater. And that for a dive watch is quite useful, believe us (see our in-situ test here to illustrate our words). Price is 31,500 Euros, justified by the technology and the exclusivity. ressencewatches.com.
https://monochrome-watches.com/christmas-buying-guide-5-best-dive-sports-watches-2016/