Top 5 Watches from Baselworld 2016 by Brice Goulard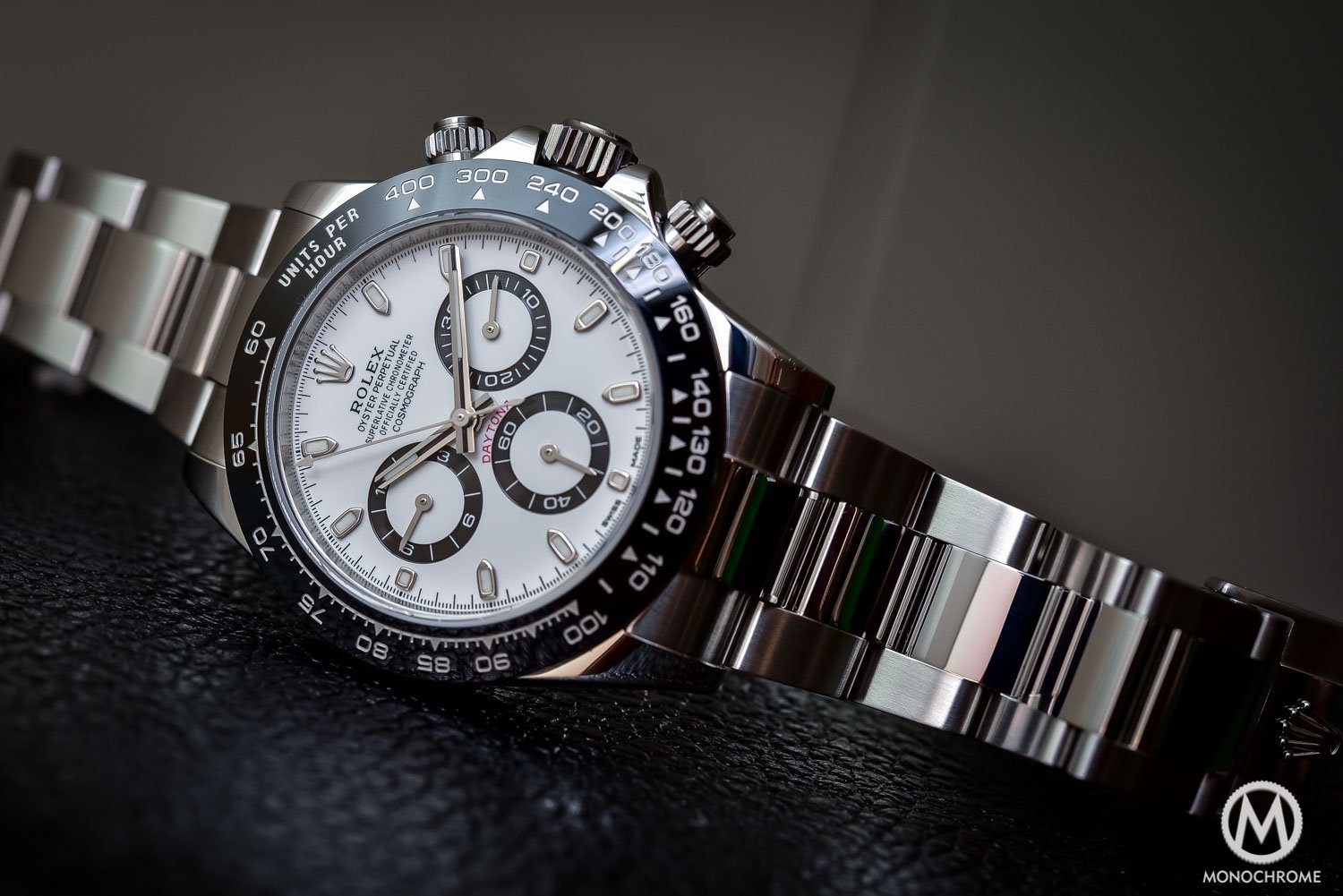 We told you, we had to take some time to properly think about our favorite watches of Baselworld 2016. We've seen over 1,000 new watches each and if most don't deserve to be in our personal wish-list, some could potentially enter our "hall of fame". We had to digest Baselworld 2016 but it's now time to look at what impressed us most. After our contributor Robin, here are the Top 5 Watches from Baselworld 2016 by Brice Goulard. It's sometimes highly predictable, sometimes less. Monochrome-Watches is eclectic and so are the members of the team.
1 – Rolex Daytona 116500LN in steel with Cerachrom black bezel (white dial edition)
The Rolex Daytona has always been one of my least favorite watches of the Crown's catalogue, at least the modern one (since the new design launched on the ref. 16520 in 1987). I've always blamed the lack of contrast of the dial, I simply hated the polished bezel, I always thought this watch to be too shiny and since a few years, I found it outdated – especially compared to the rest of the collection. However, I was highly expecting Rolex to redesign this icon (after all, the Cosmograph Daytona is one of the 2 most iconic chronographs). It's actually a great surprise (especially for me) to admit such a love for this new iteration with black Cerachrom bezel.
Ad – Scroll to continue with article
There are several reasons why. First, it looks completely different than the older 116520 (really it does). It's not shiny anymore, it has a greater contrast, it somehow goes back to the Panda dials and to the contrasting bezels. It has a certain vintage feel. Then, I actually designed a same looking watch for our yearly predictions in 2014 and 2015… It is kind of MY WATCH (ok, not really but still…). It is to me the most intelligent move Rolex have done recently. A small move for sure, but a good one. My choice would be for the white dial (a funny fact is that I've always preferred the black dial Daytonas but here, the white dial simply looks better). I hate to say it but I have to have one soon… Review to read here.
2- Gronefeld 1941 Remontoire
Be prepared because this Gronefeld 1941 Remontoire simply achieved unanimity amongst the Monochrome team. The new creation of the Horological Brothers is stunning. Period! No debate, no reasons to say no. The combination of a sleek dial with a modern – almost minimalistic – approach of Haute horlogerie talks to me A LOT. I also love the reasonable size of the case and its nicely designed lugs. The finishing of the movement is to die for (believe us, it's on par with Greubel Forsey) but on the other hand, it remains extremely underrated. Viewed on the wrist, it has nothing demonstrative and it features a single complication – but one with a real use, one that only insiders will understand, a constant force mechanism that enhanced precision all over the length of the power reserve. It's chronometry vs. showing off here. And I chose the first option. The only reason why it is not first on my list is the price (relatively speaking, a highly competitive price) but way too large for my own pockets. Details here.
3 – URWERK UR-105 Clockwork Orange
I know this one won't talk to the large audience but I love URWERK. I love the design, I love the unique display of time, I love this non-compromised spirit and I love the people behind the brand. Of course, I still have a crush for the UR-210S Full Metal Jacket but what I especially appreciate with the UR-105 is the daily wearability. It remains rather small and light. It is extreme in its design but not outrageous. This new Clockwork Orange brings a two tone case (mixing black PVD and nude titanium) that I do prefer over the full black case and some orange accents on the indexes and minute track which, even if I'm not Dutch, really appeals to me. Review here.
4 – Tudor Heritage Black Bay 36
This one is just a matter of design, coolness and moreover, a matter of proportions. I still love my own Black Bay Blue with a 41mm case – which I consider a perfect daily beater – but with this 36mm case, I think Tudor has done everything right. I liked the look of the Bronze edition but I still think that the 43mm case is oversized. Here, at 36mm, it brings forgotten feels. It took me a while before admitting the beauty of this Tudor Heritage Black Bay 36 but back home after Baselworld 2016, I understood. It's all about the sensation of seeing the strap rolling over the wrist, the sensation of a sports watch that doesn't overlap your wrist and the feel of something more elegant but yet sporty. I was looking for a watch I could share with my better half… I found it (and she loves it too). Review here.
5 – Patek Philippe 5930g World Time Chronograph
Consider these words: Patek, sports watch, guilloché dial, world time, chronograph, reasonable size, elegance… Trying to mix them in your head to achieve a single watch isn't easy. Well, Patek Philippe did it. And they did it very well. The new Patek Philippe 5930g World Time Chronograph is a personal favorite simply because it achieved to combine very different worlds. It is sporty but still extremely elegant, it is very blue but the guilloché dial makes it rather dressed, it features many complications (and some that need space) and still has a very reasonable size (only 39.5mm x 12mm). This 5930g combines one of my favorite features (chronograph) with the most practical one (the world time function) in a watch that is superbly executed, to me greatly designed and still wearable and legible. Patek Philippe style… review here.
https://monochrome-watches.com/top-5-watches-from-baselworld-2016-brice-goulard/