Hands-on – Tudor Heritage Black Bay 36mm Ref. 79500, the Tudor watch for both her and him – Live pics & price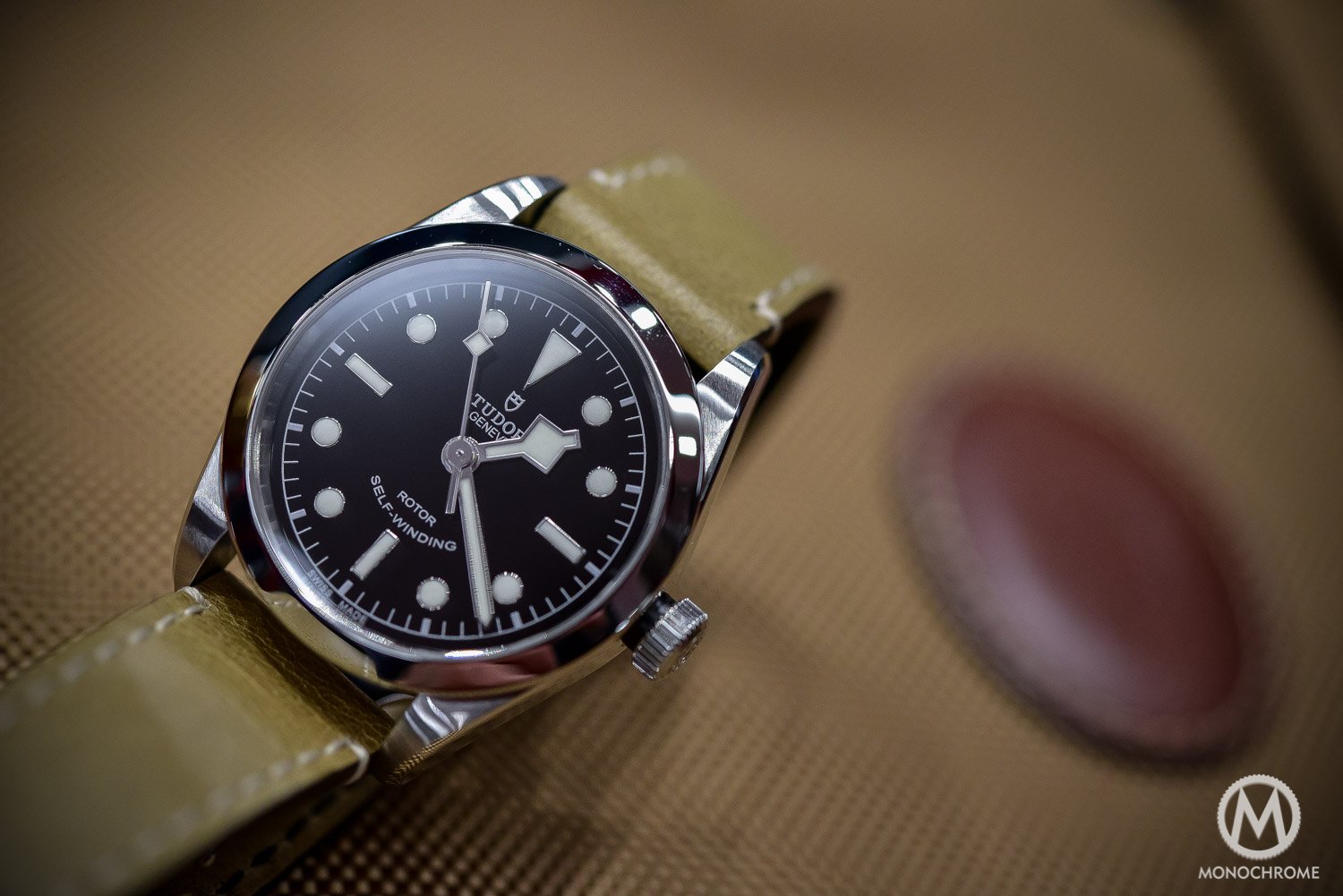 When you think Tudor watches, you immediately think cool timepieces, with a sporty look and a superb price/quality ratio (e.g. the Heritage Black Bay Black). You might also have in mind a certain size – which we believe to be the right one, with cases measuring, for most references, in-between 40mm and 42mm. On the other hand, Tudor showed that they could also grew, with a 43mm case on the Black Bay Bronze, probably not the expected diameter for some collectors (including us). Well, it seems that we have some good news for you, as here is the Tudor Heritage Black Bay 36mm Ref. 79500, the Tudor watch for both her and him, for smaller wrists, for vintage lovers, for formal desires…
The new Tudor Heritage Black Bay 36mm is not only a matter of style, it's mainly a matter of proportions. And because of this crucial point, we'll show you this really interesting novelty in a way that isn't our most usual: less technical, more user oriented, more lifestyle.
This new Tudor Heritage Black Bay 36mm isn't just a reduction of the previous 41mm editions, which you know now in burgundy, blue and black (and which will be updated with a new in-house movement – we'll get back on this point in a coming in-depth article). In fact, if the overall style and design are shared between the 36mm and 41mm editions, all the parts, all the elements composing this smaller version are different, some differing just from small details, others being completely new.
A clever move from Tudor is that they never announce this watch to be a ladies version. Of course, at 36mm, this new Heritage Black Bay 79500 can easily be worn by women (and honestly, at Monochrome, we highly encourage them to do so) but it can – and it will – also be worn by men, with the intention of having something a bit more vintage-sized, a bit more formal in the look or just smaller. Something that has been forgotten for a few years: the comfort and the elegance of a truly well proportioned watch or simply the beauty of seeing the strap bending around your wrist (brands put more and more efforts in straps, Tudor included, so why not showing it more).
We're not going to talk for women but as men, we can ensure you that this Black Bay is a refreshing feeling. The case not only is smaller but it also gets rid of an important feature of the other Black Bay: the rotating dive bezel – which isn't a small detail at all, as it changes the entire look of the watch. Even if this 36mm edition still has a sufficient 150m water resistance, it is more intended to be a formal sports-watch than to be a proper tool. This combination of the case of the Black Bay (with polished bevels on the lugs and brushing on flat surfaces) and the flat polished bezel brings a more subtle approach. Nice on the wrist, nice for the eyes, less visible for the others – but connoisseurs will understand the beauty of this clean and smaller case.
As we told you, this new Tudor Heritage Black Bay 36mm is easily recognizable (same overall case, same design clues) as being part of the BB family but do consider that, in reality, nothing is similar. And this goes for the dial too. Of course the hands are still relying on the iconic and characteristic angular hands known to collectors as "snowflake" from models that appeared in the brand's 1969 catalogue. The indexes are also known: triangle at 12, batons at 3 – 6 – 9 and large dots for the rest but the dial is now flat and polished (while slightly domed and matte on the 41mm Black Bay). Result: a close recipe but completely different taste, a pitch black look, of course more reflections and a different reaction towards light, which will emphasizes the more formal appearance.
Few details to note (we can't really change ourselves): the rail track for the minutes is similar to a normal Heritage Black Bay, inscriptions are silvery-white and close to the previous (non-manufacture) version, with a curved design. Latest evolution; the "Rose" logo (the historical logo of Tudor Watches) goes away and the "Shield" logo is back. The "Rose" remains however engraved on the oversized crown.
Inside the Tudor Heritage Black Bay 36mm, no in-house chronometer movement but the reliable and known calibre Tudor 2824 (with automatic winding and 38h of power reserve). This choice can also be justified by the "entry-level" positioning of the Black Bay 36 – even if Tudor proved us that the implementation of the manufacture movement had a very reasonable influence on the price of their watches (something rare enough to be noticed). Maybe the possible second generation of this 36mm edition will evolve to the in-house movement.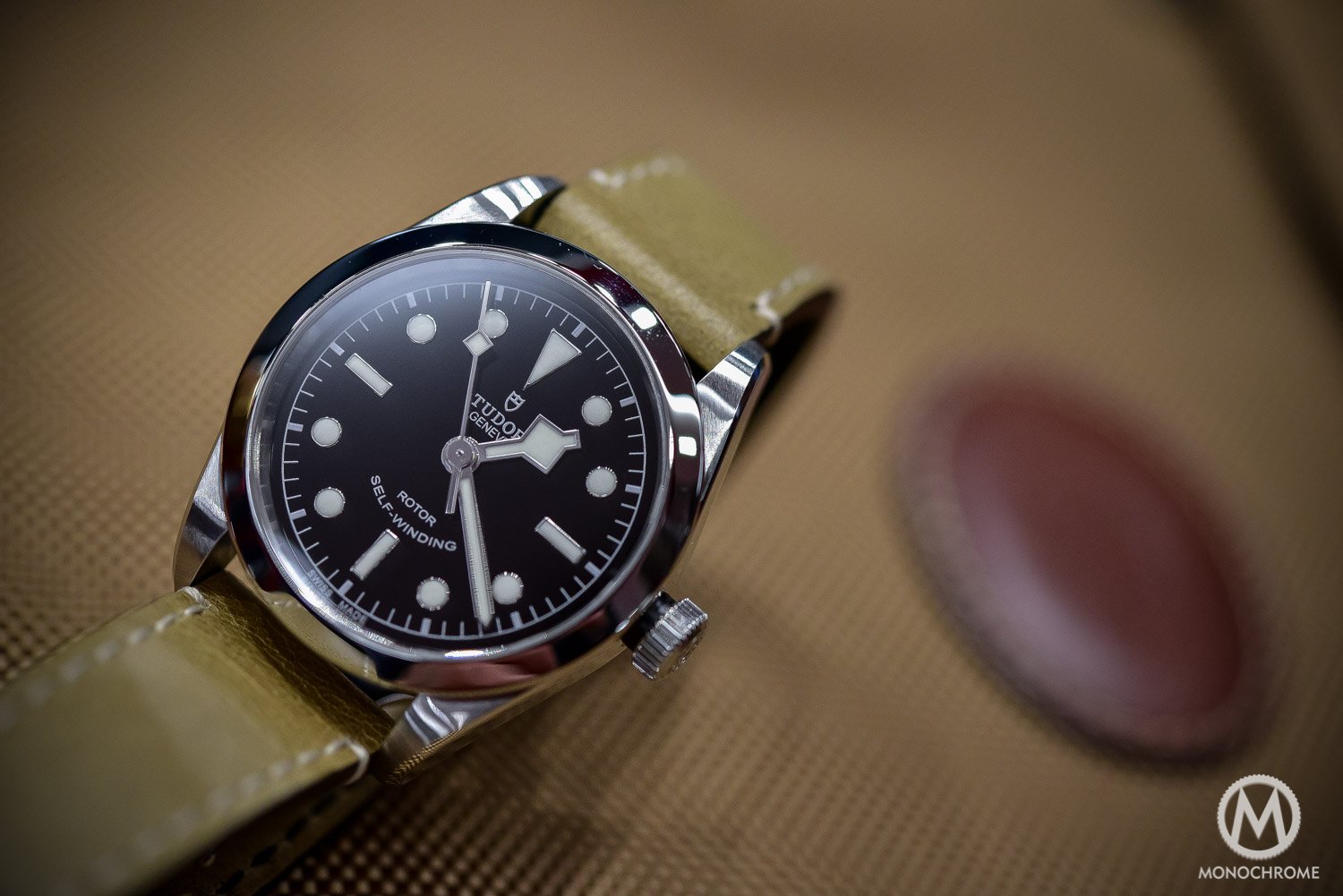 With Tudor, straps / bracelets are a great part of the design and feel, and this is still the case with the Black Bay 36mm. Two options will be available: an elegant, slightly vintage and actually very cool distressed beige-coloured leather strap with steel folding clasp or a sportier, still superbly crafted and very comfortable, 3-link steel bracelet with full brushed surfaces. And as usual with the Heritage collection, an additional fabric strap with buckle will be included in the box – here with a camouflage strap, produced according to the traditional "Jacquard" technique (mastered by a century-old family business located in the St-Etienne region of France). This is not a printing but the pattern is the result of the weaving technique.
What to think about this new Tudor Heritage Black Bay 36mm Ref. 79500? Well, it makes no doubt that many women will be extremely enthusiastic about this smaller offer (and again, they should…). The most interesting factor remains how this small sports-watch became a magnet on men – including us – because of its perfect balance, its clean and more elegant look. Tudor might be moving in a more technical direction with their manufacture movement, they didn't loose their coolness and their ability to be trendsetters. Well done again!
Price: 2,370 Euros on leather, 2,670 Euros on stainless steel bracelet. More on the dedicated page on tudorwatch.com.
https://monochrome-watches.com/tudor-heritage-black-bay-36mm-79500-review-price/