Interview
Wilhelm Schmid on the Lange Odysseus, the Zeitwerk Minute Repeater and COVID-19
We talk new models, bracelets and straps... and what's coming next.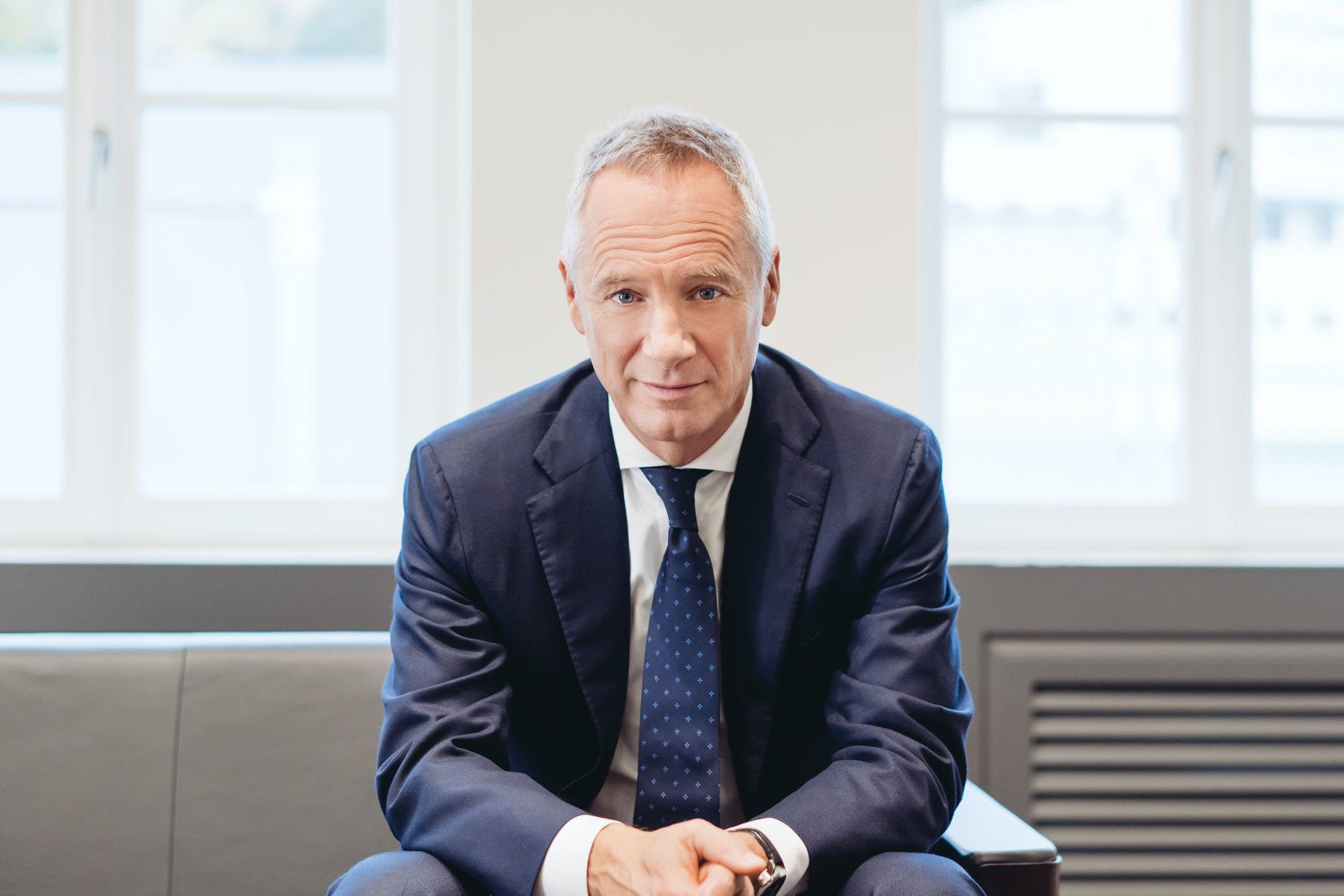 Usually, we would start by saying "we sat down with Mr Schmid, CEO of A. Lange & Söhne, to discuss the brand's newest releases" or something along those lines. Well, not today. Last week I met 'virtually' with Wilhelm Schmid during a Zoom meeting for an interview about the two novelties A. Lange & Söhne introduced during the (again, virtual) Watches & Wonders of this year. Only two novelties for A. Lange & Söhne and to be honest, no ground-breaking novelties either. However, Mr Schmid did give some insight into what's to come and how the company is reacting to the current COVID-19 challenges in the short and long term. 
A. Lange & Söhne introduced what insiders would call 'animations'. An animation, for instance, could be a new dial colour or a case in a different material. The two new timepieces from Lange are the Zeitwerk Minute Repeater that now comes in white gold and a new Odysseus that also comes in white gold. You might suspect that gold was on a discount. Not so much, as gold prices are at an all-time high. The Zeitwerk Minute Repeater was introduced in 2015 in platinum with a white/silver dial, and the new white gold version is a limited edition of 30 pieces and comes with a drop-dead gorgeous dark blue dial. A stunning combination and it meant more than simply swapping a repeater movement from a platinum case to a gold case. Mr Schmid explains why.
Wilhelm Schmid: the Odysseus white gold on a rubber strap is probably my casual watch in the future
And then there's the Odysseus, Lange's first steel sports watch. Now it also comes in white gold with a 'groovy' grey dial and on a rubber or leather strap. I guess you can already imagine my first question to Lange's CEO and I can already say that the answer, to me at least, is somewhat of a disappointment. But more on that below in the interview!
Frank Geelen, MONOCHROME – Looking at the novelties, there are not many technicalities to discuss this year as the models and their 'engines' are well known by our readers. However, the first thing I wondered is whether the rubber strap of the white gold Odysseus will be retrofittable (is this an actual word?) on the Odysseus in steel? 
Wilhelm Schmid, A. Lange & Söhne: No, we stay again very clear – you know us – there's a steel version with a steel bracelet, and there's a white gold version with a rubber or leather strap. And yes, you can change the leather strap against the rubber or the rubber against the leather, but no, you can not swap the leather to the steel or the steel bracelet to the white gold watch.
Unless you change the strap yourself?
Well, no, it's not even that. I would not recommend it and even I couldn't do it. It's something for a watchmaker to do if you really want to do it. But, technically it's not possible to do easily.
OK, so that's a big no! But maybe it will be planned in the near future or do you really want to keep the steel Odysseus with steel bracelet and the white gold version with rubber or leather?
The future is a very long period of time, but for the time being, I think it's not in our plans.
That's a bit of a pity, I think. 
Well, as I said, you can have either steel or gold. And remember we're already struggling a lot to fulfil the demand of the steel Odysseus. From the reactions I've seen so far, we will increase that struggle with the white gold version. So, you know, if you start mixing everything with everything, that's not really us. We have a very clear policy, for example, grey dials are the white gold versions. Black dials are platinum versions. And that's for each of the product families, clearly determined, it's a strategy, and that's very much the same here. We want to stay clear, as you know us.
Any preference? White gold or steel? 
I personally am a big fan of the Odysseus in white gold because I'm not that big a fan of metal bracelets. And for me personally, I think the Odysseus on a rubber strap is probably my casual watch in the future.
Now that stunning Zeitwerk Minute Repeater… At the beginning of our conversation, you mentioned that it was not exactly a simple transplantation of the Zeitwerk Minute Repeater movement into a white gold case. 
Exactly, and you want to have a distinctive, different tone. So, if you just put the movement in, it doesn't work like that. You have to work with the hammers and the gold, you have to fine-tune it to really make a difference in tone. So, if you put the watches next to each other and listen, you will see that the platinum watch is crisp and clear, and the white gold version is softer and warmer. The level of loudness is exactly the same. And again, if you change things in a minute repeater, you have to work with the acoustics. Unfortunately or fortunately, it's not like you can take the one and put it in the other and say all done. It needs and deserves a lot of fine-tuning to really get out of a minute repeater what you want it to do.
Have there been technical changes or does this purely come down to fine-adjusting by a very good watchmaker?
That's actually fine-tuning and that's true watchmaking because it's not anything you can technically 'construct'. It deserves a watchmaker with a good ear and good fingers to adjust it. But again, it wasn't a simple transportation from the movement into another case, and voilà it works. It was actually a lot more work and detail to get the fine tone that we wanted.
By the way, it looks very, very good, this white gold minute repeater with a blue dial.
I'm not sure which one I like more. I love the platinum one, I have to be honest with you, but you know, they are totally different. And yes, the blue looks stunning, I agree.
Do you plan anything, in terms of activities or events this year, or are all your plans on ice for now and the rest of this year?
We do have a clear plan, but we also know that this plan is based on what we know today. We know for sure that the Concours d'Elegance in Italy at Lake Como will not take place in May. Nobody knows right now whether the Classic Days at Schloss Dyck in Dusseldorf will take place in early August. Most people believe the likelihood is not high. So, nobody can tell us right now whether Hampton Court will take place or not. We claim as if it's going to take place and then we have to change the moment we know it doesn't happen. There is for sure one event that is going to take place and that's the 175th anniversary of watchmaking in Glashütte. Whether that's an event or a digital thing we do not know yet. Again, it's too early to say, but there is more in the pipeline. We believe that in today's environment it's very difficult to plan.
The 175th anniversary of watchmaking in Glashütte? Please tell me more. 
In 1845, Ferdinand Adolph Lange founded Lange & Söhne, and that was exactly 175 years ago. So, it's a big day for Glashütte. And that's really the anniversary of fine watchmaking in Glashütte, so it's overall A. Lange & Söhne. But of course, it's our founder that initiated fine watchmaking in Glashütte, so we will take that occasion to celebrate a little bit. How? We don't know yet. It's too early to really say. But rest assured, there is more to come throughout the year!
Are the events like Hampton Court, Classic Days and the 175th Anniversary meant to showcase the upcoming launches for this year? 
That's the idea, at least if these events take place. If not, we'll have to find alternatives.
We recently did a story on what could change for the industry, due to the Coronavirus, and what we can learn from it. How do you see the effect of COVID-19 on the industry, especially on A. Lange & Söhne, its clients, ways of working with true retailers, but also with suppliers and everything?
You know what, Frank, I can't give you a good answer on that. I believe that once the crisis is managed, we will see two things. One thing is we will come out a lot more digital than we got into this challenging time, and the second thing I believe is that we will all value personal relationships even more than before. These are the two things and I know they're almost opposite. On the one hand, you have as we talk now, a digital experience, but on the other hand and to be honest, as much as I enjoy seeing us on the screen, I'd rather see you in person, have a coffee and a chat.
I think what we experience with social distancing at the moment is exactly what we'll appreciate once it's over. So, we will value personal relationships and at the same time, we'll become more digital.
Any chance that e-commerce is going to play a role for A. Lange & Söhne? 
Well, our main aim is to develop beautiful watches and produce them. When my clients want to buy them online and no longer prefer to come to a physical point of sales with human interaction, then we will accommodate that. At the moment, I believe there's still a lot more people wanting that personal interaction, but I also admit that given social distancing and that we probably have to live with that challenge for a while, it will change. We are prepared for both, but as I said before, I still believe that in the future some people will still prefer the personal interaction and maybe some more people will want to go e-commerce and we will accommodate those.
https://monochrome-watches.com/wilhelm-schmid-on-the-lange-odysseus-the-zeitwerk-minute-repeater-and-covid-19/