Viva Las Vegas – Ludovic Ballouard Upside Down Watch for PuristS
Independent watchmaker Ludovic Ballouard also created a limited edition in celebration of the PuristS 10th anniversary. The Ludovic Ballouard Upside Down Watch… what a magnificent and fun timepiece!
Ludovic Ballouard's Upside Down Watch is one of those watches that has a very remarkable and recognizable design. It's innovative way to display the time is unique and technically very interesting. For the PuristS 10th anniversay, Ludovic Ballouard made a limited edition in rose gold and platinum with blue numbers 1, 7, 8 and p10. The rose gold version is still available, but the platinum version is already sold out.
The idea looks simple, at least when you first look at the Upside Down Watch. Showing the hour of the actual time correctly and all 11 other hours upside down. When the minute hand precisely reaches the 12 o'clock position, the past hour number instantaneously turns 180 degrees upside down. Simultaneously the new hour turns right side up. The rotation of these two tiny hour disks is faster than the eye can follow, and by using Maltese crosses to control the rotation mechanisms, time-keeping precision is not affected.
URWERK also uses a Maltese crosses for rotating the hour disks of the UR-103 collection and this construction has proven to give very low friction and thus not much power consumption and hardly any negative impact on the watch's rate.
Technically, the easier route would have been to place the "Upside Down" mechanism underneath the dial, however, Ludovic Ballouard choose to show the complexity of the construction by placing the mechanism on the back. No easy task as it necessitated drilling 12 minute holes through the movement plate for the 12 tiny pinions that control the hour discs.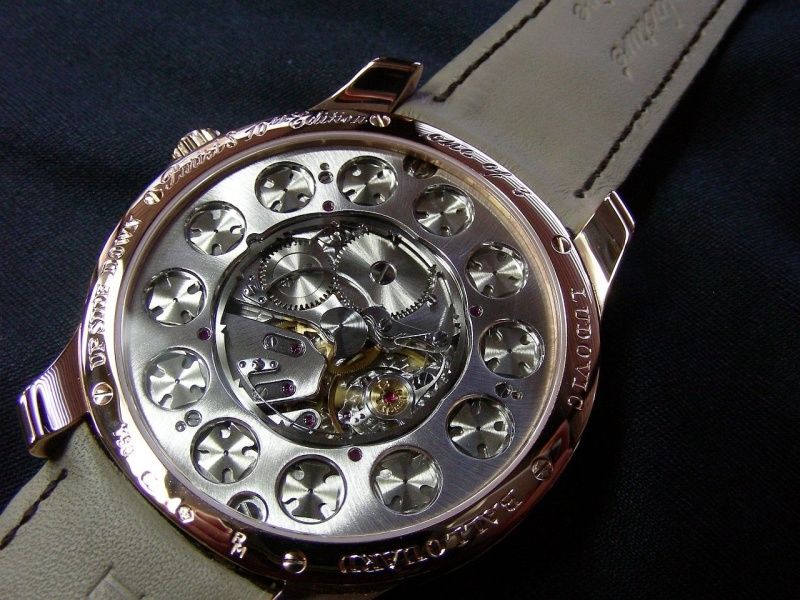 Movement
Calibre B01 /Patented "Upside Down"
complication developed by Ludovic Ballouard
Manual winding
Power reserve is approximately 40 hours
Balance frequency – 21,600 bph (3hz)
Number of jewels – 51
Number of components – 228 (movement only)
Diameter – 35mm (15.5 lignes)
The case sides of the Upside Down Watch curve slightly inwards and its hand-engraved crown is protected by sleek buttresses on either side. The Upside Down Watch measures 41 mm in diameter and 11 mm thick. The dial is made of titanium and the central minute hand and second hadn at 6 o'clock are made of blued steel.
Since this is a limited edition in celebration of the PuristS 10 anniversary it makes sense that the 10 o'clock marker features "p10", "p" for Purists and "10" for… you guessed it, 10 o'clock. However if you wonder why the numbers 1,7 and 8 are blue, this is because these numbers are the PuristS lucky numbers.
Rose Gold model – one of three pieces: CHF 49,000 or USD 57,000. The price includes shipping worldwide, but (logically) is without tax and import duties. The P10 limited edition platinum model has is sold out.
https://monochrome-watches.com/viva-las-vegas-ludovic-ballouard-upside-purists/