Ludovic Ballouard Half Time
Earlier this year, Ludovic Ballouard introduced his second timepiece, called Half Time. Like his first timepiece, the Upside Down that caused a lot of enthusiastic reactions in the watch communities, it displays time in a rather unusual way. Our contributor Robin takes you on a trip and introduces mister Ludovic Ballouard and his ingenious timepieces.
Ludovic Ballouard, not exactly a name that rings any bells. I believe only hardcore watch aficionados or frequent Monochrome-readers know about this craftsman and his subtle yet very complex timepieces.
Mister Ballouard is a born Frenchman, but has a link with my little country by having a Dutch mother. His knowledge and affinity with small, intricate parts come from his teenage passion of building and flying radio controlled model airplanes. Spurred on by one of his teachers, he attended the Rennes School of Watchmaking, and qualified within three years time. Interestingly, I read somewhere that he initially wanted to become a dental prosthetic technician, because he already acquired the motoring skills necessary. However, he started his career not as a promising intern at some exotic watchmaker, but as an airplane control panel technician. Not exactly the career-choice that seems logical, but more or less inevitable living in his native town of Brittany, France.
Over the years, Ludovic Ballouard set out to work for Franck Muller and F.P. Journe, mastering the skills to create a Grande Sonnerie at the latter one. This complication, regarded as one of the truly complex, was meant to feature in the F.P. Journe Sonnerie Souverain and contained a Grande and Petit Sonnerie. Only a handful of watchmakers are said to have mastered this complication.
I remember my first online encounter with the creative Ludovic Ballouard very well. I stumbled upon an article at Revolution Online where he delivered the subtle on the outside but complex on the inside Upside Down, to Count Phillipe de Nicolay. Mr. de Nicolay ordered the very first Upside Down before it was even sketched up or built, and took delivery of the watch personally at the end of 2009. Truly amazed at the simplicity of the concept, and blown away by the level of craftsmanship. Back then I was a genuine novice regarding the watch industry, a rookie if you like.
The concept seems so deceptively simple that you wonder why no one bothered to do it before. Frank, Monochrome's editor-in-chief, already covered most of the technical aspects of the Upside Down in this article, so I will not go into every little technical detail.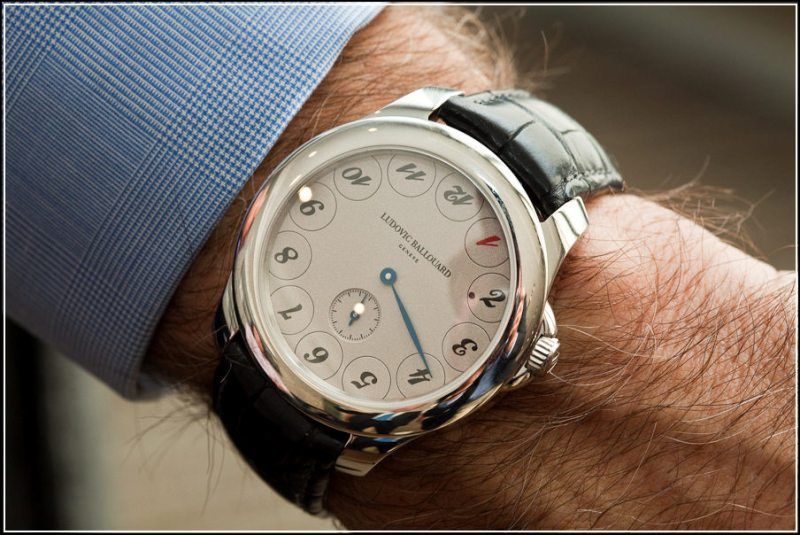 The basic idea is to display every single hour-disk upside down, hence the name, except for the one showing the correct time. An additional little dot is shown to make it a bit easier to see which one is the correct one. Upon changing the hour, the correct disk flips right-side-up as the disk for the previous hour flips upside-down simultaneously. This all happens within the blink of an eye! Accompanied by a single minute hand, and a small second counter, the dial is surprisingly elegant, and doesn't give away the technical treat inside. To really appreciate the movement in all its complexity it must be flipped over. A superb in-house movement, including twelve Maltese crosses (one for each hour disk) is what's to behold from the back. The manually wound movement, dubbed the B01was placed in a 950 grade platinum case, with a red gold case also available by now. For more details or information, check out the article that Frank wrote about this stunning creation.
The Upside Down was presented back in 2009, and earlier this year Ludovic Ballouard presented his second creation to the public. Dubbed the Half Time, it once again focuses on unconventional time-telling. The fact that Mr. Ballouard names his creations in the most simple of ways really fits the look of his creations. It gives us a tiny hint of what's inside, but doesn't reveal its complexity all at once.
The great thing about the Half Time is that at first glance, you don't really spot what is going on. While it is considered impossible to influence time itself as one can only measure it but not stop it entirely, Ludovic Ballouard managed to split the hours in two, and place them on two disks. One disk contains the upper half of a Roman numeral, and the other disk the bottom half. So far nothing special right? Wrong! The numbers are not lined up properly, so the disks jump in opposite direction upon reaching the full hour. One disk rotates clockwise, the other anticlockwise. Both disks are placed on the same plane, rendering it pretty difficult to distinguish them from each other. The result is that only the current hour is correctly displayed at 12 o'clock. The rest of the numerals don't match until it is their turn to do so. Still find it hard to grasp the concept? I'm sure this video will make it clear.
The black titanium dial provides sharp contrast with the polished single steel hand and plates over the dial. The dial doesn't look that complex; only the split hours, and a retrograde minute-marker at 6 o' clock shown on a 120 arc. Furthermore the name of the creator is incorporated into the little window showing the correct hour, and at the bottom you can see what number of the limited series of 12 pieces you might own. This limited series is a run pre-ordered subscription watches only, other versions will not be limited as far as I know.
Flip the Half Time over and your eyes can feast on an intricately designed in-house movement, done in golded brass. The brass contrasts very nicely with all the steel parts used to power the movement and making the disks rotate. A patented mechanism was designed to allow for the rotation to take place instantly when needed. The entire movement consists out of more then 300 parts, with 53 jewels. Being manually wound, it packs about 30 hours of power reserve and operates at 21,600 vph.
The case itself is made out of 950 grade platinum, measuring 41mm in width and 11mm in thickness, just like the Upside Down. Watches like these benefit from a stately sized and shaped case, so nothing extraordinary is needed, the design and movement impress enough on their own. Small and elegant, the crown is positioned at 2:30 and is adorned with the LB-logo. The Half Time comes on a hand-stitched black leather strap, with a case-matching 950 grade platinum "B" shaped buckle.
Ludovic Ballouard is a watchmaker whose mission is to come out with a new creation every two years, and I for one am very interested in finding out what 2014 has in store. Looking at the Upside Down and the Half Time, I am pretty sure he sets his own bars pretty high! We hope to share a hands-on review soon, so make sure to check Monochrome for updates!
Here's a link to Ludovic Ballourad's website.
This article is written by Robin Nooij, contributing writer for Monochrome Watches.
https://monochrome-watches.com/ludovic-ballouard-half-time/