Urwerk 103 T – the Tarantula
On my first day of Baselworld i visited The Watch factory where a lot of independent watch brands where gathered. Among them Urwerk with of course their much talked about Tarantula! Luckily the charming Yacine Sar from Urwerk also brought some other watches like the 103 TiAlN on her own wrist 😀
The URWERK 103T Tarantula is newest from this innovative watchbrand. Master watchmaker Felix Baumgartner and visionary chief designer Martin Frei are the creative minds behind URWERK.
The 103T looks more or less the same as the 'normal' 103, but what's normal about this watch in the first place? The huge difference is a new crystal that gives you full view on the watch's time display mechanism. Since this crawles across the 'dial' this version of the 103 is also called the Tarantula.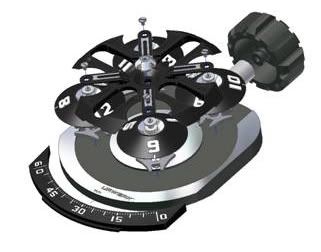 When taking a closer look you will see the 103T is actually very different from the classic 103. In the classic UR103, the central element is an orbital cross in titanium. In the new UR103T, the titanium cross has been replaced by a completely redesigned structure in ARCAP. The dark ARCAP is a very stable copper/nickel alloy, that is light, non magnetic and corrosion resistant.
The four satellites of the UR103T are made of aluminum and mounted on their own bronze/beryllium Geneva cross. The mechanism is then suspended from the orbital cross structure in ARCAP and is mounted on an ARCAP plate.
This new configuration ensures that the numbers on the hour satellites can only be seen when they are required to tell the time while passing the arc of the minutes. In this the new URWERK 103T is also different from the classic 103 with the open satellite system.
The orbital satellite complication of the 103T is over 300 times heavier than traditional hands which is a factor that requires absolute precision in the manufacture of its minuscule components and in assembling, balancing and regulating the complication to obtain the excellent chronometric performance URWERK demands of its exceptional timepieces.
Here's the new URWERK 103T Tarantula, beautiful isn't it?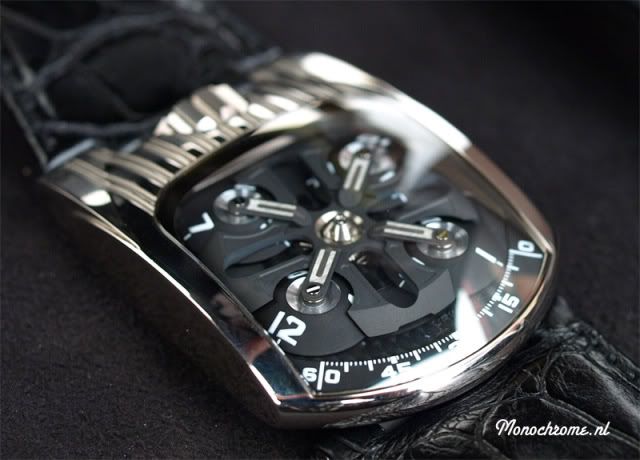 The case is made of stainless steel treated with AlTiN (Aluminium, Titanium, Nitride) and is 36mm wide, 13,5mm thick and measures 50mm from lug to lug. The hour satellites complete a full revolution under the orbital cross every four hours. Over a one-year time span each orbital cross completes 2190 rotations and each satellite 730 revolutions on its own axis.
At the caseback the URWERK 103T has even more to show. Here's the control board that features a 43-hour power reserve indicator, a chrono meter with minutes and seconds facilitating accurate time-setting and a precision adjustment screw making it possible for the owner to precisely regulate the timing.
On my wrist is my favorite Tarantula… a black 103T Tarantula 🙂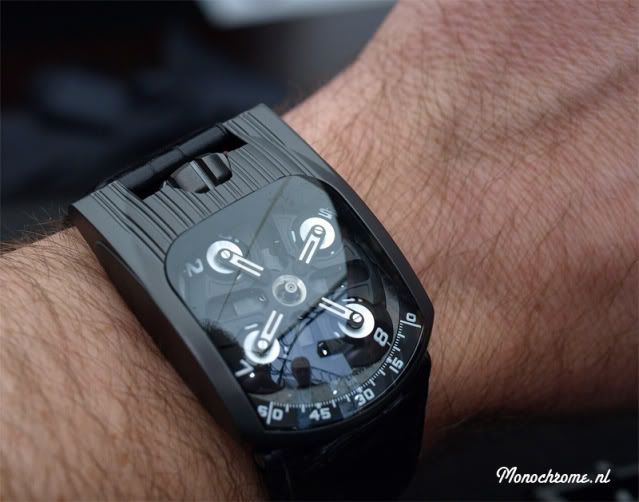 For more information about URWERK check their website or the URWERK forum at Horomundi.
https://monochrome-watches.com/urwerk-103t-tarantula/