Two new versions from Ressence
After the first announcement of the Ressence Zero Series, in 2010, it has been fairly quiet around this young and innovative Belgian brand. Technical start-up problems were holding deliveries back, however since esteemed watchmaker Ludivic Ballouard is involved in the assembly, things are going very well.
So time for something new and Ressence just 'soft-launched' two new version, of the Zero Series. The watch that caused quite a bit of a 'storm' in the horologcal world, because it so much resembles (much more expensive) Harry Winston's Opus X. Today we can show you a black coated version of the Type 1001 and the Type 1005 with a brown Two-Tone dial.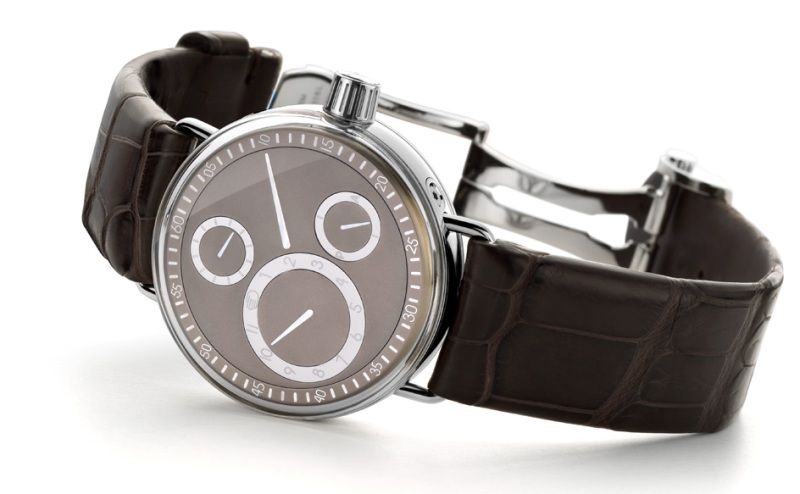 Above is the new Type 1005, being the fifth version of the Ressence Zero Series. The brown dial is a coated aluminium dial; the same base material as used on all Ressence timepieces. This is done to reduce weight, so the very unique construction can rotate more easy and the chronometric rates are not affected.  
The other novelty features a black coated mid case, wire lugs and crown. In fact, it is similar to a Type 1001 (the one with black dial), however all steel parts are now in black. I think the combination is very striking and a logical next step that perfectly suits within the Zero Series.
The photographed version was just a 'dummy' with no working movement, but it still give a good idea of what the final version will look like. Placed in the rotating dial with painted minute hand are three rotating sub dials (for hours, seconds and AM/PM) which rotate around their own axis and also move around with the 'minute disk or dial'.
The added value with Ressence is that there are no off-the-shelf products. Everything is thought through very well and specifically designed for this watch. Take for instance the crown, which has an build-in locking systeem or the domed crystal that gives a very nice view on the dial (by the way, the photo above isn't a good example of this).
Both new models measure 42 mm in diameter and roughly 13 mm in height, like all other models in the Zero Series. Inside ticks an ETA 2824, as a a solid power source for rotating the dial and the different subdials.
One more photo that I made during Baselworld… on the wrist of course. I hope to share more photos of this piece soon!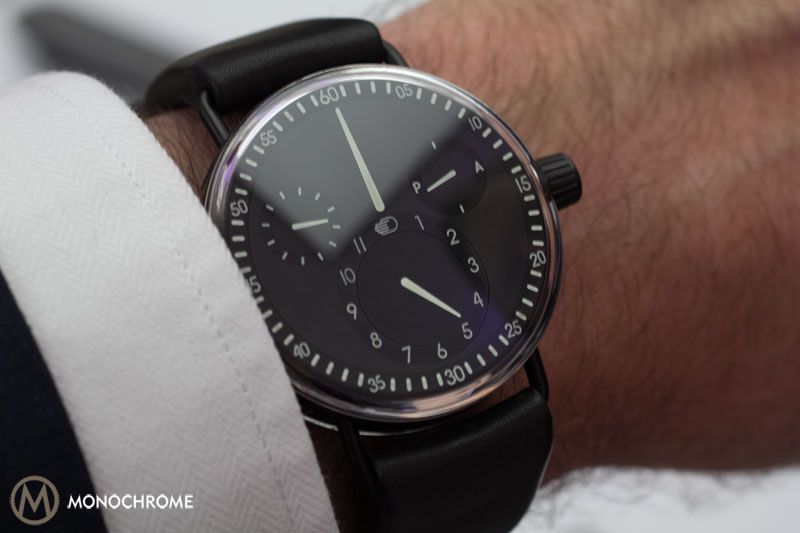 Check the Ressence website for more info and availability.  
This article is written by Frank Geelen, executive editor for Monochrome Watches.
https://monochrome-watches.com/two-new-versions-from-ressence/