Linde Werdelin offers a unique opportunity for potential customers. You can test one a watch for 5 days and decide if you like it. I've never heard of any other brand offering such an opportunity.
The first time i saw a Linde Werdelin in the metal was during Baselworld 2009. I immediately fell in love with the SpidoLite, Linde Werdelin's top model. Since Baselworld we stayed in touch and as a result they borrowed me the 3-Timer for my Chronicle about the perfect vacation watch on Worldtempus.com.
In my Chronicle i came to the conclusion a perfect vacation watch does exist. The combination of a rugged, waterproof watch with GMT function and the Land or Sea Instruments Linde Werdelin offers fulfill all particle desires. So when i told them my next vacation is backpacking in India for almost 4 weeks, they immediately asked me which watch i was going to wear….
The truth is i don't have a watch with multiple timezones or a GMT function, which is in my opinion one of the essentials for a good vacation watch. At least, if you plan your vacation on the other side of the world. Linde Werdelin suggested i put my conclusion to the test and offered a 2-Timer for the duration of my vacation!
Linde Werdelin 2-Timer
The photo above of a Linde Werdelin 2-Timer was shot during a Watches & Espresso meeting earlier this year and could well be the first Linde Werdelin in the Netherlands.
Now back to the ideal vacation watch. For me a second time zone or GMT hand is a necessity for a vacation watch. And since i'm not the person to spent a vacation in a luxury hotel, my vacation watch must be able to deal all aspects i might encounter. Almost four weeks backpacking in India means getting aquatinted with the Indian public transport (trains and busses), hiking, driving around on an old Enfield Bullit i plan to rent and probably some diving as well.
Linde Werdelin was still not shocked when i told them more about my vacation plans! I'm really looking forward to my trip of course, but i'm also very much looking forward to testing the 2-Timer. When i'm back i will write a long review about the hardships the 2-Timer had to endure 🙂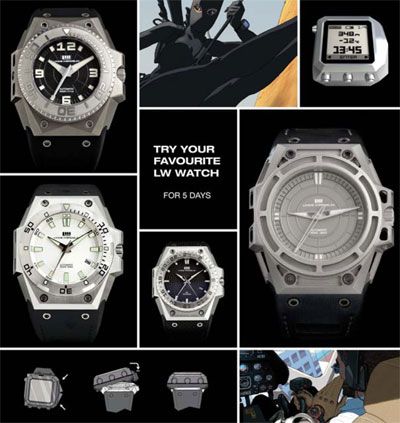 Linde Werdelin offers (almost) the same for any potential customer. The test period is limited to 5 days. This way you can really get an idea of the watch, how it feels on your wrist and how it looks. Isn't that amazing? I have never heard of any other watch brand offering this kind of customer service.
Linde Werdelin's Test Set option is a hassle free way that ensures the trial of a Linde Werdelin watch, for five days, from the comfort of one's home at no obligation. Models available on the Test Set are the Elemental steel (black  and silver dial) from the original collection. From the new collection the following watches are available and so is the land instrument The Rock.
SpidoLite all Titanium
Oktopus Titanium
The One steel (black dial)
The One steel (silver dial)
3-Timer steel (black dial)
3-Timer steel (silver dial)
The Rock natural aluminium
The models are of course subject to availability. Linde Werdelin will ship the chosen watch model plus the Rock to be experienced and enjoyed for five days. There is no obligation of purchase and the return of the set has been made hassle free for the recipient.
Check the Linde Werdelin website!!
https://monochrome-watches.com/test-linde-werdelin/