Hands-on
The Cool Seiko Prospex Diver 62MAS Interpretation SPB213J1 with White/Blue Theme
Inspired by one of the most important dive watches, but with a much lighter touch!
The 62MAS, also known as the reference 6217-8000 or, to put it simply, Seiko's first true dive watch, is not only an extremely important and desirable watch, but it has also been a great source of inspiration for the brand. Whether it's interpreted in high-end, faithful reproductions or far more accessible and modern pieces, we've seen this emblematic design appear in countless forms of late. However, besides their obvious resemblance, most of these watches had one thing in common: dark-toned dials. And if those dark dials make sense in terms of practicality and contrast, it's also pleasant to have a dive watch with an opposing look. Welcome the cool-looking Seiko Prospex Diver 62MAS Interpretation SPB213J1. 
62MAS and SPBxxx background
Behind this watch is a well-known story, that of the 62MAS or the brand's entry to the world of dive watches. Not only was this watch Japan's first attempt to make a name in the category, but the influence of this reference 6217-8000 was immense and helped shape the very definition of a modern dive watch. It's also the watch behind a host of other dive watches, consolidating the reputation Seiko enjoys today. The grandfather of all Seiko dive watches, it still leaves its mark on the brand's collection, not only when it comes to vintage re-editions but simply as a blueprint for the entire design of the range.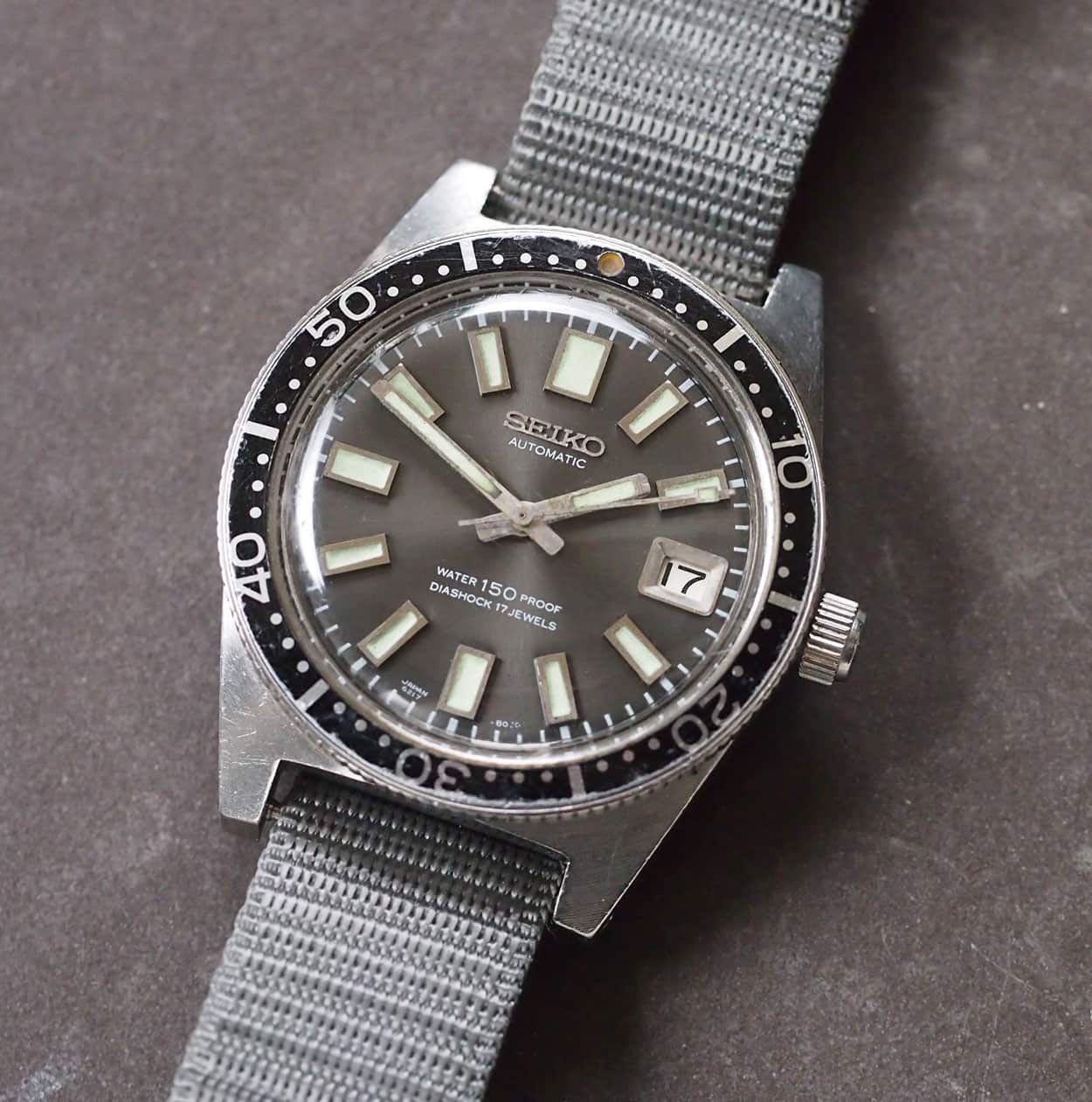 Launched in 1965, the watch was a robust 37mm piece of steel, with a sharp case and solid shoulders. The case has a typical mid-1960s look and a curved profile, as well as the Seiko touch, with a circular-brushed surface. The watch was rated for 150m water-resistance (fairly good back then), had a screwed caseback, but the crown wasn't screwed-down yet. In the same vein, the bezel, already featuring the classic diver's 60-minute scale, was bidirectional.
Fast forward to 2017, when Seiko launched the SLA017, an extremely faithful and high-end re-edition of the watch. Seeing the great potential of this watch and its historic design, the brand also launched modernized and more accessible editions, known as the SPB051 and SPB053. Fairly large, at 42.6mm in diameter, the watch also took some liberties regarding design. And although there was nothing inherently wrong with these models, there was room for improvement. This came in 2020, with the launch of the Prospex SPB143, SPB145, SPB147 and SPB149. More compact, better equipped, more faithful with yet a particular contemporary touch, we've been pretty pleased by this collection of Prospex Diver 62MAS Interpretations.
And since 2021 marked the 140th anniversary of the foundation of Seiko, the brand has decided to treat us to multiple limited edition models, including the present watch.
The Polar 62MAS Interpretation…
To make things clear, besides the new colour scheme, there is nothing new about this Seiko Prospex Diver 62MAS Interpretation SPB213J1. It's based on the Prospex SPB143, SPB145, SPB147, and SPB149 launched in 2020 and, as such, shares identical proportions and specifications. However, the colour is indeed a departure from the usual dark dial found in this collection and on most dive watches on the market. Fair enough, since the launch of the very first aquatic timing instruments, and this also goes for Seiko, there's a certain convention to make a watch with a black dial and white luminous indexes. The reason is far from design-oriented and ruled mainly by the need for contrast underwater in low-light conditions. But, since 99% of the owners of modern dive watches won't go down beyond the 2 metres depth of a swimming pool or the occasional jump in the sea during summer, why not take a few liberties and make a watch that stands out?
I know that that a white or light-toned dial on a dive watch is fairly less efficient than the classic black or dark grey dial, but it also results in a different style on dry land, where you'll admittedly be most of the time. And the proposition of Seiko, with its sunray-brushed silvery-white dial and its dark blue (but ever-changing) bezel, certainly makes an impression. The fun thing about this watch, at least when it was introduced, was to view it as a perfect summer edition. With its nautical theme and its lighter look that makes it bright and fun, it ticks all the fun-in-the-sun boxes, but it could also be an excellent watch for the winter and going down icy slopes. All in all, it certainly breaks the norm but also feels fresh and cool. And after all, isn't that all you want in such a watch?
Back to basics, and the watch itself. The Seiko Prospex Diver 62MAS Interpretation SPB213J1 is relatively close to the original concept of the 62MAS in terms of design, with its shaped case that is influenced (but doesn't copy entirely) the look of the 1965 model – typical skin-diver without protection around the crown. Made of stainless steel with super-hard coating, it displays a combination of brushed surfaces with nice polished edges and is, on the whole, a relatively compact model. Indeed, Seiko has recently started to downsize some of its historic-inspired watches, and this SPB213J1 follows the rule with a 40.5mm diameter, a height of 13.2mm and a relatively decent lug-to-lug measurement below 48mm.
Even though it is a mid-range model, this watch is very well equipped, with 200m water-resistance, a screw-down crown, a screwed caseback with engravings, a unidirectional bezel and a sapphire crystal over the dial. The crystal is slightly domed and protrudes from the case to enhance the vintage look of the watch. The bezel, with 120 clicks, is equipped with a blue metallic insert with a glossy surface – instead of the brushed insert of the classic versions. Not only is the look different, but as you can see in our photos, the colour can range from dark blue to a very bright and saturated colour. Quite cool, isn't it?
The dial is the main attraction here, with its silvery-white colour and sunray-brushed pattern. Admittedly, the contrast between the base and the applied markers and the hands is less efficient than the black or dark grey models. Still, since they are all framed by metallic elements, there's a good distinction and clear legibility. All the details, if not entirely faithful to the 62MAS, are reminiscent of this vintage model yet enlarged. To match the bezel, both the minute track and the seconds hand, with its nice rectangular luminous tip, have been coloured in blue. A date window is placed at 3 o'clock and is discreet enough to be forgiven.
Under the closed, screwed caseback is the well-known movement, the calibre 6R35 – Seiko's mid-range automatic calibre, found in Prospex and Presage watches. This movement, an evolution of the 6R15, has a longer power reserve of 70 hours. It beats at 3Hz and features a stop-seconds function.
This 140th Anniversary SPB213J1 is worn on a stainless steel bracelet with super-hard coating and closed by a folding clasp with a diving extension. An excellent match with the rest of the watch, I can easily see this versatile model worn on colourful NATO straps or a blue rubber strap.
Availability & Price
The Seiko Prospex Diver 62MAS Interpretation 140th Anniversary SPB213J1 is a limited edition of 6,000 pieces and is now available from boutiques and retailers. It is priced at EUR 1,250.
For more details, please visit www.seikowatches.com.
https://monochrome-watches.com/seiko-prospex-diver-62mas-interpretation-140th-anniversary-spb213j1-white-dial-blue-bezel-hands-on-price/