Hands-on
Seiko Prospex Diver 62MAS Interpretations SPB143, SPB147 & SPB149
Modern versions of Seiko's first diver's watch, with cool colour schemes.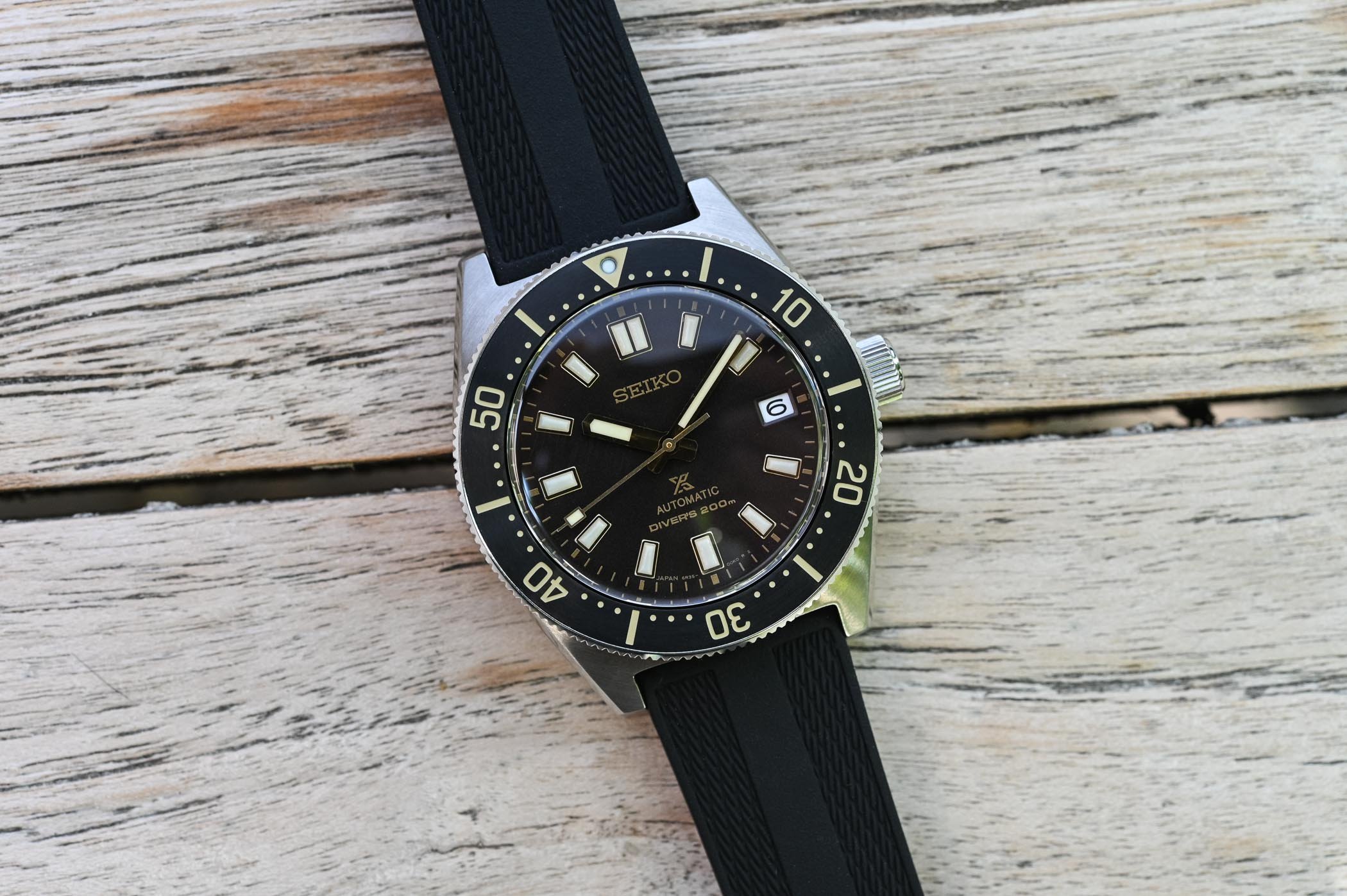 Seiko's first diver's watch, the famous 62MAS, has been the inspiration for multiple reissues, ranging from relatively accessible models in 2017 (SPB051 and SPB053) to a true collector's piece with the high-end SLA017. This year, as Seiko celebrates 55 years of involvement in aquatic watches, more models have been released, with a blue and hi-beat SLA037 as well as more accessible, slightly modernized versions of the 62MAS, which are the topic of today. So let's take a look at the handsome Seiko Prospex Diver 62MAS Interpretations SPB143, SPB147 & SPB149.
Note: This collection of 62MAS-inspired watches also includes the green dial SPB145 worn on a steel bracelet, which isn't included here.
Vintage inspiration
Before moving to these modern watches with their retro style, a short background story is needed. The 62MAS is the watch that would influence production for 55 years, a watch that actually helped shape the very definition of a modern dive watch. The first watch in a long lineage of diving instruments, it was launched in 1965 under the reference number 6217-8000, which is mostly known in the collecting community as the 62MAS – MAS being an acronym for "autoMAtic Selfdater".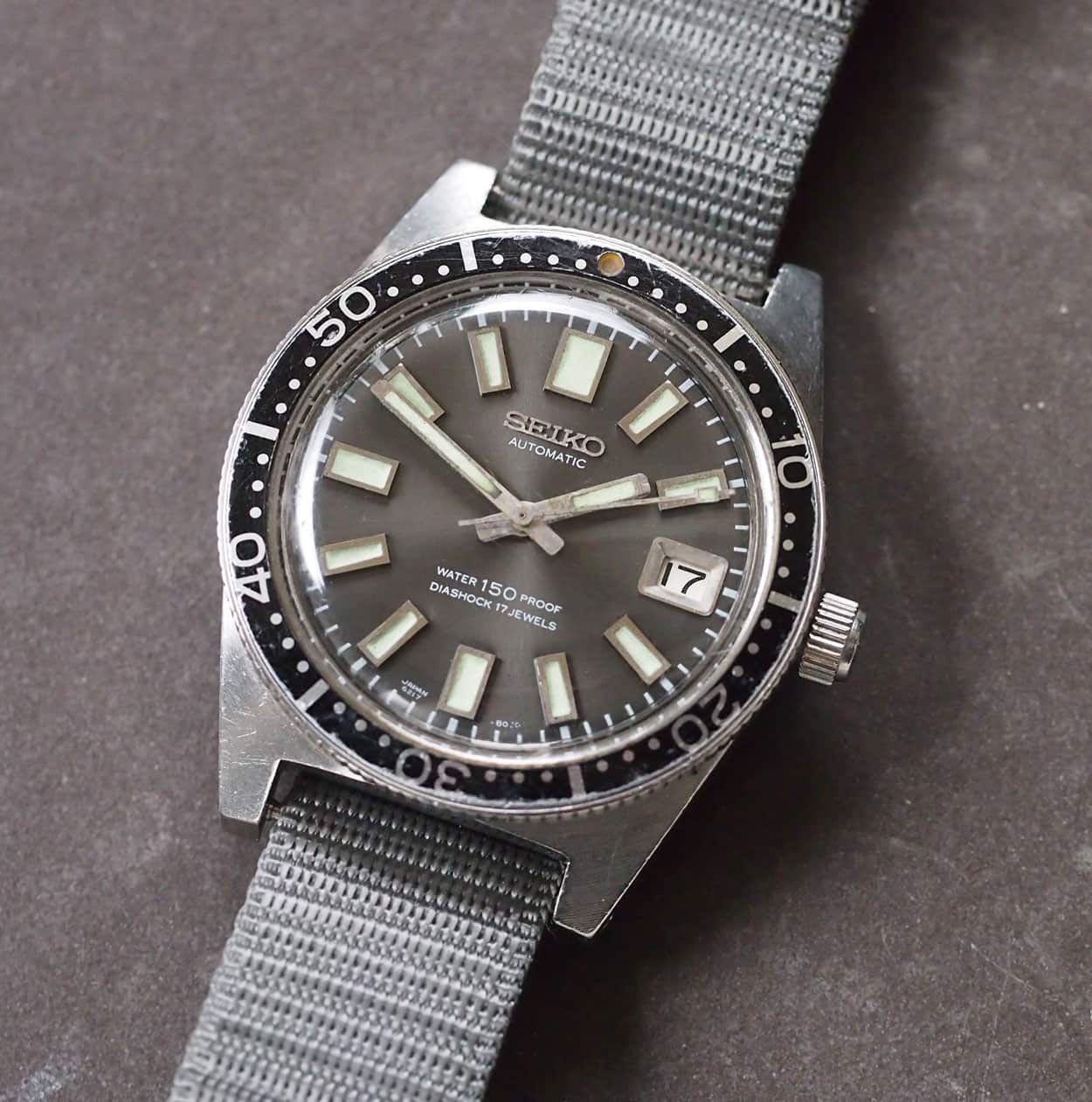 Being the first, the grandfather of all Seiko dive watches, it had an immense influence on the upcoming production and several of today's Seiko Prospex Diver's watches still rely on some of its design elements – hands, bezel, shape case, indexes… It took some time, however, for Seiko to enter the market for professional dive watches. The watch was a 37mm robust piece of steel, with a sharp case and solid shoulders. The case has a typical mid-1960s look and a curved profile, as well as the Seiko touch, with a circular-brushed surface. The watch was rated for 150m water-resistance (fairly good back then), had a screwed caseback but the crown wasn't screwed-down yet. In the same vein, the bezel, already featuring the classic diver's 60-minute scale, was bidirectional. The 62MAS was powered by the 2.5Hz automatic calibre 6217. More details about the watch can be read here too.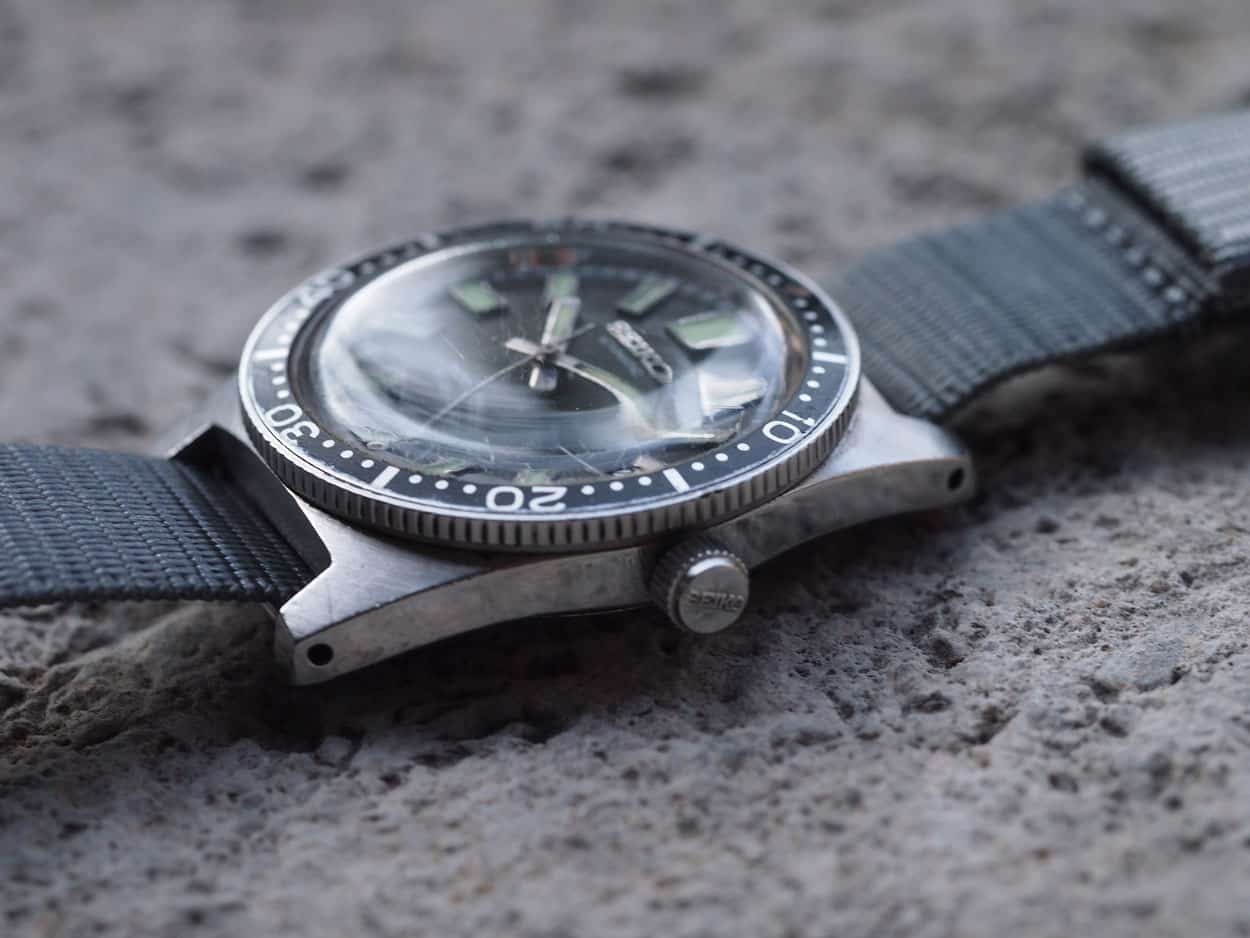 But now that we've looked at the 1965 Seiko Diver's 62MAS Ref. 6217-8000, it is time to move our attention to these nicely executed, fairly priced and well-proportioned modern 62MAS Interpretations.
The 2020 Seiko Prospex Diver 62MAS Interpretations
In all fairness, when we first saw these watches we thought they were evolutions of the already existing 2017 SPB051 and SPB053, updated with new colours. In fact, even though there's an undeniable resemblance, the watches you're looking at today are more than evolutions and are new models with new materials, smaller cases, new colours, new mechanics and small details to enhance the look and feel.
Starting with the case, the Prospex SPB143, SPB145, SPB147 & SPB149 all share the same proportions and design, which is greatly inspired by the 62MAS – in a more modern way, as you can see. Made of stainless steel with Super Hard Coating (Seiko's in-house transparent coating to prevent scratches), these models are rather compact with a 40.5mm diameter, a height of 13.2mm and a fairly decent lug-to-lug measurement below 48mm. This might feel standard for a vintage-inspired watch, but knowing Seiko's ability to go big, this is worth mentioning here. So indeed, these SPB14x models are compact, short on the wrist and well-balanced – especially on the silicone strap, making the watch lighter and even more compact. The case is finely finished, with a combination of satin-brushed surfaces (straight or circular) with polished bevels on the sides.
Regarding the shape, what we have here is a typical 'skin-diver' case with a non-protected oversized crown at 3 o'clock. Simple, minimalistic, but efficient. As expected, the codes of the 62MAS – large shoulders, semi-integrated lugs, flat casebands – have been respected yet updated to make the watch slightly more contemporary. Something I like about this model is that it feels different from most Seiko Prospex Divers; its symmetrical straight case is different to other Seiko watches in this price range which feature a crown at 4 o'clock inserted in crown guards. This model has its own personality. To be noticed, the combination of a screw-down crown and screwed caseback, which guarantee a solid 200m water-resistance.
Moving to the top of the watch, the dial is protected by a sapphire crystal with inner anti-reflective coating. The crystal is slightly domed and protrudes from the case to enhance the vintage look of the watch. It is framed by a unidirectional stainless steel bezel with 120 clicks – smooth and pleasant to manipulate. It comes with a finely brushed insert, also metallic, with a 60-minute diving scale. Note that the graduations are all luminous. The matte look of the bezel is very pleasant and adds to the perceived quality of the watch. Depending on the edition, the scale is executed in white (SPB143, SPB145, SPB149) or cream (SPB147).
Regarding the dial, it displays a nice combination of 62MAS-based elements with modernized features. Available in four different colours, all share the same sunray-brushed base with applied indexes – large metallic framed rectangle, including a double index at 12 o'clock. The hands are also inspired by the 62MAS, yet enlarged. This includes the seconds hand with its rectangular luminous tip. All elements of the dial are generously filled with Seiko's proprietary luminescent material, the ultra-efficient Lumibrite. A date window is placed at 3 o'clock.
Four versions of the Seiko Prospex Diver 62MAS Interpretations are available:
SPB143J1 – grey dial, white bezel scale, stainless steel bracelet
SPB145J1 – green dial, white bezel scale, stainless steel bracelet (not photographed here)
SPB147J1 – dark brown 'gilt' dial, cream bezel scale, black silicone strap
SPB149J1 – blue dial, white bezel scale, stainless steel bracelet and blue silicone strap included – this version is a limited edition of 5,500 pieces
While all models have pleasant colour combinations, there's something special about the SPB147J1, which is certainly the most accomplished model, thanks to its handsome brown 'gilt' dial with golden inscriptions and gold-coloured hands.
Under the closed, screwed caseback is the well-known movement, the calibre 6R35 – Seiko's mid-range automatic calibre, found in Prospex and Presage watches. This movement, an evolution of the 6R15, has a longer power reserve of 70 hours. It beats at 3Hz and features a stop-seconds function.
Price and availability
The four models in this collection are relatively accessible watches, well executed with a cool design. Except for the SPB149J1, which is a limited edition available in July 2020, the three other versions will be part of the permanent collection and available soon (late June 2020). Prices will be EUR 1,250 for the SPB143J1 and SPB145J1 on a steel bracelet, EUR 1,050 for the gilt SPB147J1 on a silicone strap and EUR 1,350 for the limited edition SPB149J1 (with steel and silicone options included).
More details at www.seikowatches.com.
https://monochrome-watches.com/seiko-prospex-diver-62mas-reissue-spb143-spb147-spb149-review-price/