R-E-S-P-E-C-T: Find Out What It Means to Cartier
With the leadership of Carole Forestier-Kasapi at Cartier, you might expect Aretha Franklin to belt out, "Sisters Are Doing It For Themselves". In a field dominated by men, she rises to the top of the heap, winning the prestigious 2012 Best Watchmaker Prize at the Grande Prix d'Horlogerie de Genève (GPHG).
The win is a well-deserved accolade for Forestier-Kasapi, and a tremendous boon for Cartier, almost an unfair advantage. Obviously, there is no glass ceiling at Cartier, or even crystal, just great watches.
Cartier's resurgence is breathtaking. Yes, its head of technical development is a woman, and that fact is noteworthy, even celebratory, but the reason Forestier-Kasapi has succeeded is because she is a talented watchmaker with vision. She has revitalized Cartier and propelled them to the technical forefront. Let's have a look at her curriculum vitae.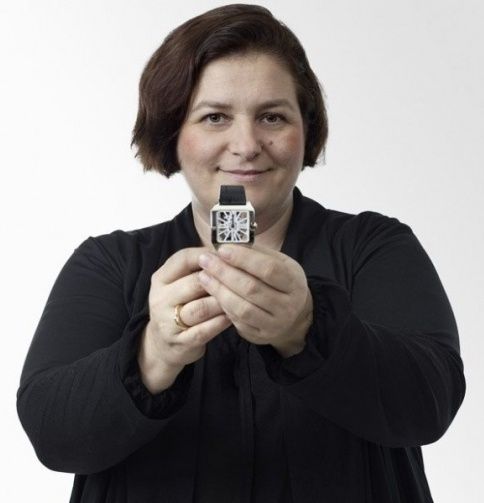 She grew up in a family of watchmakers, immersed in watch culture, and when most children read pocket fiction, she read about Louis Breguet. Her career began with the design firm Conseilray where she created the Elite movement for Zenith. She spent four years with the renowned Renand et Papi, a movement maestro most closely associated with Audemars Piguet, but also involved in designing various movements thought to be "difficult". Taking a turn at Ulysse Nardin, as Head Watchmaker no less, her concept of a movement bounded by its mainspring influenced the genre-bending watch, The Freak. In 1999, Cartier hired her, but her accomplishments were noteworthy prior to accepting their offer.
First and foremost, she is an artist, sketching new designs in her notebook and making dreams happen. Making an in-house movement is a highly technical exercise, and she is at home with math, measurement and momentum. In the collaborative environment of Cartier design, she stands astride a long process from conception to production, and the final product stands on its own. A new watch and movement take years to develop, but in a relatively short time, Forestier-Kasapi has delivered.
Carole Forestier-Kasapi doesn't have skeletons in her closet; she has them in her watches. The Santo-Dumont Skeleton is a reinterpretation of the company's first wristwatch (see here), and paradigmatic of her many fingerprints on Cartier. Add the Astroregulateur, Cartier Caliber, and Astrotourbillon.
Teamwork is a hallmark of Cartier development, and Forestier-Kasapi is part of a team. Using sports as an analogy, there are many remarkable teams, but only a few exceptionable individuals make it to the Hall of Fame. She is a Hall of Fame watchmaker.
Behind the brand name, Cartier, there is another name to remember. While you'll only learn one or two names when it comes to the big brands, these are always the names of the founders. Cartier isn't shy of putting the spot-light on their star watchmaker, Carole Forestier-Kasapi.
_________________________________
Firts photo of the new Cartier Rotonde Tourbillon Mysterieuse is courtesy Geo Cramer, Cartier expert and moderator of the Cartier forum at Revo-online.
This article is written by Max E. Reddick, contributing writer for Monochrome Watches.
https://monochrome-watches.com/r-e-s-p-e-c-t-find-out-what-it-means-to-cartier/