Buying Guide
The 10 Best Watches of 2018 from EUR 5,000 to 10,000 (Plus the 11th One)
Our pick of the best watches of 2018 priced between EUR 5,000 and 10,000.
Just like we did on previous weekends with our Top 10 watches below EUR 2,000 and between EUR 2,000 and 5,000, it is now time to look at the best watches introduced this year in the hyper-strategic EUR 5,000 – EUR 10,000 price range – it is certainly where the competition is the fiercest, where most of the "luxury brands" situate their core collections (Rolex, IWC, Cartier, Panerai and many more). After long debates at the MONOCHROME redaction room, here are our 10 "best 2018 watches" picks if you're in the 5k to 10k market.
Note: as always, these "buying guides" are our own personal selections and we're sure you'll have your own favourites. Feel free to list your top watches of 2018 in this "5k to 10k Euros" category in the comment section at the end of this article!
Carl F. Bucherer Manero Flyback Retro-Style – EUR 5,500
For the first watch in this top 10, we chose to feature a piece that we already knew: the Carl F. Bucherer Manero Flyback. However, for 2018, the brand has decided to give this already interesting watch the required cool-factor, with several retro details and a Rally inspiration. While the basics are still present – a 43mm steel case with beautiful construction and nicely shaped lugs, bezel and pushers, featuring a proprietary column-wheel flyback chronograph movement – the evolution concerns the dial, which now features silver sub-counters for a reversed-Panda style, and a vintage Rally strap that is truly cool. Overall, slight modifications but a great result. An all in all, for EUR 5,500, you have one superbly crafted watch with a great movement.
Ad – Scroll to continue with article
Cartier Santos Large – EUR 6,600
For 2018, Cartier introduced a new version of one of its most strategic men's pieces, the Santos. Born in 1904, this model has been presented in dozens of editions over the years, with multiple designs, complications and materials. However, with the new Santos de Cartier, we see a sort of back-to-basics, with a steel watch, classic dial and 3-hand automatic movement. Of course, the shape of the watch couldn't be altered dramatically (you can't change a 114-year-old design that easily), several well-thought updates have been executed by Cartier. The case has been softened and made more luxurious and the watch now has an in-house movement. The true novelty comes from the addition of a quick-release strap that you can exchange in literally 5 seconds with a steel bracelet (both included in the box) and an easy length adjustment for the bracelet that requires no tools. Clever, well-designed, iconic, modern, well priced (EUR 6,600 in this Large steel version) and mixing classic and contemporary elements in a way only Cartier can do.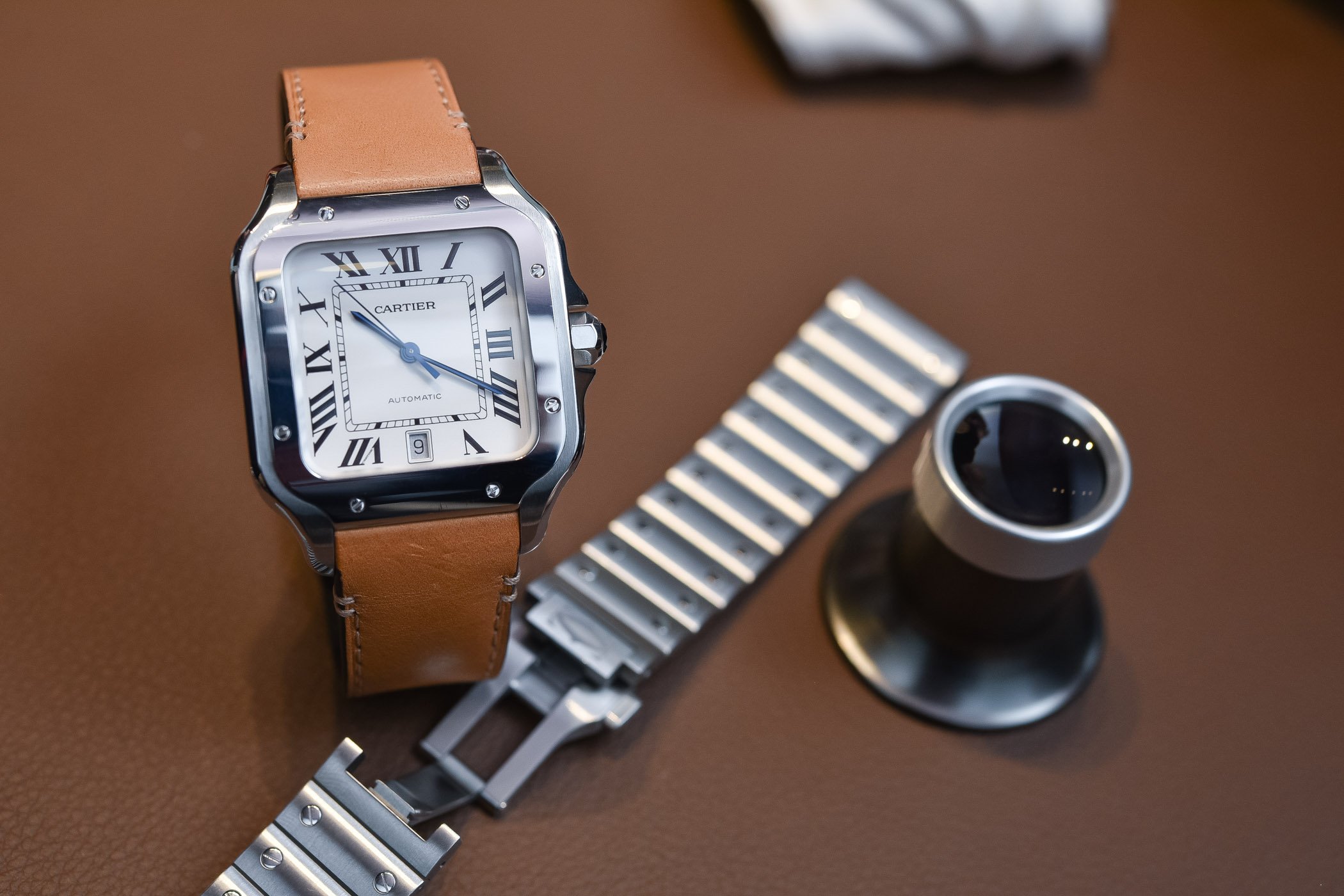 Glashütte Original Sixties Green Edition 39mm – EUR 6,300
Green is the new blue! For those who are wondering what the next trend will be, well, count on green. However, green is a complex colour with hundreds of possible tones and, in our books, many tried and few succeded this year. One exception to the rule: Glashütte Original, with this Sixties Annual Edition and its textured, metallic (galvanized) green dial. Offered in 2 versions, one with a 42mm case and a Panorama Date complication and one simple 3-hand with a 39mm case, our choice goes to the latter – more elegant, more in line with the vintage 1960s design, more focused on the superb dial. It, of course, features a GO in-house movement. Just keep in mind that this is a one-year production model but some pieces are still available. At EUR 6,300, it is even one of the most accessible watches of the brand.
Habring² Doppel Felix – EUR 7,750
Let's move away from the mainstream, established brands for a while and take a look at one of our favourite indie brands: Habring². Known for creating interesting complications such as the jumping second or the foudroyante, the most desirable introduction this year was the Doppel Felix – clearly a signature watch for Habring², as Richard Habring developed this simplified complication back in the 1990s when working at IWC. What you see here isn't just a new design, with vintage-inspired details. In fact, the rattrapante function (Doppel-Chronograph) is now powered by an in-house base hand-wound movement. Thus, for "only" EUR 7,750, you can access the coolest type of chronograph, from an independent brand, with a great design and proprietary mechanics – and the watch that rightfully won the "Petite Aiguille" award at the GPHG 2018.
IWC Portugieser Chronograph Edition 150 Years – EUR 7,900
This year, IWC celebrated its 150th anniversary with an incredibly large "Jubilee" collection (no fewer than 29 models). Among those is a special version of the Portugieser Chronograph Automatic (ref. 3716), one of our favourite watches at IWC and a true modern icon. What IWC did was to make it even better in many ways, but not significantly more expensive. First, two new dials are available, in white or blue, with lacquered finish mimicking enamel (the result is truly superb in the flesh). Then, what you can't see at first (as the display is the same as the standard 3714) is that this IWC Portugieser Chronograph Edition 150 Years has a brand new movement ticking inside, and a proprietary one with column-wheel architecture to be precise. At EUR 7,900 (thus only EUR 300 more than a 3714), it certainly is one of the most desirable pieces of this 150th Anniversary collection – but limited in production (2,000 pieces per colour).
Jaeger-LeCoultre Polaris Date – EUR 7,750
At the SIHH 2018, Jaeger-LeCoultre introduced an entirely new collection named Polaris. Based on a 1960s alarm-dive watch that most vintage collectors are familiar with, the brand filled the gap in its range, which didn't feature elegant-sporty watches anymore. Done in a true JLC way, meaning restrained and discreet, the collection shows superbly finished cases and detailed dials with multiple textures. Among the different models, our favourite is the Memovox – but at nearly 13K euros, it can't be featured in this guide. However, for significantly less money you can get the vintage-inspired and much more wearable Jaeger-LeCoultre Polaris Date. Still showing cool retro details, still powered by an in-house movement, still a decent dive watch (200m water-resistance), it is both smaller and much thinner than the Memovox and "only" costs EUR 7,750.
Panerai Luminor California PAM00779 – EUR 7,900
We already hear the comments "Another Panerai Luminor with a California dial?"… But, bear with us, as this one has great arguments. First of all, the new Panerai Luminor California PAM00779 obviously looks very cool, with its DLC-coated case, its vintage-style California dial and its manchette leather strap. Then, it features an 8-day power reserve movement, hand-wound and manufactured by Panerai. Finally, and that's where everything becomes clearer, it is decently priced. We've seen too many limited editions at Panerai with unjustified prices, but this PAM00779, coming in at EUR 7,900, feels more in line with what PAM watches should be. Along with the New Entry-Level PAM00753 and PAM00754, it seems that the brand is moving in the right direction.
TAG Heuer Monaco Gulf Edition – EUR 5,250
This year, TAG Heuer combined two icons: the Monaco Calibre 11 and the signature Gulf colours, a reference to the Porsche Steve McQueen was driving in the Le Mans movie (wearing a Heuer Monaco on the wrist.) Certainly, we are only talking about a new dial and a different strap, but this Gulf Edition of the TAG Monaco looks very cool (at least, to us). For the rest, this ref. CAW211R remains technically equal to the standard Calibre 11 model with its 39mm x 39mm case, the historically relevant horizontal applied indexes and the same price (EUR 5,250). TAG Heuer just made a cool watch even cooler.
Ulysse Nardin Diver Chronometer – EUR 7,900
Redesigned, cleaner, tastier… Meet the 2018 version of the Ulysse Nardin Diver Chronometer. Massive, colourful, adorned with patterns on the dial and the bezel – Ulysse Nardin Diver watches have never been for the faint-hearted. Certainly, it had its audience and fans but, knowing the recent strategy of the brand to make the watches more elegant, the Ulysse Nardin Diver Chronometer had to have a fresh start. So here we are, in 2018, with a new Diver in town. If the case, dial, bezel have been redesigned/reshaped, the collection hasn't gotten rid of all the attributes that made this watch so recognizable. It is just more down-to-earth, more focussed on diving and more in line with the rest of the current range, with the classic in-house calibre UN-118 and its silicon parts. Offered in different colours, starting at EUR 7,900.
Zenith Defy Classic Skeleton – EUR 6,100
The recent resurrection of Zenith's Defy range, a testbed for innovative watchmaking concepts, brings the collection firmly into the 21st century. If the Defy El Primero 21 focused on the mechanics with a 50Hz movement, the Zenith Defy Classic is more a design manifesto for the brand. Shaped like a robust Luxury Sports Watch, with its round bezel, angular tonneau case and integrated bracelets/straps, this version combines a cool skeletonized dial, a grade 5 titanium case (with great finishing) and an automatic, in-house movement. The best is that this Zenith Defy Classic Skeleton (and the non-opened-dial version) is decently priced, at EUR 6,100 on a rubber strap and EUR 7,100 on a titanium bracelet.
---
Bonus – Rolex GMT Master-II Pepsi
We obviously couldn't exclude the hottest watch of 2018 from this buying guide. That would have been unrealistic. However, why isn't it in our Top 10 watches priced between EUR 5,000 and EUR 10,000? For a simple reason: it is today almost impossible (if not impossible) to find a 126710BLRO at a retailer at a normal price (EUR 8,500) and if ever you find one new, it will be outside the official Rolex network and for a much higher price (expect at least EUR 15,000). The new Rolex GMT Master-II Pepsi ref. 126710BLRO, with its red/blue bezel now combined with a steel case and a Jubilee bracelet, its superb construction, its hyper-precise movement, is extremely beautiful and desirable but it remains a utopia to find one at a normal price. This is why it is was excluded from our Top 10 watches, even though we had to have it in this buying guide.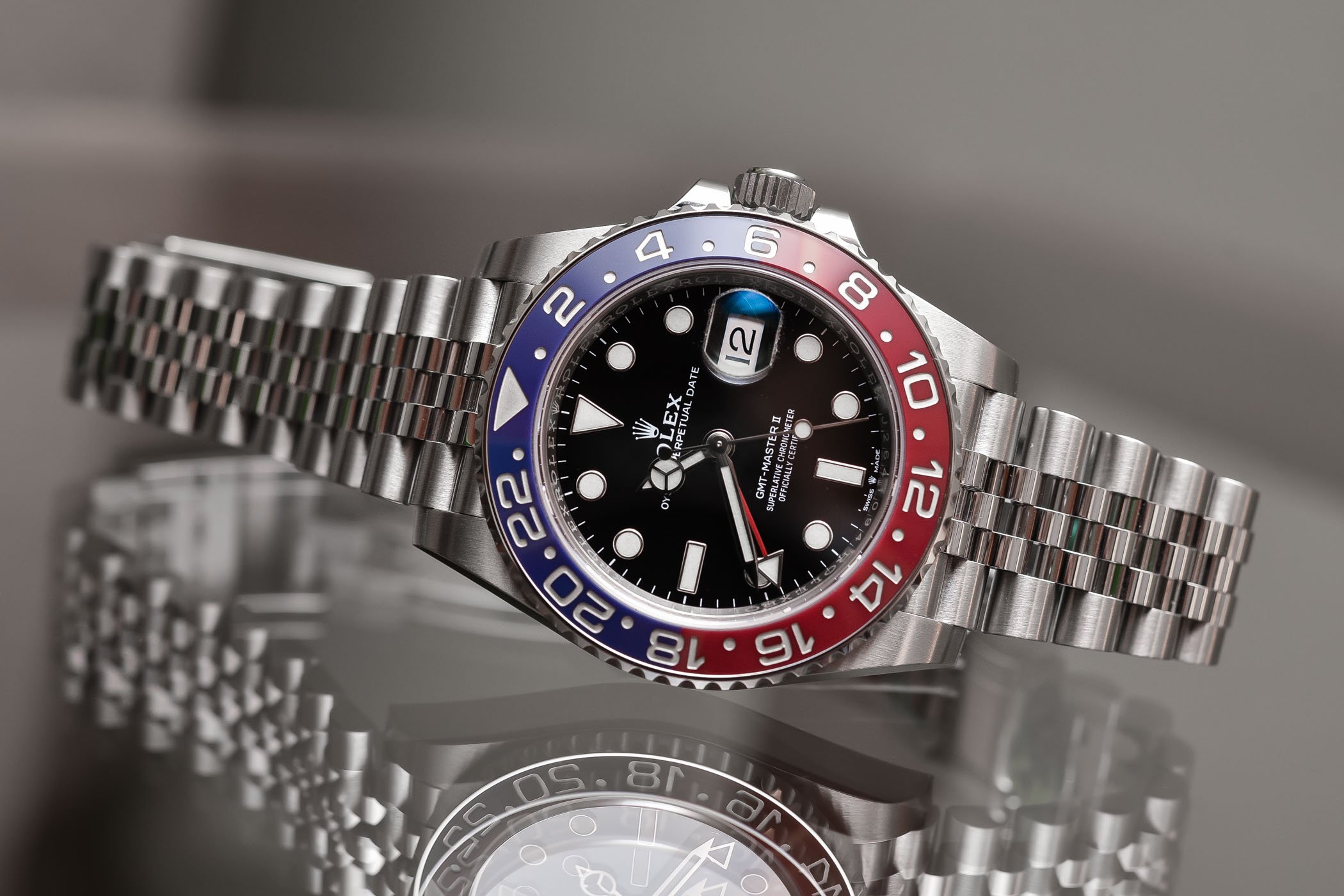 https://monochrome-watches.com/buying-guide-top-10-watches-of-2018-from-eur-5000-to-eur-10000/