Buying Guide
The 10 Best Watches of 2018 from EUR 2,000 to 5,000
Our pick of the best watches of 2018, if you're in the 2k to 5k Euro market!
As the end of the year is fast approaching, it is time for us at MONOCHROME to take a look back at the main novelties of 2018 and to decide what were the best watches we've seen. As we did with our best watches below EUR 2,000, here's our second buying guide, this time with the best watches of 2018 priced between EUR 2,000 and EUR 5,000. This has been a tough selection, as this category is crucial for luxury brands – there's a huge amount of competition in this price range, as "accessible luxury" companies are fighting with entry-level models of more established names. But here are our Top 10, just to give you an idea of what you could get with your hard-earned money this year.
Note: as always, these "buying guides" are our own personal selections and we're sure you'll have your own favourites. Feel free to list your top watches of 2018 in this "2k to 5k Euros" category in the comment section at the end of this article!
Brellum Pandial Chronometer Chronograph – CHF 2,490
Brellum might not be the first brand that springs to mind… But you should consider the Pandial. Why? First, it looks and feels good. With its black tachymeter external bezel (something new for this model) and its Panda dial (white dial with black sub-counters), the brand gave the Duobox an extra dose of coolness. Then, the quality of the case and the two box-shaped sapphire crystals (even on the back) are impressive considering the price. Finally, even though the movement is based on a Valjoux, it has been nicely decorated and certified by the COSC. And at CHF 2,490 (approx. EUR 2,200), there are not many other watches that can deliver this level of quality and precision. A very good value-for-money piece. Also available in black-DLC.
Ad – Scroll to continue with article
Longines Avigation Big Eye – EUR 2,530
The Avigation "Big Eye" is definitely the most coveted Longines piece of the year! And for very good reasons. We could talk about the proprietary automatic chronograph movement with column-wheel (a heavily modified Valjoux) or the overall pleasant quality of the case. But with the Avigation Big Eye, it is more a matter of design. Clearly, by looking at its archives Longines has come up with the perfect recipe here. Inspired by an almost unknown 1970s military/pilot chronograph, Longines has managed to create a faithful, slightly modernized (but not too much) version that looks just good – and that isn't oversized and doesn't feature a date. And at EUR 2,530, it even is quite aggressively priced.
Maurice Lacroix Aikon Automatic Chronograph – EUR 2,690
While the "luxury sports watch" category packs some of the hottest watches on the market (Royal Oak and Nautilus), most of these pieces are simply out of reach for most watch enthusiasts – and it's not just about money but also about availability. For those who'd love to get the look and feel of such watches for a fraction of the price, Maurice Lacroix launched the Aikon Automatic collection this year. Already comprising a 3-hand model, the brand added a chronograph version (Valjoux-based) that features all the required attributes: solid but well-finished case, textured dial, two-tone options, shaped case and interchangeable strap/bracelet system. The model photographed here, with a white/blue dial and a blue leather strap is available for EUR 2,690 (but feels like its worth double).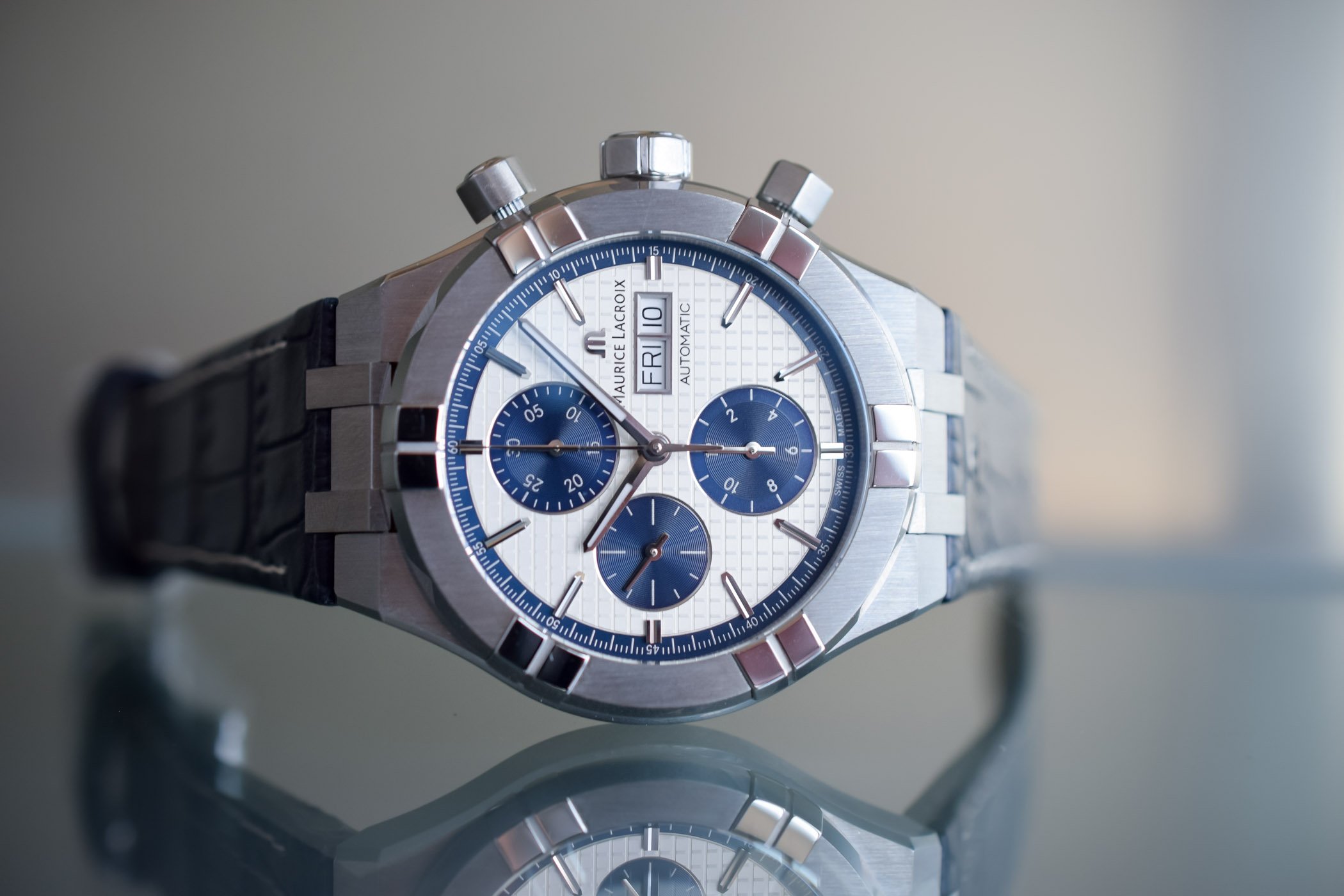 Seiko Prospex Diver SLA019 – EUR 3,200
"Seiko" + "Prospex" + "Diver" = big pleasure. This year, the Japanese brand celebrated the 50th anniversary of its first Hi-Beat diver, the highly sought-after 1968 Seiko Automatic Diver 300m Hi-Beat Ref. 6159-7001, not with one watch but with three different models. While the SLA025 is the sexiest but is priced well above EUR 5,000 and the SPB077 plays in the affordable category, the best mix between cool and technicality is the middle child of the 1968 Commemorative Collection, a.k.a the SLA019. Not only does it feature the in-house calibre 8L35 but it also comes with a nicely crafted monobloc case and (most important) a green dial and green ceramic bezel – and that is very, very cool. Available for EUR 3,200 but limited to 1,968 pieces.
Tudor Black Bay Fifty Eight – EUR 3,360
The Tudor Black Bay needs no introduction. It is one of the best dive watches you can get for approximately EUR 3,000 – especially since 2016 and the addition of an in-house movement and a riveted bracelet. However, there's a new model in the collection that could change the situation: the Black Bay Fifty Eight. While it feels rather close to the standard 41mm model at first, various details had been changed to make it even more desirable: a smaller 39mm case, a full-gilt dial and bezel, a slimmer 20mm bracelet and, most importantly, a much thinner case (3mm less in height, which makes a massive difference). More vintage, more elegant, more wearable, even more accessible (EUR 3,360) the Black Bay Fifty Eight M79030N is, to us, the model to get if you're in need of a Black Bay (or maybe it will be the following watch…)
Tudor Black Bay GMT – EUR 3,650
We have tried hard not to include a second Tudor in this buying guide. But let's be honest, Tudor rocks the EUR 2,000 – EUR 4,000 category. And the new Tudor Black Bay GMT, or "baby-Pepsi", is again a demonstration of savoir-faire. Relying on the attributes of the Black Bay 41mm, it adds a GMT complication with central hand (which functions as it should, meaning independently and with 1-hour increments) and a bidirectional 24-hour bezel with the hyper-coveted red and blue "Pepsi" colour scheme. At EUR 3,650, it is an accessible but not low-quality alternative to the hot Rolex GMT Master-II Steel Pepsi.
Bvlgari Bvlgari DLC – EUR 4,100
This year, Bvlgari presented a revamped version of one of its icons, the 1970s Bvlgari Bvlgari, redesigned with modern details and materials. Inspired by ancient Roman coins, the watch features pure, simple but powerful lines. With no logo on the dial, the Bvlgari logo is engraved twice on the bezel, earning the timepiece the nickname "BB". While the Octo has been the brand's main playing card for the past years, the BB remains one of those "classic watches with a twist" that we love here. The new Bvlgari Bvlgari is now powered by the in-house calibre BVL191 with automatic winding. Price at EUR 4,100 in the present configuration (DLC coated case), it is also available in black and bronze or full bronze options.
Omega Seamaster Diver 300M – EUR 4,500
Its name is Seamaster, Omega Seamaster. Why that catchphrase? Well, what you see here is the latest evolution of the James Bond Watch, the Seamaster Diver 300M – a watch born in the 1990s, worn by 007 in multiple movies and that Omega has revamped this year. Not only does the brand reintroduce the iconic wave pattern on the dial, but it has also added several technical improvements. The movement is now visible through the caseback and is an in-house Master Chronometer. Precise, reliable, powerful, innovative and protected against magnetic fields. The case is slightly larger at 42mm and features a ceramic bezel with enamel numerals and track and a laser-engraved ceramic dial. The helium escape valve and the 300-meter water-resistance are still part of the package. At EUR 4,500 on a steel bracelet, it is a great way to access the Seamaster collection.
Favre Leuba Raider Harpoon Black – EUR 4,750
While most of the watches we've seen so far are manufactured by large, established brands, we at MONOCHROME also love what independent watchmakers do. So if you're up for something less mainstream, with a design of its own, you should consider this Favre-Leuba Raider Harpoon – and especially the new Black edition, which looks even cooler in this stealth mode. The main reasons to consider this watch are its unique shape and its diver-oriented display, with the minutes hand being the only one to be featured – simply because when you dive, that's the only indication you'll need. The seconds are a simple central indicator and the hours a rotating disc following the motion of the minutes hand. Unique, cool, clever and priced at CHF 4,750 (approx. EUR 4,200).
Rolex Oyster Perpetual 39 – EUR 5,200
For the last watch in this buying guide, we had to cheat… Officially priced at EUR 5,200, it is worth the extra EUR 200 all the way – or just consider getting one in a tax-free area and the price will drop to "only" EUR 4,300. However, the idea of having a Rolex, knowing the quality behind this watch and the aura of the brand, is quite a thing. And don't think of it as a poor man's option. The Oyster Perpetual 39 White Dial launched (discreetly) at Baselworld 2018 is certainly one of the best looking Rolex models of this year. It is simple but not boring, it has a rather unique matte white dial and like the rest of the OP39, it is the perfect definition of an all-rounder – a watch that looks good everywhere, every time.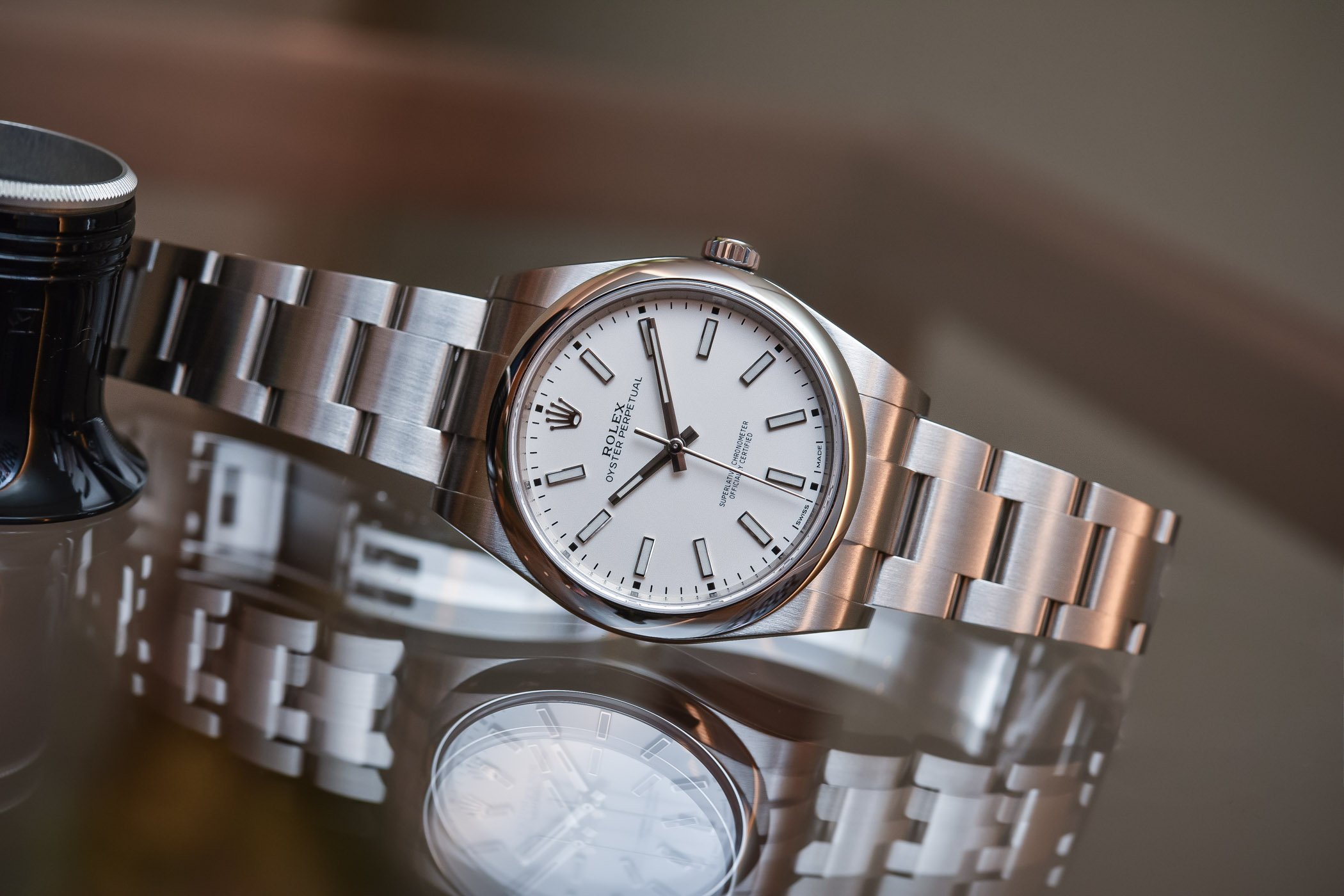 https://monochrome-watches.com/buying-guide-top-10-watches-of-2018-from-eur-2000-to-eur-5000/