Hands-on
The New Baltic HMS 003 & Bicompax 003 are Smaller but Bolder
Smaller in size, not in presence and aura.
While it seems to be well established now, we have to remember that Baltic only appeared on the watchmaking scene in 2017. The brainchild of watch and car enthusiast Etienne Malec, a Frenchman whose passion for vintage chronographs was transmitted by his father, the brand is one of the most impressive success stories in recent years. The MR01, an accessible vision of a Calatrava watch, generated unexpected interest and remains today a hot piece. But what matters today is the pair of watches that started it all… The Bicompax and the HMS. And it's now entering its 3rd generation, without replacing the previous 002 series. Smaller, and even more detailed than before, it shows that Baltic is here to stay, with gradual improvements to its collections.
As we explained in our very first article about what was then a Kickstarter project, Baltic is the brainchild of Etienne Malec, a young Frenchman who has inherited his father's passion for watches. An avid collector, his father spent years putting together a collection of exceptional timepieces, some of which have inspired the designs of Baltic's first two models. Sadly though, Etienne's father passed away when Etienne was still quite young and so they were never able to truly share this passion together. Today, he pays homage to that special relationship with the creation of his own brand, explaining that "Baltic is the combination of what my father and I loved, together with my watchmaking experience. These watches symbolize part of my personal story and this is my way to pay tribute to him."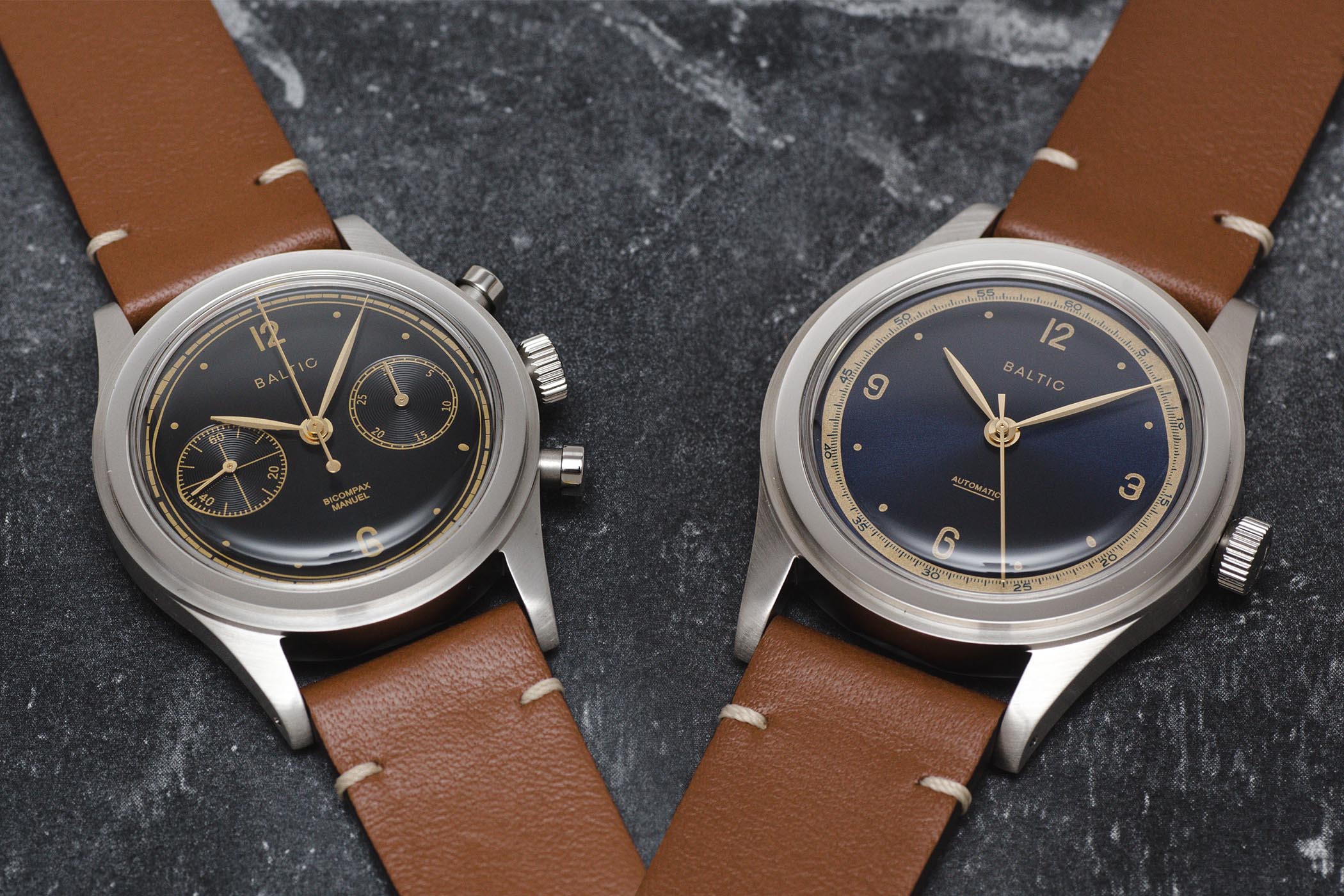 What's now a fairly well-established brand, with a solid collection ranging from dive watches to racing chronographs, started as a simple project funded by Kickstarter… The road to what the brand is now was long, but Malec surely travelled it at quite a pace. The first watches by Baltic, a pair of models to be precise, were clearly here to satisfy an audience of vintage lovers without breaking the bank. Carefully designed yet cleverly built and marketed, these watches were combining 1940s inspiration with a step case, domed crystal and historically-inspired dials with accessible, robust and tried-and-tested movements from Japan or China. And if the latter doesn't sound great on paper, Malec chose the only Chinese movement that could be somehow "excused" as it has something to do with glorious vintage chronographs. But we'll come back on the topic in a few.
The crowdfunding campaign was a success, gathering more than 500k euros. Not only has it allowed Malec to fulfil his dream, but it has made the brand a reality. And, as you'd expect, the inaugural Baltic Bicompax (chronograph) and HMS (time-only) have since become the brand's cornerstone collection. If there was one thing about what's now known as the 001 collection to complain about, that would be the slight timidity of the dials. Nothing bad, but not striking enough in my opinion… And I think Malec and his team also agreed, since the collection had been revamped in 2020, becoming the Bicompax 002 and HMS 002. What was to be loved in the first-gen was kept – same case, movement and affordability – but the dials were entirely new, bolder, and more attractive altogether.
Fast forward to 2023, and the Baltic Bicompax and HMS enter their third generation. Or, to be more precise, Baltic adds a new pair of models alongside the existing 002 versions, which remain available. So, if the new Baltic Bicompax 003 and Baltic HMS 003 do not replace the 002, what's new here? In fact, many things. And the first reason why the 002 and 003 collections can live together is that the case proportions are different. Following the impressive success of the MR01, which prove that a compact watch was fulfilling the expectations of a large fraction of the market, the new Bicompax 003 and HMS 003 move away from the already far-from-enormous 38mm case of the 002 collection to an even smaller case.
Both watches share the same overall proportions. The case is now 36.5mm in diameter, 13mm in thickness including the crystal and 46mm in length – to be compared with the 002 models, which measure 38mm x 13mm x 47mm. Not a dramatic change, but enough to give this new 003  generation its own personality. Deliberately compact, but not impactless either. The case is, considering the diameter, rather long, giving it enough presence on the wrist and avoiding a too delicate or slightly feminine effect. These 003 watches aren't small, they are compact and only reinforce the initial idea of having historically-inspired watches.
Regarding the design, no evolution. Baltic sticks to the cool 1940s recipe, including the step case with a flat bezel, the upper step being polished to reinforce its presence, while the rest of the case is brushed, using horizontal brushing along the case middle and circular brushing on the lugs. The 2-piece construction (the caseback being a stand-alone part) is clean, specifically considering the price. It's not Rolex or Omega level of finishing, but it's not the same price either. Some nice touches can be seen all around, such as the drilled lugs, the high-domed hesalite glass (like in the past), the different crowns (thin on the automatic HMS, wider on the hand-wound Bicompax to facilitate winding the movement) or the screwed back with a decent 50m water-resistance.
What the Bicompax 003 and HMS 003 might have lost in wrist presence (if ever they do…) compared to the 002 models, it gains back in visual impact with new and even more attractive dials. The still-available 002 models are nice, but always felt a bit too modern, too technical in my books. With the 003 collection, Baltic goes vintage all the way and adds a level of detail unseen before in its most accessible range of watches – you have to keep in mind that we're talking about watches at 360 and 540 euros… Both the Bicompax and HMS watches are available in 3 different colours; silver with blue accents, blue with gilt accents (not photographed here) and, something that enthusiasts have been waiting for, a salmon dial with silver-toned accents.
The dials are so-called two-tones with, at least, 2 different finishing techniques. The centre of the dial boasts a cool grained pattern, obtained thanks to sandblasting. It is framed by a brushed sector on which polished applied markers – bance-shaped or Arabic numerals – are positioned. Finally, a brushed segment with railroad tracks frames the dial. On the HMS, the centre is animated by a crosshair. On the Bicompax, the two sub-counters have an azurage pattern. Finally, the leaf-shaped hour and minute hands are slightly larger than those of previous versions, giving the watch a more pronounced character. All in all, these dials are more impactful yet more elegant too. I personally think they better match the original concept of a 1940s-inspired watch. Plus, there's a salmon option, and I can't say no to that.
Regarding the movements, you'll have the choice between an automatic time-only (HMS) and a hand-wound chronograph (Bicompax), with the option or not to have a see-through caseback. The Baltic HMS 003 is powered by the Miyota 8315, a step up from the calibre 821A that was used in the 001 series. This classic self-winding movement, with a rotor mounted on ball bearings, stands apart from the rest of the Japanese movement maker's production with an elongated power reserve of 60 hours. With hand-wound capacity and stop-seconds, it is mostly notable due to its reliability and ease of service.
Inside the Baltic Bicompax 003 is something that's both cool and full of history. Yes, this Seagull ST1901 is made in China. But its origin couldn't be more Swiss. Its architecture is based on that of the Venus 175, a hand-wound column-wheel chronograph with horizontal clutch produced between 1940 and the mid-1960s by Fabrigue d'Ebauches Venus SA. The story says that when the company decided to upgrade its calibre 175, in order to raise some capital, it sold all the tooling required to manufacture the 175 movement to the Chinese Airforce, so it could create movements for its military watches, alongside making this movement available to civilian production thanks to Seagull. And this is how an accessible watch such as the Baltic Bicompax 003 can be powered by a movement with such architecture. Sure, its decoration is (very) industrial and when operating the movement, you can feel its age. But looking at it really brings incredible charm to the watch.
As standard, the HMS and Bicompac 003 are delivered on flat leather straps (multiple colours possible) with a steel pin buckle. Interestingly, despite the reduction of the diameter, the lug width retains its 20mm measurement, which somehow helps to give the watch more wrist presence. Options such as steel beads of rice bracelet, a steel flat link bracelet or steel beads of rice bracelet with straight end-links are also available (+72 euros), as well as an open caseback as photographed here (+30 euros).
Availability & Price
The new Baltic HMS 003 and Baltic Bicompax 003 are now available from the brand's website, at respectively EUR 360 (excl. taxes) and EUR 540 (excl. taxes). With the new, more refined design of the dials as well as a size that I personally prefer to the larger case of the 002, these new 003 models are even more mature and, once again, bring an incredible price-pleasure ratio. More details at baltic-watches.com.
https://monochrome-watches.com/baltic-bicompax-003-baltic-hms-003-hands-on-review-price/