Weekly Watch Photo – Romain Gauthier Prestige HMS
The last Weekly Watch Photo of this year is dedicated to a watchmaker who should have been featured on Monochrome much sooner. His name is Romain Gauthier and he make absolutely stunning timepieces with a finish that is among the very best you can find.
The movement of the Prestige HMS was entirely conceived, developed, designed, produced, finished, assembled and regulated by Manufacture Romain Gauthier. Prestige HMS – Hour, Minute, Seconds – by Romain Gauthier is in my opinion a perfect blend of the traditional and the contemporary.
I remember the first time I met Romain Gauthier. It was in Paris, November 2010, and it was bitter cold. Romain Gauthier was exposing his timepieces at Salon de Belles Montres, in the Louvre. A magnificent place for a watch show and I was there meeting with Tim and Bart Grönefeld and Peter Speake-Marin. When we went out for dinner, Romain Gauthier and his wife joined us and that was the first time I laid my eye on one of his timepieces.
Romain talked about his watches and his manufacture (he also produces parts for other companies) and I was simply blown away. Both the Prestige HM and the prestige HMS are entirely developed, produced, finished and assembled in-house, which is quite something. What blew me away was the level of finish and his unique approach to the design. Take close look… there's something missing…
Indeed the crown seems to be missing. That is because the crown is tucked away in the case back. Romain Gauthier's approach for a crown-less watch is much different from for Marc Jenni (as you can read here) or Aniceto Pita who invented two systems (as we explained here) that he used to create the perfect dive watch.
Romain Gauthier sports a crown in the case back, that somehow reminds of key-winding old pocket watches. Placing the crown on the back increases winding efficiency and water resistance, while reducing wear and stress of components. It even allows you to wind the watch, while wearing it… look at how the crown with its smooth teeth is accessible from the side.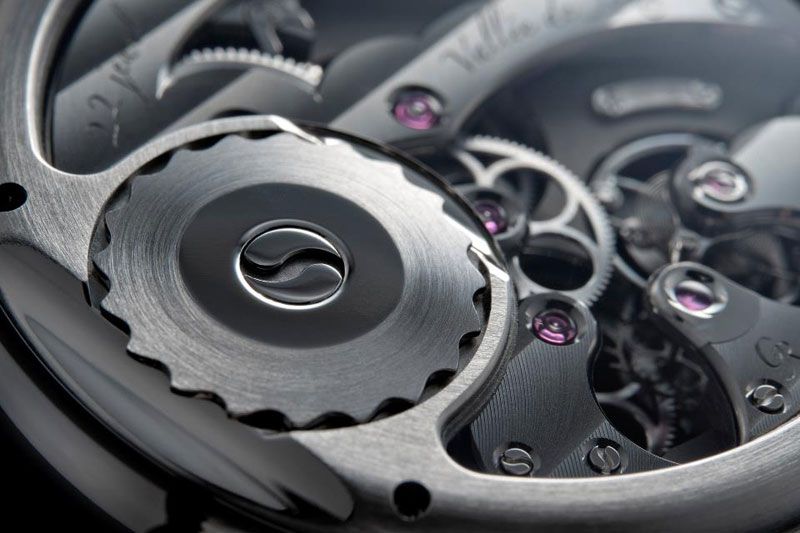 Look at how beautifully finished the bridges and plates are! The bridges are so-called Vallée de Joux style finger bridges and they beautifully catch the light and of course the eye with their seductive polished curves. The gears feature lovely circular arms in stead of the regular 2, 3 or 4 straight arms. This looks heat, but also means more and more difficult finishing by hand because no machine can finish the small parts with these curves.
The balance wheel also arms, which are different from any other balance wheel's arms. The distinctive curved arms and calibrated eccentric weights have been designed and manufactured by Romain Gauthier.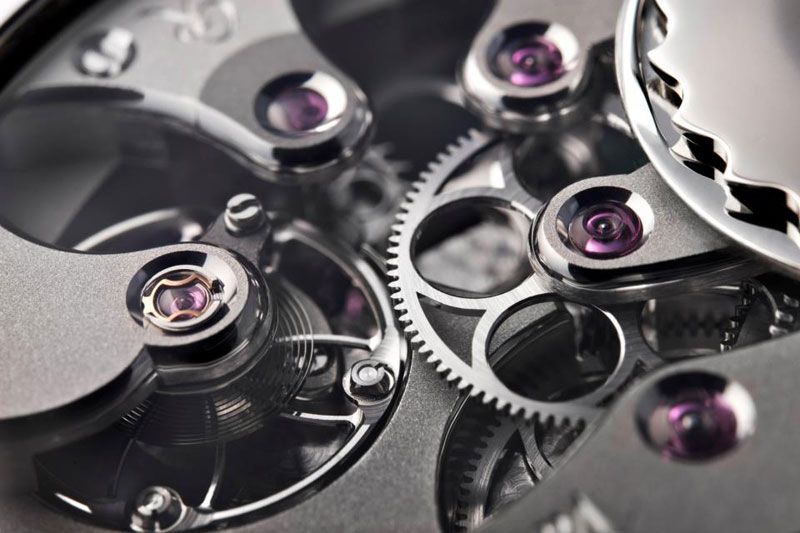 Typical for all Romain Gauthier timepieces is the elegant hand-guilloched solid-gold dial that is positioned off-center. Another recognizable feature is the apparent lack of a crown. The more classical Prestige HM (hours, minutes) and the more contemporary Prestige HMS are available in white gold, red gold and platinum and have a diameter of 41 mm.
Please visit the Romain Gauthier website for more technical information an availability. The images come from Romain Gauthier, however they have the distinctive Ming Thein looks, so I assume he should be credited for the beautiful photos!
This article is written by Frank Geelen, executive editor for Monochrome Watches.
https://monochrome-watches.com/weekly-watch-photo-romain-gauthier-prestige-hms/