Introducing
The Baltic MR01, An Accessible Calatrava-Style Micro-Rotor Watch (Live Pics & Price)
The French brand has done it again with this ultra-cool yet accessible Calatrava-inspired watch with a fair price and something interesting under the hood.
Baltic, the young and fresh indie watchmaker from France, has managed in a few years to make a name for itself with a collection of superbly designed, neo-retro watches with relatively accessible prices. It all started with a duo of 1940s-inspired watches with a slightly elegant touch. Then, the brand moved into sportier territories with several editions of the Aquascaphe. Today, Etienne Malec (the founder) goes back to one of his favourite types of watches, the so-called Calatrava style, with an elegant and compact micro-rotor watch that made quite an impression on us. Great look, gorgeous dial and even mechanical pleasures; let's have a closer look at this new Baltic MR01.
As a reminder, here's what we explained about Baltic Watches in our in-depth article on the inaugural Aquascaphe Diver: Baltic Watches is the brainchild of Etienne Malec, a young Frenchman who has inherited his father's passion for watches – something he shared with us already, some years ago. An avid collector, his father spent years putting together a collection of exceptional timepieces, some of which have inspired the designs of Baltic's first two models. Sadly though, Etienne's father passed away when Etienne was still quite young, and so they were never able to truly share this passion together. The creation of Baltic Watches was a way for Etienne to pay tribute to his father and to fulfil his passion for watches – knowing him quite well, I can tell that he is more than passionate.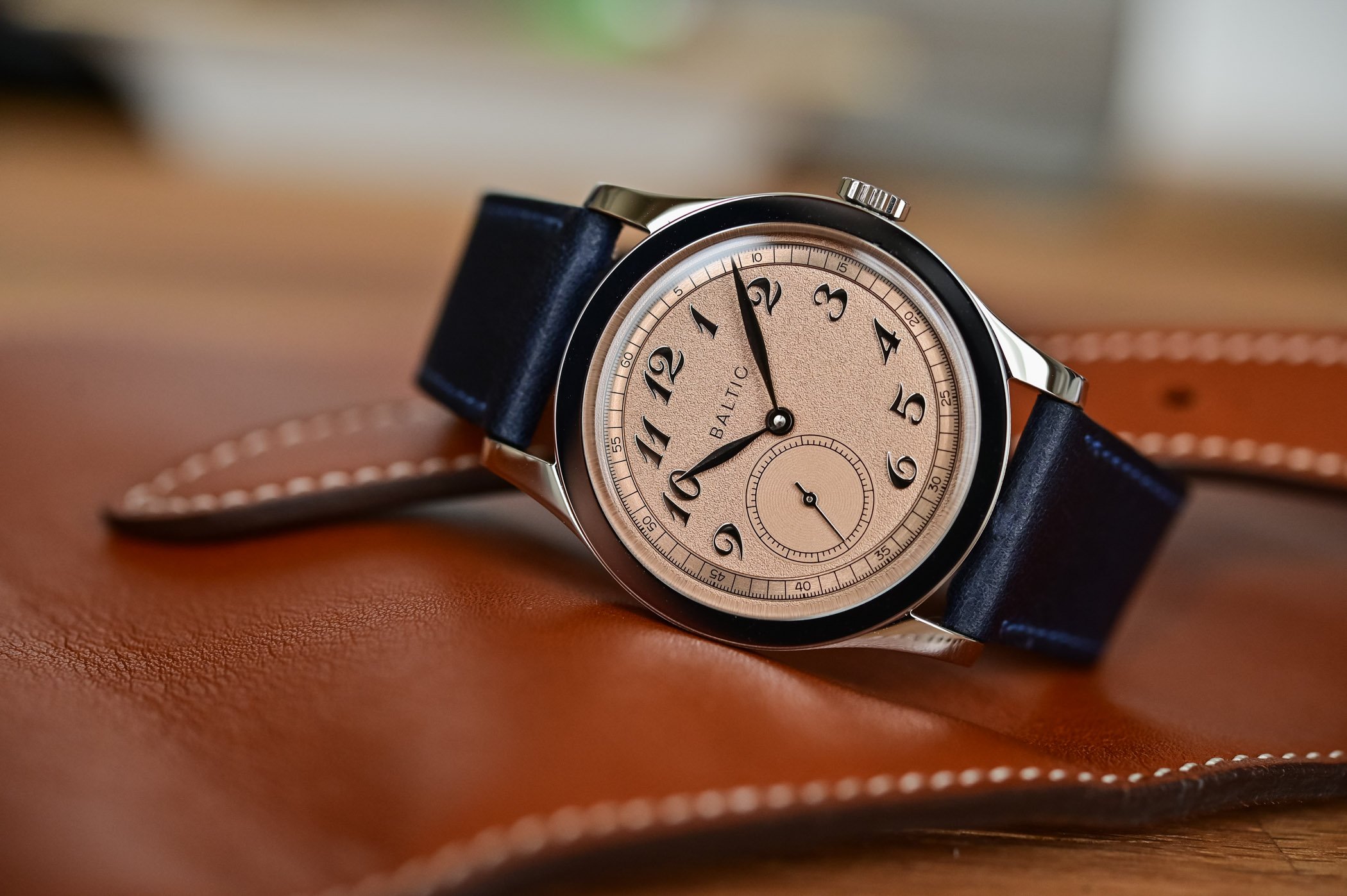 Today, following multiple action-oriented watches and divers – including the Aquascaphe GMT or the Aquascaphe Dual-Crown – Etienne and his team go back to something more elegant, maybe a bit more niche too, but something extremely desirable when you know a thing or two about vintage watches with this Calatrava-style watch in the new Baltic MR01 collection.
The Calatrava inspiration
Behind the Calatrava appellation, often used by collectors to define a specific type of watch, is the Patek Philippe Calatrava reference 96, an extremely important model that introduced the name and the overall design. As we explained extensively in this article, in 1932 Patek Philippe (in the midst of a difficult period) created a model that would revolutionise the design of wristwatches and become the essence of the dress watch. Back in the early 1930s, the wristwatch was still a relatively new phenomenon but one that had rapidly gained popularity following its widespread use in World War I. It was still common to see converted pocket watches or pocket watch movements encased in a wrist form. And what Patek created with the Calatrava is not only one of the most important early wristwatches but also the epitome of understated elegance.
An essential element of the Calatrava watch is the actual design of its case, which would be shared in most of the iterations created. While there were hundreds of different dials, the case has remained more or less the same and has become the signature element. The case has clear Bauhaus influences, with a minimalist and graphic approach to design. What is so special about the Calatrava is its 3-part construction – something that is taken for granted today but was completely new back then. It features a flat, stepped bezel (also named coin edge) and a snap-on caseback. But most importantly, it features a middle case with lugs that are integrated into this element rather than being soldered on. And it elevated the humble lugs from an after-thought to an integral part of the overall design.
The Baltic MR01, the accessible Calatrava
Let's go straight to the point… One of the most desirable Calatrava watches now available on the market is the Patek Philippe 5196P, with its platinum case, two-tone dial and Breguet numerals. But with a price well above EUR 30k, it's certainly not a watch for the masses or the kind of watch you'd get just for the fun of it… But if you're looking for a Calatrava-styled watch – apart from the vintage market – there are not many reasonably priced yet serious alternatives. And that's where Baltic strikes hard with a watch that has style, relevance and faithfulness (and even cool mechanics) for a price that makes it a possible "for the fun of it" acquisition.
The beauty of the Baltic MR01 first comes from its case. With its compact, vintage-ish Calatrava shape, the case has been slightly reworked by the brand to have more presence and feel. The diameter is only 36mm, which might sound small by today's standards, but two things have to be mentioned. First, the lugs are quite strong and long, resulting in a 44mm lug-to-lug measurement. By no means oversized; it does, however, increases the presence on the wrist. The second point of differentiation is the width of the bezel, again reinforced for more visual impact.
As for the case itself, the Baltic MR01 has a typical Calatrava construction with a brushed central part with lugs that are an integral element and a flat stepped bezel on top with a polished surface. Besides its small diameter, the MR01 is also a thin watch, with a case that is 8mm (without crystal) or 9.9mm (with crystal) in height. An ode to vintage watches, it is equipped with a domed hesalite crystal that offers more warmth as well as cool distortions – but also requires you to be a bit more careful. The caseback features a see-through window, and overall, the execution of the case is very pleasant.
The watch is a joy to wear in terms of comfort, and despite the compact diameter, it doesn't feel undersized. It is worn on a simple yet adequate smooth calf leather strap with a pin buckle – available in blue, black or cognac.
A dial with impressive details
The case of the Baltic MR01 is inspired by classic Calatrava, but so is the dial, which plays with these vibes with a twist and an execution that is, let's be honest, extremely impressive considering the price.
First, note that although we only had the salmon version of the Baltic MR01 for this hands-on article, there are three different dials to choose from, including a silver and a blue one. But, as you know, we have a soft spot for white metal cases and salmon dials here at MONOCHROME. The dial features emblematic elements of highly desirable vintage watches, and if the trick is kind of easy, it certainly works. It starts with a central part with a strong grained surface and a display that is not the most usual with the small seconds located at 7 o'clock. Surely, some will regret the symmetry of a small seconds at 6 o'clock, but it's how the movement was constructed, and in the end, it gives personality to the MR01.
The dial plays with textures, with a concentric pattern on the small seconds and a brushed surface on the railroad track. And then are these beautifully designed and executed Breguet numerals. Often associated with 1930s Calatrava watches (just like sector dials), the level of detail is quite stunning, with a refined execution and a nice polished surface. They play a lot with ambient light and add much depth to this dial. In the same vein, the leaf-shaped hands are faceted and finely crafted.
The Baltic MR01 really does a great job with this dial, which, together with the compact Calatrava case, brings the desired vintage vibe and a feeling of quality and attention to detail that is unexpected at this price range.
Micro-rotor movement
At the heart of the Baltic MR01 is a Chinese movement. Making a watch like this at a fair price requires some concessions, but in this case, there's still a lot to like when looking through the caseback. No standard automatic movement with a central rotor here. Instead, Baltic went for an ultra-thin micro-rotor movement produced by Hangzhou Watch Company (a competitor of Seagull).
This movement, from the 5 Series, is mostly noticeable for its architecture usually reserved for high-end manufactures, with a micro-rotor that allows keeping the height below 4mm and showing most of the parts. It is also a quite large calibre, at 30mm, which makes the view through the caseback very attractive. Technically, it beats at 4Hz and can deliver up to 42 hours of power reserve.
As you can expect from a watch of this price, the decoration is entirely machine-made but not unpleasant either, with its circular stripes, blue-coloured screws and a gold-coloured rotor.
Availability & Price
The Baltic MR01 is launched today in three editions – salmon, silver and blue – and is available from the brand's website now. It is priced at EUR 650 (incl. taxes), which feels very fair considering the attention to detail on the case and the dial. Plus, the look of the watch alone justifies buying it. I know I'm not really objective here, but it really looks stunning.
For more details and orders, please visit baltic-watches.com.
https://monochrome-watches.com/baltic-mr01-salmon-accessible-calatrava-style-micro-rotor-watch-review-price/