Buying Guide
8 Cool 3-Hander Watches with Sports-Elegant Look
You don't necessarily need to wear a hefty dive watch during summer...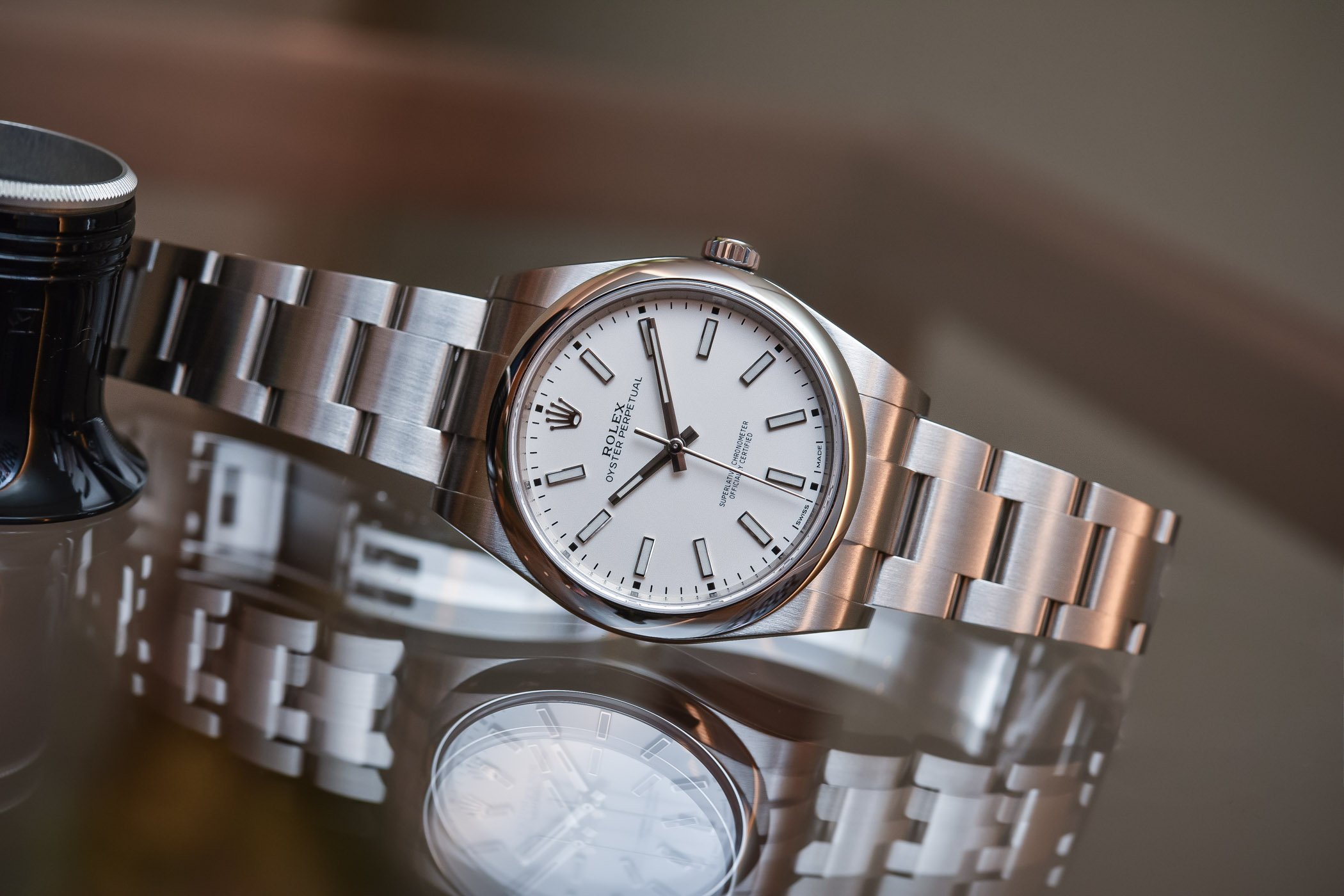 Now that summer is firmly installed in most regions of the world (Northern Hemisphere at least), you might be tempted to opt for a dive watch or a colourful sports watch. Sure, these watches will be perfectly suitable on the beach, but what if you want to keep things elegant – or what if you're about to spend your summer behind the desk, working while your ungrateful colleagues enjoy their vacations? For this reason, here are 8 of the coolest sports elegant watches recently introduced. Robust but still discreet, as good for a "weekend dip in the pool" as for a "boring Monday morning meeting".
Our friends from some of the warmest regions in the world (especially in the Middle East countries) know this perfectly well: a metallic bracelet is the best option when the temperature goes up. Sure, a rubber strap is nice when swimming, and a leather strap is always an elegant option. Yet, both of them have the irritating habit of sticking to the skin and making you sweat. On the contrary, metallic bracelets (steel, titanium or even gold one) might be heavier on the wrist, yet no worries when it gets warm. They keep fresh(ish). For those who want to combine the ruggedness of a sports watch, the comfort of a metallic bracelet and a certain amount of elegance, here are some of the best 3-hander elegant sports watch that have been introduced in the past few months.
Baume et Mercier Baumatic
This year, at the SIHH 2018, Baume et Mercier came out with an unexpected new watch. Not in terms of style, as the brand keeps its usual classic-chic design alive, but in terms of mechanics. With the Baumatic's new proprietary movement, B&M enters a new world. Not only is the price attractive, but the specifications are impressive regarding the segment – 5-day power reserve, anti-magnetic, silicon escapement and long service periods. If the most coveted version has been the Chronometer, there are also more affordable non-COSC rated editions, including this model with a steel bracelet. The design, even though classical, is an improvement compared to past models, with a slimmer case and a nice dial. The steel bracelet "casualizes" this overall pleasant watch. Well done Baume & Mercier.
Ad – Scroll to continue with article
Quick facts: 40mm diameter x 10.3mm height – stainless steel case – sapphire crystal front and back – calibre Baumatic BM12, automatic, 5-day power reserve – steel bracelet – EUR 2,750 – more details on www.baume-et-mercier.com.
Bell & Ross Vintage BR V2-92 "black steel"
Bell & Ross is best known for its square, large, military-inspired pilots watches. However, this shape, as iconic as it is, is not everyone's cup of tea. For this reason, there's the Vintage collection. In 2017, it has been revamped with an entirely new case. Smaller, slimmer, more rounded but still sporty, the watch gains in elegance and adds a slight dose of 1960s fun. Various editions are available – Bellytanker, Coast-Guard, Racing Bird – but the best option if you want to fly under the radar (appropriate expression for a pilot's watch, right?) is to go for the classic "Black Steel". The black dial, black bezel, white indices and markers, and 3-link steel bracelet combination makes a cool daily beater.
Quick facts: 41mm diameter – stainless steel case, bi-directional bezel – sapphire crystal front and back – Calibre BR-CAL.302, automatic, 38h power reserve – steel bracelet – EUR 2,900 – more details on www.bellross.com.
Jaeger-LeCoultre Polaris Automatic
The new Polaris collection by Jaeger-LeCoultre has been one of our best surprises of the SIHH 2018. Sporty without being an instrument-like watch, inspired by the past without being a vintage copy and elegant as a JLC should be. While the Memovox is the most desirable piece in the collection, it isn't the most subtle candidate. As an entry-level model, there's this pleasant, well-finished, well-powered "Automatic" version. Not only are the proportions just right – 41mm diameter – but no ugly date window has been added. Worn on a steel bracelet, it becomes a nice casual piece that won't look out of place at the office. The blue dial is, to us, a nice option and if you prefer being more classic, it is also available with a black dial. Inside ticks the reliable in-house calibre 898E/1.
Quick facts: 41mm – stainless steel hand polished and satin-brushed – inner rotating bezel – sapphire crystal front and back – in-house calibre 898E/1, automatic, 40-hour power reserve – steel bracelet – EUR 7,650 – More details on www.jaeger-lecoultre.com.
Maurice Lacroix Aikon Automatic
The most affordable watch in this buying guide shouldn't be considered a poor man's option either. Playing on the trend for 1970s sports watches with a shaped case and an integrated bracelet, the Maurice Lacroix Aikon offers very decent quality, an automatic movement and great style for only CHF 1,750… The brand even had the good idea to have a textured dial with a clou de Paris pattern, applied indices and a framed date window – small details that can make a lot of difference. The overall execution is surprisingly good and the 42mm diameter is acceptable for a daily beater. And the 11mm thickness is perfect for such a watch.
Quick facts: 42mm diameter x 11mm height – stainless steel, polished and brushed – sapphire crystal front and back – calibre ML115 (3-hand), automatic, 38h power reserve – steel bracelet – CHF 1,750 – More details on www.mauricelacroix.com.
Omega Seamaster Aqua Terra 41mm
When it comes to Omega, we all have the Speedmaster and the Seamaster 300 or 600 in mind. Yet, we must not forget the very, very good Aqua Terra. Certainly less emblematic, it remains one of the best possible watches when you're looking for a true all-rounder. Elegant, well proportioned, very well executed, available in dozens of versions, featuring an excellent in-house movement with all the possible modern Omega refinements and, overall, not that expensive. The following black dial/steel bracelet version is the perfect example of sporty elegance "a la Omega". If the 41mm is too large for you, a 38mm diameter version also exists.
Quick facts: 41mm diameter – stainless steel case, polished and brushed – sapphire crystal front and back – calibre 8900 in-house, automatic, METAS certified, 60h power reserve – steel bracelet – EUR 5,100 – more details on www.omegawatches.com.
Rolex Oyster Perpetual 39 White Dial
The Oyster Perpetual 39 might be the entry-level watch at Rolex, but it is a Rolex to the core. The OP39 is not only well positioned price-wise, it also is intrinsically a great watch. The no-date display, the nicely shaped case, the 39mm diameter, the legendary durability of the case and the movement… All you can expect from a Rolex for an almost accessible price! For 2018, Rolex adds two new versions to the collection, including this very cool white dial – say "polar" to be trendy – edition. The kind of watch that makes you think: why would I need another one?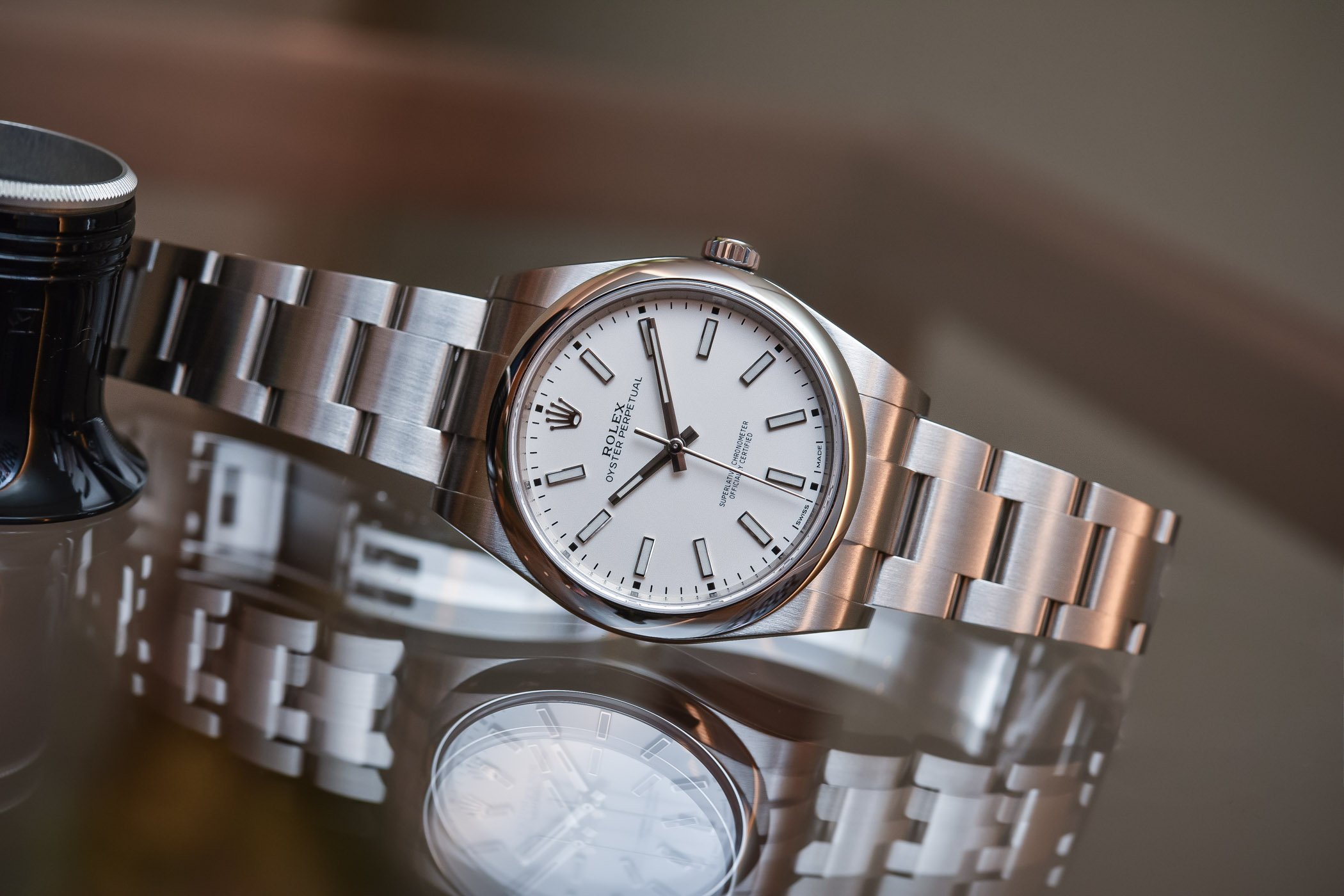 Quick facts: 39mm diameter – Oystersteel case – sapphire crystal on the dial side, plain steel caseback – calibre 3132, in-house, Superlative Chronometer certified, automatic, 48h power reserve – Oyster 3-link steel bracelet – EUR 5,200 – More details on rolex.com.
Tudor Black Bay 41 Blue Dial
Rolex' sister company Tudor takes the concept developed above and adds its unique vintage flair to create the Black Bay 41. Again, a time-only watch with 3 hands and no rotatable bezel, a combination of robustness and elegance and, in the case of this BB41, modern touches – larger diameter – and vintage references – Snow Flake hands, polished bevels on the case. Overall, the quality and the looks are great. The price isn't bad either, thanks to the ETA movement ticking inside. For 2018, the classic black dial version is joined by a new blue dial. Also available in 36mm and in 32mm.
Quick facts: 41mm diameter – stainless steel case – sapphire crystal on the dial side, plain steel caseback – calibre 2824, automatic, 38h power reserve – steel bracelet – EUR 2,770 – more details on www.tudorwatch.com.
Zenith Defy Classic Titanium
Last but not least, Zenith just launched a new version of its bold, 1970s-inspired watch: the Defy. Previously available with a super-high-beat chronograph or an ultra-innovative movement, the new Defy Classic takes the design only with a standard – yet in-house and based on the Elite – movement. The Defy is the brand's bolder model, yet it also remains true to some of the brand's signature codes. The case measures 41mm in diameter and 10.75mm in height, and is crafted in grade 5 titanium – bracelet included. Overall, a nice design, a great movement and a decent price.
Quick facts: 41mm diameter x 10.75mm height – grade 5 titanium case – sapphire crystal front and back – Elite 670, in-house movement, automatic – 50h power reserve – titanium bracelet – CHF 6,900 – More details on zenith-watches.com.
https://monochrome-watches.com/8-cool-3-hander-sports-elegant-watches-buying-guide/