Weekly Watch Photo – Heritage Watch Manufactory Tensus – Constant Force Escapement
Over the past few weeks I've been wearing (testing) the award winning Tensus, by Heritage Watch Manufactory. A watch that has grown on me, both because of its aesthetics and its impressive specifications and performance. By the way, the Tensus is the only watch with a true constant force escapement that is available on the market today. 
Maybe the purists among you will find this a bold statement. And yes, there are a handful watches with a so-called remontoire d'égalitée; a mechanism that delivers constant force to the escapement. However… for the real purist this comes close to true constant force. What Karsten Fraessdorf, Heritage Watch Manufactory's watchmaker, has created has only been incorporated in a wrist watch by one other person: Kari Voutilainen. Let me explain more about the Tensus, its escapement and share some photos I recently made.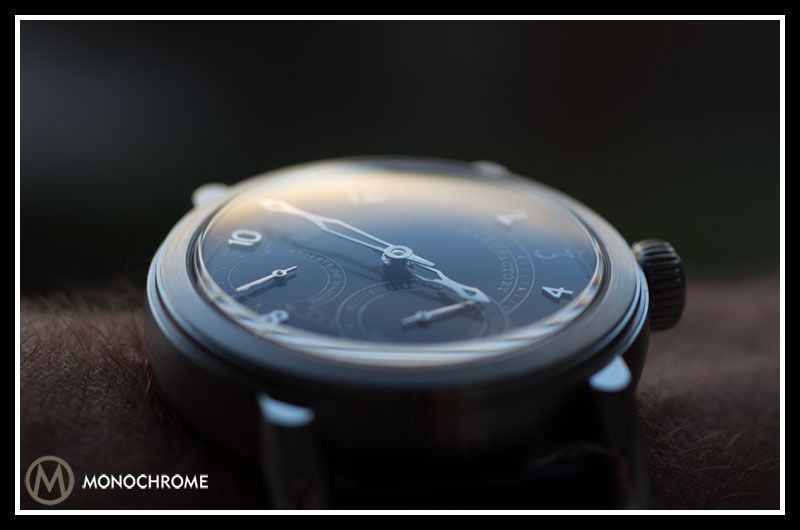 With every watch, the first thing we notice are its looks and in this case the person responsible was Eric Giroud. Eric Giroud has designed an impressive list of very well-known timepieces, like Experiment ZR012 by C3H5N3O9, a collaboration between MB&F and URWERK, Rebellion's T-1000, and all MB&F timepieces including the recent HM5 and the double award winning Legacy Machine 1.
The case measures a decent 42.5 mm in diameter and 13.95 mm in height including the domed crystal (11.20 mm is the pure case height without crystal). Its stainless steel case (also available in white or red gold) shows a very elegant variation between satin brushed finish and polished finish. The case back features a flat sapphire crystal and the dial is protected by a domed sapphire crystal with anti-reflective coating on the inside only.
On the dial you can see printed and applied Arabic numerals for the hours, a small seconds hand with the word "force constant" printed inside its rail track perimeter and an indication for the power reserve, which is 60 hours. On first glance, the Tensus is not a watch that stands out or attracts a lot of attention. It is a slow persuader and during the time of wearing it, I received many compliments, simply based on its elegant yet rugged and understated looks.
However when turning the watch over, it attracts immediate applause and admiration, both by layman and connoisseurs.
Lets take a closer look and dissect the words on the three-quart plate. The movement, caliber 880, has 55 jewels and is adjusted for 6 positions. The next line mentions a double escape wheel, which is just one of the impressive and patented parts in this movement. The double escape wheel is the most important feature for delivering constant force to the balance. Between the two (co-axial) escape wheels is one short spring that is loaded with energy and gets unloaded with every 'breath" of the escape wheel. Therefore this is a true constant force and is different from a remontoire d'égalité that is loaded/unloaded every second or sometimes every 10 seconds. However, this is purist's nitpicking as in reality a remontoire d'égalité shows a perfect influx of constant power as well.
Caliber 880 features more patented ingenuities, all focussed on improving the performance of the mechanical movement. I hope to find some time soon, to write an extensive review of the Heritage Watch Manufactory Tensus and Magnus Contemporaine that I've been wearing for some weeks now. I must admit that I have fallen in love with the technicalities and understated design of these Heritage Watch Manufactory timepieces.
For more information about Heritage Watch Manufactory, their (award winning) timepieces and patented technical innovations, please visit their website and the official Heritage Watch Manufactory Facebook page.
This article is written by Frank Geelen, executive editor for Monochrome Watches.
https://monochrome-watches.com/weekly-watch-photo-heritage-watch-manufactory-tensus-constant-force-escapement/