Heritage Watch Manufactory Viator
Sometimes there is this young, relatively unknown brand that creates such mighty beautiful timepieces, that you just wish you had heard about them sooner. Heritage Watch Manufactory is such a brand…
Although they have just started in November 2010, today they launch their fourth watch already. One with a very remarkable second time zone function called the Viator. Later more about the astonishing movement, but first a photo of the Viator, featuring the second time zone as a jumping hour!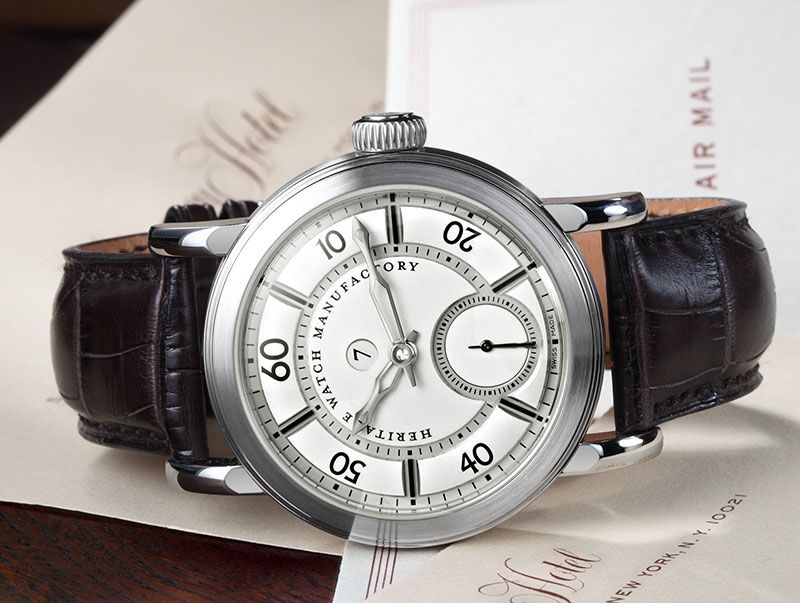 The watches of Heritage Watch Manufactory unite the art of traditional watchmaking, unheard-of precision and extraordinary longevity. The movements have been build for this and incorporates three patented mechanisms  for fine regulation and hence for un-heard of accuracy: a Vivax precision balance, a special Sectator mechanism for fine regulation of the escapement and a Tenere balance cock.
Constructed by master watchmaker Karsten Fraessdorf, the Viator is a completely in-house developed timepiece. As a GMT watch, the Viator displays a second time zone underneath the 12 o'clock position. The immediately jumping hour allows synchronization in just a few seconds through its quick-change mechanism.
Its extraordinary movement incorporates three patented mechanisms. Christian Gütermann as co-founder and member of the board comments: "With the new Viator timepiece commuting between different worlds and time zones will not become easier or faster, but it will definitely become more enjoyable."
The famous watch designer Eric Giroud, is responsable for the design of the Viator. He was also responsable for the design of the other models, the Tensus, Magnus and Centensus.
The dial of the Viator has a beautiful thee dimensional design, inspired by the convex enameled dials of 18th century Parisian pendulum clocks, which features six concentrically arranged applications. I particularly like the hands; a design I have never seen before, expect on the other models of HWM.
Eric Giroud designed the case after the housings used to protect valuable clock movements during chronometry competitions. And being a watch that strives for perfect chronometric rates, this seems more than suitable.
The polished and satinised stainless steel case has a diameter of 42.5 mm, is 13 mm thick and waterproof to 50 meters. In the front it has a domes sapphire crystal and the case back has a flat sapphire crystal, so the beautiful movement can be admired.
And for those of you who are interested in the technical specifications of the movement…
Caliber – HWM Cal. 840
diameter: 38.30 mm
height: 6.10 mm
jewels: 40
Escapement: Swiss lever escapement; capillary phase to improve oil retention
Balance: Mass-regulated Vivax balance / 16 mm / patent pending
Balance spring: Over-coil hairspring (Breguet) Tenerefineadjustment/patentpending
Semi-oscilations: 18,000/h
Mainspirng barrel: 17.40 mm
Moment of inertia: 110 mg/cm2 (!!)
Power reserve: 50 hours
We don't know the exact price, but it will be around 40,000 CHF (ex TAX). For more information, please check the Heritage Watch Manufactory website and their Facebook page.
https://monochrome-watches.com/heritage-watch-manufactory-viator/