The (Sometimes) Murky World of the Re-Dialed and Customized Rolex Watches!
Day after day of starring into the same face can be boring (I'm talking about watches, of course!) What can you do when you LOVE your Rolex Oyster – but are tired of looking at the same face? Get a re-dial of course!
Unless the heading on my compass is off, you either already have a Rolex (or two or three or ten) or know the Rolex Oyster by heart! You can't deny that the legacy of the first serially produced automatic, waterproof cased watch is epic. I've owned about a dozen Rolex over the past 20 years and each of them was more or less a flawless everyday watch! I could dress up or down and the watch always looked right. If I was willing to commit to wearing them consistently – they lived up to their claim of Superlative time keeping! So, again, I ask: what if you want all of the features of a classic Rolex, but you're bored to tears with starring into the same boring face day after day?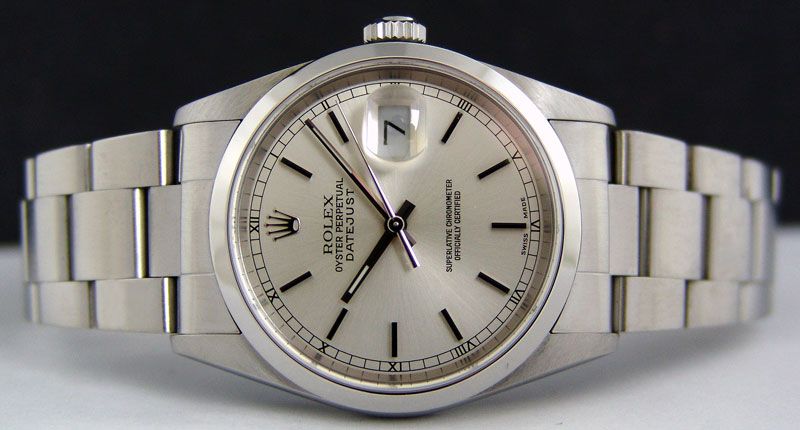 I had my first encounter with a redialed Rolex about 14 years ago in New York City. My wife (then fiancée) and I were in a famous Japanese department store on 5th Ave when I saw a collection of pre-owned Air-King (ref. 4365 – 14101) Date (ref. 1500 – 15505) and Datejust (ref. 1600 – 116238) models for sale. Some of them were 'normal' looking with the standard silver/grey Rolex dial and markers and all. However there were three or four of them that had oddly color coded dials and leather straps! I inquired about the watches and was told that they were 're-dialed' by an 'artisan' and then reassembled to create these watches in Kelley Green, Powder Blue, Flamenco Red and plain old yellow.
They were meant for people who wanted a watch to set-off a certain color in their outfit – or the color of their eyes. They were in essence (dreaded term) 'fashion watches'! They were also absurdly expensive at the time and thus meant for a person with a heck of a lot more money than I had, so they remained in the case. Today you can find these types of watches, or their components on-line.
About 5 years ago I had another encounter with redialed Rolex watches. My wife and I were in London, and took a walk down the (now closed) Bond Street Arcade. There were a lot of watches I saw that talked to me that day, but only one of those SHOUTED – buy me! It was a Rolex Precision based watch with none other than Mickey Mouse on the dial. [By this point I'd already read about a famed 'limited production run' of watches by Disney Corp to give their executive; each watch with Mickey Mouse on the dial. These watches are about as illusive to find as the famed albino "white dialed" GMT Master. It seems everyone's heard about one – but no one's ever 'seen' one in person!]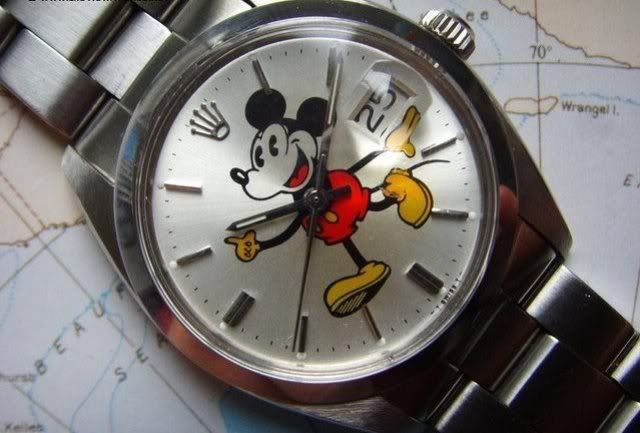 I asked the owner of the concession if it was 'real'. I asked a simple question and I got a philosophical answer: "you can see it, can't you? Then it IS real!" When I clarified that my question was not philosophical but horological – the owner confided that the dial was indeed NOT the work of Rolex. I was assured that the case, dial and movement were 'pukka', however the dial was said to be a Philippine make over. The price was (British) Pounds for Dollars AS expensive as the redials I had seen in NYC. Being in a better place financially, I reached for my credit card. "Sorry Gov, for this price it's cash-only." Adding to my feeling of security, on my next trip to London, there was no more Bond Street Arcade! (So THIS is what it felt like for Alice in Wonderland?)
In fairness to Rolex, they already offer a wide range of case metals, dial colors, jewel treatments across the years and across their model line-up. Just a few years ago, Rolex did a series of Daytona Cosmographs with color coordinated dials and leather straps. Being as popular as they are the Air-King, Date and Datejust models are going to be victims of repeated plundering! It's not uncommon for folks to partially 'finance' the purchase of a Rolex by getting it, swapping the bracelet for a leather strap or even a NATO/nylon strap – then selling the bracelet! Parting out the head, dial, movement and bracelet, selling them separately leads us to the first problem with this sort of customization – how do you know what you're buying is correct?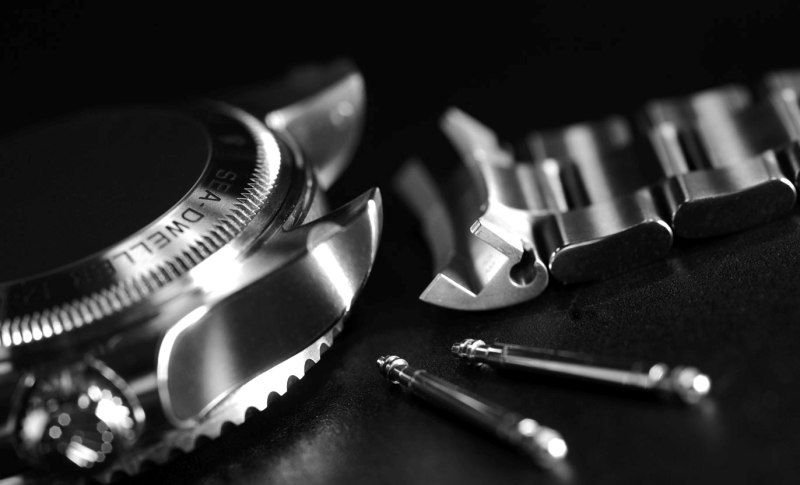 If anyone can go out and buy a head and bracelet separately – what's to stop someone from getting the two 'cheapest to deliver' (to borrow the term from a past life in investments) of each and putting them back together? The answer is NOTHING and the term for what is created is called a Frankenwatch or sometimes a Franken-Rolex (to borrow the term from a past life when I was an evil scientist with a castle and a hunchback servant named Igor!) What you end up with is 100% Rolex parts – but it isn't quite 100% a Rolex.
Those of you in the know will understand that the cases and bracelets are identified by part and model number separately. There are certain cases that go with certain bracelets and certain dials from certain periods of production. If you happen to end-up with a watch that has a 60's bracelet, 70's case and 80's dial, you may have a problem on your hands! For one thing you'd have to question the legitimacy of a watch that has no papers to document its creation and is potentially made-up of pieces that come from a bunch of different watches! Then there are the practical considerations!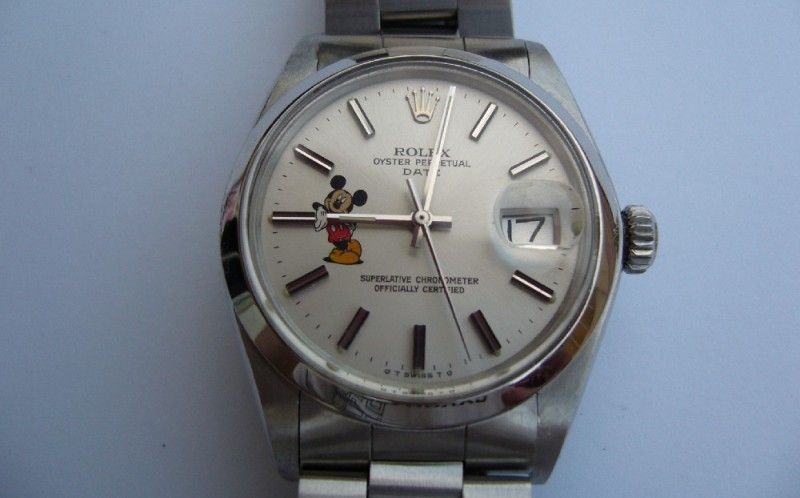 Speaking for myself exclusively – I like having my watches serviced by their makers! [This isn't to take anything away from the many, fine independent watchmakers who do a fabulous job servicing watches – this is just my personal preference with some of the more expensive watches in my collection.] Rolex are sticklers! The first part of the (sometimes lengthy) service process is to disassemble the watch down to pins and screws in the bracelet. If anything doesn't match-up they will either REJECT the watch entirely or refuse to service the watch unless any suspect parts are replaced. Their argument, and justifiably so, is that they've spent an incredible amount of time and money engineering every aspect of a Rolex watch so that it will function properly. By changing 'any' piece or part jeopardizes that design. (Even the screws in the bracelet? YES! Even the screws in the bracelet!) To me, having a Rolex that I can't service is a pending worry; someday it's going to speed-up or slow-down or worse STOP entirely… THEN what will I do? It's not always easy to find a reputable and skilled watchmaker to service your Rolex.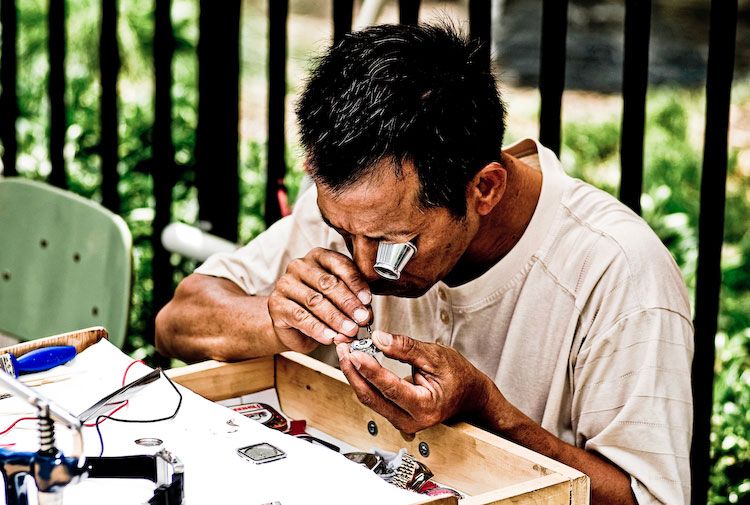 There is alas a more serious ramification to this particular form of artisanal creation; if someone is clever and talented enough to elevate a tired, old watch to something cute, kitsch and maybe even stylish, what is to stop them from working strictly within the realm of 'real' Rolex parts? What's to stop them from applying their craft to a non-Rolex watch and making it appear to be a Rolex to unskilled eyes? I should note that Rolex is not the only brand for which there are 'artisans' who There is only a very, very small jump that takes one from modifying a genuine (name brand watch here) and trying to pawn it off as something more than what it really is.
And that's where I want to leave it for now. What are these modified watches really? Just a bit of fun. I bought mine as a fun keepsake – a reminder of a fun, carefree week in London after a long, long torturous run-up. Nothing more than that. Next time I'll discuss what happens when you want to make modifications that go beyond just changing straps and dials! Next stop, black-outs and bling-bling!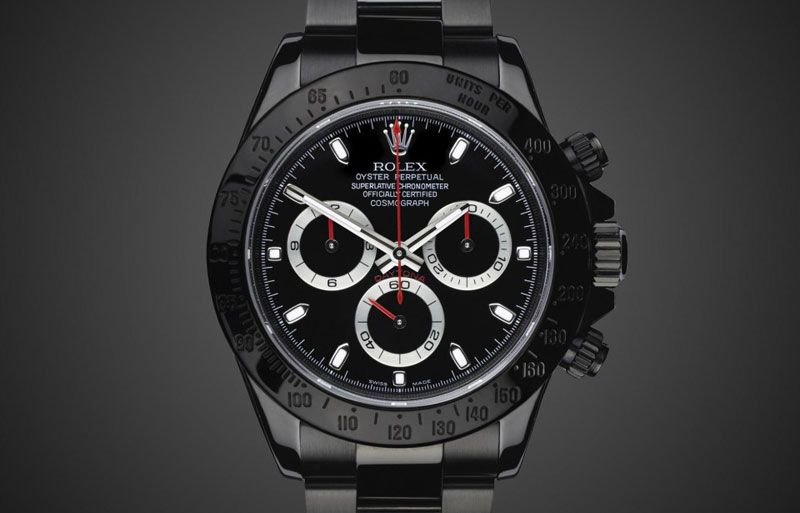 This article is written by Mario Squillacioti, contributing writer for Monochrome Watches.
https://monochrome-watches.com/the-sometimes-murky-world-of-the-re-dialed-and-customized-rolex-watches/