When Rolex showed the new Sea-Dweller, the Rolex Sea-Dweller Deepsea, to the public at the last Basel fair i was shocked. Rolex is in my opinion a brand that has a very consistent, maybe even conservative, design.
When the Submariner reached it's fiftieth birthday the gave it a green bezel and named it the Submariner LV… Lunette Verte. Nothing was changed to the watch itself, on the color of the bezel. Whether you like it or not, this no shocking design change, although I don't like the green bezel.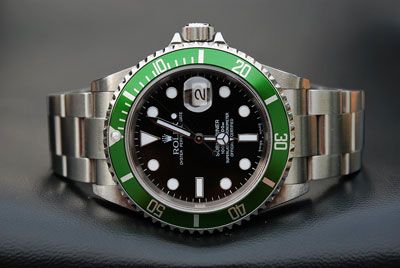 The new desing of the GMT Master II has changed more spectacular. It's bigger and because of the polished mid links in the bracelet it has less of a tool watch image. The bezel ceremic bezel also gives the watch a look which to me seems less 'timeless' like the old one.
But now back to the new Sea-Dweller… when i saw it i thought it was hidious. Seriously i can't put it in milder words, this is what i thought. But last week i saw some 'real live' photos a member of Horomundi posted of his new Deep Sea. After seeing these photos i still think the much discussed engraving in the inner ring is still fugly. And i still thing there are too many words on the dial. Both the engraving and the extra text on the dial, make it too busy.
But the wristshot show such a cool and big and robust tool watch that you almost forgive Rolex for their design errors. I borrowed Bruno's wristhot for this post, but if you want to see more of his photos than click here to visit Horomundi.
Although i'm nagging about the engraving and too much text on the dial, this new Sea-Dweller has some great improvements. The size looks exactly what you would expect from Rolex's most serious dive watch. The fine adjustment, hidden in the clasp, seems very well made and thought through. But probably the best improvement is the domed crystal! You just gotto love it 🙂
https://monochrome-watches.com/the-deep-sea/