Review
The Battle of Elegant Time-Only Watches Part 1 – Drive de Cartier Extra-Flat
A slim, shaped watch that speaks volumes about Cartier's flair for elegant, tasteful design.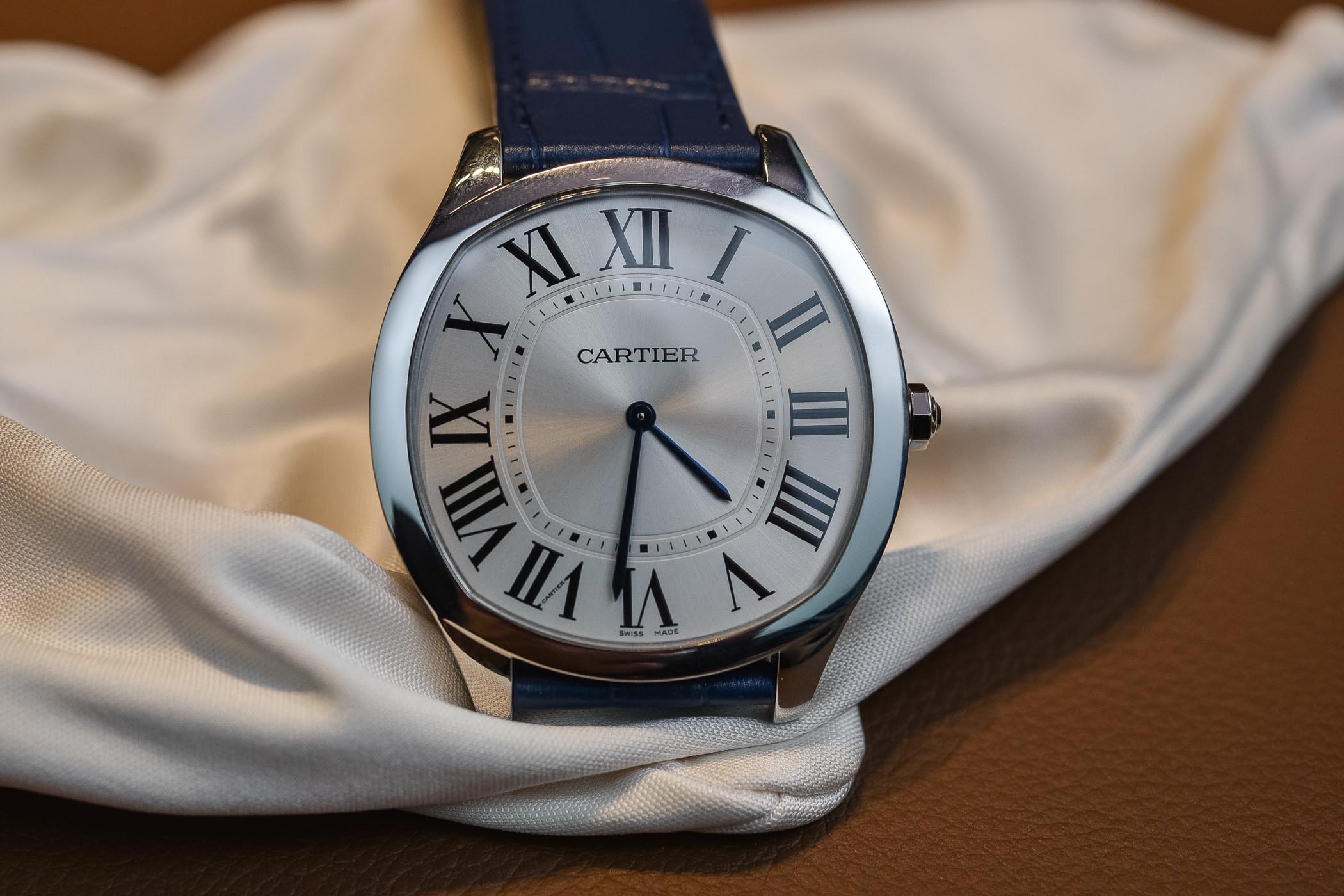 Cartier is the undisputed master of the shaped watch and for the last century has launched some of the most emblematic and unforgettable watch collections for men and women alike. But Cartier also offers something above and beyond unusual shapes and has become the byword for refined French taste. Le goût Cartier, as it is known, describes a quiet, self-assured elegance that has no need to shout. If you are on the prowl for a time-only dress watch, sans testosterone-heavy looks, the Drive de Cartier Extra-Flat is a promising candidate. A lean 39mm stainless steel case, a simple dial with hallmark features of Cartier's watches and a price that won't elicit an oh là là, could this Drive de Cartier Extra-Flat be the answer to your dress watch dreams?
Editor's note: this review of the Drive de Cartier Extra-Flat is part one of a series of three articles where we will compare two elegant time-only watches currently on the market. Two watches with the same concept, but two different flavours. The third article, which will be published after our two separate reviews, will pit them side-by-side.
Provenance
The pervasive influence of Louis Cartier's role in watch design, his contribution to the birth of the modern wristwatch, and the extensive line-up of shaped watch collections convinced Norman Foster to curate an exhibition – Cartier in Motion – at the Design Museum in London in 2017. As you know, the watch that put Cartier on the watchmaking map was the 1904 Santos, a square wristwatch custom-made for the Brazilian aviation pioneer Santos-Dumont who wanted a timepiece he could wear on his wrist while flying. Throughout the 20th century, La Maison Cartier produced an amazing variety of watches with the most intriguing shapes, from the bathtub-inspired lines of the Baignoire to the Tonneau or the indestructible Tank and the surrealist melting Crash, all duly revisited (see here for our report on Cartier's shaped watches). The 21st-century welcomed the 2007 Ballon Bleu, the 2015 Rotonde and Clé, and the family which concerns us today, the Drive de Cartier launched in 2016.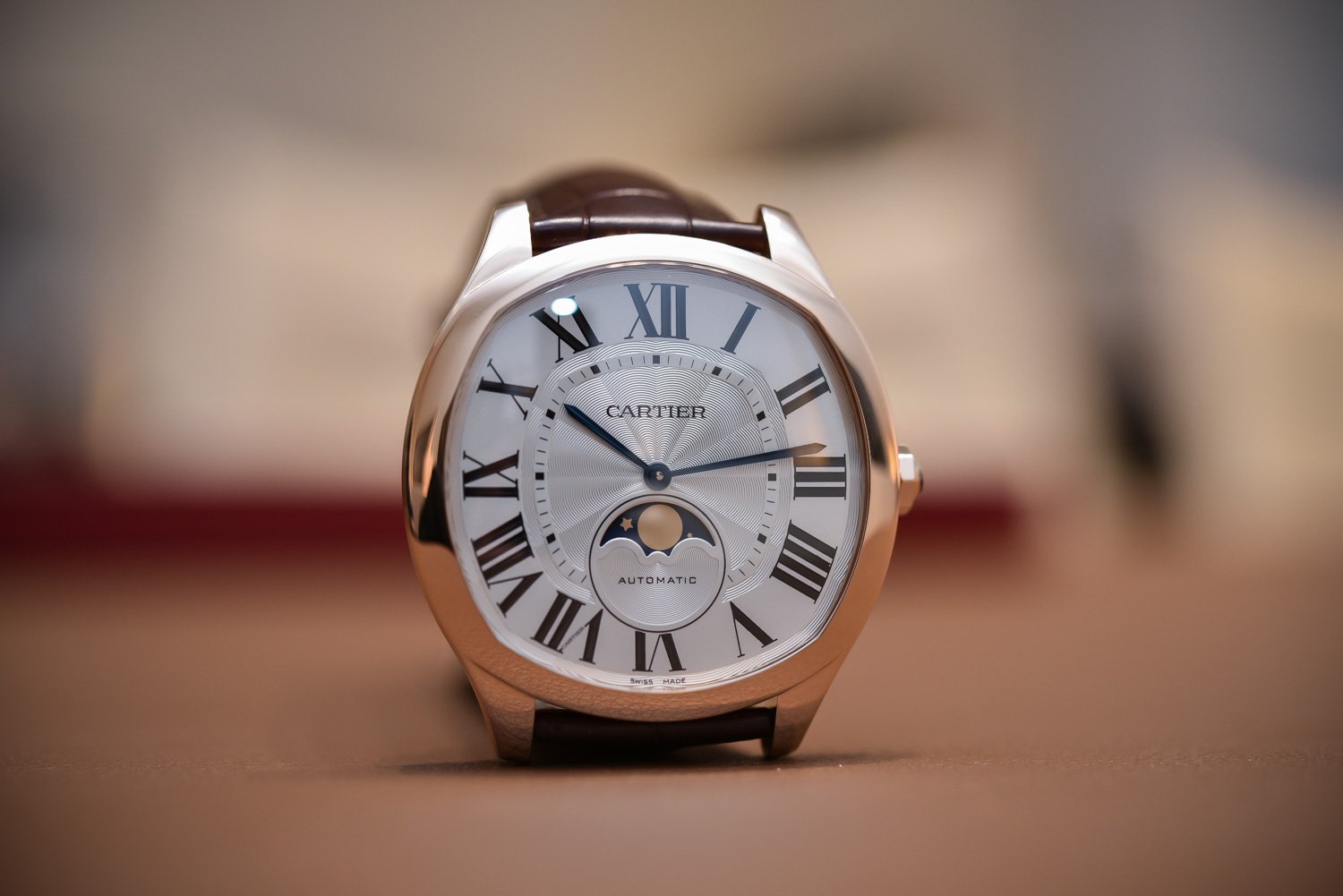 With everything from flying tourbillons to moon phases, GMTs, and simpler time-only models, the standard Drive de Cartier watches have a diameter of 41mm and a case height – depending on the complication below – of around 12mm. The smaller and thinner time-only Extra-Flat model arrived in 2017 in gold cases. The steel model we have here with us today, retailing for almost EUR 10,000 less than its gold counterparts, appeared in 2018 as the entry-level proposal of the Drive Ultra-Flat family.
It's a Cartier, no doubt about it
The unusual thing – and obviously its strength – is that the Drive de Cartier looks like it has always been in Cartier's collection: a model that appeared years ago and, like its siblings, had been treated to an update. With its beguiling cushion-shaped case reconciling a circle and a square, the Drive de Cartier Extra-Flat took off with a masculine audience who had been making do with Tank or Santos watches or the sportier Calibre de Cartier collection. Unlike the Clé and Ballon Bleu collections, which appeal to men and women alike, the Drive de Cartier targets men. Although the name might evoke cars, the watch could hardly be considered a sports watch and sits more comfortably in the "gentleman driver" category as opposed to a watch for a die-hard petrolhead. This isn't a Daytona or a racing-inspired Richard Mille.
Slim and proportioned
A word of warning: no matter how good these photos are, they do not do justice to this watch. It looks kind of simple and flat in the pictures, which it is, but what is harder to appreciate is the sheer elegance and delightful ergonomics of the case. Measuring 39mm across with a slender height of just 6.6mm, the cushion-shaped case shows how well Cartier dominates proportion. The design feels effortless, unforced if you like, and everything seems to flow gracefully.
Even though there are thinner watches out there, I am happy to report that the Drive Extra-Flat is not a contender in the ultra-thin watch war. For that, you can turn to Piaget's extreme 2mm Altiplano Ultimate Concept (a concept watch and not available) or Bvlgari's Octo Finissimo Automatic with its 5.15mm profile and a price tag that doubles that of this watch. The Drive de Cartier is slim, no doubt about it, but it is not anorexic and has just enough weight to make itself felt.
Handling the watch, you can feel the beautiful rounded edges and the gentle cambering that hugs the wrist like a second skin. I was really impressed when I put the watch on; it felt as though it had been tailor-made for me (or, in this instance, for an elegant, slender man). The polished bezel and lugs catch the light nicely and for contrast, the thin case band and case back are decorated with horizontal brushing.
As a watch that prizes style and refinement over mechanics and cannot take anything more than an accidental splash, the case back is sealed with eight screws offering water-resistance of just 30m – thinness comes with compromises.
Simple yet essential
Cartier's design codes appear on the dial with the large, slightly raised Roman numerals, the railway minutes track and the blued-steel hands. Simple yet essential, the silvery-white dial with a sunburst finish provides you with the hours and minutes exclusively. No date window, no small seconds counter or third hand, no unnecessary inscriptions save the Swiss Made and Cartier, nothing but the essential information you would expect on an elegant dress watch. The octagonal-shaped crown is set with Cartier's signature blue cabochon. Made from synthetic spinel and not sapphire to keep costs down, the cabochon is not as protrusive as on other Cartier watches. The spinel matches the blued steel hands and the matte blue, flat and supple alligator leather strap that comes with the watch.
Did you notice how the numeral IV is depicted as IIII? If you want the full story on the reasons for this quirky detail, don't miss Brice's in-depth investigation. In this case, the IIII balances out the VIII on the dial and looks more harmonious. There is also the secret Cartier signature hidden on the V of the numeral VII.
Cartier 430 MC
Cartier's 430 MC ultra-thin hand-wound calibre is based closely on the Piaget 430P. Beating at 21,600vph, the power reserve is of 36 hours. Although you can't see the movement and the power reserve is on the short side, these are a fair trade-off for the svelte profile.
Thoughts
This Drive de Cartier Extra-Flat is categorically a gentleman's dress watch, an elegant time-only model with a design that is unequivocally Cartier. It is a watch that exalts its unique and refined design over mechanical merit. It transmits a reassured, serene sense of style that is often associated with old money. Slim, stylish and sophisticated, the watch comes with a price tag that might come as a pleasant surprise.
Price
The Drive de Cartier Extra-Flat in steel comes with a matte blue alligator leather strap and a steel pin buckle. It retails for EUR 5,650 (retail) or USD 5,600 (excl. sales tax). A yellow gold alternative is also available for $14K.
More details at www.cartier.com.
https://monochrome-watches.com/the-battle-of-elegant-time-only-watches-part-i-cartier-drive-de-cartier-extra-flat-review-price/