Taming the Seas with the McGonigle Brothers!
The AHCI candidate members and brothers, John and Stephen McGonigle have turned a central Irish town into a haven for high horology and a passion for the sea into a muse!
All literature as we know it today boils down to traditional story telling; taking what is and distilling it into a form that makes it appealing so that the moral will last for generations to come. Homer's "Odyssey" is the product of thousands of years of story telling, written down into verse so that the story could no longer be added to or taken away from. In it, Odysseus is pitted against one form of torment after another – some taking monstrous forms some taking seductive forms.
One of the most treacherous passages pertains to an out cropping of rocks and a whirlpool – famed for taking the lives of all the sailors who tried to pass – the 'Schylla' and 'Charybdis' (now more commonly known as the Strait of Messina between Sicily and Calabria in Italy). Odysseus used his wit to navigate the waters. Storytellers told the tale. Homer immortalized the epic. This can be seen as a metaphor for modern watchmaking. More or less everything that can be done, has already been done before (barring the occasional new spin on an old gear…); what modern watchmakers do is to retell that story in new and appealing ways for modern generations to admire and maybe just repeat.
Brothers John and Stephen McGonigle grew up around clocks and watches. Literally. Their father developed a reputation locally as a watchmaker, as a consequence friends and acquaintances would bring the McGonigles clocks and watches to repair. The constant presence of timepieces in varying stages of disrepair and repair was enough to entice the McGonigle brothers into taking on watchmaking as a trade. Both studied at Dublin's Irish/Swiss Institute of Horology. Both did further studies in Switzerland. Both went out into the world to ply their trade. Both did stints repairing vintage watches and clocks!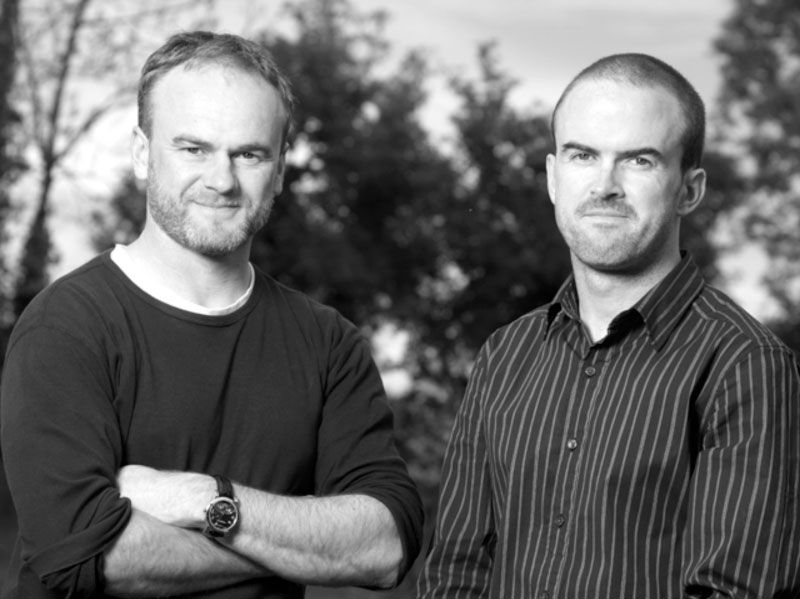 John McGonigle notably worked for Audemars Piguet, restoring historical pieces and building complicated and grand complicated movements. From AP, John went to work with independent watchmaker extraordinaire Christophe Claret where he built prototypes of some of the maker's most complicated designs.
Stephen McGonigle worked in a number of different high-end houses. After doing a stint with his brother John for Claret, he worked for Frank Müller and then became Head of Complications at The British Masters (the modern concern responsible for the resurrection of some of the most important and most prestigious names in all of watch making – namely Arnold and Graham). In 2007 the two decided to work together to produce their own watches.
Their first creation, a 110-hour power-reserve Tourbillon watch based on a Christophe Claret design acts as something of an ambitious calling card. The McGonigle brothers did a tourbillon first to make it a declaration of not just skill but intent. As if to say 'THIS is how we are going to do things!' Most fledgling makers pursue a tourbillon later in their careers – as a swan song, if you will. The McGonigle Tourbillon is a robustly handsome tribute to the watchmakers that they have had the fortune to work with personally and also a cumulative heritage of all of the great watchmakers who have practiced the craft.
The multi-dimensional dial is a mixture of different hues and radial textures that are all expertly finished and combined to give the appearance of depth and complexity. It is mini diorama of daggers and stars and planets and ancient alignments that, by their presence not only display time but tell a story about it. Even the mainplate of the watch, (something 90% of watches never even allow you to see) is ornately carved (the pattern designed by Frances McGonigle) in an ancient Celtic pattern reminiscent of sea birds and waves.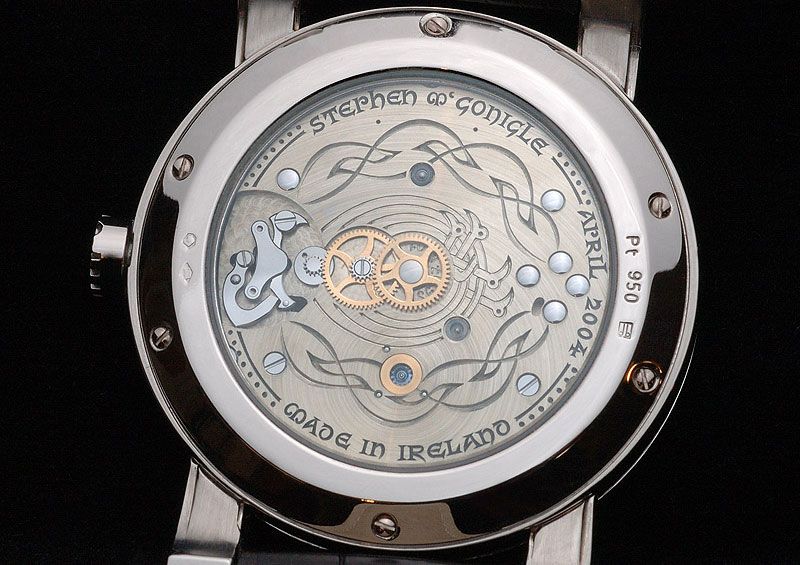 Their follow-up to the Tourbillon is the "Tuscar." Tuscar is a group of rocks serving as a lighthouse point on the southeast coast of Ireland. The rocks have claimed hundreds of ships and sailors over the centuries. The lighthouse stands as a guiding light for maritime traffic. The legend stands as a reminder of the immense power of the sea.
It is therefore fitting that the McGonigle brothers chose Tuscar to be the name of their first entirely self-developed movement. Not just technicians, the McGonigle brothers are both students of the history of watchmaking. The first manmade object that helped to master the pending treachery of the seas was in fact the chronometer. Indeed, the pages of history are filled with stories of how the sea scoffed at and then swallowed-up mans' devices for taming the waves. The only human construct the sea begrudgingly bows its head to is time itself and the navigational control that chronometer based sailing affords.
The Tuscar is another masculine looking design. The sapphire dial and display back show off a 31 jewel skeletonized movement. Only the essential bridges remain. The configuration they take forms patterns that are reminiscent of seafaring motifs. The seconds display between 8 and 9 o'clock, with its two-sided arrow hands, looks like a sextant.
The semicircular bridge containing the two massive barrels (90 hours of power reserve) and the initial portions of the geartrain, to my eye appears like a tilting horizon with a large sun looming overhead. Even the pincer-like bridge for the balance wheel could be construed as a proxy for a set of navigational calipers. While it all looks like a stylistic tack towards the sea, it is all there to provide accuracy, durability and reliability.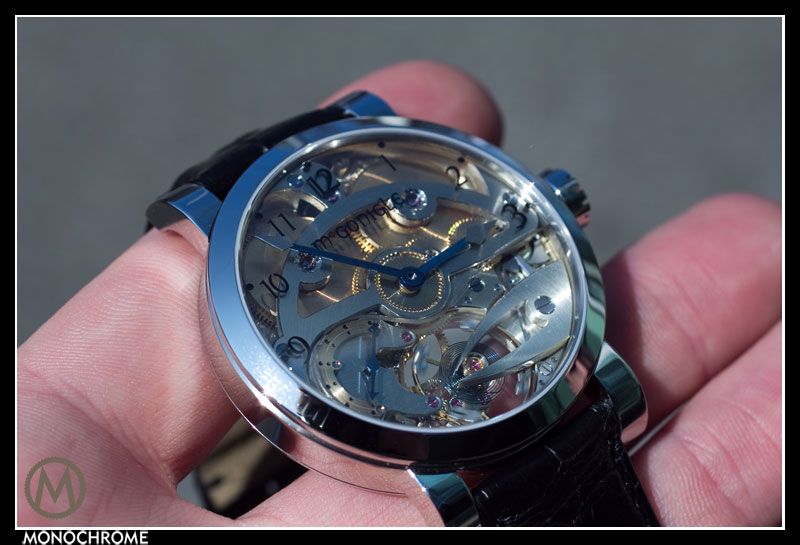 What the McGonigle brothers do with their craft is not just cram flashy tricks and tinsel into the 40-44mm cases they create. What they do is much, much deeper than that; they use old-world craftsmanship and old-world ingenuity to produce watches that are not just beautiful or precious – they make watches that are true and honest – in every sense of the word. They are accurate – to be sure. But they are accurately made in accordance to the traditions of the craft of watchmaking.
PS. Here is a first glimpse on the engravings of the Tuscar movement's bridge. It will be awesome to see it fully engraved after it's assembled.
Visit the McGonigle website here.
For more photos of the McGonigle Tourbillon, visit the Tempered-online.com forum here.
This article is written by Mario Squillacioti, contributing writer for Monochrome-Watches.
https://monochrome-watches.com/taming-the-seas-with-the-mcgonigle-brothers/