Style Guide – Bracelets for Men
Our contributor GEO is not only one of the world's most knowledgable experts on Cartier timepieces, he's also an absolute fashionado and ultra stylish 'dandy'. After he inspired me to write about the newly released Cartier Nail Bracelet, he now shares his knowledge about men's bracelets and lists the coolest for you. 
Bracelets for men have been around since ages. At the time when the internet blogs weren't around yet, around 1990, there were different styles and habits in the various countries. Let me take you on a 'trip' to the different regions and their style of bracelets for men.
In Turkey and in the southern European countries like Italy, South of France and Spain, men were very often seen with a gold bracelet, with small links, in the eighties. On the contrary, in the northern European countries, bracelets were not popular at all. Maybe some youngsters tended to wear the silver linked bracelets with nameplate, but it was never a trend. In the US bracelets were almost out of he question.
Now and mainly due to the internet and international style magazines, like GQ, Mens Vogue, The Rake or Mens Health, the differences between the countries are becoming smaller. So what's the trend and what is good and what is not…
Quite often we spend an arm and a leg on a great watch, but when it comes to bracelets, we tend to be more careful and rather spend a fraction. The good thing is that many price categories are possible, when it comes to bracelets, from a few hundreds to a couple of thousands. Just be careful which bracelet to match with which watch. High-end watches like a Patek Nautilus, AP Royal Oak, Cartier Santos or a Panerai, should never be paired with a cheap steel, but with a nicely designed bracelet. Choose a bracelet like that does justice to the quality and the beauty of such a watch.
For instance, if a rigid/stiff metal bracelet is the wish, it should be something from the same level. Like for instance the Cartier LOVE bracelet (see photo above) that was designed for both men and women and the Cartier Juste un Clou, that Monochrome also reported about.
These are designs from the seventies, that come in white- yellow- or pink gold. They're between € 5,000 and € 6,000 Euro and make an absolute great match with any high-end watch!
Or – if you can find one – the Cartier 'Menotte' (see photo below). Unfortunately it is not in the collection any more, but it's still a very stylish bracelet. All three classic and never out of style solutions, that last more than a life time!
Other superb and very trendy options are the bracelets made from round beads that are available, from different brands and come in various materials.
These bracelets are so different that they look perfect with any good watch, especially the more sporty watches like Pam's and Royal Oaks. The black version by Luis Morais is a straight forwarded and serious example.
If these beads are too dominant or too eye catching, Luis Morais also makes a thin version. Very tasteful and discreet bracelet.
Another absolutely cool, colourful and very exclusive option is the collection 'SringsByCamilla' from Denmark. Handmade bracelets in a wide range of colours and materials. Featured here is my favoritte, the Yak Ox bracelet, but there are a lot of varieties to choose from.
The 'StringsByCamilla' collection contains about 32 different designs, with all sorts of pendants embedded in gold, silver, bone, lava stone, freshwater pearls and lately also skulls. The skull concept can be ordered in various designs, for instance the one pictured here is made from wooden beads with a single skull of 18 carat gold, the bracelet is a knitted nylon string.
Or you can choose the leather like here, combined with a Patek Philippe Nautilus Chronograph (ref. 5980/1A) that Monochrome covered here and here. All bracelets are hand made, so you can choose your perfect bracelet to match your watch and/or watch-strap, by contacting the maker through her website.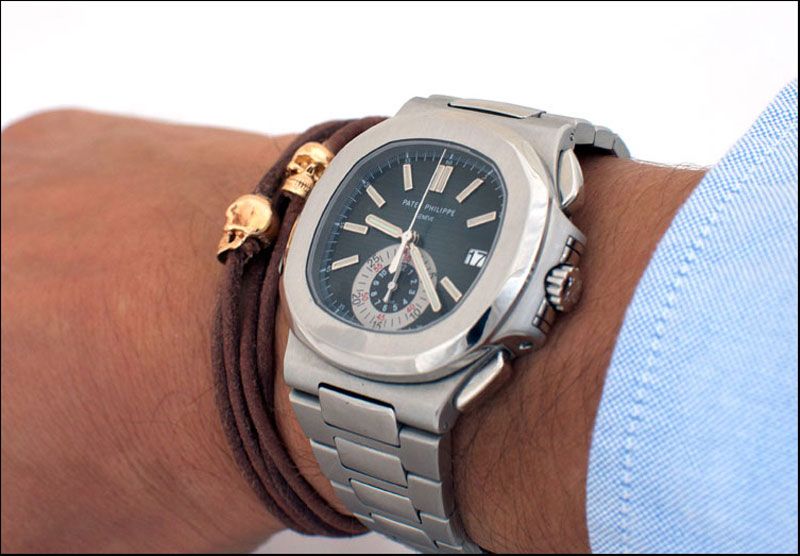 The last option that I like a lot too, are the woven bracelets made of Buffel- or Elephant hair by Albanu (photo below). There are also models from horse hair that make a nice match when the strap of the watch is brown. These bracelets are around since many years and were quite often seen on the wrists of Royals. Different makes are available with silver or gold or steel/gold locks.
Adapted from this style, various companies started to produce leather woven bracelets. Omega, Todds, Louis Vuitton just to name a few, all have them in their catalogue.
The down side is that the leather does not stand water well at all and they should actually be taken off before swimming and showering, while the buffalo- and elephant hair do well with water and should only be treated with olive oil now and then.
Bracelets that are still seen very often, are the coloured laces and rubber bracelets. You know these coloured rubber flat ones that communicate that you're gay friendly, have paid for the Aids- or cancer funds or I don't no what. Do support the funds, that's absolutely cool, but leave the bracelet home, they do not add anything.
If you still have some hesitations weather to wear or not to wear a bracelet, you should remember that accessories really can't change who you are. Just like the 47mm Panerai or Royal Oak Offshore don't make you the man, you'll like to be, a bracelet will never turn you into a sissy.
This article is written by GEO, moderator of the Cartier forum @ Revo-Online and guest contributing writer for Monochrome Watches.
https://monochrome-watches.com/style-guide-bracelets-for-men/