HIBAW: (Honey I Bought Another Watch!) – part 3
It's morning. You are getting ready. You've got dressed. You're picking a watch, a belt and a pair of shoes. All of the sudden you get 'that feeling': there is something going on today, but you can't put your finger on it. Client meeting? (No.) Trash day? (Nooo.) Scheduled maintenance on the car? (Nope!)
Then you hear the faint melody… 
OH $&%@!!!! It's her birthday and you forgot! Don't worry. There IS a way to get out of this one – and I'm going to show you!
The key to surviving a crisis like this is to stay calm and think strong. A manager I used work for once told me that there's never been a situation that was made BETTER by loosing control. So stay focused and follow my lead.
First – address the situation head-on. Go out to the kitchen or dining room or where ever you eat breakfast and wish her a happy birthday. Then suggest opening her birthday presents AFTER dinner! You've just bought yourself about 8-10 hours.
Next – drive to Cartier. Tell the sales associate that helps you that you want a L⊖VE Bracelet.
The term "Icon" is used far too liberally. "…An Iconic breakfast cereal…" "…Iconic guitar pick maker…" Or "…Iconic shoelaces…" The reality is that there are only a few pieces of industrial/commercial design that are truly iconic. The Cartier L⊖VE Bracelet IS an iconic piece of jewelry. Originally introduced in 1969, the L⊖VE bracelet is a franchise player within the ranks of the Cartier organization.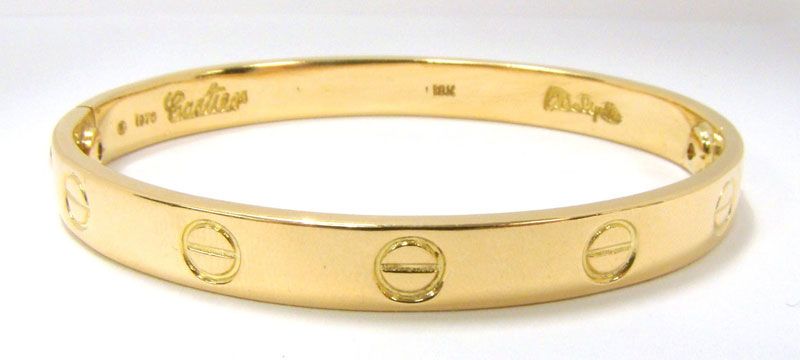 While different variants of the original have been offered through the years – the initial design of the L⊖VE bracelet hasn't changed: the bracelet is a relatively thick, elliptical ribbon of precious metal, usually 18k gold or platinum, comprised of two separate sections, bolted together with two screws (either gold or platinum plated).
The outside surface of the bracelet is decorated with what appear to be slotted screw heads (similar to those holding the two halves together.) In some versions, precious gems replace the decorative screws. In some versions the entire outside surface of the bracelet is covered in pavee diamonds. Cartier has expanded the line to include rings, earrings featuring smaller versions of the fabled design. Cartier has also produced versions of the bracelet where silken ribbons are held together by interlocked golden rings featuring the L⊖VE pattern.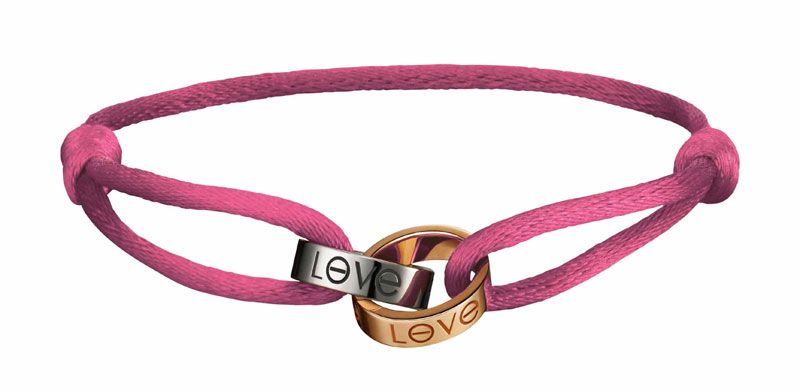 The overall appearance of the finished assembly is that of a sturdy, structural element – not too dissimilar to a clamp that a plumber would use to put two fittings together. The effect is certainly much more appealing than a plumber's tool! They really are weighty and elegant creations.
The notion that the two halves have been joined conjures up the romantic notion that once you meet and fall in love with your soul mate you are two halves of a relationship – joined in the emotion? sentiment? notion? misguided belief in love.
The bracelet immediately forces you to reckon with the fact that, once you assemble the bracelet on your lover's wrist, it ISN'T coming off! (Prepare for TSA's gentle chant of "FEMALE ASSIST!" when going through airport security.) If you happen to be squeamish about this sort of attention, Cartier also make a bangle style L⊖VE bracelet!
The L⊖VE bracelet has developed a very strong following over the years; there is an endless list of A-list celebrities around the world who are photographed with their bracelet (S) on. (Indeed, some devotees of the design have been known to collect and wear multiple L⊖VE bracelets at one time! Four is the household record!)
Envoy: A quick Anecdote about L⊖VE Bracelets.
When my wife was giving birth to our daughter the attending doctor made the call that an emergency c-section was needed. Lives hung in the balance – literally. She needed to be prepped for the operation as quickly as possible. Looking in the suit-case of all the things you're supposed to bring to the birth of your child – one thing I left off the list was the gold-plated Cartier screwdriver to dismantle her L⊖VE bracelets!
We had two options – cut them off with a pair of pliers or try to sterilized them and risk infection. I did the math: the cost of repairing or replacing the L⊖VE Bracelets on my addled wife's wrist or the chance of catching an infection… there was no contest! The chances of catching an infection couldn't be THAT high… right? So we swabbed them down with alcohol and then covered them up with gauze and surgical tape.
Everyone came out just fine – including the bracelets!
This article is written by Mario Squillacioti, contributing writer for Monochrome Watches.
https://monochrome-watches.com/hibaw-honey-i-bought-another-watch-part-3/