Speake-Marin Spirit Pioneer – limited to 68 pieces
Peter Speake-Marin launched the new Spirit Pioneer today, a watch with much DNA that could also be found in Speake-Marin's very succesful Piccadilly series.
Although the Spirit Pioneer has been officially released today, we already heard that more than 50% has been sold during Peter's last world tour. So if you're hungry for one of the 68 pieces, priced at only 9,800 CHF, than you better be fast!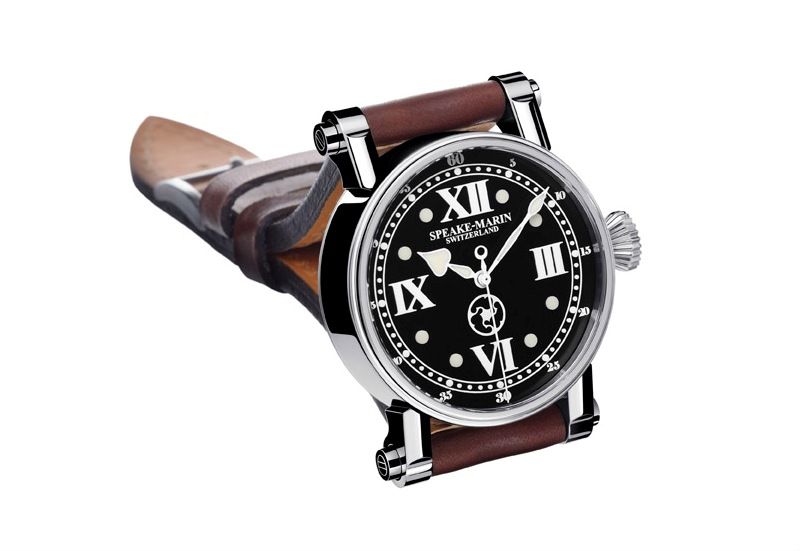 In 2009 Peter Speake-Marin launched his first in-house developed movement, caliber SM2 and the next year he launched a second in-house developed movement, caliber SM2m, that suited his ideas of the perfect movement. Developing your own movement isn't cheap and when you consider the development costs and the cost of small production numbers are added, the price of the Speake-Marin models has increased significantly, compared to the earlier Piccadilly models. We must say, that for the price you get an absolutely magnificent movement that does not have much 'equals' in the entire watch industry.
On the other hand this also narrowed down the number of people who could afford a new Speake-Marin, but luckily Peter has found a solution for that!
The solution was found in caliber SW2012, the movement that was used in the very succesful original Piccadilly series with enamel dial. The base movement is a rock solid ETA movement, a movement that has proven its reliability over several decades.
Peter Speake-Marin does not simply make a watch with a standard ETA movement; of course he made changes to bring it to a higher level in terms of reliability and precission. The highly recognizable rotor immediately catches the attention when looking at the rear end of the watch and is inspired by Peter's old topping tool. What can't be seen is the larger balance wheel that has been applied for precision timekeeping as well as a solid overall construction. The balance's frequency is 28,800 v/h.
The bridges, gear train, setting lever spring, mainplate and rotor wheel replaced and/or re-designed, oversized, circled, spotted, straight grained and polished by hand. This is something we expect from Speake-Marin when we're talking about the new in-house developed movements caliber SM2 and SM2m, however not many people are aware of how much adjustments (and improvements) Speake-Marin makes on the base ETA movement.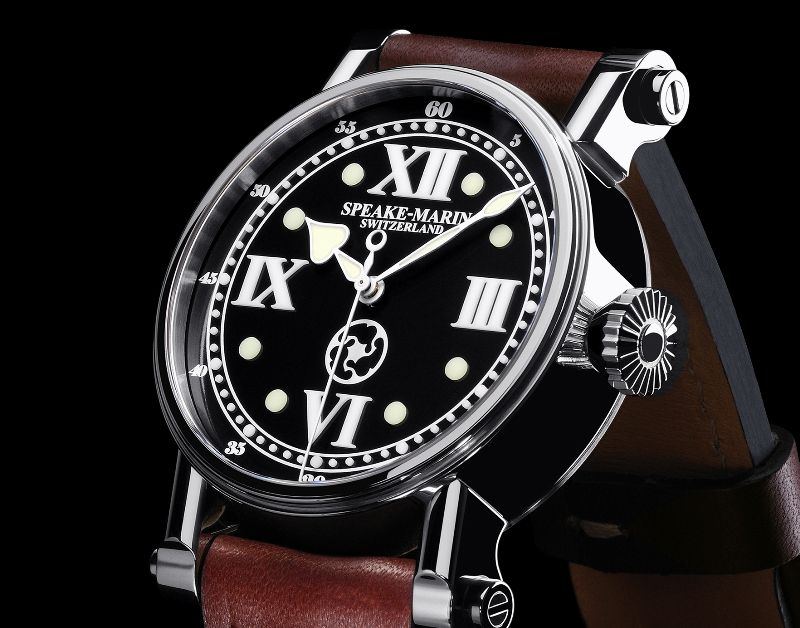 Spirit Pioneer has the typical mix of casual, classic and contemporary style elements that is immediately recognizable as a Speake-Marin timepiece. The dial and hands show a mix of white laquer and applied Super-LumiNova  that provides incredible legibility.
Maybe it's best to read Peter's own words about his newest timepiece, its design and the motto – "Fight, Love & Persevere" – engraved on the case-back.
"Spirit is inspired by a timepiece I bought 15 years ago when I was restoring antique pieces in Piccadilly, London. It was an authentic military watch from the first half of the 20th century that I restored in my own time and wore regularly as my personal timekeeper.

I always wanted to create my own piece based on this personal favourite and have toyed around with ideas to realise this ambition ever since I founded Speake-Marin.

The global economic downturn and natural disasters of the last few years have meant that people all over the world – myself included – have had to face up to increasing challenges which can test the limits of endurance. But what has struck me in my experiences is the drive people possess to fight on, to adapt and to forge forward, with their capacity for love never diminishing.

Having seen first-hand how basic human spirit always seems to prevail, the themes of determination, tenacity and love were at the forefront of my mind when I created this timepiece and so I have paid tribute to them by christening it 'Spirit' and by engraving the motto 'Fight, Love and & Persevere' on the case-back."
The elegant stainless steel Piccadilly case bears all the hallmarks of Speake-Marin's meticulous quest to create classical yet durable timepieces, with the characteristic crown and robust lugs guaranteeing that Spirit will well and truly stand the test of time.
Turning Pioneer over, the beauty of the highly polished and hand bevelled 'topping tool' mystery winding rotor is the first feature to catch the attention. However, it is the inspirational rallying cry engraved just below – "Fight, Love & Persevere" – that upholds Spirit's name and confirms its credentials as the perfect talisman.
Spirit Pioneer is a limited edition of just 68 pieces and is available for CHF 9,800. Here are the specifications:
Case: stainless steel, Diameter: 38mm, Thickness: 13.5 mm
Case-back: "Speake-Marin Limited Edition 1in68" engraved above the winding rotor, "Fight, Love & Perservere" motto, engraved under the winding rotor
Dial: Central hours, minutes and seconds, Matte black lacquered, Roman numerals at 12, 3, 6 and 9 o'clock with white Super-Luminova, Chapter ring with handapplied white Super-Luminova minute markers. Numerals in five-minute intervals in white lacquer, White-lacquered Speake-Marin distinctive 'topping tool' wheel motif above 6 o'clock and brand logo below 12 o'clock
Crystal: Anti-reflective coated sapphire crystal on front and display back
Hands: Foundation style central hour and minute hands in white lacquered steel with hand-applied green Super-LumiNova, Central second hand in white lacquered steel
Calibre FW2012: Automatic winding mechanical movement, Large balance for precision timekeeping as well as a solid overall construction, Frequency: 28,800 v/h, 25 jewels, 42 hours power reserve
In-house custom-designed rotor wheel inspired by the watchmaker's topping tool, Speake-Marin's signature motif
Bridges, gear train, setting lever spring, mainplate and rotor wheel replaced and/or re-designed, oversized, circled, spotted, straight grained and polished by hand
Customized, redesigned, reconstructed, and hand-finished, according to Speake-Marin style and quality standards established by the 'Foundation Watch'
Strap: Genuine red-brown calf leather with contrasting white stitching and stainless steel tang buckle
More information about availability and other details can be obtain from the Speake-Marin website.
This article is written by Frank Geelen, executive editor for Monochrome Watches.
https://monochrome-watches.com/speake-marin-spirit-pioneer-limited-to-68-pieces/