Retrospective
The Definitive Guide to James Bond 007 x OMEGA Watches
Everything you need to know, including the details and gadgets to be found in "No Time to Die"
His name is "Bond, James Bond." He answers to the MI6 code number 007 and he's probably the most famous secret service agent in the history of cinema. On his wrist, Commander Bond is, since 1995, wearing OMEGA Seamaster watches. A character of legend, who has fascinated multiple generations all over the world. In 2021 the agent returns to the silver screen, in his latest adventures depicted in No Time to Die, which also marks the last appearance of the man who has played the role in 5 movies, Daniel Craig. And since you're certainly about to watch the movie yourself soon, it's time to have a closer look at the watches of 007. Here's your guide to all the OMEGA watches worn by James Bond, including an in-depth video with all the details and special guests to explain this long-lasting connection. And this also includes the details about the Seamaster Diver 300M "007 Edition" you'll see in the 25th movie of the series, including the gadgets. 
Omega x 007 – Overview
OMEGA Watches and the James Bond 007 Franchise have been partnering since Goldeneye, 1995. In total, ten different watches have been used in all nine movies (under the Brosnan and Craig eras), knowing that the same watch has been used three times, in 1997, 1999 and 2002 movies. In three of the movies, Bond is wearing two different watches, only when portrayed by Daniel Craig (in 2006, 2012 and 2015 movies).
While gadgets have been a recurring theme over the entire course of the Brosnan era, with all the watches worn by 007 equipped with such exotic, Q branch-developed features, the production has decided to remove this specificity when releasing Casino Royale in 2006, marking a new turn in the Bond series, 007 becoming more realistic and more dramatic.
The gadgets were re-introduced in the 2015 Spectre movie and are once again found in 2021 No Time To Die, the last film to star Daniel Craig in the role of James Bond.
How Omega was chosen by EON Productions?
It would be incorrect to say that the first appearance of an OMEGA Watch in a James Bond 007 movie was the simple result of product placement. When the series was revamped in the mid-1990s, by starring a new actor – in the name of Pierce Brosnan – it's not only the characters that were renewed but also the whole costume design.
Behind the OMEGA x Bond connection is Lindy Hemming, an Oscar-winning costume designer. She was responsible for casting 007's watch in GoldenEye. She said, "I was convinced that Commander Bond, a naval man, a diver and a discreet gentleman of the world would wear the Seamaster with the blue dial." This is how 007 will be seen for the first time, in 1995 Goldeneye, wearing the famous OMEGA Seamaster 300M Professional. It is also important to note that commercial considerations were not part of the initial choice. "There was no product placement incentive in 1995 whatsoever," she said. Behind this choice for OMEGA were of course reasons such as the military background of Bond, but also the wish of Hemming to rethink the 007 character, making him "more modern and European."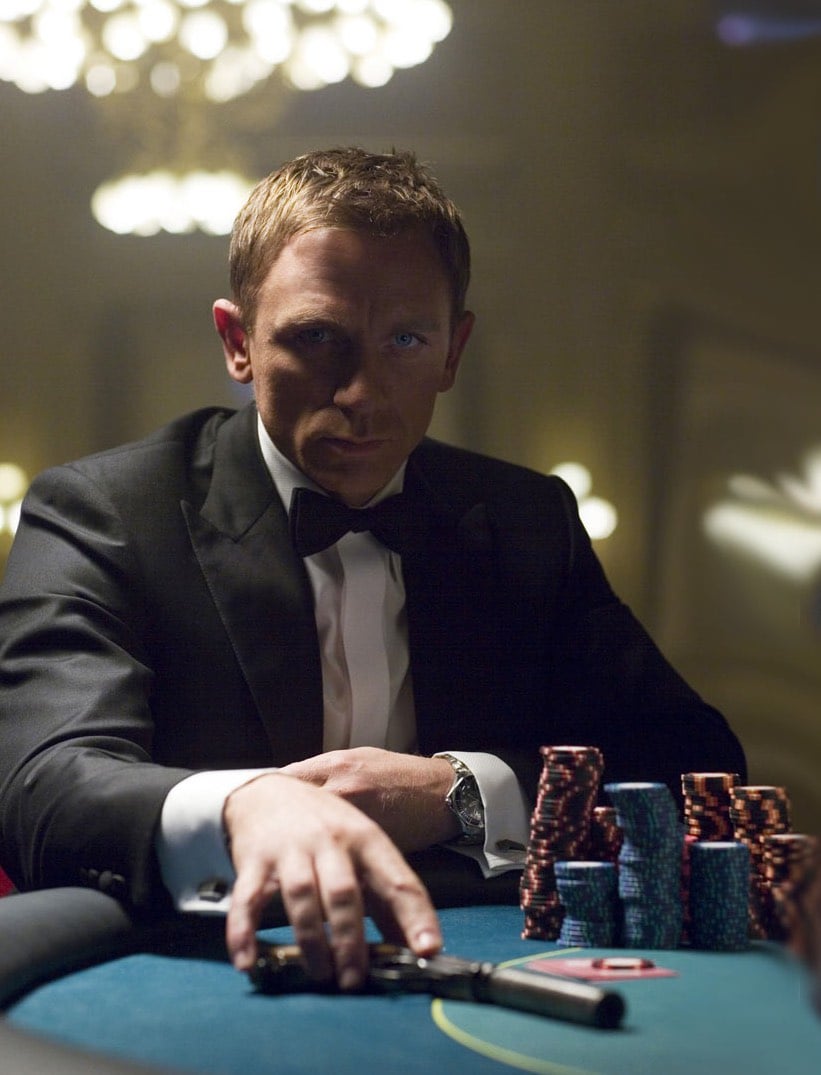 An interesting fact, also part of this initial decision, concerns Lindy herself. She remembered friends of her father who were former Navy men and most of them were wearing OMEGA watches, as part of their military equipment… And this is how Commander Bond will follow the tradition of OMEGA delivering watches to British field agents. 
As explained to us by Suttirat Anne Larlarb, Costume Designer on No Time to Die, the Seamaster watch has always been sort of a character in itself. OMEGA has been approached by EON Productions with the idea of a dive watch with a blue-coloured dial and thus, the initial choice for the brand was simple; it had to be the Seamaster Diver 300M Professional. With this in mind, it is time to look at the entire list of OMEGA Watches worn by James Bond in 007 movies.
1995, Goldeneye – Seamaster Diver 300M Professional Quartz
The OMEGA Seamaster watch that's probably the most famous of them all is the Diver 300M Professional with wave blue dial worn in 1995 movie Goldeneye, with 007 portrayed for the first time by Irish actor Pierce Brosnan. The watch is so important in the movie that its actual presence gave this specific model (and subsequent evolutions) its nickname, the "Bond Watch."
In the movie, Bond is wearing the OMEGA Seamaster Diver 300M Professional reference 2541.80. It was the first model in a new collection of rugged yet relatively compact and thin dive watches launched in 1993. Back then, it was still equipped with a quartz movement, which is the exact watch appearing in Goldeneye. It features a now emblematic wave pattern on its blue dial, with a matching aluminium insert on the bezel. Also part of the signature look of the watch is a 5-link steel bracelet with brushed and polished links. Measuring 41mm in diameter, it features a screw-down crown with protective guards and a helium valve at 10 o'clock.
But of course, there's more to Bond 007's Seamaster Diver 300M Professional than its classic features. It is, of course, equipped by Q Branch with some life-saving features (or gadgets). Hidden in the pearl marker on the bezel is a laser that 007 uses to cut the floor in a Soviet train in order to escape. Later, he uses a built-in remote detonator to trigger a bomb.
This watch marked the beginning of the OMEGA x Bond story and remains in many fans' minds the ultimate James Bond Watch.
1997, Tomorrow Never Dies – Seamaster Diver 300M Professional Chronometer
In the following movie released in 1997 – Tomorrow Never Dies – James Bond is wearing the same emblematic Seamaster Diver 300M Professional, however, in an automatic chronometer-rated version, the reference 2531.80.00. In terms of looks, the watch is almost identical to the previous quartz version, with the only noticeable difference visible at 6 o'clock – instead of 3 lines of text, this new automatic edition has 4 lines of text, including the mention "Chronometer."
Other than the movement, specifications are identical, with the same dimensions, water-resistance and features. Inside this OMEGA Seamaster Diver 300M Professional ticks automatic Calibre 1120.
Q Branch equips here 007's watch with a remote detonator that Pierce Brosnan uses to blow up villain Elliot Carver's stealth boat, and the activation of the feature is shown by illuminated hour markers.
1999, The World Is Not Enough – Seamaster Diver 300M Professional Chronometer
In 1999, the third James Bond 007 movie starring Pierce Brosnan was released, named The World Is Not Enough. In these new adventures, Bond travels the world to avoid a nuclear incident and, once again, wears the same OMEGA Seamaster Diver 300M Professional Chronometer reference 2531.80.00 as in the previous movie.
After passing through the hands of Q and his team of engineers, James Bond's Seamaster is now fitted with an ultra-bright light source, and more importantly, a miniature grappling hook that is hidden under the bezel, and helps 007 to escape from a missile base.
The OMEGA Seamaster Diver 300M is once again clearly visible during the entire movie and, here too, plays an important role in Bond's adventures.
2002, Die Another Day – Seamaster Diver 300M Professional Chronometer
Once again portrayed by Pierce Brosnan, but for the last time, James Bond 007 wears his beloved OMEGA Seamaster Diver 300M Professional Chronometer reference 2531.80.00, still with the signature blue wave dial and blue aluminium bezel.
In this action-packed movie, Q Branch installs a laser, built into the crown, used to cut through thick ice. Another trick is hidden into the helium escape valve, which can be pulled out of the crown and used as a remote detonator, actuated when rotating the crown.
Die Another Day marks the end of many things for the series. It is the last time we see this specific reference on screen, it's Brosnan last appearance too, and it is also (temporarily) the last time Q Branch looks after the watch and installs features.
2006, Casino Royale – Seamaster Planet Ocean 600m 45.5mm Co-Axial Chronometer & Seamaster Diver 300M Professional Co-Axial
The 21st movie of the James Bond 007 series, Casino Royale, is often described as a complete reboot of the franchise. The idea of EON Productions was that the character should be closer to the description made by Ian Fleming in his books. James Bond becomes edgier, more human, he shows more personal feelings and emotions, and the overall style of the movie becomes more realistic and slightly more dramatic.
Many things have changed with the introduction of Casino Royale in 2006, including first and foremost the actor, as Bond is now portrayed by Daniel Craig. The movie and its characters were more in line with the signs of the time and it reflects in everything related to Bond. His cars, his outfits, and of course his watches.
Faithful to OMEGA and the Seamaster collection, the incarnation of 007 by Daniel Craig wears a sportier, more rugged watch at the beginning of the movie. Indeed, it's not one but two different OMEGA watches that are used in Casino Royale. In the first part of the movie, Bond is wearing the Seamaster Planet Ocean 600m 45.5mm Co-Axial Chronometer reference 2900.50.91 on a black rubber strap.
Also, we see the new Seamaster Diver 300M Professional, this time not upgraded by Q Branch but by OMEGA. Indeed, there are no special features in this movie anymore. Instead, OMEGA brings the latest version of the so-called Bond Watch. If visually still faithful to the roots of the model, it is now equipped with a co-axial automatic movement, the Calibre 2500.
And while we all expected these watches to make something special… they only had to indicate the correct time, being thus more in line with the franchise's new direction.
2008, Quantum of Solace – Seamaster Planet Ocean 600m 42mm Co-Axial Chronometer
For the first time in the OMEGA x Bond story, the classic Seamaster Diver 300M Professional disappears with the 2008 movie Quantum of Solace. Indeed, instead of the 45.5mm PO600m seen in Casino Royale, James Bond 007, still portrayed by Craig, keeps the rugged and sportier Seamaster Planet Ocean 600m Co-Axial Chronometer on his wrist, but this time in a more compact 42mm edition (reference 2201.50.50), and worn on a stainless steel bracelet. It is equipped with a black dial and black aluminium bezel.
As explained to us by Petros Protopapas, OMEGA's Brand Heritage Manager (the man in charge of the OMEGA Museum and the living memory of the brand), Daniel Craig is someone who appreciates watches and collects watches himself. As of Quantum of Solace, Craig had a stronger involvement in the choice of the watch that Bond should be wearing. He thus indicated his preference for a smaller sized watch, resulting in the 42mm PO600m to be featured in this 2008 movie.
As with Casino Royale, following the reboot of the franchise in a more realistic way, there are no tricks added by Q Branch in the watch worn by 007 in Quantum of Solace.
2012, Skyfall – Seamaster Planet Ocean 600M Ceramic 42mm & Seamaster Aqua Terra 150M 38.5mm
For the 2012 movie Skyfall, we will again see two different OMEGA Seamaster watches worn by James Bond, still portrayed by Daniel Craig. This marks the second time James Bond is seen with two different watches in a single movie, just like in Casino Royale.
The first watch seen in Skyfall, and clearly visible in the first scene that takes place in Istanbul, Turkey, is the evolution of the Seamaster Planet 600M Co-Axial Chronometer seen in Quantum of Solace, yet with the latest technologies used by OMEGA. Still measuring 42mm, still worn on a stainless steel bracelet, the Seamaster Planet Ocean 600M reference 232.30.42.21.01.001 worn by 007 in Skyfall comes with a black ceramic bezel insert and a new, entirely in-house manufactured Calibre 8500, with co-axial technology and chronometer certification.
Later in the movie, for instance when Bond travels to Macau where he's seen in a casino (of course with a tuxedo), he's wearing a more elegant watch from the OMEGA Seamaster collection. For the first time in a 007 movie, the Secret Service agent wears a Seamaster Aqua Terra 150M Co-Axial Chronometer. Craig chose the compact 38.5mm version of the watch (reference 231.10.39.21.03.001), with a blue striped dial and stainless steel bracelet, as well as the same co-axial chronometer Calibre 8500 found in the PO600m.
Once again in Skyfall, where Bond shows more of his personal emotions, there are no additional features added by Q Branch into the watches, in line with the overall direction of the movie.
2015, Spectre – Seamaster Aqua Terra 150m 41.5mm & Seamaster 300 Master Co-Axial Chronometer "Spectre Edition"
2015 Movie Spectre marks again, at least in terms of watches, a slight change in the direction taken by EON Productions and OMEGA. As in Casino Royale and Skyfall, James Bond, still portrayed by Daniel Craig, is wearing two different watches from the OMEGA Seamaster collection. One is a classic, elegant model, the other is not only a watch that was created specifically for the movie, but it also comes with a surprise…
In the first part of the movie, which takes place in Mexico City, James Bond is wearing again an OMEGA Seamaster Aqua Terra 150m with a blue dial, but this time with a 41.5mm case and a calibre 8500 that is part of the "Master" generation, meaning capable of resisting to intense magnetic fields. This watch, reference 231.10.42.21.03.003, is here worn on a stainless steel bracelet.
The second watch to appear in the 2015 movie Spectre is far more special. First of all, it has been specifically developed for the movie – even if it will later be available as a limited edition of 7,007 pieces. This OMEGA Seamaster 300 Master Co-Axial Chronometer "Spectre Edition" (reference 233.32.41.21.01.001) is based on the classic SM300 that was launched a couple of years before, yet modified with several unique features. It features a black ceramic bezel with a 12-hour scale (instead of the 60min scale of the diver's version). Its grained black dial, with recessed pointy markers (a reference to the 1957 Seamaster 300) and a specific Ω logo at 12 o'clock, has vintage-looking luminous material, and there is a cool lollipop seconds hand.
Also, the watch is equipped with a 5-stripe NATO strap in black and grey – often referred to as the Bond NATO strap – and inside its case is the brand's in-house Master Co-Axial Chronometer Calibre 8400, a movement with 60h power reserve and high-end technologies, such as its magnetic resistance to 15,000 gauss. The watch measures 41mm in diameter and, for the limited edition made available to the public, a stainless steel bracelet was also included in the presentation box.
But, there's more to this watch… Because it also marks the comeback of Q Branch's special features. After 3 movies without seeing them, they are again part of the 007 legend. In the scene where Bond receives his new watch, he asks (with a certain irony…) "Does it do anything?…" and Q says "It tells the time." But that's not the end of the story, as a few seconds later, Q warns James Bond on the fact that "the alarm is rather loud… if you know what I mean."
And indeed, Bond's OMEGA Seamaster 300 "Spectre Edition" does more than just indicating the correct time. It features a countdown and a bomb. Once activated, the hour markers indicate the remaining time before the explosion by turning red and the hands all come back to the 12 o'clock position.
2021, No Time to Die – Seamaster Diver 300M Co-Axial Master Chronometer "Edition 007" Titanium
In the latest 007 movie that has just been released, No Time to Die, James Bond is back to the classic OMEGA Seamaster Diver 300M watch, however in a highly different version, with once again a watch developed specifically for the movie (and also available as a special edition for the public). This watch, the Seamaster Diver 300M Co-Axial Master Chronometer "Edition 007" is the reference 210.90.42.20.01.001 and comes with a long list of special features that make it unique.
The watch is a clear tribute to the military background of James Bond and many of the specific features of this "Edition 007" come from Daniel Craig himself. There are references to historic military watches supplied to the British MoD – OMEGA indeed delivered a large number of watches to ally military forces, mostly to UK's troops. This is why this Seamaster Diver 300M "Edition 007" features the famous Broad Arrow on the dial and caseback, as well as a series of numerals engraved – which are a reference to the historic military serial numbers of these watches. For instance, the code 0552 refers to the Navy.
This specific edition of the Seamaster Diver 300M is characterized by its brushed titanium 42mm case, a bezel insert and a dial that are made of tropical brown aluminium, markers and hands with vintage-coloured luminous material, a domed sapphire crystal and its absence of a date window. It is also worn on a titanium "mesh" bracelet and is powered by the Master Chronometer Calibre 8806, equipped with all the innovative features OMEGA has been developing recently.
And for the other big question… Yes, the watch worn by James Bond in No Time to Die does come with typical Q Branch features. Q (standing for Quartermaster) portrayed by Ben Whishaw, has indeed equipped the watch with a powerful electromagnetic pulse (EMP) device, which is activated by twisting the helium escape valve and pressing it down. The EMP is used in the movie to disable electronic devices, such as a high-tech electronic door lock.
And in the movie, James Bond asks Q "how strong is it?" and the answer is "fairly strong" but adding "we haven't had the time to test it properly. Just be careful." This electromagnetic device is also quite interesting for OMEGA to demonstrate its technical superiority since the watch is a Master Chronometer capable of resisting intense magnetic fields.
No Time to Die marks the last appearance of Daniel Craig as James Bond. Who will be the next 007? What will be the watch on his (or maybe her) wrist? Of course, nothing is yet certain but the franchise's 26th movie will certainly be yet another drastic evolution of both the character and everything that makes him James Bond.
For more details, please visit omegawatches.com.
---
The "007" and other related "James Bond Trademarks" are trademarks of Danjaq.
21/12/2021 - Updated with video
https://monochrome-watches.com/retrospective-defenitive-guide-omega-watches-worn-in-james-bond-007-movies-including-2021-no-time-to-die/