Hands-on
The Mid-Size Seiko 5 Sports SKX Series 38mm Collection
It's all about to the size... and it's a good one!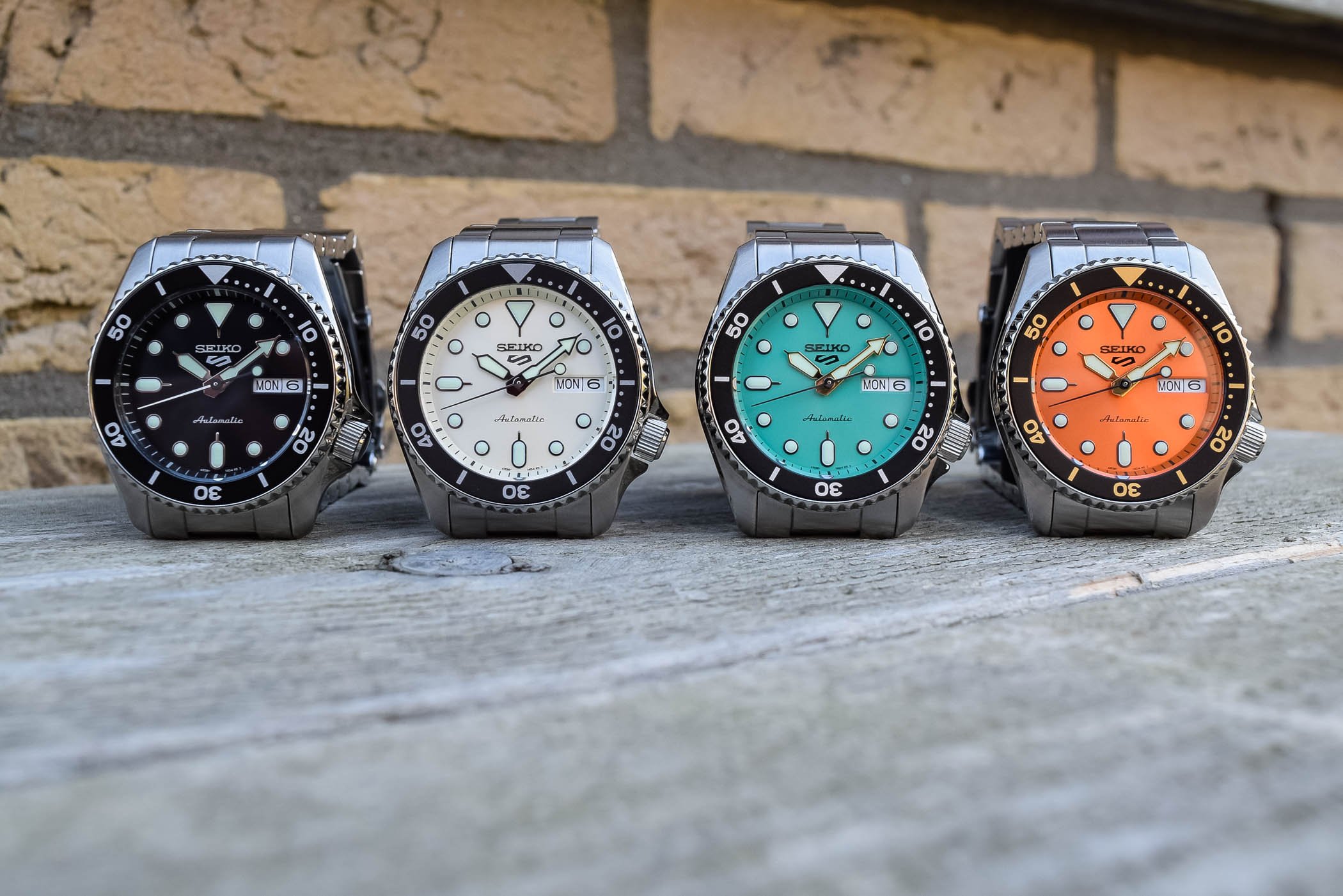 A few weeks ago, Seiko announced the introduction of a new size within the classic 5 Sports SKX Series – understand by that dive-inspired models bringing back the flair of the emblematic SKX007 watch. And we were offered a so-called mid-size case, in line with the current downsizing trend. No need to say, we were pretty excited by this new launch. Recently, Seiko has done a great job within its accessible 5 Sports line. So now, we have the 4 editions of the new 38mm SKX series with us and it's time to find out if it has everything to become a fan's favourite.  
As said, the brand has been working hard recently to create attractive watches within the Seiko 5 Sports collection. Don't look at this line as just an entry-level option, it has a lot to offer. Think, for instance, about the great GMT models. Or the attractively compact 36mm Field models. And design-wise, Seiko treats us with oddly satisfying vintage-inspired models, reviving past icons such as the Time Sonar or the Tokusatsu or Kamen Rider. There's now much more to the 5 Sports collection than just its price. There are genuine reasons to collect them, even when you have more than enough watches in the vault.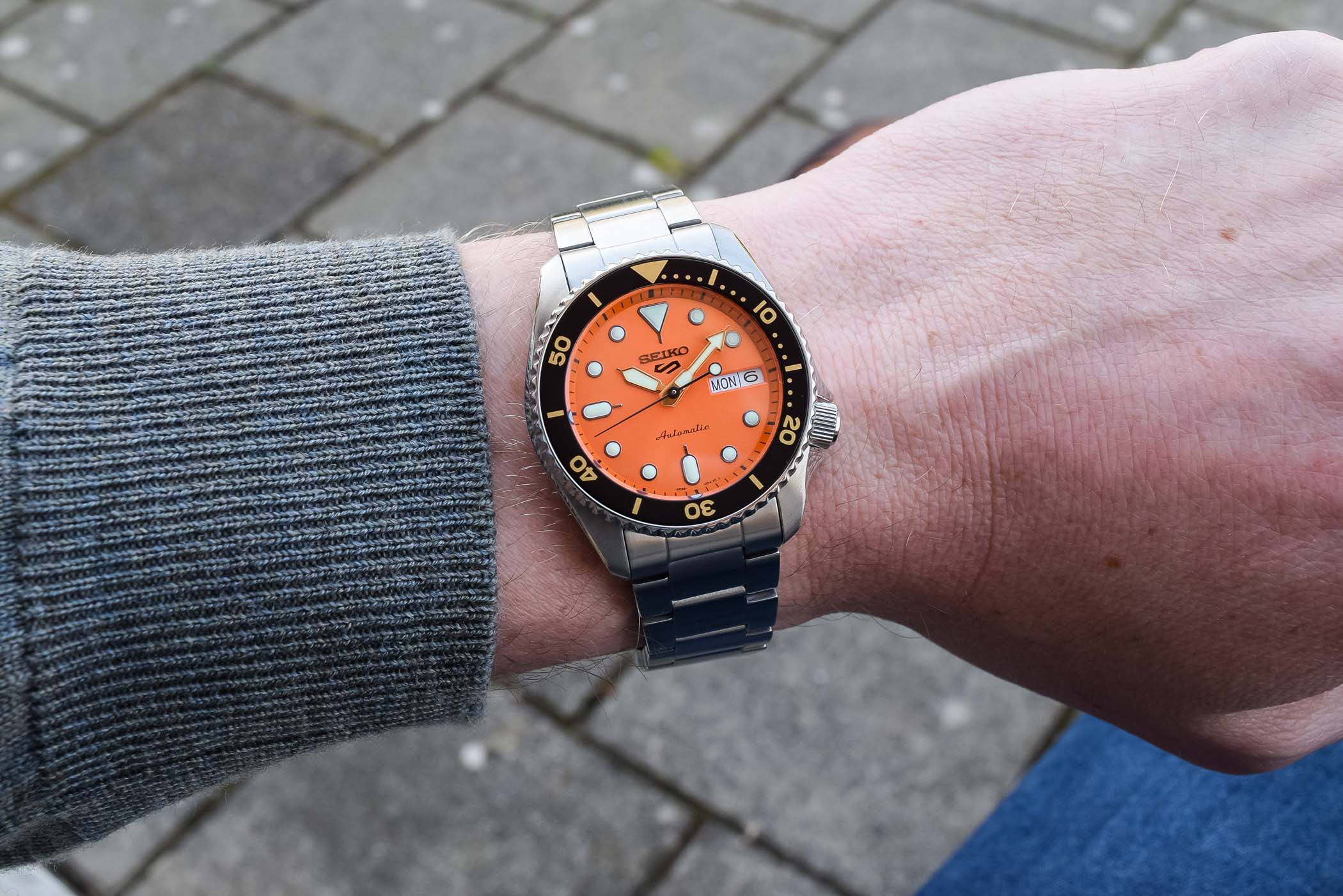 That being said, the latest offering within the range, the 38mm SKX-inspired lineup, is far more straightforward. It is a very sensible, very rational evolution – a watch that has everything to become a cornerstone within the collection. Does it make it less attractive? Or quite boring? I don't think so, but let's find out.
The relaunch of the Seiko 5 Sports series, itself a collection that has been around for decades, occurred in 2019. The concept was simple; keeping the attributes of the collection alive (the 5 in the name does have a meaning. As explained here and here, it refers to 5 required features), and at the same time making the collection more attractive. How was that done? Well, the idea was to somehow fill in the blank left by the discontinuation of the SKX007 and derivatives – but let's be real, the design might feel familiar, it isn't the same watch (divers will understand…) Nevertheless, Seiko managed to create a watch attractive and cool enough for 99% of its audience. And it's been a real success since.
Above: 42.5mm on the left, 38mm on the right
All watches from the inaugural collection, at least those with a unidirectional bezel and dive(ish) look, were housed in a steel case of respectable dimensions; 42.5mm in diameter and 13.4mm in height, a heft that was partially compensated by a reasonable length of 46mm. Still, not a small watch. Later, Seiko launched a feminine version of its 5 Sports, with a 28mm case… Way too small for men. There are some bezel-less watches in the collection, measuring 39.4mm in diameter, but they lose some of that dive(ish) style. So, there was clearly room for a mid-size watch, a model that would look good on men and women, with comfort in mind, without compromising the classic 5 features. And here they are, the 5 Sports SKX Series 38mm Collection, with 4 references; SRPK29, SRPK31, SRPK33 and SRPK35.
Let's start with what truly matters… The size of these 4 new watches. Diameter? 38mm, so-to-say, close to perfection. Not too large, not too small, just about right on most masculine wrists, and also rather balanced on many women's wrists. Thickness? 12.1mm, which is almost 1.5mm less than the larger models and can't be unseen. Far from me to call them ultra-thin, but 12mm is slender enough when it comes to such sporty watches. Length of the case? Around 44mm, which makes them compact and will result in something that we tend to have forgotten; a watch that sits around the wrist and not on top of the wrist. Yes, that makes a world of difference.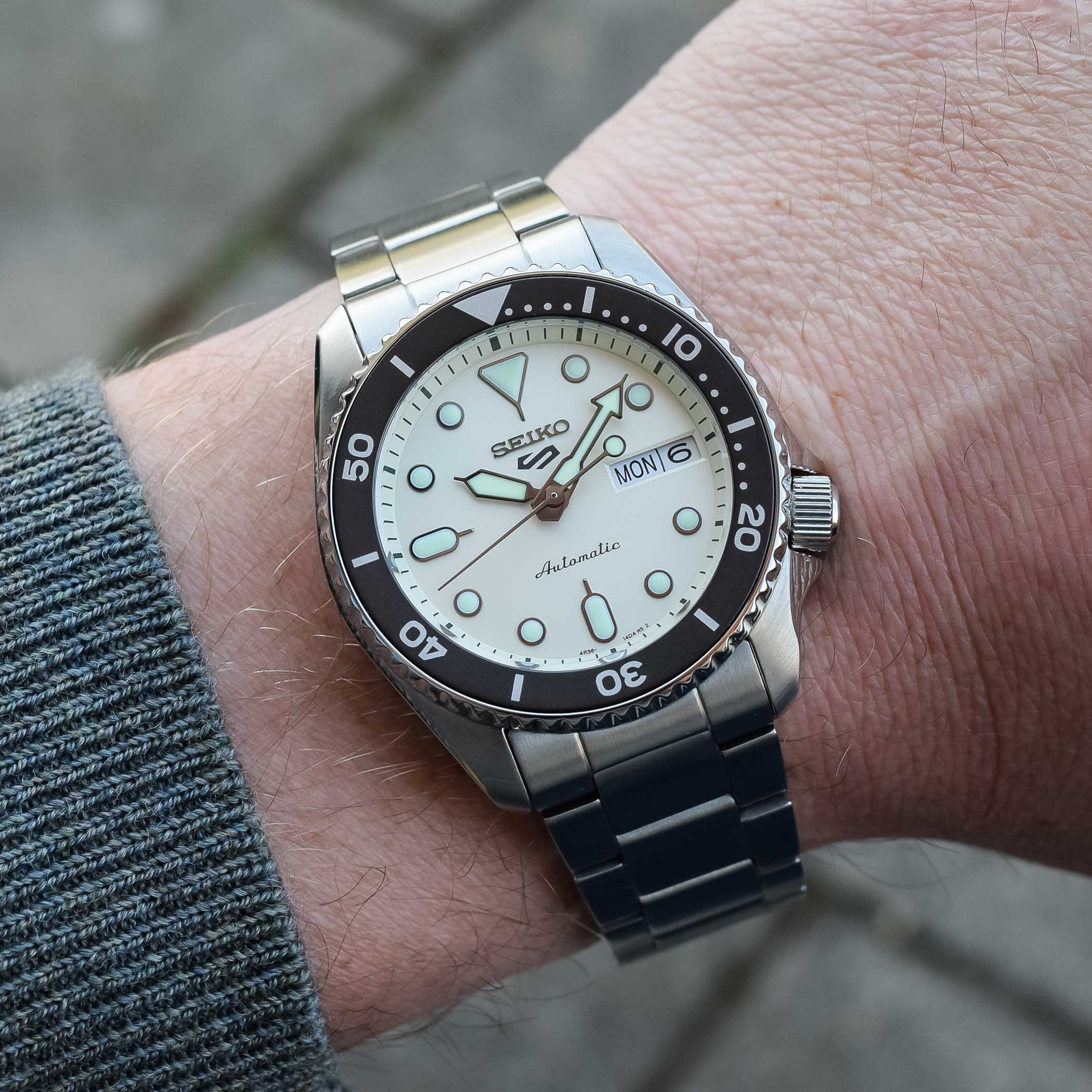 Here, you can see it photographed on the wrist of our editor Robin, who's not a short guy, to say the least. His wrist is about 18cm or 7 inches in circumference, so he's comfortable with 42mm or more. And yet, these compact 38mm Seiko 5 Sports look just about perfect on his wrist. And they do also on my own small 16.5cm wrist. Being made of steel with a steel bracelet, the case has a certain heft – about 140 grams with a full bracelet. But it's consistent with the style and vocation of the watch. You won't suffer from scoliosis after wearing it during the summer break.
What about the watch itself? Apart from the size reduction, these new 38mm SKX Series are identical to the rest of the collection. The case is made of brushed and polished steel, the crown is positioned at 4 o'clock (it doesn't screw down), protected by lateral guards, and there's a unidirectional bezel with an aluminium insert that does the job when timing a recreational diving session or cooking your pasta and the dial is protected by a Hardlex crystal. I know, you want sapphire crystal, but that would mean a different price in the end. Hardlex isn't perfect, but it's still good on a daily basis. The back is screwed and features a see-through crystal (I don't think this is necessary, but it might appeal to some) and water-resistance is still rated at 100 metres, which is enough for most of us.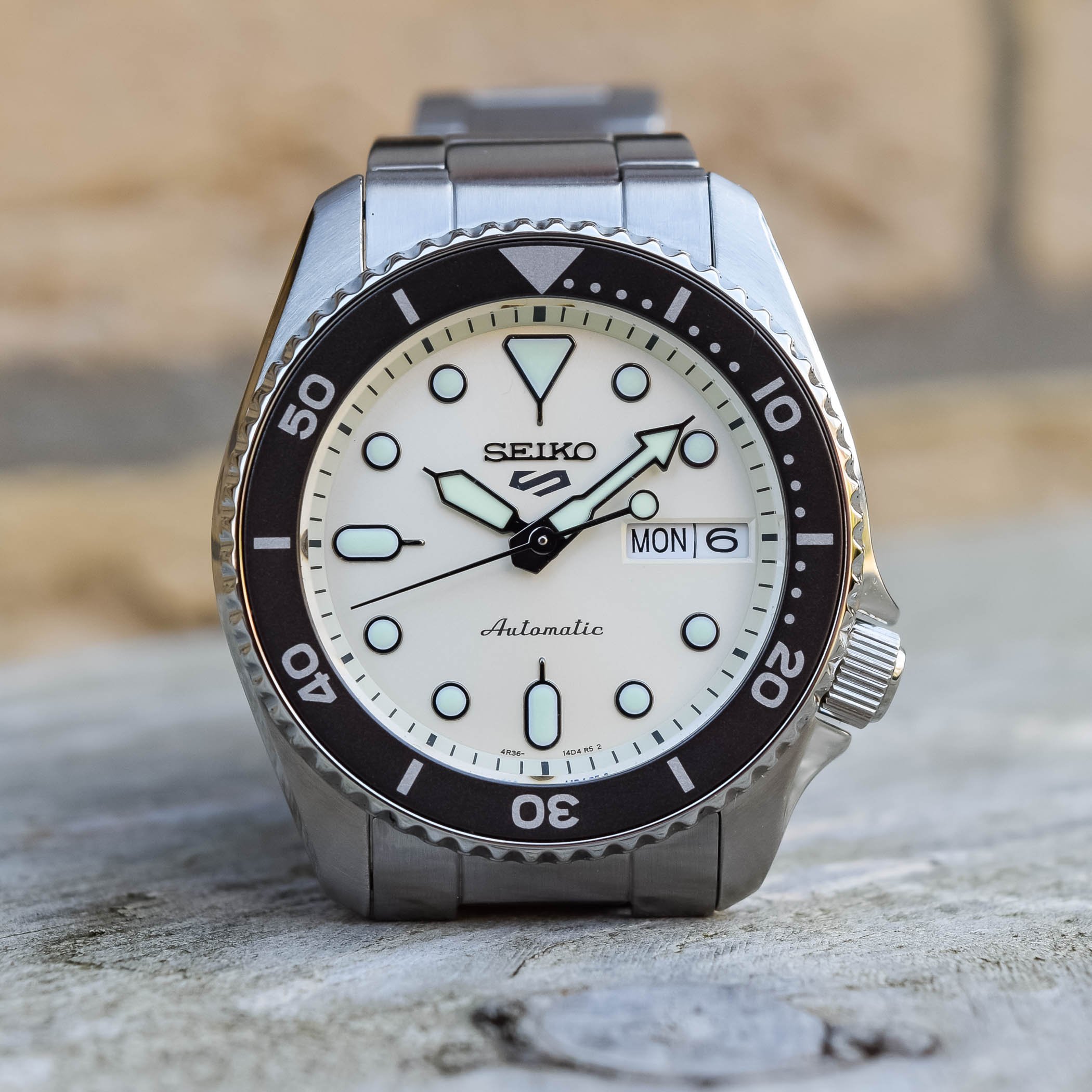 The dials, 4 of them in total, are following the recipe of the case; classic Seiko look, large markers, hands that couldn't be more recognizable and a generous amount of LumiBrite on all elements – and this luminescent material is good. The day-date function, a founding element of the Seiko 5 Sports collection, has been retained too. The 38mm comes in 4 different tastes at launch; 2 classic models, and 2 colourful options:
SRPK29 – black dial, black bezel with silver scale, silver-coloured hands and markers
SRPK31 – cream dial, black bezel with silver scale, dark grey-outlined hands and markers
SRPK33 – mint green dial, black bezel with silver scale, gold-coloured hands and dark grey-outlined markers
SRPK35 – brushed orange dial, black bezel with orange scale, gold-coloured hands and dark grey-outlined markers
The collection sports a 20mm 3-link, brushed steel bracelet with a folding clasp. Nothing wrong, it's a solid bracelet but it will surely disappoint a bit if you're used to anything higher-end from Oris or Longines. Same for the movement… The venerable 4R36 does its job and is reliable, but it is not the fanciest of movements. Still, it comes with hand-wound capacity and hacking seconds. The claimed accuracy range (-35/+45 seconds/day) is to be taken as a pessimistic range, and many watches will perform better than that.
The mid-size Seiko 5 Sports SKX Series 38mm SRPK29, SRPK31, SRPK33 and SRPK35 are now available from retailers and boutiques, and are priced at EUR 350.
Thoughts
In short, these new models bring extra choice to an already large spectrum of options. And it's a very good thing. They are compact, greatly balanced, offer a LOT for the money and are, in my opinion, the first model you should try. If, and only if, you really feel that they are too small for you, then you should look at the larger 42.5mm watches. But these should become the standard option in this Seiko 5 Sports collection. 38mm is a great diameter, no matter what's the size of your wrist. Try it for yourself, you'll see.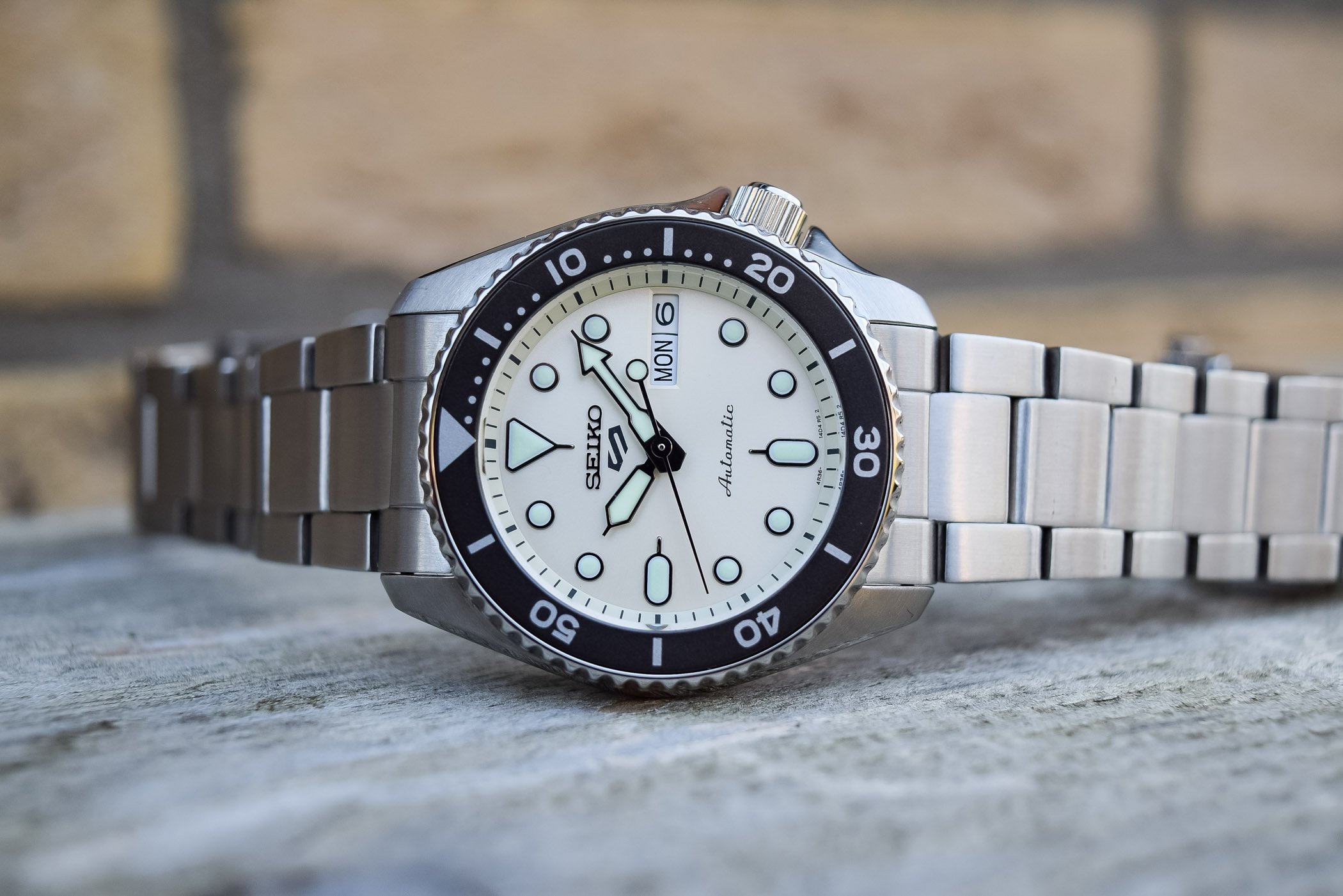 Now, the picture isn't perfect either. The downsizing strategy isn't correcting what were the (minor) flaws of the previous and larger editions. Some will regret the old days of the SKX007, when these were true dive watches with 200m water-resistance, screw-down crown and lumed pearl on the bezel. Also, even if 350 euros is fairly accessible and actually rewards you with a lot of watch in exchange, it is more expensive than a classic 42.5mm model (310 euros for a black SRPD55 or an orange SRPD59, the larger versions of the SRPK29 and SRPK35 presented here)…
More details at www.seikowatches.com.
https://monochrome-watches.com/mid-size-seiko-5-sports-skx-series-38mm-collection-srpk29-srpk31-srpk33-srpk35-value-proposition-hands-on-review-price/