The Seiko SKX007 and its family of Seiko Beater Divers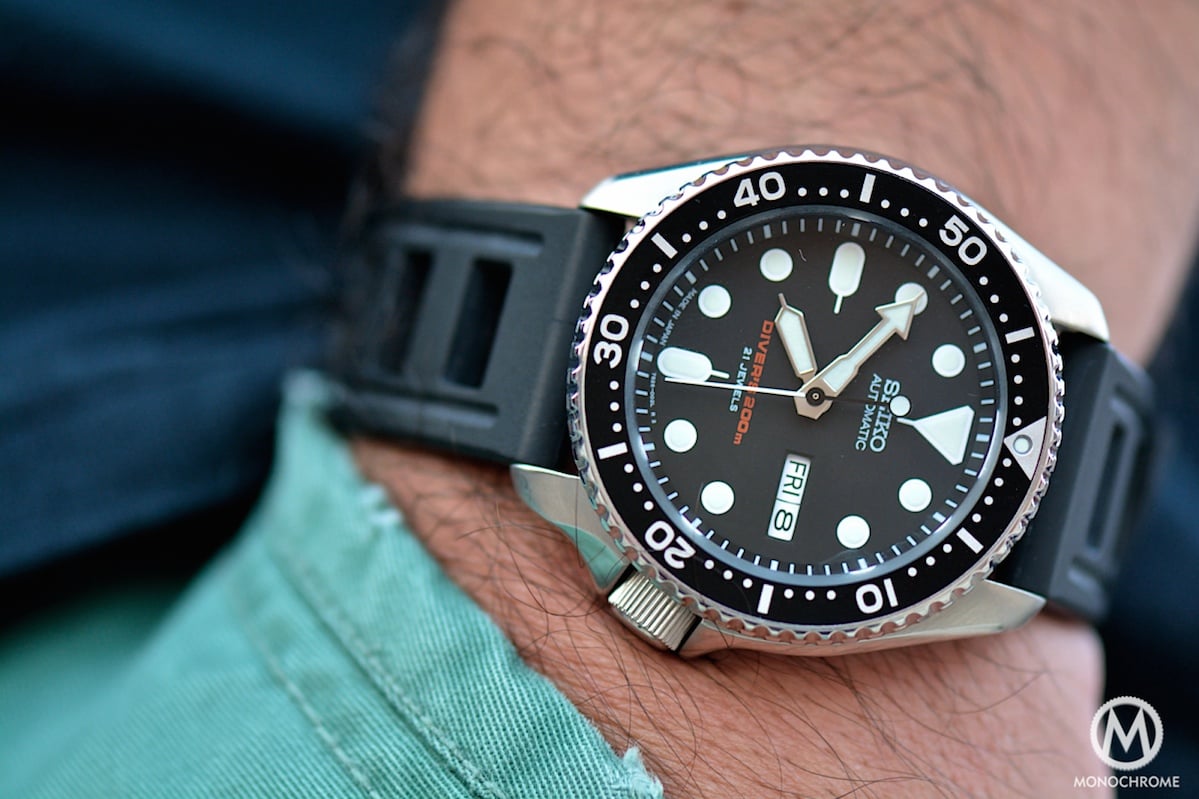 In this article we will not examine a rare chronograph, a long-forgotten military watch, an historic aviation piece, nor any vintage timepiece that will make a record sale at Bonhams. We will not argue about exquisite calibers, or exotic methods of construction. We will not analyze avant-garde design. We will focus on a type of watch that every person who loves watches absolutely must have. The Beater watch, a Seiko SKX007.
This category encompasses all the watches we wear most frequently, our go-to watches, watches that we use for our day-to-day activities. These watches usually are used on the beach, when we do sports, and any time we do not want to risk our most beloved (and usually expensive) watches. Beaters take most of our wrist time quietly, and we can depend upon them. The definition of what constitutes a beater timepiece is of course shaped by one's lifestyle and budget. Granted, some people use in their everyday activities a Lange & Söhne Datograph, or a Patek Philippe, or even maybe a Rolex Submariner Comex (ref.5514). We will not discuss those guys here; we will deal instead with the 95% of the watch population, who love to wear a mechanical watch and also live in the real world. (It should be noted that the definition of the beater watch is a Casio G-Shock; but we at Monochrome insist upon the beauty of a mechanical timepiece).
So, setting aside quartz watches, and also keeping in mind that we're referring to watches that are accessible to everyone, we are ready to examine here a timepiece that it is cheap, a watch that can withstand almost everything you throw at it and more, has style, has pedigree, is mechanical, can be worn in almost any circumstance and most importantly, is a watch that if dropped, scratched, or otherwise lost to some disaster you will not grieve over. We will argue that perhaps the greatest beater watch of all time is the all-time classic offering from the Japanese watchmaking giant, the Seiko SKX007.
The history of the Seiko SKX007 starts in 1965 with the introduction of the first mechanical Seiko diver, the 6217-8000/8001, or as Seiko aficionados refer to it, the 62MAS. This model was mechanical of course and was rated to 150m and it had borrowed many stylistic cues from the Blancpain Fifty Fathoms Bathyscaphe. After three years in production, Seiko introduced the iconic 6105, a diver watch that put the Japanese into a very strong position in the market. The 6105 was at that time cheap, easily accessible and also very, very reliable. This latter point's biggest proof was that many U.S Soldiers in the Vietnam War were quite fond of this model. The 6105 could withstand almost anything. Before its production ended in 1977, it came in two distinct cases: the 6105-8000 (the cushion case) and its most famous sibling, 6105-8009 (the turtle case), which was immortalized forever as the watch worn by Captain Benjamin L. Willard, portrayed by Martin Sheen, in the movie Apocalypse Now. The 6105 had two calibers (6105A and 6105B) and was waterproof to 150m as well.
In 1975, Seiko introduced the Tuna, a purpose-built professional diver with many innovations in its design and construction. At that point Seiko decided to more vividly differentiate its diver-watch offerings and set a clear demarcation between its professional line (starting in 1967 with the 6215) and its sports/amateur divers line. So from 1975 onwards this gap widened, but without any noticeable worsening of performance in their more basic divers. The record of the 6105 and the qualities it proved to have (functional, durable, cheap) had earned Seiko divers a place in the hearts and minds of potential buyers around the globe. I think the concept of the beater watch as defined in this article took shape with that specific model, and has continued to characterize this line of divers all the way to the present.
The predecessor of the 6105 launched in 1977. The introduction of the 6306/9 stayed true to the inherent qualities we touched on earlier. The 6306, marketed earlier in Japan (JDM), and had a cushion case and a 21-jewel caliber that ran at 21,600bph; its production lasted up until 1981. Its brother, the 6309, had a 17-jewel caliber and was produced up untill 1988 in many variations (6309-7040/9 and later 6309-7290, 729A, 729B). The 6309, available in all parts of the world except Japan, became a staple for the working diver, for the spear fisherman, and for the recreational swimmer. It became a hit because it had all the properties of a good mechanical watch, it was superbly executed, and above all it had a great price tag.
The 7002 replaced it 1988; this model came in seven variations with a caliber having 17 jewels and running at 21,600bph. Seiko changed the design of the case to a slimmed-down version, like the one we see on the Seiko SKX007, a case inherited from the 6309-7290. The 7002 was the very first non-prospex (professional grade diver) that had a water resistance of 200m (for the late series, the first 7002 were resistant up to 150m), while at the same time it had a unidirectional 120-click bezel. The 7002 was another one of those rugged, cheap divers from Seiko. The model had great success on the market and was especially favored by the personnel of various military forces around the world. It was replaced in 1996 by the 7S26 series of watches.
So as we have established, the SKX007 (7S26 series) has a great pedigree; its ancestors were used and abused in the harshest conditions but always kept running. The 6309 and the 6105 are especially considered all-time classic divers nowadays, and although they were produced in huge numbers, their prices on the vintage market continue to climb steadily. For an excellent and all original 6105-8009 you must spend 1000+ euros, while for a great condition 6309 you need half of that. So, is the Seiko SKX007 a worthy descendant of this beater diver line form Seiko?
Before we go on we must note that Seiko is marketing so many variants of the 7S26 diver that it is very hard to truly keep track on them (007J +K, 009J+K, 011, 171, 173, 175 and the list goes on). For the purpose of the article we will stick to their best seller the SKX007.
The SKX007 is an ISO certified diver watch, which is a very important distinction since it specifies a tool watch that is certified for actual scuba diving use in accordance with the very stringent standards set by the ISO organization:
ISO 6425 standard for diving watches

The standards and features for diver's watches are regulated by the International Organization for Standardization in the ISO 6425 standard.

Besides water resistance standards to a minimum of 100 m depth rating ISO 6425 also provides minimum requirements for mechanical diver's watches (quartz and digital watches have slightly differing readability requirements)
The presence of a unidirectional bezel with at least at every 5 minutes elapsed minute markings and a pre-select marker to mark a specific minute marking.
The presence of clearly distinguishable minute markings on the watch face.
Adequate readability/visibility at 25 cm (9.8 in) in total darkness.
The presence of an indication that the watch is running in total darkness. This is usually indicated by a running second hand with a luminous tip or tail.
Magnetic resistance. This is tested by 3 expositions to a direct current magnetic field of 4,800 A/m. The watch must keep its accuracy to ± 30 seconds/day as measured before the test despite the magnetic field.
Shock resistance. This is tested by two shocks (one on the 9 o'clock side, and one to the crystal and perpendicular to the face). The shock is usually delivered by a hard plastic hammer mounted as a pendulum, so as to deliver a measured amount of energy, specifically, a 3 kg hammer with an impact velocity of 4.43 m/s. The change in rate allowed is ± 60 seconds/day.
Chemical resistance. This is tested by immersion in a 30 g/l NaCl solution for 24 hours to test its rust resistance. This test water solution has a salinity comparable to normal seawater.
Strap/band solidity. This is tested by applying a force of 200 N (45 lbf) to each spring bar (or attaching point) in opposite directions with no damage to the watch or attachment point.
The presence of an End Of Life (EOL) indicator on battery powered watches.

Testing diving watches for ISO 6425 compliance is voluntary and involves additional costs, so not every manufacturer presents their watches for certification according to this standard.
It's really a very impressive accomplishment for a cheap watch to meet these criteria. Furthermore, the Seiko SKX007 has a 200m water resistance, a 41mm case with 22mm lugs, a 120-click unidirectional bezel, a day/date display and a screw down crown situated at 4 o' clock. The case is constructed from thick stainless steel (316L) with an oversized crown and a handsomely designed crown guard that is very comfortable on the wrist. The caseback has Seiko's trademark tsunami logo; the bezel has a nice grip (altough it could have been better) with a luminous pip at 12 o' clock; and it's very positive and tight. It has a hardlex crystal with a flat face and chamfered edge, and looking inside of it we see a well-executed dial. It is clean, its readability is superb, the chapter ring is actually usable and the lume is mind-blowing. I think on front, Seiko has no competition, even compared with more expensive Swiss offerings (especially into the range under 1.000Eur). Last but not least the day/date feature has the proper size, not too big not too small, very easy to read and for me, constituting a great advantage for a beater watch.
The Seiko SKX007 clearly has an impressive quality / price ratio. It's highly functional, a well thought-out and executed diver with a great record of reliability. Affordable quality is the name of the game here I think: it is a beater diver watch that will not put us in the poorhouse; it does the exact same things any mechanical diver does, but at a fraction of the price.
A big factor that helps the Seiko SKX007 to be so reliable lies of course at its heart, the 7s26 caliber. This automatic movement has 21 jewels and beats at 21,600bph. It incorporates quickset day and date displays and automatic bi-directional winding via Seiko's patented Magic Lever system (perhaps the biggest negative point of the watch, as it lacks any manual winding capability). The ability to withstand abuse is a highly desirable feature for a beater watch. The SKX007 has several features that contribute significantly in this regard and a few of them are only visible upon removing the solid steel back. The 7S26 uses Seiko's patented Diashock protection system on the balance pivots, has a soft, plastic spacer ring closely integrated with the movement and a relatively low-mass rotor that is unlikely to bend or break even with very severe shocks. The plastic spacer ring, combined with the sheer massiveness of the case, provides a great deal of additional shock resistance and also happens to be a more economical solution than a metal spacer ring. This blend of economic and sensible engineering is a trend that persists in almost every facet of the design of the 7S26 movement. (All the info regarding the 7s26 came from a marvelous review by John Davis, which you can find ThePurists.com).
So, the Seiko SKX007 has a great, and reliable caliber, supporting its well thought-out construction and design parameters that are amplified by its pedigree and its very accessible price. Could someone ask for more from a beater watch? I think here lies the quintessence of such a timepiece. It does not possess the historical significance of a Blancpain FF, or the military heritage of the Omega Seamaster 300, or even the universal recognition and investment factor of the Rolex submariner. It is not as gracious as the Jaeger-Lecoultre Polaris, not as groundbreaking as the IWC Ocean 2000…. Those watches, after all, are milestones in the history of the watchmaking industry. Fair enough. What it does have, though, is an unparalleled quality, and it is exceedingly honest, almost to a fault. It is an economically designed and constructed diver watch that was created for maximum performance and robustness at minimal cost. It has no pretense of being the greatest diver watch ever, but it enjoys plenty of wrist time, for a variety of reasons.
Others might acknowledge its low value and use it as we all should use watches and mechanical creations in general; use them for what they were made for. For that – for everyday, hard working used under sometimes punishing conditions – the SKX007 is the perfect choice. Some might wear it a lot because they respect it for what it is. It is heartily true unto itself as a low cost, low maintenance, long lasting and well functioning automatic diver watch. If reliability is your number one priority, then this watch is the obvious choice, and it does all that with no sacrifice of accuracy or style. Others might actually like it best for all of these qualities-me, for instance.
The beater divers from Seiko managed to capture the hearts and minds of the regular watch-maniac audience because they offer so much and ask for so little, but above all, the most significant accomplishment in the SKX007 conception and implementation is that it managed to offer to countless people the experience and the joy of owning a mechanical watch at all. For that alone, even if we forget all of its many virtues, the Seiko SKX007 and its ancestors might constitute one of the most important bloodlines in the history of watchmaking.
https://monochrome-watches.com/seiko-skx007-family-seiko-beater-divers/