Value Proposition
The Seiko 5 Sports "Field Watch" SRPG27, The Perfect Definition of a Daily Beater
A robust, always reliable in-house field watch that's half the price of Swiss counterparts
Few brands are as influential to the industry as Seiko. Founded in 1881 by Kintarō Hattori (with continuous family involvement to this day), Seiko introduced the world's first quartz watch in 1969, the Astron. It's arguably the single biggest disruption in watchmaking history and among many firsts and major innovations from the brand. The Seiko 5 collection shook things up in 1963 by establishing specific quality standards and features that remain to this day, while always maintaining affordable price points. The latest Seiko 5 Sports Field SRPG27 offers everything you need at a price most can afford, and it's all produced in-house. 
Background
We reviewed the Seiko 5 SNK809 in 2018 and concluded it was the best value for a mechanical watch at around USD 100. The latest Seiko 5 Sports SRPG27 is a sequel of sorts and brings several improvements to the table, both mechanical and aesthetic. Both watches share the collection's five established standards, hence the Seiko 5 name, although something is decidedly different this time – the crown. There are two lists that describe the five standards, Seiko's list and the ironically more accurate "unofficial" list that's universally accepted. Seiko states that the five are water resistance, automatic winding, day/date complication, crown at 4 o'clock and durable construction. This is not only incomplete but inaccurate as well. For starters, the latest Seiko 5 Sports has a crown at 3 o'clock, not 4 o'clock, and two significant innovations are overlooked. The Seiko 5 Sports collection introduced the proprietary Diaflex mainspring, which is virtually indestructible, and Diashock shock resistance that rivalled Switzerland's Incabloc system. Consequently, the more accurate "unofficial" list replaces crown at 4 o'clock and durable construction with Diaflex mainspring and Diashock. These standards are no longer exclusive to the Seiko 5 Sports family but remain the guiding principles of every Seiko 5 Sports watch. You can add a sixth as well – price. They're always accessible.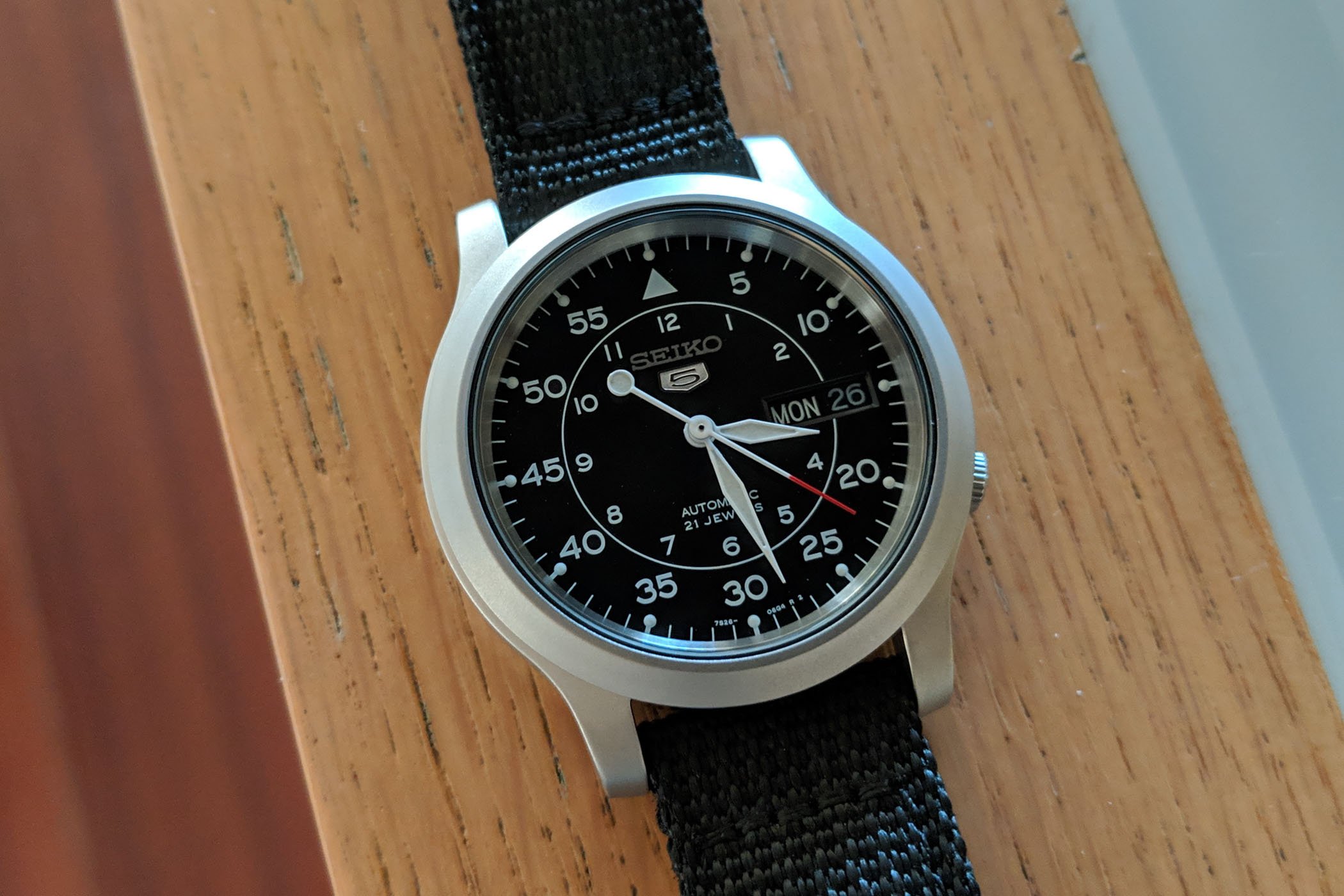 Affordable field watches are the pickup trucks of the watch world. Rugged and reliable, utilitarian and suitable for just about any occasion. The brand that many associate with this is Hamilton and the popular Khaki Field collection. I have nothing but good things to say about Hamilton and its field watches, but Seiko stands out in a few meaningful ways. Hamilton's counterparts start at around double the price, the movements are not in-house (but still very, very good) and Seiko offers more features within the class. Hamilton does win with a longer power reserve and slightly better accuracy, but are those alone worth the premium? I also look at the history of brands and Seiko has been a consistent Japanese brand with family involvement for 140 years. Hamilton was an American brand until it ceased production in 1969 and became a Swiss company, now under the umbrella of the Swatch Group. Some will always prefer the prestige of a Swiss Made label, but I tend to prefer the history and in-house production of a brand like Seiko. 
Case & Design
The 316L stainless steel case has a matte, bead-blasted finish that resists both reflections and scratches. At 39.4mm in diameter and 13.5mm in height, it's also suitable for many wrists. There's a curved Hardlex mineral crystal (made by Seiko) that's not as scratch resistant as sapphire, but more than adequate for the price. The same material is used for the exhibition caseback and I have yet to see a scratch or mark on either side. The crown is rather flat, especially compared to a Khaki Field model, but is still easy to use for winding and time/date setting. It doesn't screw down, but the case is still water-resistant to 100 metres. Black dial watches can be hit or miss with reflections, even with anti-reflective coatings, but this Seiko 5 Sports SRPG27 handles it well. I never had a problem clearly seeing the dial outdoors and photographing the watch was easier than expected. I believe part of this is due to the dial's texture, but more on that below. This model comes with an oyster-style stainless steel bracelet that matches the case well, although it has a slightly more satin finish. And props to Seiko, it's the same price as the NATO strap variant (model SRPG37). 
A quick note about adjusting the bracelet, which most will have to do as it's huge out of the box. Many Seiko bracelets come with a pin and collar arrangement, so a tiny, separate collar piece combines with the pin within each link. Those collars fall out and can be easily lost during adjustment. This bracelet has a single pin (with a springy end) and no collar, making the process easier. Just use a simple link remover for a few dollars on Amazon, etc. and save yourself a bit of time and money from visiting a local watchmaker. You can even use the tool to fully seat and slightly recess the pin after removing the desired links. Just follow the arrows on the underside of the bracelet for pin removal. Once adjusted, it's very comfortable for even smaller than average wrists like mine.
Typical field dial
The matte black dial has a subtle texture that's only visible under bright light. As mentioned above, it seems to help with reflections. The applied Arabic numerals are steel and add some class and sophistication over simple printing. A second set of numerals is printed within the main ones for military time (13-24), a requisite for a proper field watch. The silver hour and minute hands have Seiko's own luminous paint, LumiBrite. I generally prefer this over Swiss Super-LumiNova as it's often brighter and glows longer. Small hour marks on the outermost perimeter and the triangular tip of the seconds hand also have LumiBrite. A day/date window sits at 3 o'clock and is among the five standards of the Seiko 5 Sports, not to mention one of the most useful complications in general. The Seiko 5 logo has been updated with a modern, somewhat abstract "5" and is applied below SEIKO at the top. Available dial colours include blue, blue/grey, green and brown.
The classic 4R36 calibre
Powering the watch is Seiko's 4R36 automatic calibre, which is solely reserved for Seiko watches unlike variants like the Seiko NH36 that's available to other brands. You can thankfully manually wind it, as the previous Seiko 5 SNK809 with the 7S26 calibre was automatic-only. It has 24 jewels, beats at 21,600vph (3Hz) with a 41-hour power reserve. Functions include central hours, minutes, hacking seconds and day/date complication. Accuracy is rated at a rather unimpressive +45/-35 seconds per day, although in a week of testing, mine was within 20 seconds per day. Those numbers simply state the maximum allowable variance. Seen through the exhibition caseback, it's simple and undecorated, but nevertheless interesting to look at. And this is an in-house calibre, making the watch a Seiko product through and through. That carries some weight with me, regardless if a piece like Hamilton's Khaki Field Mechanical is technically superior. 
Final thoughts
Switzerland is undoubtedly the capital of watchmaking. Like many of you, I value the Swiss Made label on dials. That said, Japan is a watchmaking juggernaut with brands like Seiko, Citizen and Casio being among the biggest in the world. Seiko separates itself with its unbelievable versatility, producing an endless stream of inexpensive watches for mall kiosks, some of the most capable dive watches like the 1968 "Hi-Beat" Re-Creation SLA039J1 and true Haute Horlogerie with Grand Seiko (and everything in-between). The brand continues to embrace quartz technology for a vast portfolio of accessible, accurate and reliable watches, but the affordable mechanical collections impress me the most. 
The Seiko 5 Sports Field SRPG27 offers an in-house automatic with a Diaflex mainspring and day/date complication, and 100-metre water resistance for less than USD 300. That's less than a lot of brands' steel bracelets alone and Seiko throws a nice one in at no extra cost. It's such a complete package and among the best overall values in the industry. 
Availability & Price
The Seiko 5 Sports SRPG27 retails for only USD 275 or EUR 270 and is available at Seiko's website and participating retailers worldwide. There are certainly flashier Seiko 5 models such as the Brian May Limited Edition SRPE83K1 or Sports Custom Watch Beatmaker Limited Edition SRPH19, but this field watch offers a slick, no-nonsense wrist companion that'll go from the water to the hiking trails to the office without skipping a beat. And with such a proven and reliable movement, I mean that literally.
For more details, please visit seikowatches.com.
https://monochrome-watches.com/seiko-5-sports-field-srpg27-value-proposition-review-price/