Value Proposition
Review of Seiko 5 SNK809 – A Lot of a Mechanical Watch for Less than $100
Arguably one of the biggest bangs for the buck with an in-house automatic movement from a storied brand - meet "The Cheapest High-End Watch".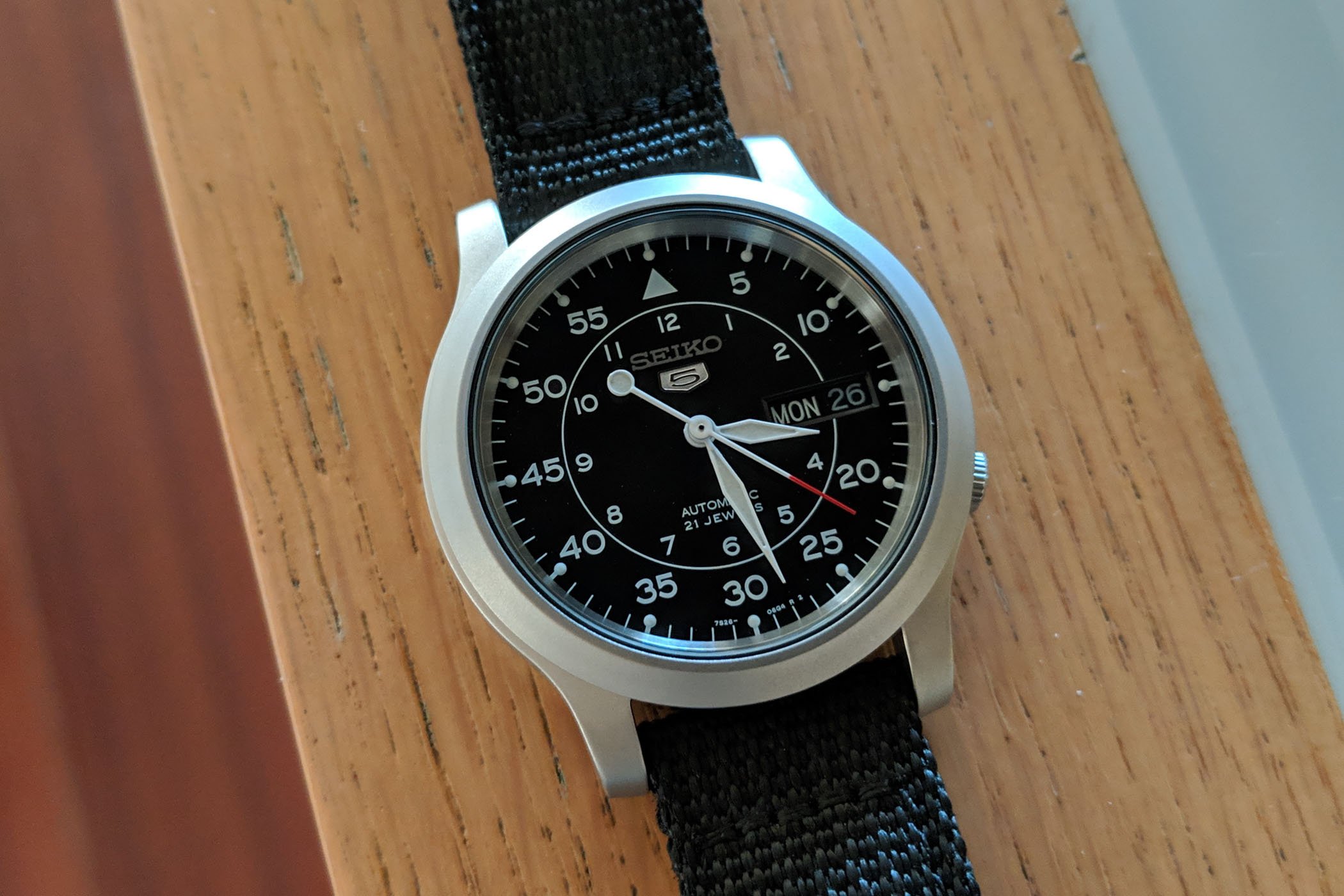 A few years ago, we published a story named "The Cheapest High-End Watch". We searched for the most affordable high-end watch, comprising a mechanical movement, in-house manufactured of course, from a brand with an undisputed pedigree, preferably family-owned, and the watch should be (relatively) small and elegant. And guess who won the title… not Patek, not Vacheron, not even Rolex or Omega. It was a Seiko 5! While pretty much everyone thinks of Switzerland when we talk about high-end watches, we felt that one specific brand was often missing in the discussion… Today that's changing already and certainly since Grand Seiko has been positioned as a separate brand, this Japanese giant is being taken very seriously. Japanese movements are gaining traction in general, and despite being cheap (the word affordable doesn't even work anymore), Seiko 5 watches are true mechanical, bang-for-the-buck "high-end" pieces. Time to demonstrate this, with the not-even-100-dollar Seiko 5 Military SNK809.
There's a countless number of watches falling into the value proposition category. We have many articles and reviews covering them, from microbrands financing via Kickstarter to established brands offering compelling deals. The Marloe Haskell is a good example of a microbrand piece with a Swiss ETA, coming in well under USD 1,000. The new Timex Marlin Automatics have classic styling, reliable Miyota movements and a price under USD 300 (and it's the brand's first automatic line since 1982). Even Hamilton can make a great USD 400 watch with a hand-wound movement. All are great value propositions in their respective price tiers and easy to recommend.
There's a specific watch, however, that offers an in-house automatic movement, exhibition caseback, day/date complication and clean military aesthetic from a major brand established back in 1881, with still involvement of the founding family – for only USD 100 (and easily found for less). The Seiko 5 SNK809 is part of a broader series of Seiko 5 watches, but this particular model might have the most mainstream appeal with a universally sized 38mm steel case, conservative colour scheme and price that most watch enthusiasts can afford. It does have its flaws, but arguably offers the most complete watch package for the price. All of that falls into our definition of "The Cheapest High-End Watch" – and that isn't the case for all the aforementioned watches! Period!
Background/History
Seiko is a watch brand that just about everyone recognizes, whether they never wear a watch or sport a large collection. The company was founded by Kintarō Hattori in 1881 in Tokyo, Japan as a watch and jewellery shop. It wasn't until 1892 that it started manufacturing clocks under the brand Seikosha, translated as "House of Exquisite Workmanship." In 1924, production of wristwatches with the Seiko name began and the brand soon became a force to be reckoned with.
The Seiko 5 is one of the brand's most iconic watch series. Introduced in 1963, it offered incredible value with several innovations. In fact, it had five key innovations that inspired its name.
Day/date complication within a single window, which was uncommon at the time
In-house automatic movement (with Diashock shock protection system comparable to the existing Swiss Incabloc system)
Water-resistance for all models
Seiko's unbreakable Diaflex mainspring within a durable case
Recessed crown at 4 o'clock
In the 55 years that the Seiko 5 has been in production, a wide variety of movements have been used. What they all have in common, however, is reliability, minimal maintenance and affordability. It's said that many Seiko 5 automatic movements are assembled with little or no direct human involvement, which removes some of the mechanical romance and mystique but allows for very cost-effective mass production. You won't find Côtes de Genève, perlage or other embellishments, but the workhorse movements provide an interesting view through an exhibition caseback nonetheless – a decorated movement in a Seiko 5 would look out of place. And here's a fun fact – former NASA flight director Gene Kranz wore a Seiko 5 model 6119-8460 during multiple Apollo missions (and it still ticks today). If you're looking for a very high-end piece, the brand offers a limited edition Grand Seiko for over USD 50,000. But in my opinion, a USD 100 Seiko 5 is an equally impressive achievement.
Case And Design
The 37mm stainless steel case of the Pilot-inspired Seiko 5 SNK809 has a matte finish on the front and sides with a polished back. It has a nice military aesthetic and reminds me of a 38mm Hamilton Khaki Field Mechanical (which retails for USD 475). At 11mm in height, it's not the thinnest watch around, but the thickness helps balance out the smallish diameter on my wrist. The bezel is somewhat heavy (slightly more substantial than the Hamilton), but works well with the case and surrounds a flat Hardlex crystal.
This is an in-house designed crystal that resists scratches better than standard mineral glass but isn't at the level of sapphire. It's impressive for the price as I expected to see acrylic. The crown sits at an unusual 4 o'clock position and doesn't screw down, leaving the case water-resistant to only 30m. That's fine for rain and splashes, but you should probably avoid swimming. You also can't wind the watch manually with the crown, which is one of its shortcomings, but simply shaking the watch will wind it all the same. The crown is also a bit small, but not too fiddly when trying to set the time or date.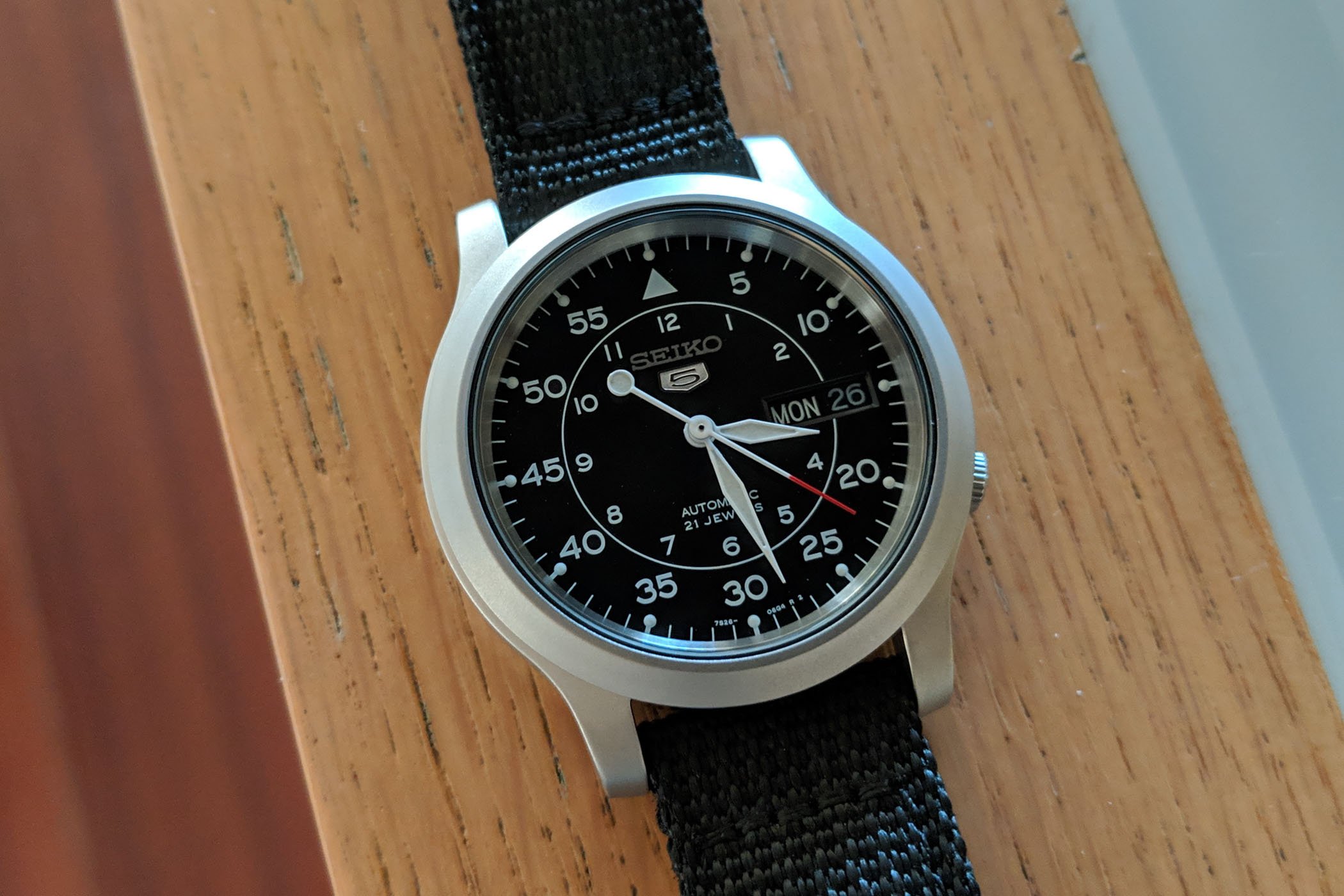 The caseback has a Hardlex exhibition window that displays the in-house 7S26 automatic movement. The polished caseback and rear lugs contrast well with the rest of the matte finish, and the undecorated movement fits the overall aesthetic perfectly. The case has a nice, substantial weight and no-nonsense attitude, and although simple, has real character.
Dial And Hands
The matte black dial continues the military aesthetic. The outer perimeter has white Arabic numerals marking the minutes, while a smaller interior circle of Arabic numerals mark the hours – this twin-sector display is often found on military pieces, but the outer marks the hours while the inner displays 24-hour military time. The white hour and minute hands are filled with Seiko's renowned luminous paint (LumiBrite) as well as dots on the outermost perimeter marking every five minutes.
The white lollipop seconds hand has lume in its circular counterweight and also sports a red tip. One of the big perks is a day/date complication at 3 o'clock and you can even choose between English and Spanish for the day (and more languages depending on the market). SEIKO and the 5 logo are shown near the top and add a little depth, while AUTOMATIC and 21 JEWELS are printed at the bottom. Legibility is solid and there's a lot going on with the dial, but it's not overly busy and certainly doesn't come across as generic.
Movement
Impressive features continue with the beating heart, which is an in-house Seiko 7S26 automatic calibre. It has 21 jewels, beats at 21,600vph (3Hz) with a 40-hour power reserve. Functions include central hours, minutes, seconds and a day/date complication. Two omissions are the non-hacking seconds and lack of manual winding, but neither are serious flaws in that price segment and are easy to live with. Simply shaking the watch for about 30 seconds will adequately wind it, while daily wear will keep it ticking.
Accuracy is rated at -20/+40 seconds per day, which isn't exactly a chronometer, but more than reasonable for the price. A simple time adjustment every few days or even once a week will keep your time precise. After a week of testing, the Seiko 5 reviewed averaged only 18 seconds slow per day. At that rate, I'd probably only adjust it once per week.
Viewed from the exhibition caseback, it's not a refined beauty, but still provides an interesting look at the mechanics of an automatic workhorse. It may not have Geneva stripes or blued screws, but is nevertheless a cool sight and I'm very pleased that Seiko included a Hardlex exhibition window on such an inexpensive piece.
Strap
If there's a standout flaw with this watch, it's definitely the black 18mm canvas strap. I consider myself something of a strap snob and it's not uncommon for me to replace manufacturer's ones with better third-party options. However, the strap that comes with this Seiko 5 is just downright bad. It gets the job done, mind you, and looks decent enough on the wrist, but it's fairly uncomfortable, snags on the metal loops when trying to strap it on (from the loosely stitched piece covering the holes) and looks and feels cheap while the actual watch does not.
The matte steel buckle and loops are nice enough, but the positivity ends there. I don't despise it and would probably be fine if stuck with it, but I'll be switching to a nicer canvas strap. It's worth the USD 20 upgrade. To be fair, the strap has broken in a bit from daily wear and is more comfortable than on day one, but I'm still eager for a replacement. But then again, at USD 100 or less, you can't have it all.
Conclusion
The Seiko 5 SNK809 is one of the most impressive watches I've taken a close look at this year. It's not a luxury piece and certainly won't attract attention, but for just USD 100 (or less on the web), it offers a lot more than a mechanical watch should. A reliable, in-house automatic, all from a well-established brand, with the founding family still involved in the brand, with a steel case and restrained dimensions… And let's not forget that it's been in continuous production for 55 years. Certainly not the same mechanical marvel as a Patek, but still, we dare to say it again: this is the most accessible high-end watch in the world (and by quite a margin).
Notwithstanding the low-quality strap, this watch makes even a value proposition like the 38mm Hamilton Khaki Field Mechanical seem expensive. That watch certainly has a Swiss ETA 2801-2 and hacking seconds, but Seiko's movements aren't to be blamed (far from that). When you add everything up, the Seiko 5 SNK809 just might be one of the best horological bangs for the buck. It's a cool watch for seasoned enthusiasts but mainly is a perfect piece for first-time mechanical watch buyers – Christmas is coming…
This particular model may have recently been discontinued by Seiko, although some retailers claim that one can be ordered on request. The Seiko 5 Military SNK809 was produced in the millions, however, and is very readily available. Sites like Amazon and a host of third-party retailers carry it with prices ranging from USD 109 to a mind-boggling USD 65. Seiko also offers a three-year limited warranty on all new SNK809 models. More details at seikowatches.com.
https://monochrome-watches.com/review-of-seiko-5-snk809-a-lot-of-a-mechanical-watch-for-less-than-usd-100/