Hublot Sports a New Shop in Shanghai
Hublot, a brand always closely associated with sporting culture has opened a new store in the heart of Shanghai's watch and luxury goods epicenter. Let's take a look inside their new West Nanjing Road Boutique to see the latest additions to their starting line-up!
Right from the company's inception in 1980, Hublot watches, featuring their distinctive natural rubber straps, have been on the wrists of the world's sporting crowd. By being the first company to mount robust looking cases of steel and gold directly onto natural rubber straps, Hublot became an alternative for active people seeking something with more style than a tool-watch with luxurious tinsel and more substance than an oversized dress watch.
Hublot watches soon found a following with Europe's elite (Hublot became a favorite of Juan Carlos – King of Spain!) Hublot has emerged as a SUPER Sports brand – celebrating partnerships and ambassadorships with some of the top leagues, teams and athletes in the world. Each line in the Hublot family is a chance to show off it's new capacity as a manufacture of movements like the Unico caliber and the wafer thin HUB1300 caliber movement.
Each new sporting endeavor is also a chance to show-off it's ground-breaking case materials technologies. These materials range from the mundane like steel, titanium and gold, then move into more interesting areas! Hublot are making cases out of carbon fiber, ceramics and composites; sandwiching the materials together to take advantage of their visual and structural appeal. But that's not where it ends… Hublot have also developed a space-aged gold/ceramic composite coined 'Magic Gold' that shares the beauty and luster of gold and the hardness and rigidity of ceramic. Once again, Hublot have gone beyond simply making a sporting watch out of precious metals and selling it to active people – they've actually created a new form of precious metal that is capable of taking the dings and knocks of an active lifestyle and still looking precious!
The new boutique itself pays homage to Hublot's naturally sporty nature, featuring the customary active displays and cases aligned with the different collections and their affiliations with sports, teams and individual ambassadors. There is also a comfortable seating area where you can peruse different catalogues, books and magazines, all featuring the latest Hublot models.
This is a nice touch, and something I've only seen in Asia; it's an area where buyers can go to ponder the different models ranging from The Classic Fusion cases which hark back to the slim and sophisticated rubber clad designs of the 1980s to the Tutti Frutti collection inspired by the bright, colorful gemstones adorning each bezel – completed with a color-coordinated leather strap! All of these collections linked by design and held together – literally and figuratively by the Company's trademark "H" shaped screws, laid-out in a hexagonal pattern on the bezel. With so much variety available, I begin my quest to find my ultimate Hublot in the fields of sport!
The first and most obvious reference to the sporting side of Hublot is the enormous wall-sized poster dedicated to one of the most venerated sporting clubs in the entire world, Manchester United Football Club! The shop's opening was presided over by none other than Sir Alex Ferguson, famed coach of the 'Red Devils' since 1986. Football and in particular, English Premier League football is immensely popular here in China – it's sometimes quite shocking to see just how many folks, young and old alike, proudly display their support for English teams – the vast majority of them are 'Man U' supporters!
Indeed the King Power Red Devil (ref. 716.CI.1129.RX.MANN11) watch is a fitting tribute to 'Old Trafford's dream team. Each 48mm King Power Red Devil is fitted with hour markers made from blades of grass from the pitch of the "Theater of Dreams" (as it's known to the team's faithful). Made in a limited run of 500 pieces worldwide, the 'Red Devil' is an all ceramic 45-minute timer, with a unique central chronograph featuring the seconds and minute counters on the main dial for easier legibility.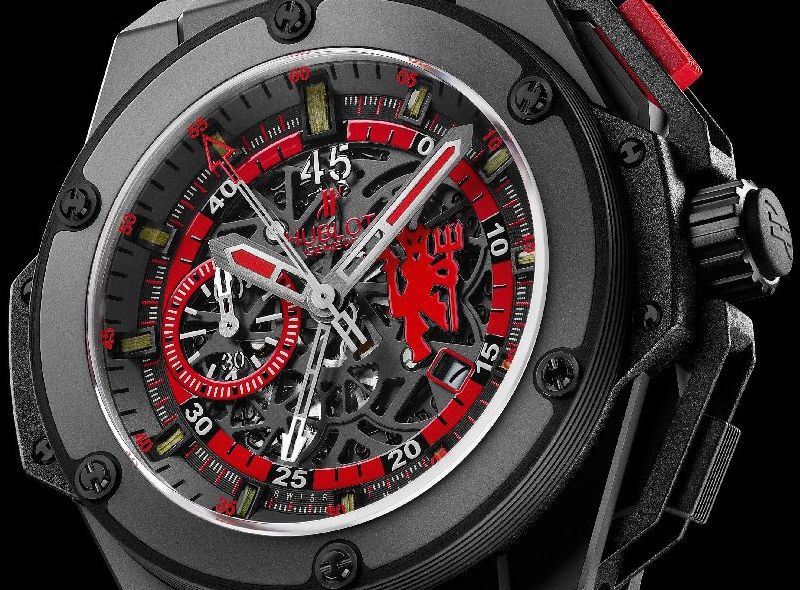 Continuing with the football theme, Hublot are also partners and official timekeepers for the 2012 UEFA European Football Championships and the 2014 FIFA World Cup in Brazil! These events not only bring together the best teams and athletes in the world, they bring together billions of fans to watch one of the celebrated spectacles in all of sports!
Another powerful image from sporting world is the King Power Alinghi 4000 (ref. 731.QX.1140.NR.AGI12), an impressive 4000 meter depth rating, carbon fiber and composite material dive watch (that we told you about here). Made to celebrate the America's Cup racing team, the Alinghi embodies a great deal of the same attributes that are also prized by racing boats! The King Power Alinghi's hull is made from strong but lightweight materials. It's designed to be able to be functional in rapidly changing conditions.
And it shares the same design ethos that boat builders adhere to: make it sturdy, make all of its elements functional under incredible stress – but make it look proud and handsome. The stated 'displacement' (to paraphrase the nautical term) is 48mm, but the crown at 4 o'clock and internal rotating bezel crown at 2 o'clock, with a crown lock mounted to a separate set of lugs mounted above 3 o'clock add further to the overall physical presence. Given the case's dimensions, the overall feel of the watch when you wear it is deceptive. Your first thought is that it's going to be heavy, but it isn't! The carbon fiber gives the case a very solid feel, but it's not cumbersome in any way. The face is accented with red luminous markers, hands and chapter ring – a styling cue that continues to the Nomex strap, stitched in red.
For me, a devout car fanatic, the absolute highlight of the Hublot line are those pieces made to celebrate the Company's partners in Formula 1 racing and the newly minted relationship with Ferrari. Owing in part to the relationship with F1 CEO, Bernie Eccleston (see here!), in 2010 a deal was inked to link together the racing series that embodies the very utmost in high-technology and the watch brand that has established itself as it's peer in embracing new material technologies, rapid development of ultra-complicated in-house movements and ever-present robust sporty styling.
In a move that flexes Hublot's marketing muscle in conjunction with their technological prowess, the Brand is now official timekeeper for Scuderia Ferrari! This move integrates Hublot into motorsports both vertically and horizontally! Ferrari is, of course, one of the most desirable automotive brands – but their Scuderia (racing team) is also one of the most successful teams in all of motorsports.
Over the years, Ferrari have fielded some of the greatest names in motor racing, and those drivers have benefited from Ferraris cutting edge, race proven technology and engineering. Ferrari expects no less from the watches that bare their name! The Big Bang Ferrari Titanium 45mm (ref. 401.NX.0123.GR, see photo below) is a column wheel fly-back chronograph fitted to a titanium case and leather and alcantara strap. The Big Band Ferrari Magic Gold 45mm (ref. 401.MX.0123.GR) has the same specification as it's titanium counterpart – but is finished in Hublot's wonder-metal Magic Gold – a ceramic that is made from gold allowing for the visual characteristics of gold without the same problems that the famed soft metal is known for (i.e. denting and scratching under heavy use.) Magic Gold is meant for use!
The final piece is the Big Bang Tourbillon Ferrari 44mm (ref. 308.QX.1110.HR.SCF11). The Big Bang Tourbillon Ferrari is a genuine marvel. Housed in a beautiful satin finished carbon fiber case, this manual winding, single-button chronograph has a power reserve indicator, a 5 day power reserve and a 60 second tourbillon escapement! Not unlike the sports and racing cars it is meant to be emblematic of, the Big Bang Tourbillon Ferrari is high-power movement combined with a highly crafted, sophisticated body. Again, for me, this is the ultimate statement of "the Art of Fusion"; breathing 65 years of passion and tradition of the Ferrari brand, into something compact, modern and making it desirable for in the same ways!
Are YOU a person who wants a watch that can tread the line of being stylish enough to wear with a tuxedo and yet robust enough to wear while playing polo? … then look no further than Hublot and go no further than Shanghai's watch district of West Nanjing Road. They have what you're looking for!
Photo credits: 1st photo is made by Ian Skellern, 5th photo courtesy Watchonista.
This article is written by Mario Squillacioti, contributing writer for Monochrome Watches.
https://monochrome-watches.com/hublot-sports-a-new-shop-in-shanghai/