News
The First Rolex Tourbillon, Created by Customization Brand Label Noir
Something that has never existed... until now! (P.S. No, it isn't an official Rolex Watch)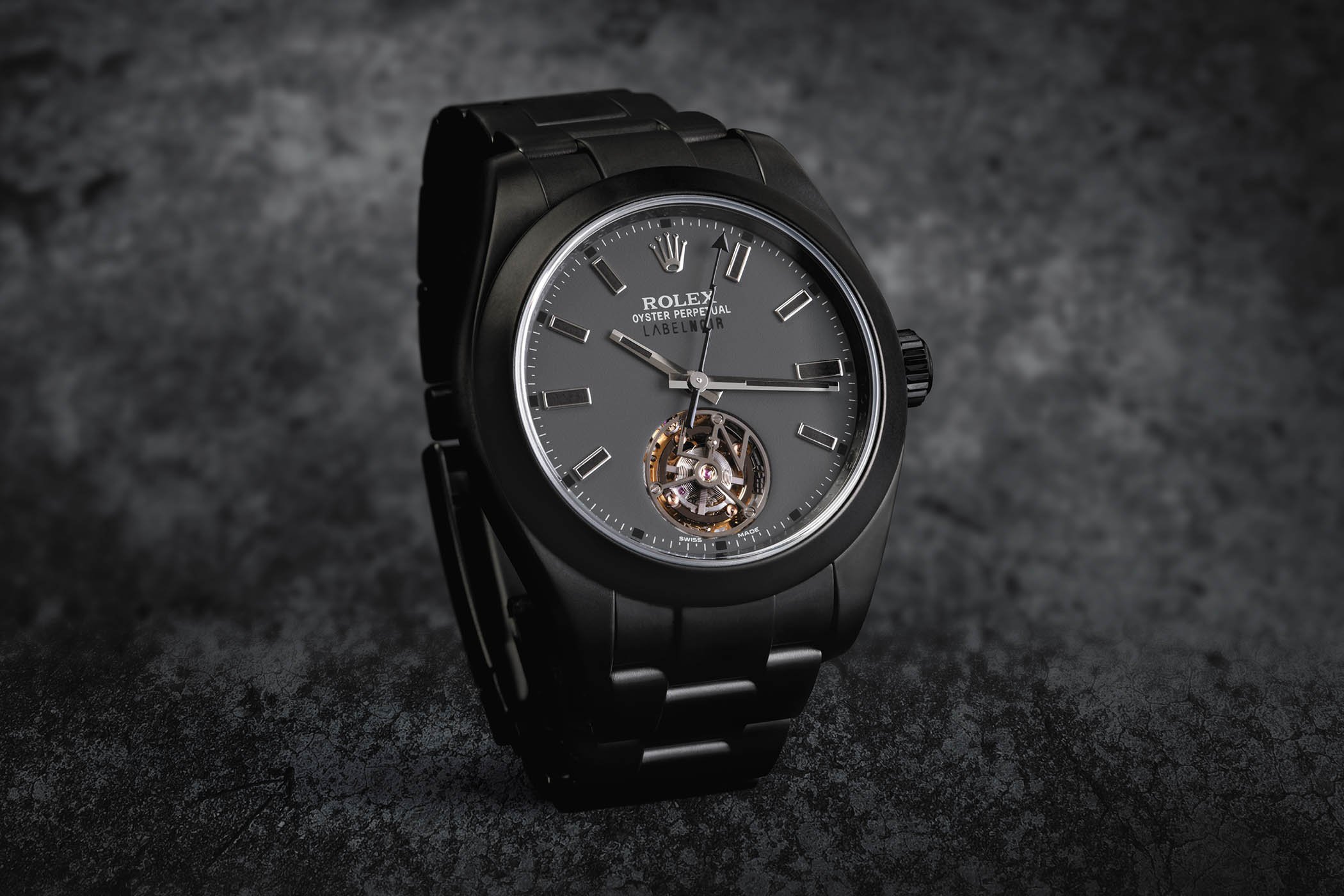 Customization to an unprecedented level… We've seen hundreds of watch modification programmes appearing recently – mostly on Rolex watches. Most of the time, it is limited to a black coating on the case/bracelet or a different dial. Sometimes, customization can go a few steps further, with heritage-inspired watches based on modern models – see for instance Tempus Machina or Les Artisans de Genève. And just like in the car industry, some have decided to go very, very far in terms of modifications. This what we have today, with simply the first Rolex Tourbillon watch – or at least, the first Rolex watch modified to be fitted with a tourbillon – thanks to Label Noir.
Disclaimer: No, it isn't April 1st. This watch exists in the real world and can even be purchased. On the other hand, it has nothing to do with an official Rolex watch, except the base used before the modification. Will this watch be approved by Rolex? No, absolutely zero doubt about it.
The world of Rolex watches is full of unicorns. Take for instance the Rolex Perpetual Calendar… Surprisingly, this one exists – see our article here. Another dream watch was the Rolex Tourbillon, something that has never existed (or at least, something that has never seen anything else than the neon lights of Rolex R&D department). But as customization and mods are growing, it was just a matter of time before one of these custom-Rolex brands decided to create such a watch… And Atelier Noir did exactly that, by presenting the first functional Rolex Tourbillon – or in a more cautious way, the first Rolex modified to be fitted with a tourbillon movement.
Certainly, some fake watchmakers have tried to build such a watch in the past but what Atelier Noir has created is, in fact, much more interesting. The Label Noir Rolex Tourbillon is based on an existing steel Rolex Milgauss watch. The list of modifications includes a black coating on the case, black paint on the hands/indices and a slightly different dial. That was the simple part.
The main modification concerns the movement – which is based on the original automatic Rolex calibre. On this Calibre 3131, 51 components have been removed (mainly the escapement parts), 2 components modified (including creating an aperture in the mainplate) and 94 components added. From 28,800 vibrations per hour (4Hz), the frequency has been changed to 21,600 vibrations per hour. The flying tourbillon is installed on a ball-bearing. It makes one turn per minute (classical one-minute tourbillon). The thickness of the movement, as well as the thickness of the case, has been respected.
No words yet on the price of this unique example of a Rolex Tourbillon – nor what Rolex might say about such a customization. Label Noir says that it is possible to repeat the operation in case of a similar request – waiting time is three months.
Certainly, this Rolex Tourbillon is more of a technical challenge, a demonstration of savoir-faire and a talking piece to promote the rest of the customization programmes offered by Label Noir. We see it more as a transplant, a surgery deeply changing the face of a watch. Do we approve? Not entirely, however, some will probably like it, just like some like customization programmes offered by Mansory on Ferrari or Lamborghini cars. A different approach to watchmaking, but one that still shows impressive skills.
https://monochrome-watches.com/first-rolex-tourbillon-modified-milgauss-by-label-noir/