Collecting vintage watches – an interview
This is the first of a series of interviews with collectors that I got to know through the years. They all have one thing in common, which is a true passion for watches, mechanical watches that is.
Through Facebook I got in touch with Boris, who collects vintage watches and I asked him about the vintage Omega Speedmaster Professional he just posted for sale. The reason for this, is that I'm searching for a Speedmaster from 1971, my year of birth. Boris told me about his Speedmaster and how he got interesting in collecting vintage watches.
Mono: When did you get interested in watches?
Boris: I started about 14 years ago to collect old and used watches. This didn't start overnight, but was primarily the result of a visit to a well-known dealer. I was ready to buy a watch for myself and when I visited his shop, the guard did not let me in. Not sure if I looked that bad in my torn jeans and old sneakers that day…
Mono: Unfortunately many of us know that kind of experience. But where did you go from there?
Boris: I walked home, feeling kind of frustrated. Frustration soon changed into facing up to the challenge of getting a nice watch. 14 years ago, Ebay was in full swing already. I was already a member on Ebay for a few years, and went to search for Rolex. Back then I had no clue about Rolex, nor vintage Rolex. However, within an hour or two, I won an auction and a few days later I received my watch: a Rolex Submariner 5513.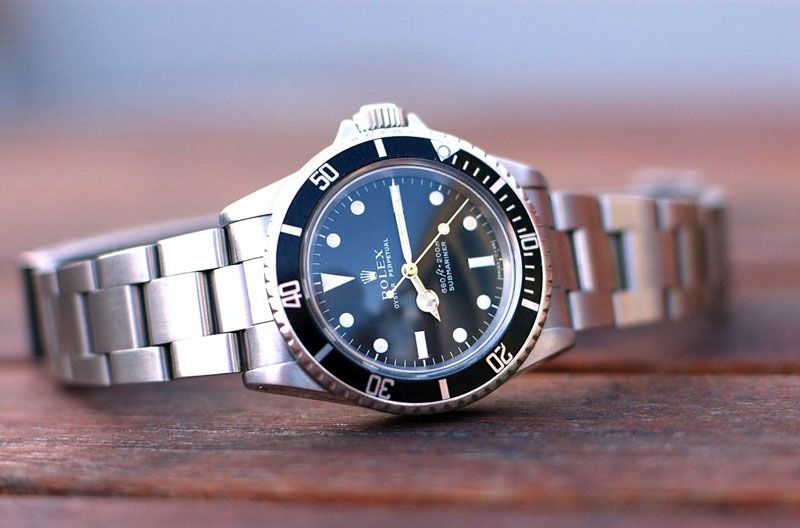 Mono: Today that's probably a dream start for many collectors. Your vintage Speedmaster from 1969 is also a very desirable vintage piece. Can you tell us a bit more about this watch?
Boris: This is a 1969 Omega Speedmaster, the last model that did not yet have the engraved back with "First Watch worn on the Moon". Normally, the back is engraved with a seahorse. Unfortunately, the back of this watch is so much polished that you can only guess the seahorse if at all. I put this watch on a black leather strap which I think fits it well. This Speedmaster came with the 1171 steel bracelet, which is from a later period than 1969.
I acquired this watch in an exchange with other watches from a client. The client bought Rolex parts such as bezel inserts and a Tag Heuer watch. I bought the Speedmaster for its beautiful patina and aura. This vintage Speedmaster had a perfect dial and the indices already have some lovely patina.
Mono: As you may know, many used Speedmasters are advertised as being from 1969. Many sellers see the "1969" engraving at the inside of the case back and assume that's the year the entire watch was produced. How did you verify from which year it is?
Boris: This Speedmaster is equipped with caliber 861, which was the successor of caliber 321 that was used on the manned space missions of NASA. I opened the caseback, and there is an additional protective back covering the movement. Since I am not a watchmaker, I refrained from pulling it off, but I managed to verify that this watch is from 1969.
First, I thought I should go and see my watchmaker. But I took a different route to verify the age and year of production of this watch. I possess a really nice book about Speedmasters and also checked the internet where Chronomaddox has a very comprehensive site. That helped me to determine that a watch like this could only be from one year: 1969. If it were from 1971, it would have to have a different caseback.
Mono: Do you collect many different watches or are you a one-watch kind of guy?
Boris: As one of my closest friends keeps telling me, every serious Rolex collector should have at least one nice Speedmaster. I think this is a beautiful example of a vintage Speedmaster. And these are still affordable while the ones from the late 50s and early 60s not only have reached price regions of a luxury vehicle but are also very hard to come by.
I am primarily a vintage watch enthusiast. There is something about vintage watches that you cannot have with new watches. It is the aura, the history that surrounds them. The Speedmaster was worn by the first three people who landed on the moon. Funny enough, in former Eastern Germany, most people believe that the moonlanding was staged in Hollywood, so the Speedmaster probably flew alone to the moon…
Mono: Are there specific complications or periods that you're interested in?
My collection consists of different watches and brands. Initially, I was a vintage Rolex guy. Over time, I sold some of them and got some other vintage pieces, such as from Jaeger LeCoultre, Vulcain, Tudor, and others. Personally, I have a faible for alarm watches. I think that is a great complication that is more than useful and very underrated. I have started to round of my collection with some newer timepieces as well.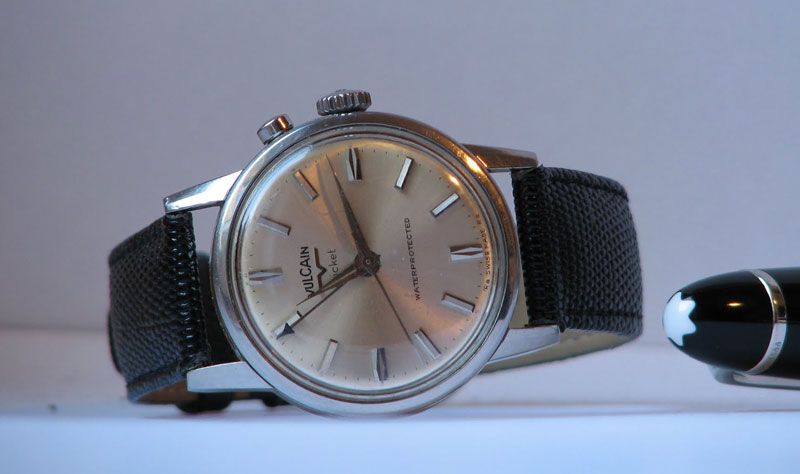 I guess I am driven a bit by an iconic status of watches which is why I have added a Reverso Grande Date to my collection at some point. I have basically two focus groups in my collection. That is vintage Rolex Submariners and alarm watches from any company. In my blog, I have started a blog to collect all information on alarm watches. Last but not least, I also look for watches with history, personal history of their respective owners, or watches that you could never have bought because they were not sold at an authorized jeweler. One example is, I got a watch that is proven to have been sold in a country that does not exist any more.
The interviewed collector is Boris, who also has his own blog called Watches and Art.
https://monochrome-watches.com/collecting-vintage-watches-an-interview/