Buying Guide
Six New Watches That Lay It All Bare On The Dial Side
A rundown of intriguing complex mechanical watches with exposed mechanics.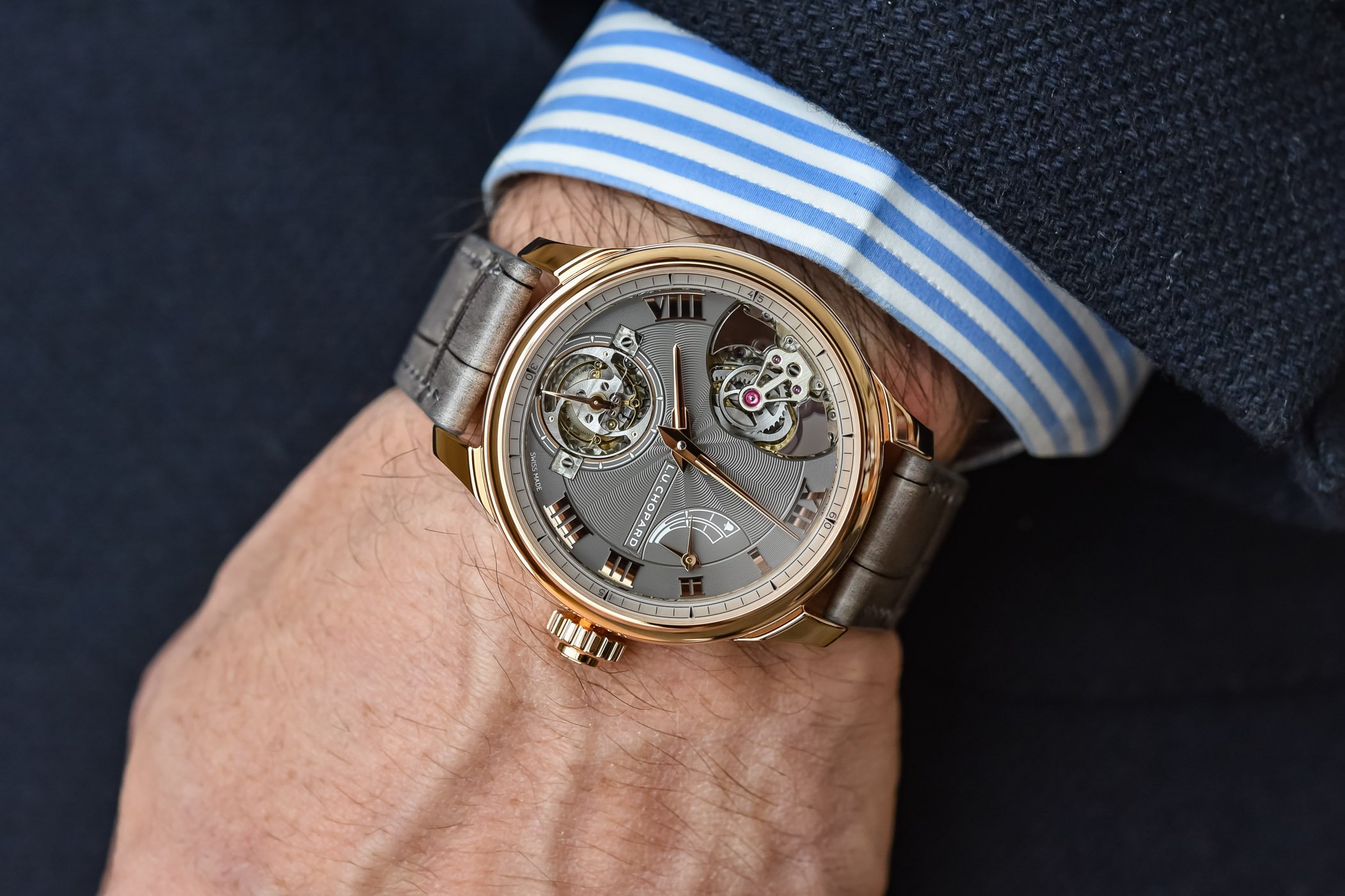 Despite the fact a carefully crafted full dial can be extremely satisfying to look at, there's something magical about seeing the inner mechanism of a watch. I remember when I first got into watches seeing a mechanical movement through a transparent caseback at least as rewarding as the front side of the watch. As my experience, and subsequent passion, grew bigger and bigger, the more I got intrigued by a watch's inner workings. The classical way of satisfying that hunger would be to dive into a fully-skeletonized watch, but there's another option as well. Instead of skeletonizing all the components of a movement and/or dial, you can also expose the mechanics by mounting them dial-side. With that in mind, here are six watches that do just that.
Chopard L.U.C. Full Strike Tourbillon
During the recent Watches & Wonders event, Chopard unveiled a stunning trio of repeater watches. From complex to super-complex, to "oh now you're just showing off" complex, this trio epitomizes the brand's capabilities in the field of striking mechanisms. Out of the three, we're singling out the Chopard L.U.C. Full Strike Tourbillon for the occasion. This amazing creation not only shows its hammer and gong system but also reveals the tourbillon, its beating heart.
Ad – Scroll to continue with article
While exposing the tourbillon isn't necessarily groundbreaking on its own, pairing it with a minute repeater mechanism and basically integrating it into a watch the way Chopard has done it is sublime. The L.U.C. Full Strike Tourbillon relies on the ingenious crystal gong system first seen in the award-winning L.U.C. Full Strike in 2017. The sapphire crystal on top, and the circular gongs are one integral component. The hammers are beautifully integrated into the dial and can be activated with the pusher in the crown. All the while, that whirlwind tourbillon regulates the movement at the bottom of the dial, under a sapphire crystal bridge.
For more information, please visit Chopard.com
Quick Facts – 42.5mm x 12.58mm – 18k ethical rose gold case and crown – integrated strikework pusher – sapphire crystal front and back – 18k rose gold dial with ruthenium grey finish – hand-applied guilloché pattern – applied Roman numerals – exposed repeater mechanism and tourbillon – Dauphine-fusée hour and minute hands – power reserve and strikework power reserve indication – Calibre L.U.C. 08.02-L, in-house – 568 components – 28,800vph – 61 jewels – 50h power reserve – patented monobloc sapphire crystal gongs – hours, minutes, seconds on the tourbillon, stop-seconds and minute repeater, double power reserve indicator –  COSC-certified chronometer – Poinçon de Genève quality hallmark – limited to 20 numbered pieces – price to be confirmed
Armin Strom Orbit
Independent watchmakers are not afraid to push boundaries and develop new ways to indicate not only time but also additional indications like the date. And that is exactly what Armin Strom has done with the recently introduced Orbit, the brand's first foray into the ever-popular field of luxury sports watches. Where the Orbit really gets intriguing though, is the clever date-system Armin Strom conceived.
The date system in the Orbit almost dominates the entire watch, with a full-length centrally mounted pointer and a fixed bezel with a ceramic date-scale insert. This bezel runs from the 1st to the 31st of a month and jumps back to start its run all over at the beginning of each month. A pusher on the side of the case can be pressed, to disengage the column-wheel operated date mechanism and rest the hand at 12 o'clock. Push it again, and a memory system makes sure it jumps back to the correct date again. For the rest, you also get a full view of the barrel system and the micro-rotor that drives the movement. Fascinating stuff!
For more information, please visit ArminStrom.com
Quick Facts – 43.4mm x 12.6mm – stainless steel case – fixed ceramic bezel with date scale – sapphire crystal front and back – 50m water-resistant – off-centered black gold dial – numerals and indices with Super-LumiNova – in-house made hands with Super-LumiNova – Armin Strom Calibre ASS20, in-house – automatic with micro rotor – 297 components – 25,200vph – 30 jewels – 72h power reserve – Geneva-drive equal force barrel – offset hour and minutes, small seconds, column-wheel date, power reserve indication on the barrel – stainless steel bracelet with folding clasp – limited to 25 pieces – EUR 31,300
Trilobe Une Folle Journée
Despite showing a form of restraint in its first two collections, relative newcomer Trilobe has gone all out with the latest creation. The Trilobe Une Folle Journée takes the signature continuously rotating time display, and cranks it up to eleven! Where the highly original Les Matinaux and Nuit Fantastique hid their inner workings under a full dial, the Une Folle Journée pulls back all covers in a dramatic fashion.
Covered by an impressively domed sapphire crystal, the dial is basically reduced to the three rotating rings for the hours, minutes and seconds. With its 3D construction of the revolving time display, you get an almost unimpeded view of how it all works. Especially at an angle or from the side, it's quite something to behold. There's a choice for black or blue rings set against a grained dark-coated base plate, but we'd strongly suggest going for the blue one for that extra bit of contrast. Round the back, the sober yet neatly finished movement is visible, which shares its base with the Les Matinaux and Nuit Fantastique.
For more information, please visit Trilobe.com
Quick Facts – 40.5mm x 17.8mm – 10.8mm domed sapphire crystal – grade 5 titanium case, brushed and polished – sapphire caseback – screw-down crown – 50m water-resistant – deconstructed display of time with rotating floating rings – fixed pointers as "hands" – black or blue DLC coated titanium rings – Calibre X-Centric, proprietary movement developed by Mojon and made by Le Cercle des Horlogers – automatic with micro-rotor – 196 components incl. 33 jewels – 28,800vph – 48h power reserve – hours, minutes, seconds – black or blue alligator leather strap with titanium pin buckle – EUR 21,500 (incl. taxes).
Ulysse Nardin Freak S
When it comes to spectacular and revolutionary, modern watchmaking, it's hard to ignore the Freak by Ulysse Nardin. It was a groundbreaking watch when first released in 2001, and it is a mechanical marvel still. Twenty-one years after it shook the watch industry, the uber-complex Freak S reigns in a new chapter for the extremely unconventional Freak series.
Housed in a 45mm wide black ceramic and black DLC coated titanium case – topped with a rose gold bezel – the Freak's signature spaceship-like mechanism simultaneously tells time and carries the escapement. For the Freak S, Ulysse Nardin has ramped up the complexity, and cool-ness, even further with an inclined double balance wheel and gearing system. This allows both balances to compensate for each other's errors on the go. The nose of the mechanism indicates the minutes, with a secondary pointer rotating on the periphery of the dial. A special gear system on the opposite end attaches to the fixed gear on the outer edge and drives the entire structure. Everywhere you look there's an astonishing amount of detail to be discovered, and we strongly advise you to read our in-depth article about all the technicalities to learn more.
For more information, please visit UlysseNardin.com
Quick Facts – 45mm diameter – black ceramic and black DLC coated titanium case – rose gold bezel – domed box-type sapphire crystal – titanium and sapphire crystal caseback – 30m water-resistant – black aventurine glass base dial – Calibre UN-251, in-house – Grinder automatic with blades, flexible guidance and shock-absorber – twin-balance beating at 18,000vph – 72h power reserve – hours and minutes on carousel movement's rotation – extra-large inclined silicium double balance-wheel – alligator strap with black DLC coated titanium folding buckle – limited to 75 pieces – EUR 123,500
Louis Moinet Memoris Spirit
Independent watchmaker Louis Moinet is never shy to push for bold and ornately decorated watches. The evocative style usually results in a play of colours, decorations and mechanisms, and the same goes for the Memoris Spirit. But, where previous Memoris pieces measured a substantial 46mm in diameter, the Memoris Spirit comes in at a more gentle 40.7mm, following the trend for (somewhat) smaller sizes to the letter.
The Memoris is the brand's signature chronograph watch and takes inspiration from the first-ever chronograph pocket watch, created by Louis Moinet in 1816. Set in titanium or rose gold case, the Memoris Spirit once more uses a monopusher column-wheel chronograph movement. With the hour and minute dial pushed to the bottom section of the dial, the top half is dominated by the chronograph's running gear. Push the large button at 2 o'clock to start, stop and reset the mechanism, and you can see all the gears and levers in action. The elapsed hours and minutes are displayed on sapphire crystal dials, with the chronograph seconds positioned in the centre of the watch.
For more information, please visit LouisMoinet.com
Quick Facts – 40.7mm diameter – titanium or 18k rose gold case – box sapphire crystal – sapphire crystal caseback – 50m water-resistant – off-centred hour and minutes dial – translucent counters with white transfer – circular satin-finished inner bezel ring – faceted hands – Calibre LM84 – automatic winding – 311 components – 30 jewels – 28,800vph – 48h power reserve – hours, minutes, small seconds, monopusher column-wheel chronograph – alligator leather strap with folding buckle – limited to 28 pieces in rose gold and 60 in titanium – CHF 29,500 (titanium) or CHF 45,000 (rose gold)
M.A.D. Editions M.A.D. 1 Red
As a humorous encore to this quintet of watches, we're going to cheat a little. Yes, the M.A.D. Editions M.A.D. 1 Red exposes its mechanics on the dial side of the watch, but not in the sense as the previous 5 do. And yes, it is not available at the moment and is allocated through a fair-and-square lottery system. And also yes, mechanically it's not necessarily on par with the rest either, as the base movement is "only" a Miyota.
But, and it's a big but, the M.A.D. Edition M.A.D. 1 Red does have something else going for it that justifies it being mentioned here. Following on the proverbial "thank you watch" from last year, the overall concept and execution are just very good. It's a fun and creative expression of Max Büsser's clever vision of watchmaking, on a relative budget. Flipping the movement and installing a triple-bladed high-speed rotor is typical MB&F, as is the lateral time display. As a result, the full working movement can be seen from the top. And seeing that rotor go, and go, and go… well, it's just amazing good fun!
For more information, please visit Shop.MADgallery.ch
Quick Facts – 42mm diameter – stainless steel case – domed polished steel bezel with sapphire crystal – mineral glass cylinder – cradle-like base plate with integrated lugs – brushed and polished finish – crown at 12 o'clock – lateral time indication with red and black cylinder for the hours and minutes with luminescent numerals – Miyota 812A, automatic – mounted upside-down – triple-blade top-mounted winding rotor with luminescent inserts – 21 jewels – 21,600vph – 42h power reserve – black leather and textile strap with folding buckle – allocated through lottery system, closed at the moment – CHF 2,900 excl. VAT
https://monochrome-watches.com/buying-guide-six-new-2022-watches-showing-all-their-mechanics-dial-side/