Interview
Jean-Marie Schaller, CEO of Independent & Creative Watchmaker Louis Moinet
From a dream to the construction of a creative brand.
Although Louis Moinet was a prominent watchmaker between the 18th and 19th centuries, Les Ateliers Louis Moinet was only created 20 years ago. As Watches & Wonders 2021 just ended, we paid a visit to Jean-Marie Schaller, the brand's CEO, to understand how he embarked on resurrecting Louis Moinet.
Xavier Markl, MONOCHROME – How did you get into watches?
Jean-Marie Schaller, CEO of Louis Moinet – Well, I grew up in the Jura mountains in the small city of Delémont. As a boy, I felt a lot of passion from the people working in the watch industry. There was a brand known as Jura Watch; there were watchmakers, case makers, dial makers, etc. These people gave me the sense of the importance of having a mission. I felt they were working not just to make a living – of course, we all have to – but they were all pursuing a passion. Soon, I realised that watches were more than just a simple product. Watches are the expression of know-how, tradition and soul from the Jura Mountains and Switzerland.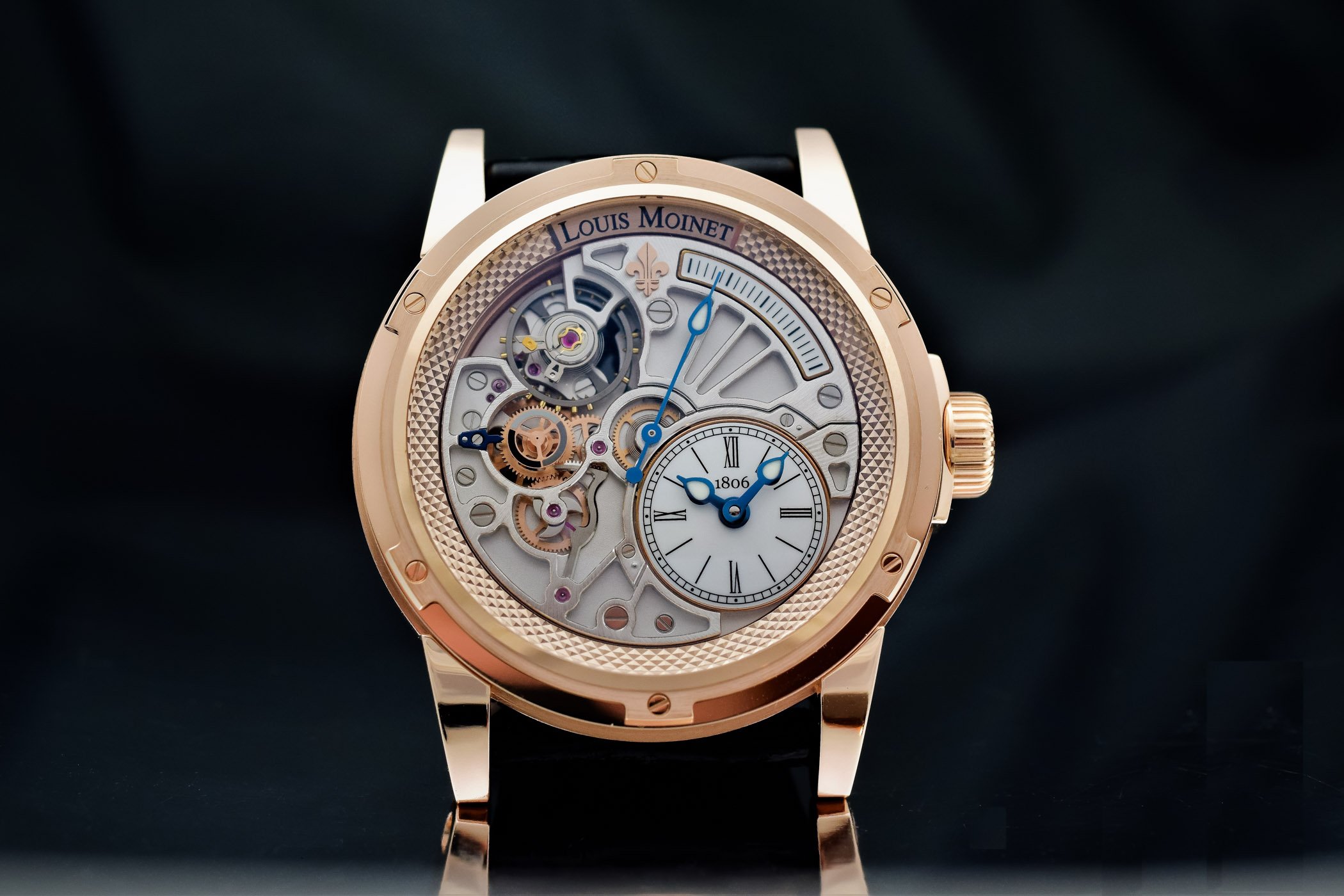 How did you end up as the head of Louis Moinet?
Besides watchmaking, I have another passion: travelling. I started travelling when I was younger, going to New York, London, and many different places. My first job was with Siber Hegner that was the Omega distributor back then. At that time, there had been a profound change in the industry as larger brands started to integrate their distribution, creating their own subsidiaries. But there were still opportunities for trading companies, with many development projects, and I was very lucky with this job. It gave me the opportunity to meet Frank Muller when he was still a small independent watchmaker. I remember his workshop, next to his kitchen. I launched Daniel Roth in Asia. Independent watchmaking was exceptional at the time, genuinely artistically driven. That was so interesting.
When I left the company, I relaunched Perrelet, which was a project I had started for Siber Hegner and kept me busy for six years. Then, I worked for Lacoste watches for a few years. They gave me the green light to start preparing my own project, and I began with the Louis Moinet project in 2000. It began as a laboratory, working from home with my wife, next to the kitchen, which definitely seems to be a habit in this industry.
Somehow, I did not look for Louis Moinet. Louis Moinet looked for me. That's a strange feeling, but it was my destiny. The name was completely forgotten, but people kept talking to me about it, in particular, Daniel Roth. When the Chaumet brothers acquired Breguet, they sent François Baudet from the Place Vendôme to the Vallée de Joux. One of his first moves was to look for a watchmaker. This watchmaker was Daniel Roth, who then had access to the Breguet archives, and had understood the importance of Louis Moinet. Once, as we were flying to Tokyo, Daniel Roth told me that I should look at Louis Moinet.
Destiny brought me to Louis Moinet, but the reality was not necessarily so encouraging. All I had was an eight-page biography, which was written after he died in 1853. This was quite vague. It didn't mention that Louis Moinet made a clock on the occasion of the coronation of Napoleon or other milestones. It said that Moinet was one of the best watchmakers that ever lived. Then we started to look for evidence.
From my time working with trading companies, I have seen many people being overly optimistic. They would create a spreadsheet and compute numbers. But it never works like this. Launching Louis Moinet was like planting a small seed in the ground and taking time to grow a tree. My wife had a part-time job, I was still with Lacoste, and we started to prepare for the next chapter. This gave us time, and time is really precious.
So what was your vision to resurrect the Louis Moinet name?
Well, I had a big heart, but no money. I couldn't afford to have big dreams. The eight-page biography was all I knew about Louis Moinet. So I read this biography, I read his book as well and tried to find the right spirit. Our first watch was a chronograph, and from then on, all our watches bear the same hallmarks engraved on the caseback. So, we were walking in the right direction.
But then, in 2012, I had the good fortune of purchasing an exceptional Louis Moinet piece at Christie's in Geneva that turned out to be the world's first chronograph. And it changed everything. As an independent watchmaker, you are vulnerable. You cannot afford to make mistakes. But finding this 'compteur de tierces' gave us confidence. Of course, we were still vulnerable, but it gave us inner strength and the sense of a mission. Louis Moinet was the inventor of the chronograph; this proved to be a fantastic starting point and opened the door to create the right products. We knew what our mission is.
So there is the desire to keep this legacy alive, and, at the same time, one can sense a truly personal inspiration in your creations.
You're absolutely right. I wanted to create this company to express myself and to create watches the way I like them to be. Like many people, I could be inspired by many things, but I had to define some directions. And today, we have two product categories. First, we have 'Mechanical Wonders', the best example being the 'Memoris'. All these mechanical watches have something unique; they show something special, and they are visually different.
The second product category is 'Cosmic Art'. These are all mechanical watches too, but they encapsulate elements that have to do with the conquest of space. We started with meteorites; then we teamed up with the famous Russian cosmonaut Alexei Leonov, the first man to walk in space. And now, we have introduced a collection of watches that include materials that have been onboard spaceships. Materials that have been to or around the Moon, and which have travelled thousands of kilometres in space. These fragments are incorporated into watches.
Métiers d'art are also important?
Indeed Métiers d'art are truly fascinating. They represent the epitome of artistic expression. Ask ten mathematicians: how much is 10 plus 10? The answer is 20. Ask ten engravers to work on a specific engraving, and you'll get ten entirely different works. I was thrilled with Watches & Wonders. We have produced 12 unique pieces working with different talents, craftsmen and artists. I learned so much. We always come back to the same thing: artistry. A Swiss watch is special because it is artistry.
What is your main challenge today?
When I started, I think the biggest challenge was to survive. Now, this is more a matter of harmony and of balance. I hope our watches have a soul. This is essential to me. At the same time, I must be careful to avoid making mistakes in order not to jeopardise the future of the brand.
Are there any other topics you'd like to mention?
Our doors are always open if MONOCHROME readers are interested! I love to encourage direct contact with people who love watches. We feel part of a community; we are passionate, and sharing this passion is fulfilling. We are always happy to discuss, exchange and discover different perspectives!
For more information, please visit www.louismoinet.com.
https://monochrome-watches.com/jean-marie-schaller-ceo-of-independent-watchmaker-louis-moinet-interview/