Bubba Watson wins Golf Tournament wearing a Richard Mille RM038
Now usually you won't see these kind of titles on Monochrome, however in this case I wanted to make an exception. The reason for this, is that withstanding the shocks and G-forces that a wrist watch endures during a game of golf, are 'pretty extreme'.
Of course we're happy for 33 year old Bubba Watson. However Monochrome is not about sharing sports results. Richard Mille's technical achievement is something Monochrome should report about and we will. The recently released RM055 Bubba Watson can withstand forces of no less than 500G; that's 'pretty extreme'.
During the tournament, Bubba Watson was wearing his RM038. The RM038 tourbillon is able to work in golf's extreme conditions and was designed with 3 major specifications in mind: lightness, extreme shock resis­tance and comfort. The baseplate, bridges and balance cock are made of grade 5 titanium. This allows the whole assembly to be given great rigidity, as well as precise surface flatness.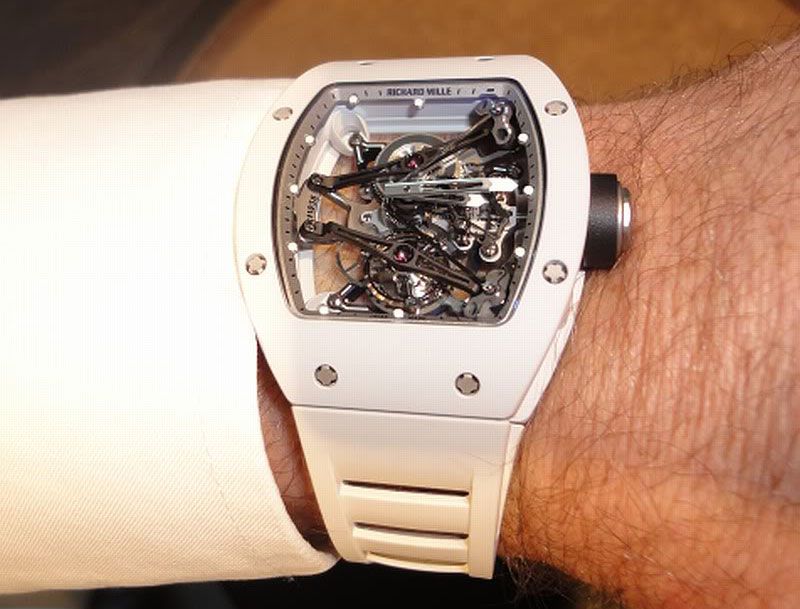 The RM038 case is made of an extremely rugged and light alloy called magnesium WE 54, an alloy composed of 89% magnesium, 6% yttrium and 5% rare earths. After a long and delicate machining phase, this alloy is given a new electro-plasma oxidation treatment called Miarox. This improves both the durability and scratch resistance of this alloy.
The two wrist shots are made by Rob (thanks for letting me use the photos). At the PuristS Pro is a comprehensive report about the RM038, that explains much about the technical features of this 'pretty extreme' sport watch.
Last month, during Baselworld, Richard Mille launched the RM055 Bubba Watson. The RM 055 Bubba Watson is capable of resisting accelerations of over 500 G. The RM055 also has a highly skeletonized manual winding movement, however it does not feature a tourbillon like the RM038.
Its mechanical movement in grade 5 titanium displays extreme skeletonization, with a PVD- and Titalyt treated baseplate and bridges. This combination provides the whole structure with optimum rigidity and excellent surface flatness and finish, which are essential aspects for the perfect functioning of the gear train.
The bezel is called an ATZ bezel and it's made from tubes of aluminum oxide powder, which are injected at a pressure of nearly 2,000 bars. This high-pressure injection increases the rigidity by 20 to 30% and it reduces the material's porosity to an absolute minimum. ATZ is is very scratch-resistant and has a hardness of 1,400 Vickers. It is also unchangeable in color. Next to diamond, it is one of the hardest materials in the world.
This means long and difficult machining using diamond tools is required to create a perfect example of this complex, curved bezel with its satin finish. The case middle and back are made of grade 5 titanium with a pro­tective white rubber casing. This rubber is injected at high pressure around the titanium components, thus providing an extra shock absorption for the movement. This special surface treatment also makes the watch very comfortable to wear.
At this point I don't have much hands-on experience with Richard Mille watches. Once I do get some more hands-on experience I will surely report about Richard Mille's watches again. My interest has been triggered!
For more information, visit the Richard Mille website.
This article is written by Frank Geelen, executive editor of Monochrome Watches.
https://monochrome-watches.com/bubba-watson-wins-golf-tournament-wearing-a-richard-mille-rm038/