Bremont Supermarine 500 reviewed
When Bremont launched their dive watch, the Supermarine 500, several years ago, it really caught my attention. From the first moment I couldn't take my eyes of it and I'm very pleased that Bremont lend me one for an extensive review.
Of course there is always that famous first impression, however to get a good idea of how a watch wears on the wrist, that takes some time. Is it comfortable, is it easy to read the time, does it match with different styles and how does it perform? I strapped the Bremont Supermarine 500 on the wrist for six weeks and wrote a review. It's a tough job, but somebody's gotto do it…
Bremont lend me the blue dial Supermarine 500 (reference S500/BL) on a stainless steel bracelet. The combination with the bracelet makes it easier to wear in different circumstances, than what would be suitable with the standard rubber strap. On the rubber strap the Supermarine 500 can be worn with jeans, casual or sportive style. On the bracelet it can also be worn with a shirt and jacket, a casual/chic style. However before writing more about the features, case, dial and movement, I'd like to copy/paste the brand's remarkable history. Please take a moment to read it and I can assure you that knowing their history adds a LOT to the brand and their timepieces.
History
Founded by two British brothers, Nick and Giles English, Bremont originated from the brothers joint lifetime love and passion for engineering and aviation.

They inherited their love of watches, clocks and all things mechanical from an early age as they grew up in the workshop with their talented engineering father, Dr Euan English, a PHD student of Aeronautical Engineering from Cambridge. As an ex RAF pilot Euan also taught the brothers to fly and was active in the historic aircraft industry both flying and restoring historic aircraft.

All their lives all changed on the 4th March 1995 as Nick and Euan were training for an air-show in their WWII Harvard. Whilst practising formation aerobatics they got stuck in an inverted spin from which they failed to recover and their aircraft was involved in a horrendous accident. Euan died and Nick broke over 30 bones. This accident was a tipping-point in the brothers lives and provided the impetus to follow their passion for watches.

In the late 1990s, Giles and Nick were flying down through France in their 1930s bi-plane when they were forced to make an emergency landing due to a rough-running engine. The weather was also closing in.

Keen to avoid the French authorities, the brothers were more than happy to accept the gracious help from the old farmer whose field they had landed in. The aircraft was pushed by Nick and Giles into his barn where it stayed for the night as the weather cleared. The brothers also stayed the night with the farmer and were delighted to be shown his workshop and hear all of his flying tales. He too had flown aircraft (during the war) and was also a gifted engineer. Old wall clocks lay around the place in mid restoration together with numerous engine parts. The farmer still wore his own father's wristwatch, and the farmer's name… Antoine Bremont.
Overall appearance
After more than 50 years, the Rolex Submariner has become an iconic watch that is immediately recognizable for every one interested in watches. This is not the case with Bremont and I think that will never happen. The design is a tasteful mix of classic, sporty and elegant, but lacks a certain recognizability. At least, that was my initial thought. Upon closer inspection, a multitude of beautiful, cool and very well thought through details can be seen! And that's one of the things I've come to appreciate so much about this very British brand.
Like I wrote some years ago, with Bremont it's in the details. And there are plenty details to get exited about! In the following description I hope to point out at least a few details you might like. Those very ingenious, clever and incredibly well made details make Bremont so typical… Bremont. I wanted to say British, but I had to think of the quality of Morris, Austin, Land Rover and Jaguar, which were typical British in breaking down. The Bremont Supermarine looks and feels incredibly solid and when you've read about the features and other specifications, you get an idea of the impeccable quality of Bremont watches.
Features
The Supermarine 500 is a pure dive watch, with a depth rating of 500 meters or 1660 feet. It features a helium escape valve for professional diving requirements. The screw down crown is protected by a big and solid crown protector and it features a sapphire bezel that offers extraordinary luminosity in low light conditions.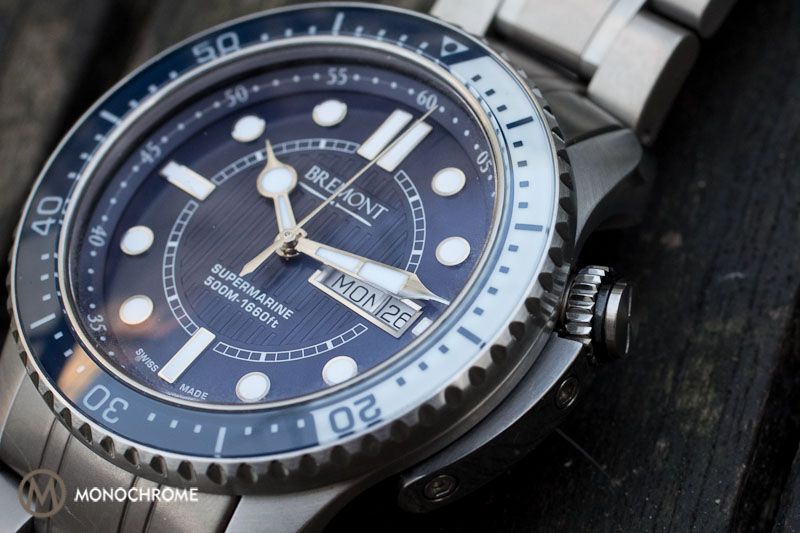 Dial/hands
The dial's center has tuxedo stripe pattern, with the brand's name and logo printed at the upper half. At the lower half the model name and depth rating are printed. Around the center is a rail track minute index and the outer part of the dial is flat, without pattern. The hour markers are filled with Super Luminova for improved legibility in low light conditions. Most hour markers are round, except those at 6 and 9 o'clock (single stick markers) and at 12 o'clock (double stick marker).
At the 3 o'clock position is the day and date aperture, surrounded by a metal rim. At the 6 o'clock position "swiss made" is printed around the stick marker. Both the hour and minute hand have applied Super Luminova; the seconds hand does not feature any luminous material. Around the entire dial is a minute index track with numerals next to the hour markers and dots in between.
Case/strap
The bare facts are:
Stainless steel case,  diameter 43mm, lug width 22mm
Sapphire uni-directional rotating bezel with SuperLumiNova luminous coating
Steel mid-case with Helium escape valve
Inner soft iron anti-magnetic Faraday cage to protect movement (see 'Movement' description)
Protective patented anti-shock movement mount (see 'Movement' description)
Stainless steel screw-in and decorated case back
Integrated rubber strap or stainless steel bracelet
But there are more bare facts, like the fact the stainless steel case is treated for hardness with a so-called B-EBE2000® technology. This special stage in the case production, in which the metal is heat-treated and defused with carbon and then bombarded with electrons, gives the stainless steel a dramatically increased hardness and scratch resistance. On the Vickers scale of hardness, the watchcase has a value of 2000, which is approximately nine times that of the normal stainless steel used for watchcases.
The convex sapphire crystal has anti-reflective coatings applied to both sides of the glass. The coating is vapour-deposited onto the crystals in a vacuum environment, and is also specially treated to maintain a hardness of close to 2000Hv. This is quite unique because anti-reflective coating on the outside of the dial can easily wear of or even get scratched. That does not look good and therefore it's again one of these things that Bremont pays attention to. (just to be clear, the photo below is focussed on the helium escape valve and finish on the lugs)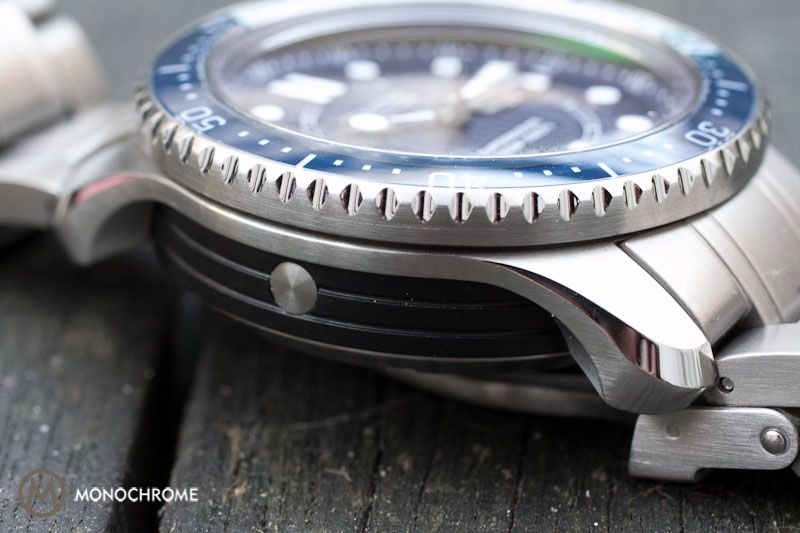 Another thing is the specific case construction, called the Bremont Trip-Tick ® Construction, which consist of three parts. A hardened steel bezel, containing the sapphire crystal, the central body section consisting of a treated steel middle barrel and the steel case back.  Also have a look at the different finishings, brushed and polished. An do realize that the hardened steel is much more difficult to finish, than non-hardened steel.
The middle barrel, which contains the movement in the soft iron anti-magnetic Faraday cage and the anti-shock movement mount, also features a Helium escape valve.
Did you know that it was Doxa who first sold a dive watch with a helium escape valve? Indeed, many people think Rolex was the first, with the Sea-Dweller. The Doxa 300T Conquistador, launched in 1969, was actually the first dive watch with helium escape valve available for the consumer market. Here you can read more…
The middle barrel is now finished in black, but other Bremont models feature a aluminum middle barrel that is available in different colors.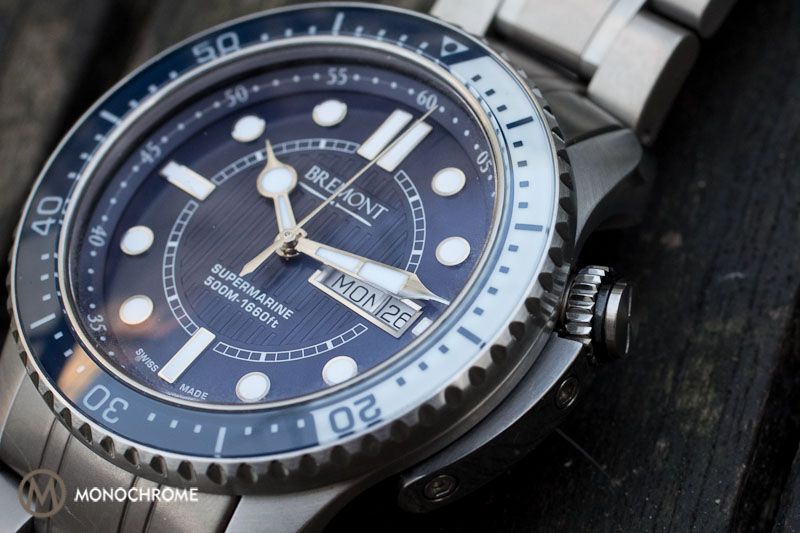 The bezel has a sapphire ring, with applied Super Luminova paint. The sapphire ring of course protects the luminous material and will also prevent the bezel from being scratched. The crown is protected by a solid screw on crown protector. The screw down crown has the Bremont logo engraved and has a ribbed part the offer good grip to unscrew the crown or to screw it down again.
The Supermarine 500 comes either on a rubber strap or a stainless steel bracelet. The rubber strap looks very good on this watch and the striped pattern perfectly compliments the watch's design. Personally I find the rubber strap slightly too stiff, so I choose for the stainless steel bracelet. This bracelet feels light and very comfortably suits the wrist and is attached to the case with a solid end-link. It is closed with a folding claps with safety fold-over.
Movement
Inside tick a Swiss automatic movement. It could be an ETA or a Swiss ETA-clonelike Soprod. A perfect movement and Bremont opted for the highest quality, best finished, version. They also opted for the best available, top execution, Glucydur balance; many other brands in 'the same price league' use a nickel balance. All movements are chronometer tested and comes with a performance certificate, issued by the Contrôle Officiel Suisse des Chronomètres (COSC).
The movement is placed inside a soft iron Faraday cage, that keeps away any negative influences from magnetism. And yes, there is more. The movement is mounted in a unique rubberised movement mount, which is connected to the outer case, solely by a flexible ring. This ring absorbs shocks to the watch and allows the inner case and movement to float. This special anti-shock mount for the movement, is (again) one of these particular things Bremont pays attention to.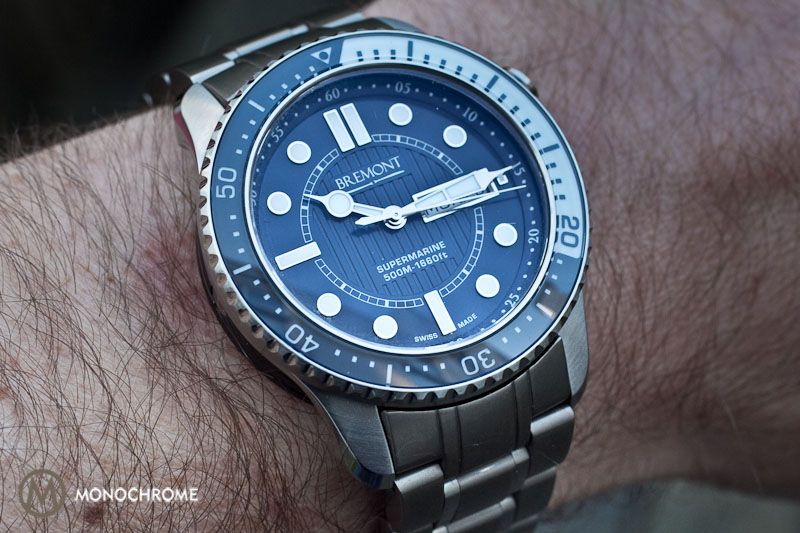 The verdict – pros and cons
Maybe not as icon as Rolex and no in-house movement, but the sheer quality of the Bremont Supermarine 500 is very convincing! And this feeling is something that seems signature-like for this British brand. Understated in first visual appearance, but it's performance and specifications are overwhelming.
The hardened steel case that has a hardness of 2,000 Vickers, the sapphire bezel, the black finished middle barrel, the top execution Swiss movement that is chronometer certified, the anti-magnetic soft iron case and anti-shock movement mount, the sapphire crystal with anti-reflective coating that has a hardness of 2,000 Vickers… Yes, those are quite impressive features!
Do I have something to nag about? Well, the bracelet's end-link was not totally flush to the case and had minimal play. It was hardly noticeable, but should be mentioned. With this British brand, it's all in the details and to be clear, those are meaningful details!
After this test I've become an even bigger fan of Bremont, than I already was. I think it's fair to say that it's best to go and check Bremont out yourself.
More information can be found on the Bremont website.
This article is written by Frank Geelen, executive editor of Monochrome Watches.
https://monochrome-watches.com/bremont-supermarine-500-reviewed/