Audemars Piguet Royal Oak Chronograph Leo Messi Limited Edition
Audemars Piguet just announce the launch of a limited edition Royal Oak 41 mm Chronograph, dedicated to possibly the best football/soccer player of these times, Leo Messi. There will be 500 pieces in steel, 400 in red gold and 100 in platinum, all featuring a tantalum bezel! By the way, this is AP's first limited edition Royal Oak in the new 41 mm case and it also features a brushed dial without the for Royal Oak signature tapiserie pattern.
So in total there will be 1,000 pieces of this new Audemars Piguet Royal Oak Chronograph in the new 41 mm case. Each watch is delivered in an original case in the shape of a lacquered shoe box!! But I guess you'd like to see the new Leo Messi limited edition Royal Oak Chronograph… 
As you can see the dial has undergone the most radical reconstruction, is it's now a brushed dial in stead of the distinctive tappiserie pattern dials. Both the stainless steel and the red gold version have this anthracite dial, while the platinum version features a brushed blue dial that matches with the also (dark) blue alligator strap.
Around the chronograph registers and small seconds is a silver chapter ring, again a new feature. One of the things that was introduced on the new Royal Oak Jumbo and thew new 41 mm Royal Oak Chronograph early this year and comes back in this Leo Messi LE, is the black date wheel with white date numerals. In my opinion one of the small details that really indicate the watch industry, and AP in particular, have been listening to watch collectors!
Both the steel and red gold version come on a very nice and good matching anthracite alligator strap, the platinum on a dark blue alligator strap, additionally an extra sportier rubber strap.
Inside the Royal Oak Chronograph ticks the self-winding mechanical calibre 2385 that indicates hours, minutes, small seconds, date and a chronograph function with registers for 30 minutes and 12 hours. The complex in-house movement comprises of 304 components.
Some further specificartions:
40-hour power reserve
beats at a frequency of 21,600 vibrations per hour (3 Hz)
Fitted with a single-block 18 ct gold oscillating weight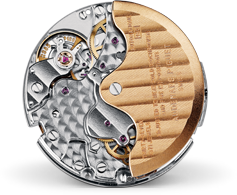 Nothing was changed to the shape of the case and bezel, but the bezel on this LE is made of tantalum, a material with very strong resistance to corrosion and high density (about twice as heavy as steel) that is particularly difficult to machine and polish. Besides the bezel, also the strap fastening links are executed in tantalum. This material has a beautiful deep and rich blue-ish, grey-ish color.
Here's a short interview with Leo Messi that I copied from the Audemars Piguet website here. Why did I fall in love with Royal Oak? "On the football pitch I have always given equal importance to rigour and beauty of movement, precision and boldness, work and fluency. In football as in watchmaking, talent and elegance mean nothing without rigour and precision. A Royal Oak is a sports watch and a luxury watch in one. I was lucky enough to receive my first Royal Oak in 2005. I immediately fell in love with this watch and its powerful and distinctive design. As time went by, I began to collect them. And I gradually came to understand the values of Audemars Piguet: respect for traditions, the uncompromising quest for quality, the sense of innovation and the pedigree design of their watches. I also discovered that this watchmaking manufacture was one of the few independent firms in its field that is still owned by the founding families, which was something I really liked about them. Nowadays the world is so dominated by big corporations that staying independent has become a mark of courage. And elegance means nothing without courage. It's pretty much the same on a football pitch. You can dribble past all your opponents and carry off the finest technical feats; but if your team ends up losing the match, it's just a meaningless waste of energy. I'm proud to have played a part in the creation of the Royal Oak Leo Messi, and proud that it bears my name." Last but not least… the platinum version of the new limited edition Audemars Piguet Royal Oak 41 mm Chronograph Leo Messi.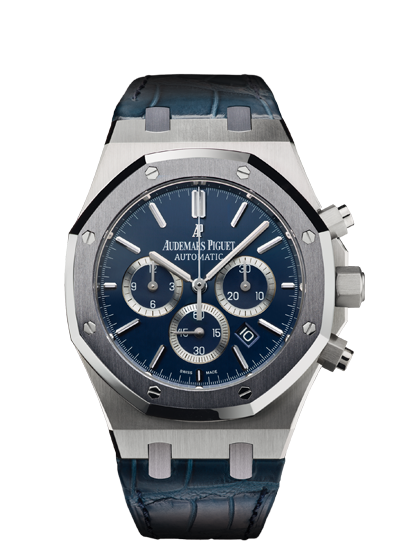 More information can be found at the Audemars Piguet website. This article is written by Frank Geelen, executive editor for Monochrome Watches. Let's end with a nice video from our friends at AP. It looks like Leo Messi is VERY pleased with the result… and I totally understand that! 
https://monochrome-watches.com/audemars-piguet-royal-oak-chronograph-leo-messi-limited-edition/