Alain Delon's Audemars Piguet Royal Oak Jumbo sells for Absolute Record Price
This is unheard of, the vintage Audemars Piguet Royal Oak Jumbo, which belonged to French actor Alain Delon, was sold at an auction last week, for an absolute record price of € 68,750 Euro!!
This price is even more spectacular, when considering Delon's Royal Oak Jumbo does not have the much desired dial with the AP-logo at 6 o'clock; something the newly released Jumbo does have. Nor did the auctioneers website mention whether it's an A-series or one of the later (also seventies) B, C or D-series.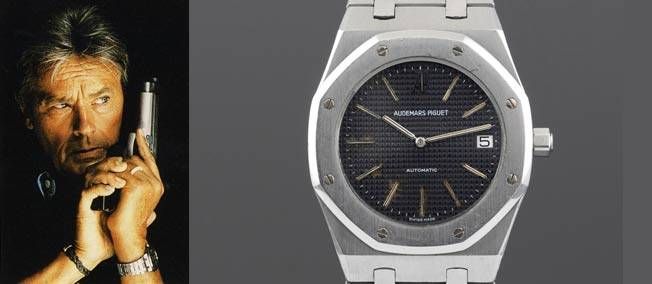 Last month a very sought-after A series with AP @ 6 dial from 1972, that our friends of Hodinkee showed us, sold for € 31,200 Euro (37,500 CHF). That price was was already an absolute record.
Alain Delon has worn his Royal Oak during the shooting of several of his movies, like "Comme un boomerang" (1976) and "Ne reveillez pas un flic qui dort" (1988). The estimate for Delon's Royal Oak Jumbo was set at 2,500 – 3,000 Euro which is of course a ridiculous low estimate. During the auction another of Delon's watches set a new record; his Cartier Tank sold exactly the same price.
According to the French website Le Point, Delon's Royal Oak was sold to an Asian buyer for no less than € 55,000 Euro which means € 68,750 Euro including buyer's premium.
The Cartier Tank that was sold, is a very rare model, 18 carat yellow gold with sides of Lapiz Lazuli at the sides of the case. Engraved in the case back are Delon's initials. The estimate for this Cartier Tank was set at 1,600 – 1,800 Euro and it was also bought by an Asian buyer for a record price of € 55,000 Euro or € 68,750 Euro including the buyer's premium.
This article was written by Frank Geelen, executive editor of Monochrome Watches.
https://monochrome-watches.com/alain-delons-audemars-piguet-royal-oak-jumbo-sells-for-absolute-record-price/