Weekly Watch Photo – Seven Friday on Monday
Seven Friday is the name of a small, rogue watch company from Zürich, Switzerland. Our contributor Evan already reported about Seven Friday when they just opened their first brand boutique in Manilla, Philippines.
Yes indeed, a Swiss watch company opening their first brand boutique in the Philippines. Another reason to label them as rogue, are the Japanese mechanical movements used for the first P1, P2 and P3 watches models! Now tell me, and keep in mind this is a Swiss watch company, isn't that rebellious?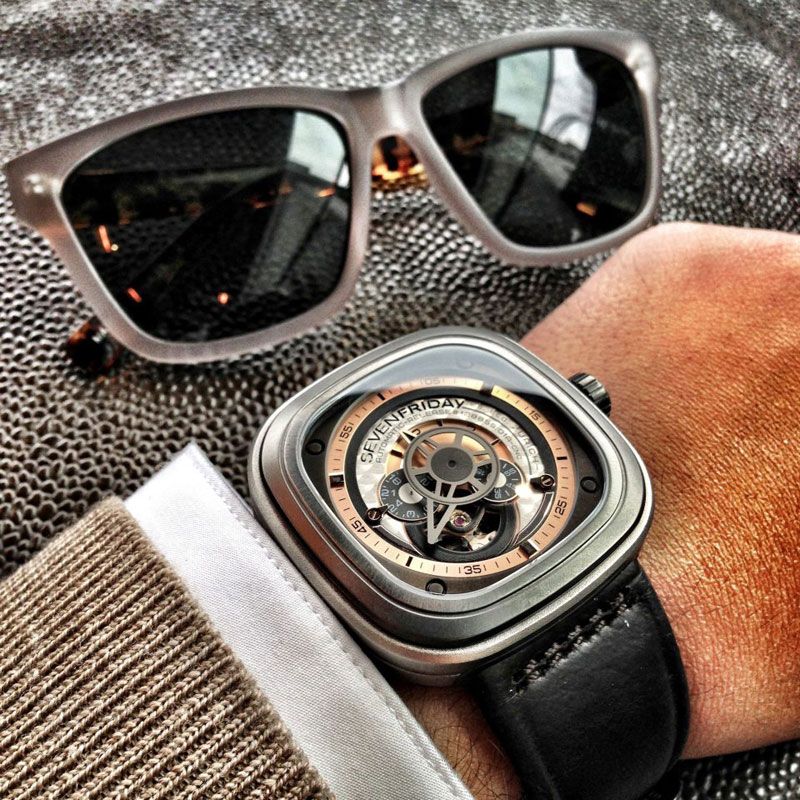 Since I've laid down all important facts (automatically wound Miyota movement, priced well below €1k, 47 mm diameter) I'll leave you with some excellent photos from the Seven Friday Facebook page. A simple but very effective way for Seven Friday to show people what they are about. First impressions: design, art, fun, style, industrial, architecture, modern with a classic twist. No more words from me… just enjoy the photos.
And now it's time for another espresso…
We will keep you informed about this interesting new brand and their rebellious timepieces. Or was it "rebellious brand" and their interesting timepieces? Well, you decide! we hope to bring you an extensive review soon.
Here's a link to the SevenFriday website (and webshop).
This article is written by Frank Geelen, executive editor for Monochrome Watches.
https://monochrome-watches.com/weekly-watch-photo-seven-friday-on-monday/